It's January, and beets are in season, so I thought, why not share something flavorful and fresh? This beet dip is such a welcome departure from all the cooked meals.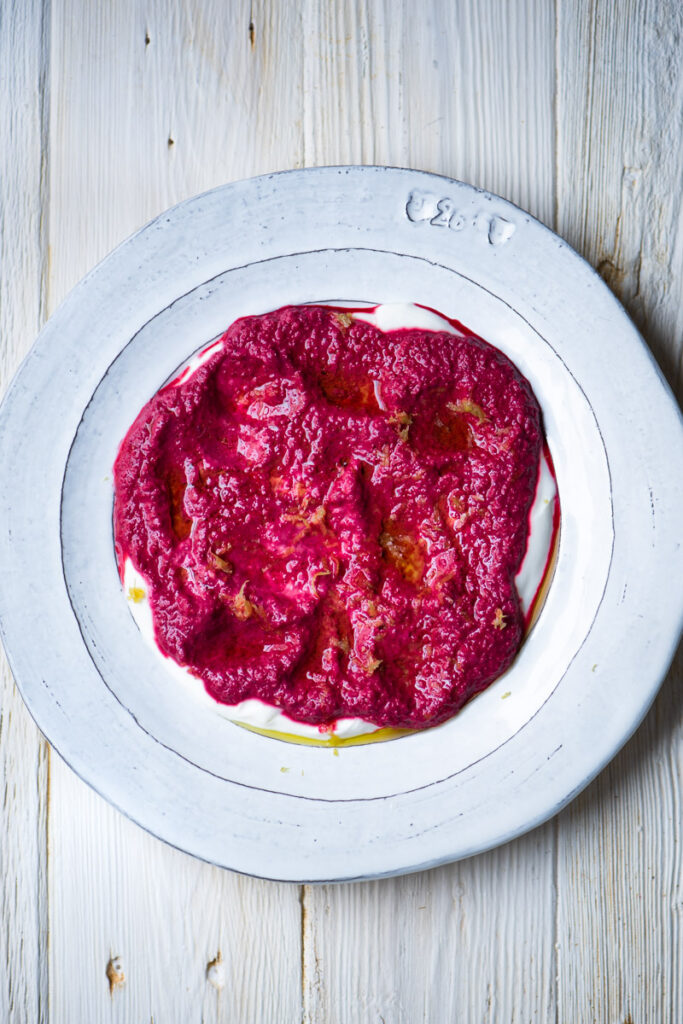 As much as I love a warm bowl of beet borcht or goulash in winter, it's refreshing to snack on something cold in between. Actually, my favorite way to enjoy this beet dip is over toasted artisan bread topped with a dollop of plain yogurt, a scrambled egg, and crumbled feta. It's fresh, tangy, and briny. So simple, so good.
A month ago, I ordered a beet and egg tartine for breakfast from Wildflower Bread Company, which remined me of this raw beet dip recipe from Alexandra's Kitchen, but whereas Wildflower serves their beet tartine with hummus, Alexandra serves hers as a dip over Greek yogurt. Turns out, combining the two approaches is the way to go.
Which Yogurt To Use
Intrigued, I actually tested this recipe with two types of yogurt: a plain Greek yogurt with 5% milkfat and a living coconut yogurt called Cocoyo. Both amazing. Slightly preferred the coconut yogurt!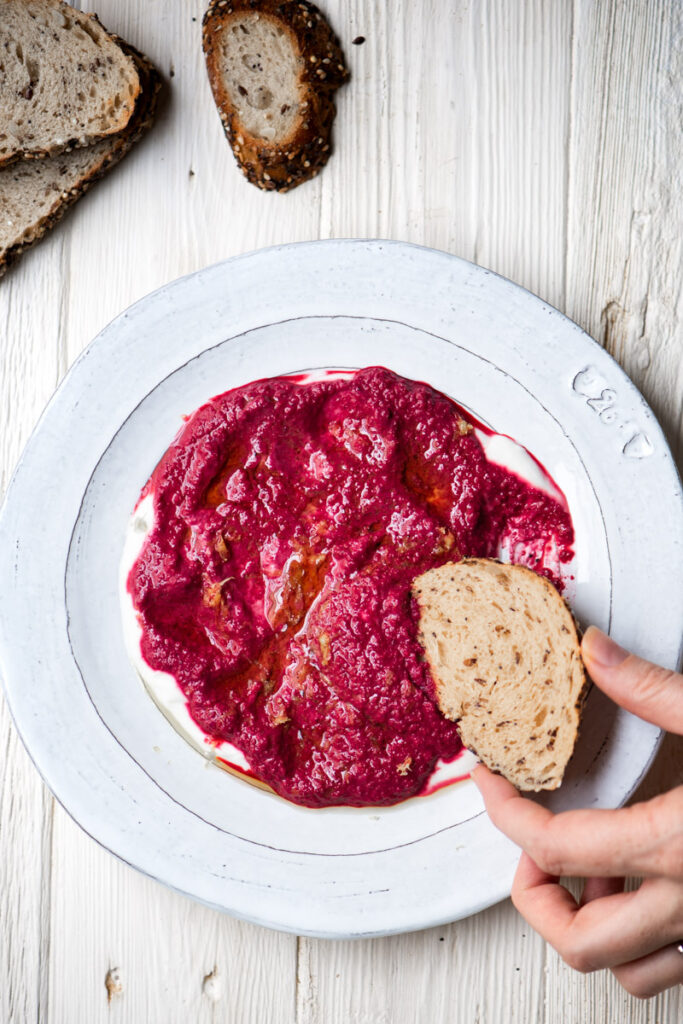 Another change I made was to use toasted walnuts instead of almonds and a homemade pomegranate molasses. Totally do-able, as you will soon see.
How to Make Pomegranate Molasses From Scratch
Pomegranate molasses is sold at specialty food stores (and online here), but it's easy enough to make from scratch if you have pure pomegranate juice and a skillet. Pomegranate molasses is simply a reduction of the juice.
What's a reduction?
It's basically where you simmer down the juice until it's thick, sticky, and super concentrated in flavor. Here's how:
To get 1 tablespoon pomegranate molasses, pour 1/2 cup pure pomegranate juice into a skillet (a pinch of sugar is optional, here)
Over medium-high heat, simmer the liquid until syrupy, about 5 minutes.
Flavor Note: Pomegranate molasses has a naturally sweet, tangy, bitter flavor. A little bit goes a long way.
About This Beet Dip
You will need either a food process or a blender to make this recipe because you are essentially creating a puree out of all the ingredients. Technically, you can leave the walnuts raw, but I think toasting adds even more savory flavor to compliment the sweetness of the beets.
Technique Tip: Toast nuts in the oven at a low temperature (not the stovetop) until aromatic and until they have a nice snap when broken in half. For walnuts, bake at 325F for about 12 minutes.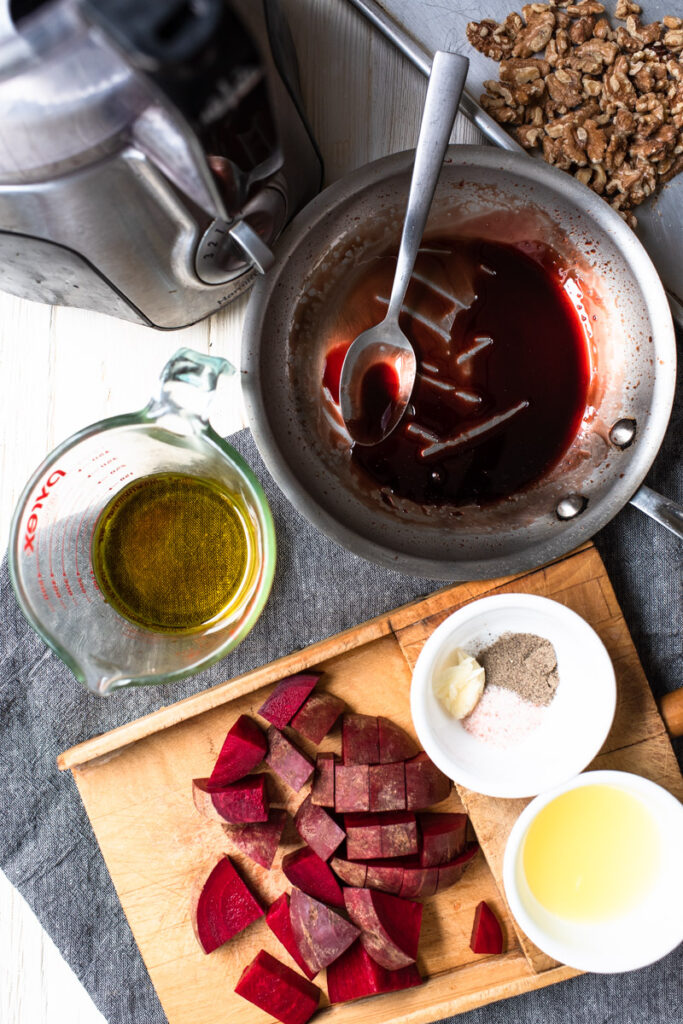 Once you've gathered all your ingredients, you will be combining everything in the food processor (except for the yogurt–which is for serving).
Serving Suggestions
Again, I just want to point out that this dip is fabulous. It stores beautifully for up to 7 days and can function as a dip for raw cucumber or spread for toast for a quick and healthy snack or breakfast. My favorite way to enjoy this is over toasted bread with scrambled egg, extra virgin olive oil, feta, and lemon zest.
Let me know how it turns out for ya! Oh, and there's no need to peel the beets in this recipe!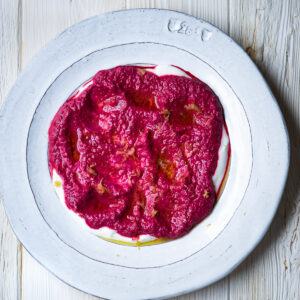 Beet Walnut Dip with Yogurt
Toasted walnuts get processed into a thick puree with raw beets, lemon, and olive oil then served as a dip spread over plain yogurt. It's simple, fresh, and makes for a convenient snack or breakfast served with toast.
Print
Pin
Rate
Ingredients
1

cup

raw walnuts

1/2

cup

pomegranate juice

(or 1 tablespoon pomegranate molasses)

1/2

pound

beets

(1 large or 2 small), ends trimmed, roughly chopped

1/4

cup

fresh squeezed lemon juice

plus zest for garnishing (see notes)

1

tsp

red pepper flakes

(or freshly ground black pepper)

1

garlic clove

smashed

1

tsp

sea salt

plus more to taste

1/2

cup

extra-virgin olive oil

plus more for garnish

1

cup

plain Greek yogurt or coconut yogurt

for serving, see blog notes above

Artisan toast or sliced cucumbers

for serving
Instructions
Toast the walnuts. Preheat the oven to 325°F. Spread the raw walnuts out on a sheet tray and toast for 12 minutes.

Make the puree. In a medium skillet, bring the pomegranate juice to a simmer over medium-high heat until syrupy, about 5 minutes. Transfer the pomegranate reduction/molasses to a food processor fitted with a metal blade, combine with the toasted walnuts, chopped beets, lemon juice, red pepper flakes, garlic, and salt. Puree on high until finely minced, then pour the olive oil (while the machine is running) to form a smooth puree. Note: you may need to stop in between to scrape the sides to get the mixture as smooth as possible.

Serve the puree over yogurt. For a dip: Mix the yogurt with a pinch of salt then spoon a dollop onto a plate and top with a large dollop of beet puree. Using the back of a spoon, spread gently. Garnish with olive oil and lemon zest and serve with toast or sliced cucumber. For a breakfast tartine (my favorite): Mix the yogurt with a pinch of salt and spread a thin layer onto toasted artisan bread. Spread a layer of the beet puree. Top with scrambled egg, lemon zest, olive oil, and feta cheese.Storage: Beet dip stores well in the fridge for up to 7 days.
Notes
Lemon: To garnish with lemon zest, I like to use a microplane. I think the lemon zest really makes a difference, and I just do this step after I've cut the lemon (of course, you can zest the lemon before you cut it, if you like).
Adapted from this Raw Beet Dip recipe based on this New York Times recipe.