the best food in the world is seasonal
Seasons define our tastes and preferences, dictating what's been traditionally available, but more importantly the characteristics of the ingredients themselves. Did you know Kale is sweeter in the winter than before the first frost? Or that strawberries picked in the afternoon sun are sweeter than those picked that same morning?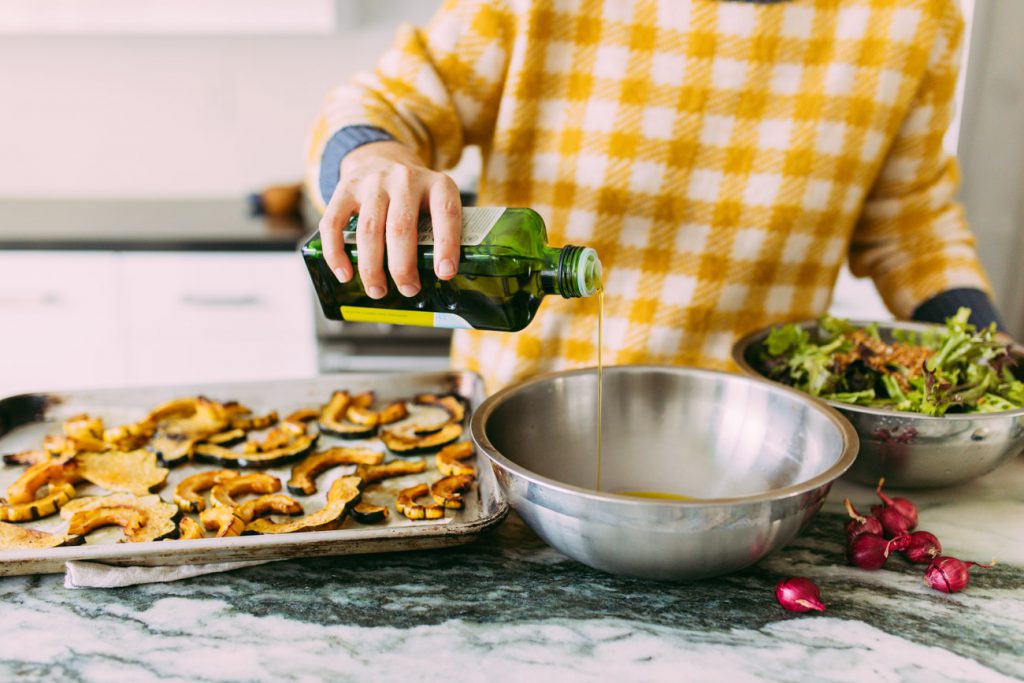 Cooking seasonally doesn't have to be difficult
Most of the best restaurants and chefs in the world offer highly seasonal menus, but up until relatively recently, we all ate seasonally out of necessity. The Frayed Apron was created to help you get back to basics and explore what seasonal eating means in a modern world. Farmer's markets, CSA boxes, roadside farm stands, or even your backyard garden provide all the tools you need to begin taking your food to the next level. The Frayed Apron will show you how to start cooking from scratch.
To Elevate Easy Food with Seasonal Produce in the Least Number of Steps with the Least Number of Ingredients
The Frayed Apron is committed to providing seasonal, from-scratch, Nouveau American recipes that use fresh and homemade ingredients. What you will find here is a passion for integrating seasonality into dishes you may already be familiar with in surprising and flavorful ways. By cooking from scratch from one of our recipes, you can enjoy more wholesome food that's free of artificial colors, flavors, and preservatives. And by focusing on what's simple, we not only pay homage to the ingredients, we give ourselves more time to spend sharing our food with those we love.
Real Ingredients You Can Actually Find, Recipes You Actually Want to Make
Our philosophy is that cooking from scratch is worth the time and effort. Creative variations of approachable recipes make for more enjoyable cooking and eating experiences, especially when the ingredients are real. In essence, cooking from scratch is especially worthwhile when a dish tastes significantly better and is more nutritious than readymade mixtures. Our entire website is a direct reflection of this philosophy. That's why when you make our recipes, you'll see real ingredients that you can source and clear instructions.
I'm Sara, the chef (and photographer and writer) behind the apron (and yes it is frayed).
I love to cook. In fact, I'm driven to do it. I always have been, even before I really knew how, as anyone who ever tried one of my many pre-chef experiments can attest to (sorry not sorry). That drive eventually propelled me through over 2500 hours of assisting, training, and teaching at the Natural Gourmet Institute, and an internship at Michelin-starred Annisa. 
Cooking competitions, professional recipe development, private cheffing, and a TV appearance have all given me a strong appreciation for simplicity. That appreciation inspired me to create The Frayed Apron, and my favorite part about cooking is taking a basic recipe and turning it into something special for someone else–whether that be with a new technique, a seasonal ingredient, or how it's served. I love to work with whole foods and real ingredients and have a background in health supportive cooking. I also really love sharing Dutch oven recipes. I even wrote a cookbook about it called Easy Dutch Oven Cooking!
Ready to START COOKING FROM SCRATCH?
This Frayed Apron has got you covered.
Share your cooking adventures!
If we're not connected yet on Instagram, c'mon over. And if you want the inside scoop, the Frayed Apron Newsletter is where it's at! Most of the time, you'll only hear from me on Wednesdays; more if something is time sensitive or important.
Thank you so much for taking the time to visit. I'm thrilled we're connected and excited for the journey ahead.
Always with love,