This Dutch oven London Broil pot roast is like a big warm hug. Its got you.
It's comforting and familiar. It's a welcome family meal that's beefy with a kiss of acidity and pretty darn simple to make.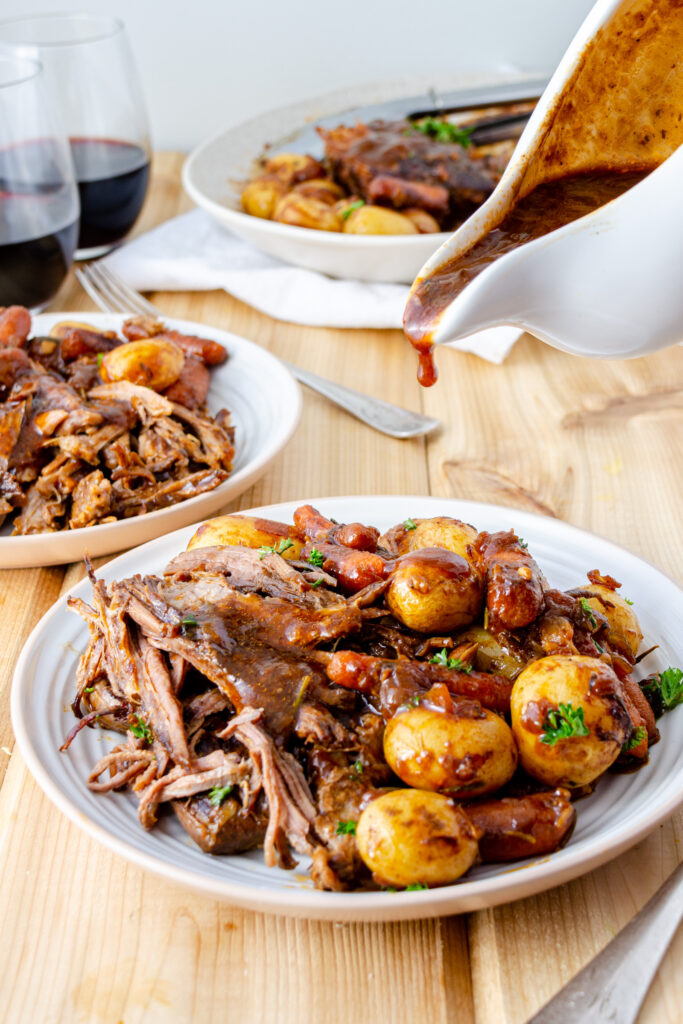 And, it's pretty fun to make, too.
While I sometimes want to feel like a magical witch and throw things in a pot. If you do that, things will be more stew-like than roast-like. You see, a great pot roast is about both wet and dry cooking methods. If you want the meat to be both sliceable and pull-apart tender, if you want a thick and flavorful brown gravy, if you want vegetables that maintain their shape…
You've got to nail the method.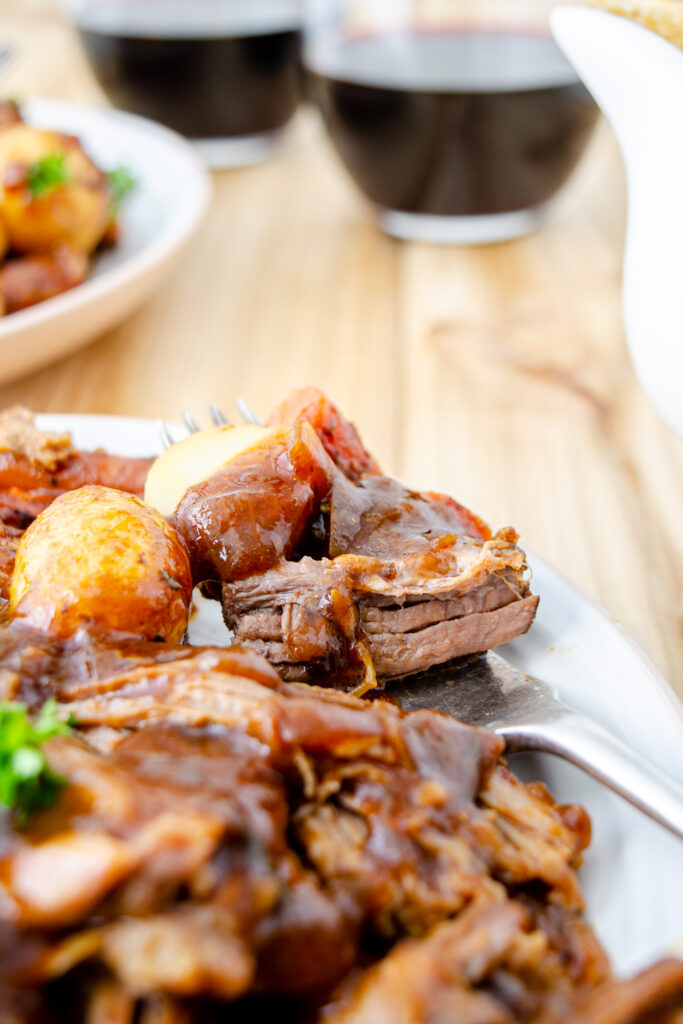 It's time to lug that Dutch oven out because things are about to get hefty in flavor, spirit, and all-around goodness. This recipe is what I've always wanted in a pot roast: it's soulful, rich and savory, yet balanced. I wouldn't be surprised if this becomes your go-to pot roast recipe.
Now, let's get one thing straight. Pot roast is not the sort of thing you make if you need dinner ready fast, but if you don't mind waiting 3 hours to eat, it's totally worth the wait. You know, the Dutch oven does most of the work for you. There's really only about 15 minutes of active prep involved.
I can't think of a better use for baby carrots or baby potatoes than a pot roast situation. You actually want the skin on here, because it prevents the vegetables from disintegrating.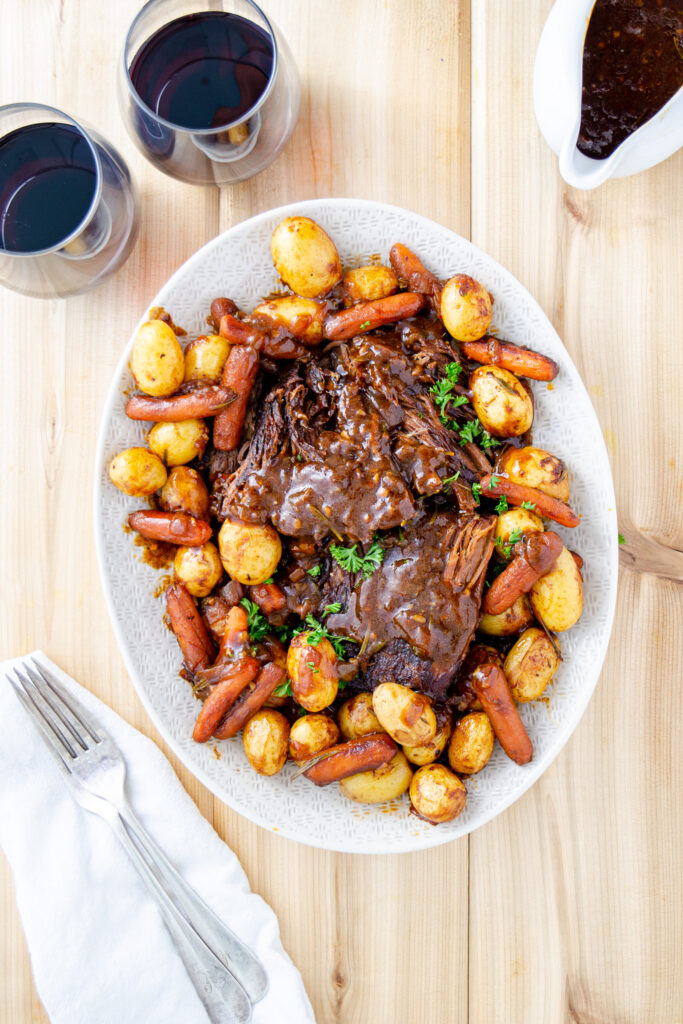 I love serving this one-pot meal straight out of the Dutch oven for family dinner, but it makes for a really nice presentation served on a platter, too. Since the beef broth is already loaded with flavor, I like to thicken it with a cornstarch slurry and serve it as a gravy.
London Broil Pot Roast Ingredients
To get started, gather your ingredients.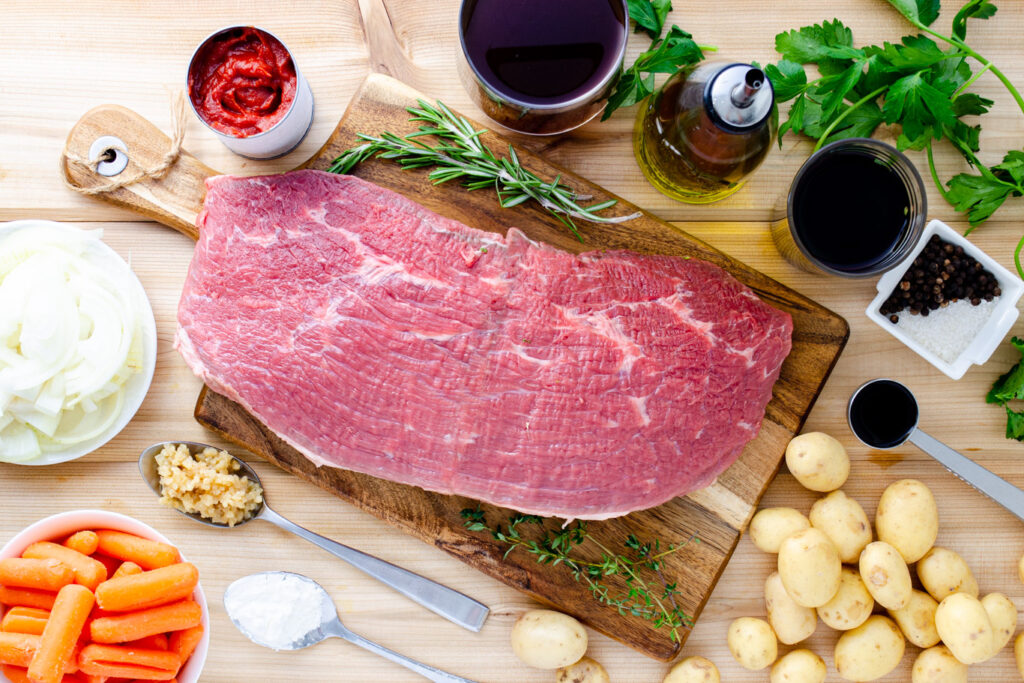 London Broil: look for a minimum of 2 pounds
Kosher salt plus more to taste
black pepper
olive oil
yellow or white onion
garlic cloves
tomato paste
dry red wine such as Merlot or Cabernet Sauvignon (a cheap wine works beautifully here)
beef broth (stock can be used, too but you will need to add more salt to taste)
Worcestershire sauce
thyme sprigs (a sprig is give-or-take, one entire stem with leaves)
rosemary sprigs
baby carrots
baby potatoes a waxy variety such as new or yukon gold
cornstarch (a great thickener for the broth that is already rich with flavor)
parsley
Homemade Pot Roast in the Dutch Oven Step-by-Step
Oh, I do hope you make this recipe in an enameled Dutch oven. Dutch ovens are known for making food taste incredibly delicious, and it's because they're great at holding the heat while trapping moisture. Perfect for pot roast!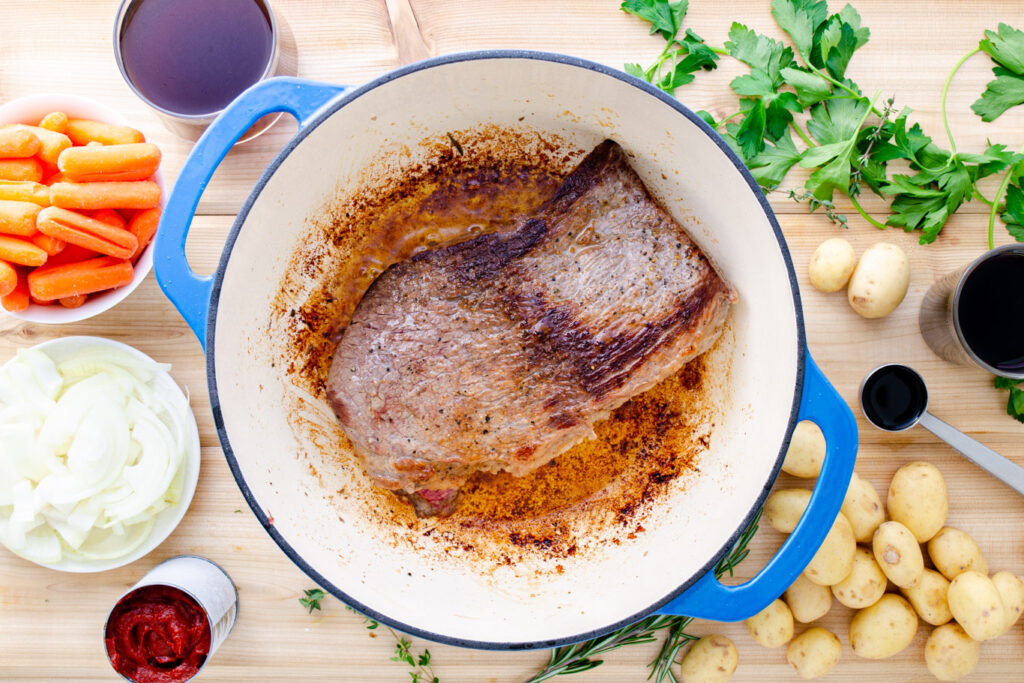 Step 1: Season and sear the London Broil until brown.
Technique Tip: Patting the meat dry prior to seasoning helps the meat develop a brown crust. Browning is a step that creates extra savory depth to the dish.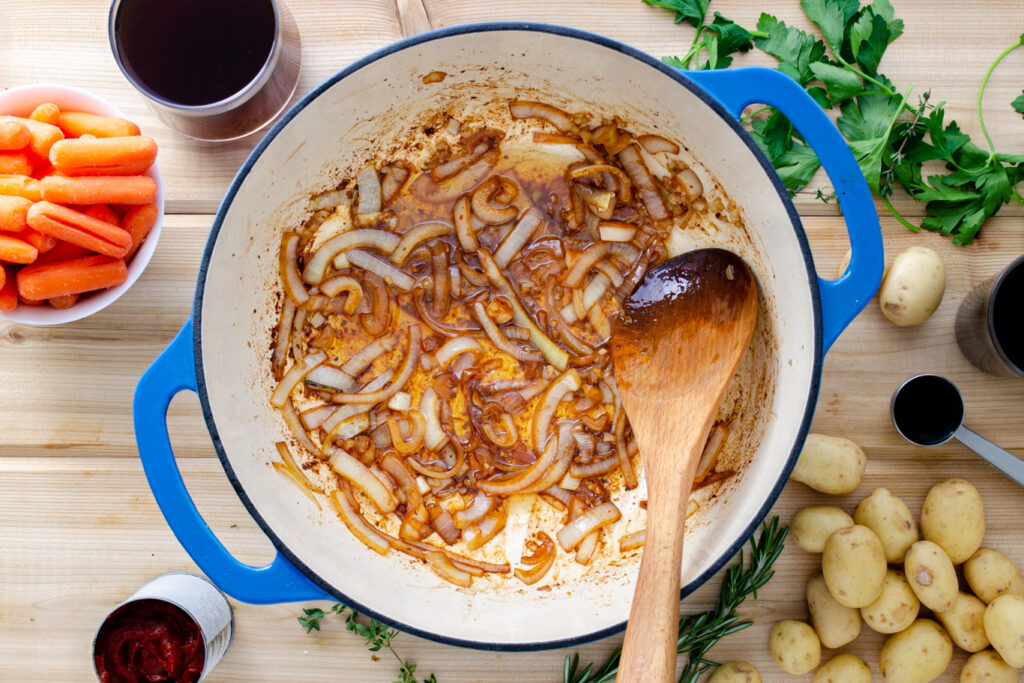 Step 2: Sweat the aromatics then deglaze with red wine.
Substitution Tip: Cooking removes alcohol, but if you need to replace the red wine, beef stock can be used instead with a splash of apple cider vinegar for acidity.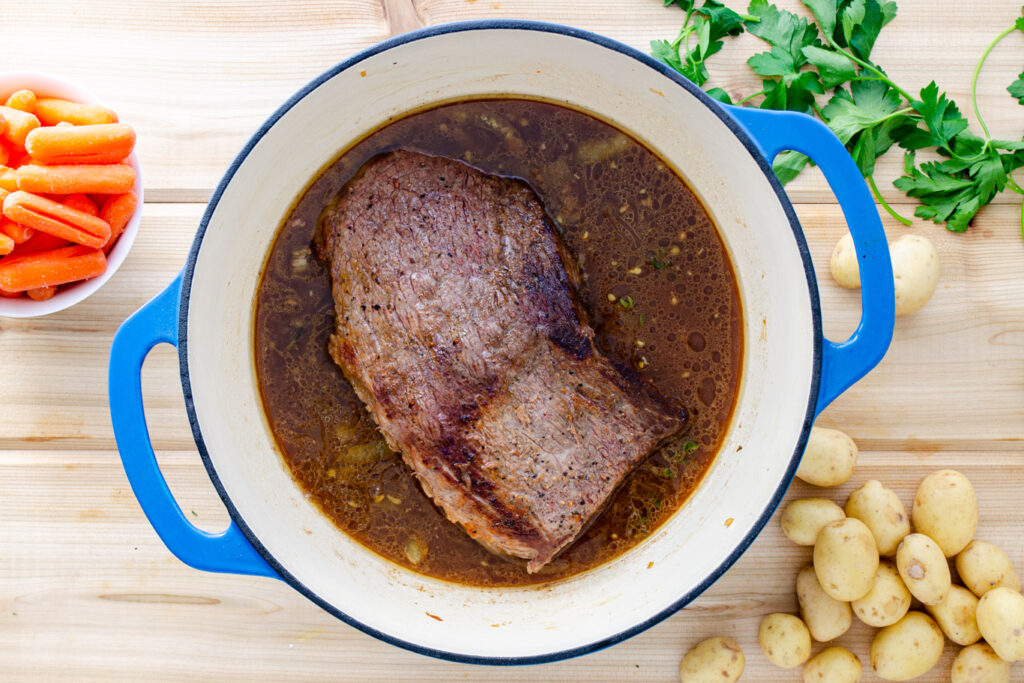 Step 3: Simmer, return the beef to the pot, and transfer to the oven.
You are cooking the beef at a lower temperature because London Broil is a leaner cut and needs time to get tender.
Step 4: Add the vegetables and continue braising in the oven.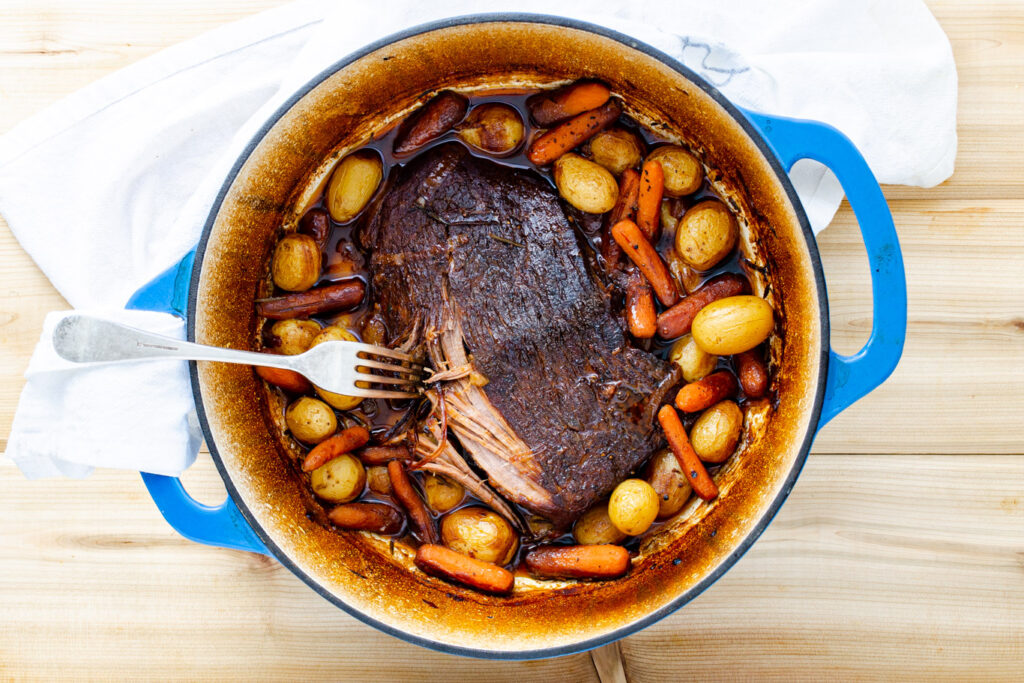 Step 5: Make a slurry and thicken the sauce.
After the vegetables and meat are fully cooked, you can transfer them to a serving platter and thicken the sauce with a slurry.
Technique Tip: A slurry is a solution of water and cornstarch that is flavorless and used to thicken flavorful sauces. The thickening happens when you raise the temperature to a simmer.
How to Store and Reheat Pot Roast
A pot roast is a good dish to make ahead because reheating doesn't negatively impact the texture. You can store and reheat your pot roast in the Dutch oven. Your pot roast will have the best flavor if consumed within 3 days.
Technique Tip: A good rule of thumb is to allow a hot Dutch oven to cool for 20 minutes before placing in the refrigerator. To reheat, simply place the lid on and bring to a simmer on the stove, about 5 minutes over medium heat.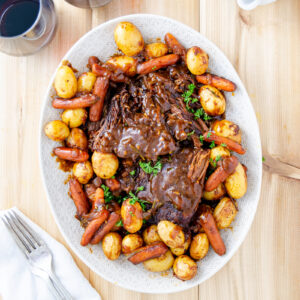 DUTCH OVEN LONDON BROIL POT ROAST
A pot roast should be a meal of convenience as much as flavor. A Dutch oven is the perfect vessel for searing and braising because you can go from the stovetop to the oven without dirtying another dish. This one pot meal is loaded with savory layers of flavor thanks to a beef broth-based braising liquid. Red wine and tomato paste lend just the right amount of acidity and sweetness. The sauce is so good, you can quickly thicken it and use it as a gravy with a mixture of equal parts cornstarch and water (a slurry).
Print
Pin
Rate
Equipment
1 medium size Dutch oven

about 5-6 quarts
Ingredients
London Broil

about 2 pounds

1

teaspoons

Kosher salt

plus more to taste

1

teaspoon

ground black pepper

2

tablespoons

olive oil

1

large yellow or white onion

sliced

4

garlic cloves

chopped

2

tablespoons

tomato paste

½

cup

dry red wine

such as Merlot or Cabernet Sauvignon*

1 ½

cups

beef broth

1 ½

teaspoons

Worcestershire sauce

4

thyme sprigs

2

rosemary sprigs

½

pound

baby carrots

1

pound

baby potatoes

a waxy variety such as new or yukon gold

2

teaspoons

cornstarch

Parsley

chopped, for garnish
Instructions
Season and sear the meat. Preheat the oven to 350F. Pat the London broil dry with a paper towel and set it on the inside of the Dutch oven lid. Season front to back with salt and pepper. Heat the olive oil in a medium 5-7 quart Dutch oven over medium-high heat. When the oil shimmers, set the meat inside and sear undisturbed until brown, about 5 minutes per side. Remove from the pot and set aside.

Sweat the aromatics then deglaze with red wine. Reduce the heat to medium low. Add the onion and stir frequently until somewhat softened, about 3 minutes. Stir in the chopped garlic and cook just until fragrant, about 30 seconds. Immediately add the red wine to deglaze and help lift any of the brown bits. Stir and reduce wine a bit, about 30 seconds.

Simmer, return the beef to the pot, and transfer to the oven. Add the beef broth, Worcestershire sauce, tomato paste, thyme, and rosemary. Raise the heat to medium to bring the braising liquid to a simmer. Using tongs, transfer the beef along with any juices to the Dutch oven. Cover and braise in the oven for 1 hour 15 minutes.

Add the vegetables and continue braising in the oven. Using oven mitts, remove the Dutch oven and arrange the carrots and potatoes around the meat. Season with salt and pepper. Cover with the lid and return to the oven to continue cooking until the meat is very tender and able to be pulled apart by a fork, about 1 hour 40 minutes. Transfer the meat and vegetables to a serving platter or portion onto serving plates.

Make a slurry and thicken the sauce. In a small bowl or ramekin, stir the cornstarch with 1 tablespoon of water to make a slurry. Pour into the braising liquid, stir, and bring to a simmer to thicken. Ladle the gravy over the pot roast and serve with a sprinkle of parsley.
Notes
Best Substitution for Red Wine in Pot Roast:
You can substitute more beef broth in place of the red wine in this recipe.
Cooks note: London broil typically weighs about 2 pounds. This recipe serves 4 and fits in a medium, 5-6 quart Dutch oven. Recommend doubling the recipe if you have a large, 7-8 quart Dutch oven for serving 8 people.
Nutrition
Serving:
1
bowl
|
Calories:
219
kcal
|
Carbohydrates:
30
g
|
Protein:
4
g
|
Fat:
7
g
|
Saturated Fat:
1
g
|
Polyunsaturated Fat:
1
g
|
Monounsaturated Fat:
5
g
|
Sodium:
1061
mg
|
Potassium:
784
mg
|
Fiber:
5
g
|
Sugar:
5
g
|
Vitamin A:
7995
IU
|
Vitamin C:
28
mg
|
Calcium:
55
mg
|
Iron:
2
mg