Pumpkin isn't just for pie, it's the secret to making cinnamon rolls that are worth eating.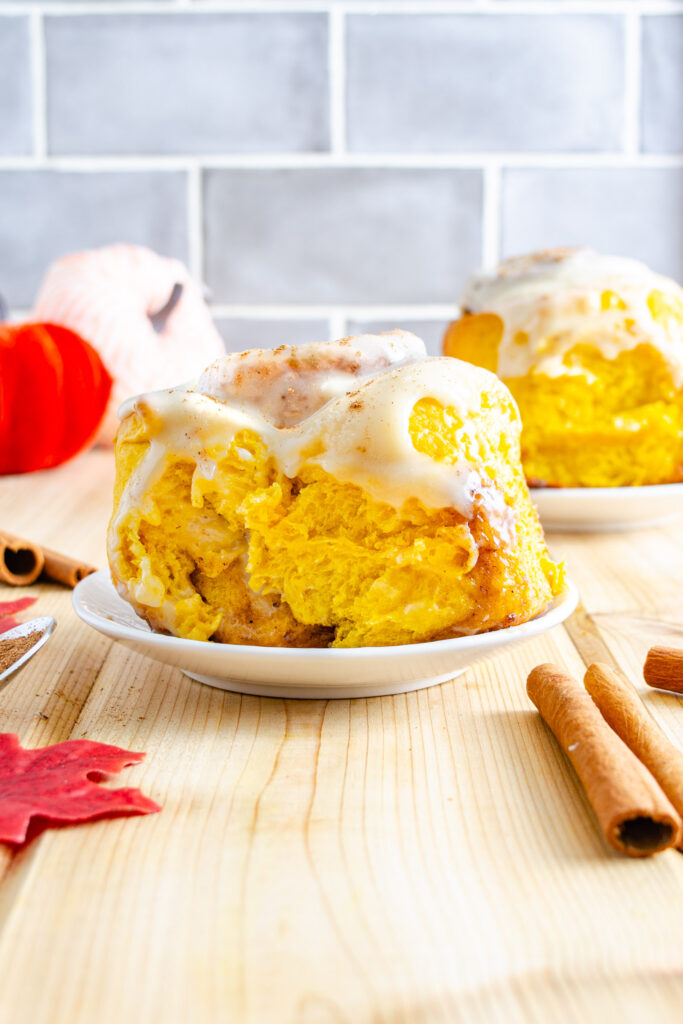 The problem with cinnamon buns is that the dough can become very dry. While the brown sugar filling helps with that, there's a better solution. Pumpkin adds both flavor and moisture to the dough making these cinnabuns the ultimate seasonal indulgence.
Like a good ol' classic cinnamon roll, you get mandatory gooey brown sugar swirls and vanilla cream cheese icing but the pumpkin really takes these to another category. I'm talking the Rolls-Royce of cinnamon rolls — everlastingly MOIST and exceptionally FLUFFY.
Yes, I am biased. So please weigh-in.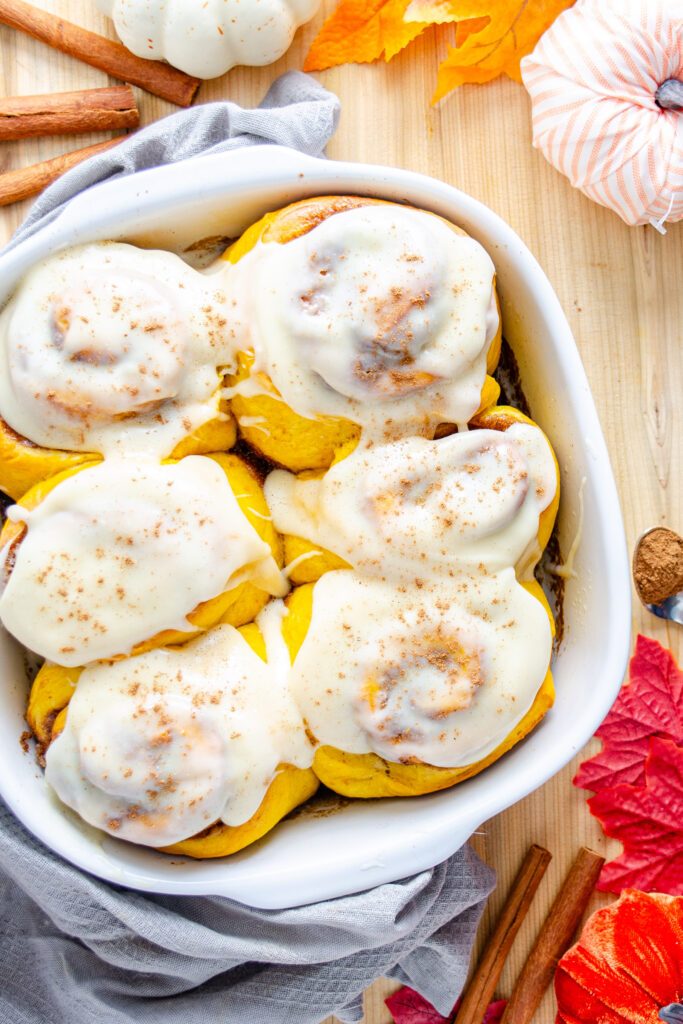 With this recipe, you will get 6 sky-high cinnamon rolls
You can make the dough by hand with a bowl and a few minutes of kneading or shortcut with a stand-mixer (with dough hook), whatever your mood. I'm not afraid to get messy when making cinnamon rolls, so I enjoy kneading by hand.

Frayed Apron Baking Tip: You don't strictly need a baking dish either. A Dutch oven or cast iron skillet work, too, just be sure to leave plenty of room. You want lots of wiggle room for these rolls to puff up and out.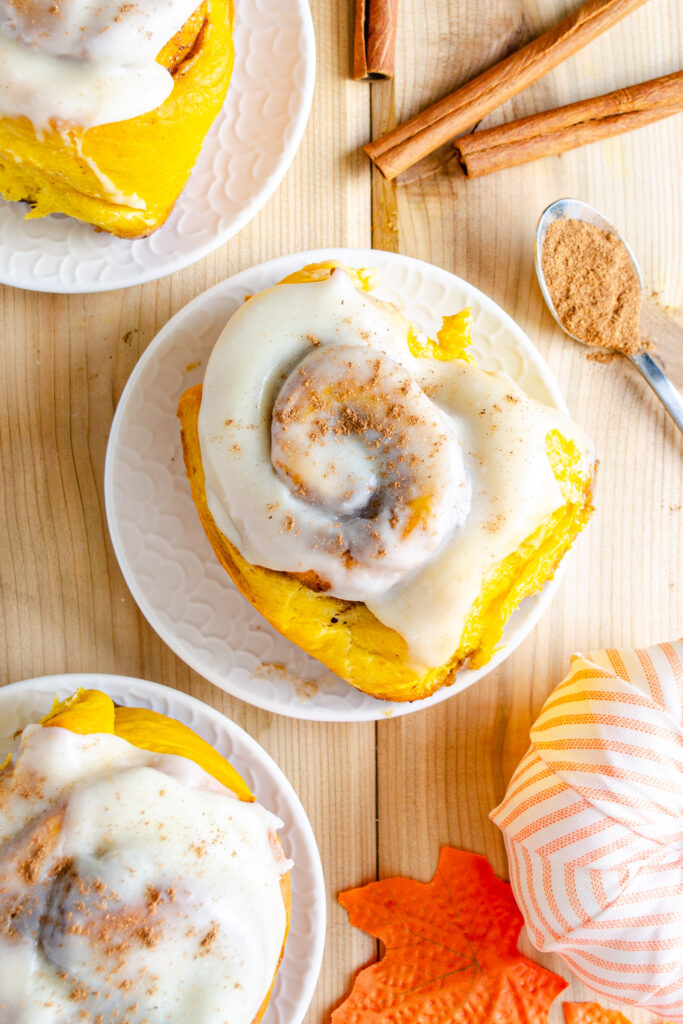 P.S. If you are craving more Fall themed breakfast treats, make pumpkin French toast casserole, New Orleans-style beignets (with pumpkin pie spice), or my grandma's pumpkin bread!
Pumpkin Cinnamon Roll Ingredients
Pictured below are all the ingredients you need to make this recipe. Please note that I've separated the ingredients into sections for simplicity–(1) dough, (2) filling, and (3) Icing.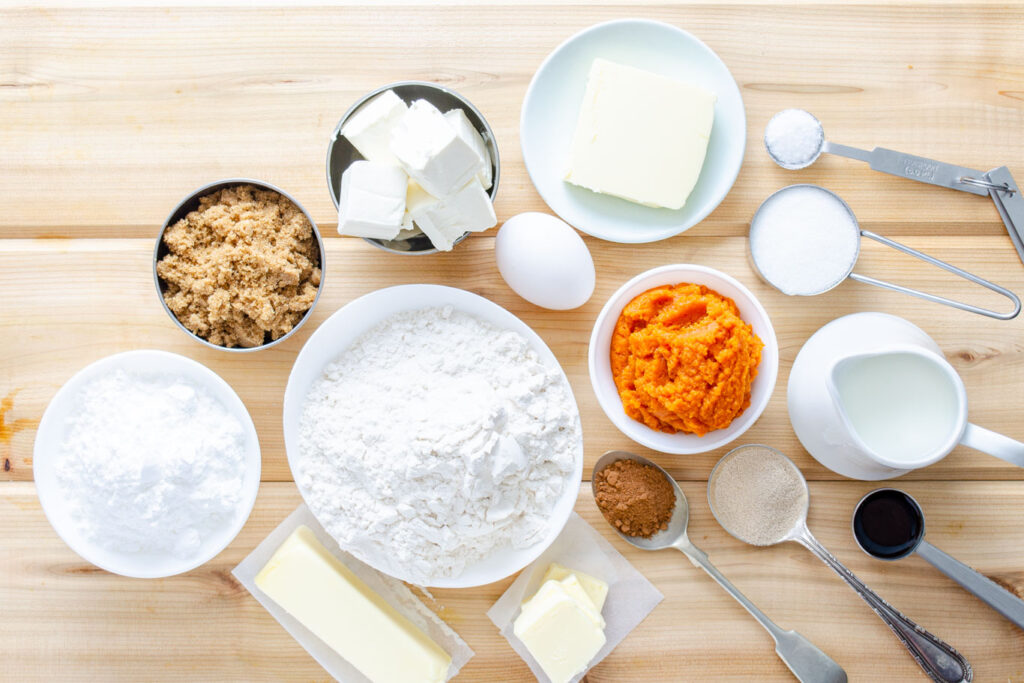 Dough Ingredients
There are 8 ingredients required to make the dough:
Milk: Liquid activates the yeast and gives bread a soft texture. Nondairy or low-fat milks are fine, but whole milk is best. Half-and-half will also work (I've tried it!).
Granulated sugar: Provides "food" for the yeast and enhances the flavor, texture, and moisture of the dough.
Pumpkin puree: Offers a sweet, savory flavor and ensures these rolls are soft and moist. You want 100% pure canned pumpkin puree (not pumpkin pie filling).
Butter: Salted or unsalted butter delivers a flavorful, pull-apart dough. You'll need soft, pliable butter. See my tips below about butter texture.
Salt: You can't make flavorful cinnamon rolls without salt! For a clean taste, use sea salt or Kosher salt
Egg: This recipe calls for 1 large egg (about 1/4 cup liquid) for structure and flavor.
Quick rise "rapid" yeast: Reduces the overall time the dough needs to rise (about 20 minutes faster than active dry yeast).
Flour: All-purpose flour is the structure of the dough. Bread flour would make the best substitute.
Brown Sugar Pumpkin Pie Spice Filling Ingredients
You need 3 ingredients to make this finger-licking good filling:
Butter: Helps the brown sugar melt as it bakes and promises a great flavor.
Brown sugar: Robust dark brown sugar adds rich flavor to the filling. Light brown sugar or coconut sugar works, too.
Pumpkin pie spice: This is just a blend of spices you might already have. You can either buy pumpkin pie spice or use 1 1/2 tablespoons cinnamon, 1 teaspoon ginger, 1 teaspoon nutmeg, and 1/4 teaspoon each of allspice and ground cloves. If you just have cinnamon, that is a classic and will totally work! If you are not freshly grinding your nutmeg (you should!), taste it. If it tastes like nothing, it's time to replace it. Nutmeg has a short shelf-life.
Some recipes tell you to spread the butter over the dough and then sprinkle with brown sugar and cinnamon. This works well if you have soft, pliable butter. You can also combine the butter-brown sugar-spice mixture first and then smear in one-go. Your choice. It makes no difference to the outcome.
Cinnamon Roll Icing Ingredients
All you need is 4 ingredients to make one lip-smacking icing:
Cream cheese: adds flavor, creaminess, and stability so that the icing stays thick even when warmed
Butter (salted or unsalted): adds a rich flavor
Powdered sugar: for sweetness and stability
Vanilla extract: compliments the pumpkin flavor. Don't hesitate to replace the vanilla 1:1 with your favorite liqueur or even some espresso.
Bottom line, you want a sturdy icing for cinnamon buns because we serve them warm. To prevent too much melting, there's a higher proportion of cream cheese to butter. For a creamy lump-free consistency, it's best to warm the butter and cream cheese until soft and stir until smooth and glossy. You can do this in a microwave-safe bowl.
Substitution Tip: If you want to introduce a new liquid flavor, you would swap 1:1 for the vanilla extract part only. For example, replace vanilla with 1 teaspoon espresso or strongly brewed coffee, maple syrup, or your favorite liqueur (eggnog liqueur would be fun). You can also add a pinch of cinnamon, nutmeg, or vanilla bean seeds.
Step-by-Step Cinnamon Bun Recipe
First, gather your ingredients.
Step 1: Make the dough.
In a small microwave-safe bowl, microwave the milk on high for 90 seconds to scald it. Transfer the milk to a large bowl and stir in the sugar, butter, salt, pumpkin puree, yeast, and egg (small butter lumps are ok). With a wooden spoon, stir in the flour. Dust a work surface and turn the dough out onto it. Knead the dough for 5 minutes. Cover the dough and let rise at room temperature for about 1 hour, until doubled in size (see dough pictured below).
Step 2: Roll and cut the rolls and make the filling.
Flatten the dough with your palms to form a large, ½-inch-thick rectangle. In a small bowl, stir together the brown sugar, soft butter, and pumpkin pie spice to form a grainy paste. Evenly spread the sugar mixture across the dough. Starting from a long edge, roll the dough into a log, pinching together the edges to seal. Cut the log into 6 roughly equal-size pieces (see steps below).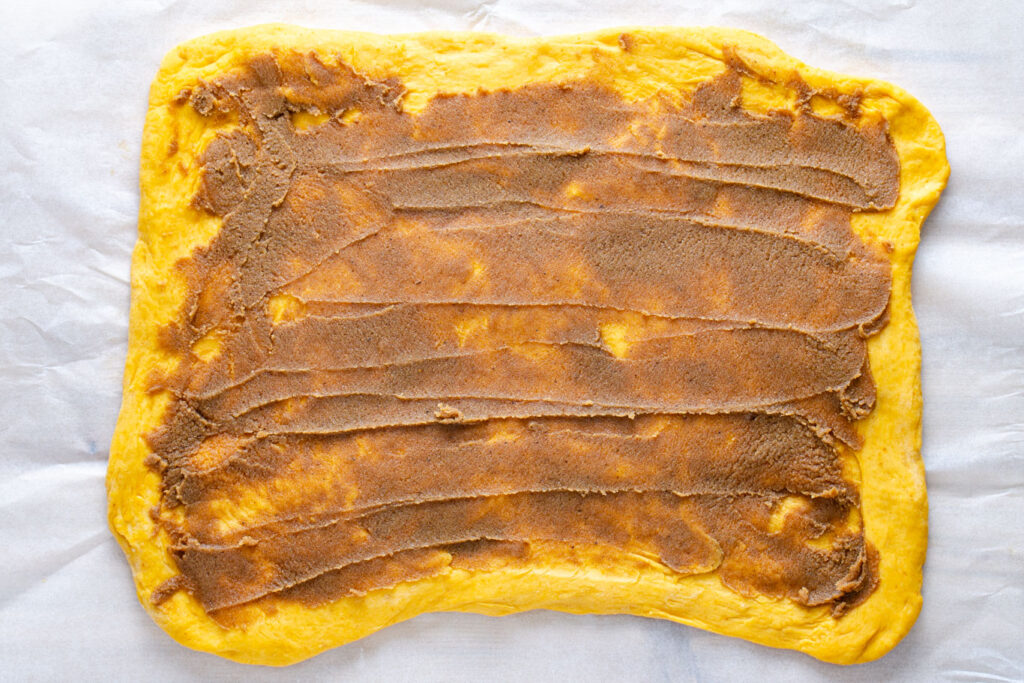 Step 3: Rise, then bake.
Arrange the cinnamon buns in a Dutch oven or baking dish with room to expand; they will spread out and up when baked. Cover the baking dish and let the rolls rise for 30 minutes at room temperature. Bake, uncovered, for about 35 minutes or until the rolls are lightly golden brown. Remove from the oven and let cool.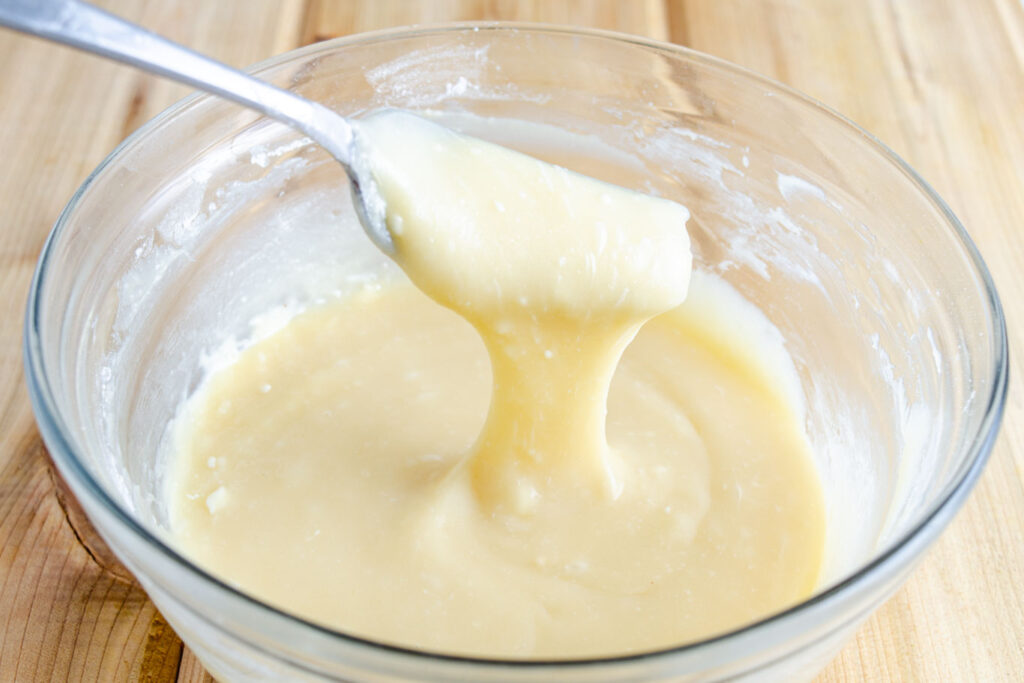 Step 4: Make the icing.
In a medium microwave-safe bowl, combine the cream cheese and butter. Warm in the microwave on high power for 50 seconds. Cut the butter with a fork, then stir until the mixture is smooth and glossy. Add the vanilla and stir in the powdered sugar, a bit at a time, to form a thick frosting. Spread the frosting over the slightly cooled rolls, and serve warm. Refrigerate leftovers for up to 3 days, or freeze them in an airtight bag for up to 2 months.
I'm about to set you free, but before I do, just know that I'm so glad you're here. I love developing recipes for you and yours!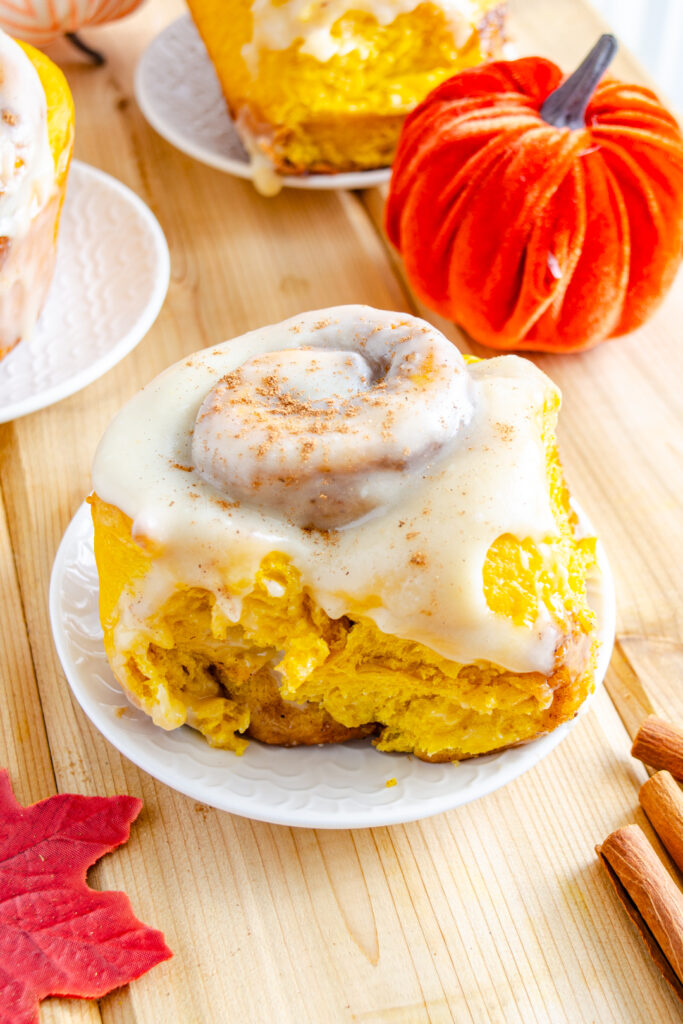 More Fall Inspired Recipes
Recipe adapted from my classic cinnamon rolls from Easy Dutch Oven Cooking.
Photography by Adam Rahman