I came across a really cool idea the other day to use pulverized cauliflower as a flour substitute for bagels. It turns out cauliflower is delicious in these spicy, cheesy bagels topped with poppy seeds, which get bound together with eggs.
More Recipes
Now, before you set your expectations about these bagels, I should tell you that these are not like their wheat counterpart. That said, I was really happy with the result. They have a very tender texture – not chewy (because no gluten) but flavorful and light.
Would I make these again?
For a low carb, gluten free, nutritious breakfast – you bet! I truly loved the cauliflower flavor for something different and especially enjoy the texture toasted. If you are looking for traditional bagels, you'll love how easy these mini breakfast bagel pizzas are to make.
There's an abundance of beautiful cauliflower in the Fall so this is the perfect way to use a whole head. You can also use them in this buffalo cauliflower mac and cheese which is an easy, comforting casserole.
How many carbs are in these low carb bagels?
Each bagel contains only 9 grams of carbs! For reference, a traditional jalapeno cheddar bagel has 63 grams of carbohydrates.
Some of the links on this page are affiliate links, which may pay me a small commission for my referral at no extra cost to you!
How to Make Cauliflower Bagels – Step by Step
Break down the cauliflower by removing the leaves and cutting into large chunks (photo 1). Pulverize in a food processor – working with half of the cauliflower at a time. Salt and steam the cauliflower in the microwave (1 minute) so that it's easier to release excess liquid (photo 2 & 3).
Add the eggs, cheese, jalapeno, coconut flour, almond flour, baking powder, and 3 eggs (photo 4). Mix to form into a wet dough (photo 5).
Shape the bagels using a measuring cup packed full and invert on a baking tray (photo 6). Use your finger to twirl a hole in the center, shaping as you go (photo 7). Brush gently with an egg wash (photo 8) so you can sprinkle with poppy seeds prior to baking.
Serving Suggestions
Enjoy a toasty warm bagel fresh out of the oven as-is for a satisfying breakfast or gently slice open and add an egg for a cauliflower bagel egg sandwich. FYI, you can even skip step 7 and 8 and use this exact recipe to make cauliflower dinner rolls!
Top Tips for Drying Cauliflower for Bagels
Prepare the cauliflower in advance by chopping and storing in the fridge until you are ready to pulverize it.
You can also dry the cauliflower in advance up to 1 day by salting the pulverized cauliflower and storing in the fridge. The juices will release, making it easier to squeeze later.
You can throw large chunks of cauliflower (stem too) into a food processor. It only takes a couple minutes for each batch.
It's important to salt the cauliflower and microwave for 1 minute to release as much moisture as possible prior to squeezing.
Use a cheesecloth or nut milk bag to squeeze the cauliflower until dry. Note: you will release between 3/4 – 1 cup liquid from a 1 pound 14 oz head of cauliflower, which reduces to 2 1/2 cups dried cauliflower.
More Vegetable Recipes You Might Like
*Are you drying the cauliflower? How much liquid did you get to come out? I'd love to know if you ended up making the bagels or rolls and any thoughts on the flavor (comment below).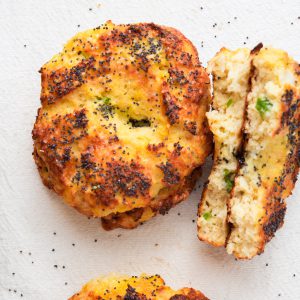 Jalapeno Cheddar Cauliflower Bagels
Lightened up jalapeno cheddar bagels made with cauliflower! These cheesy bagels have a spicy kick and are low carb, gluten free, wheat free and keto.
Print
Pin
Rate
Ingredients
1

head

cauliflower

1 pound 14 oz (minimum)

1

tsp

kosher salt

1/3

cup

superfine almond flour

1/3

cup

coconut flour

2 1/2

tsp

baking powder

1

jalapeno

roughly chopped

2

cups

sharp cheddar cheese

shredded

4

large

eggs

divided

2

tsp

poppy seeds
Instructions
Preheat oven to 400°F and prepare a baking sheet with parchment paper.

Remove the leaves from the cauliflower and cut down the center. Cut into large chunks and place half the cauliflower at a time into the bowl of a food processor fitted with a blade. Pulse until very fine, scraping the sides occasionally if necessary. Place all the finely ground cauliflower into a bowl with the salt. Stir and microwave for 1 minute.

Transfer the cauliflower to a cheesecloth and squeeze to remove up to 1 cup of liquid. When it seems you can't get any more liquid to release, measure 2 1/2 cups dried cauliflower packed into a medium bowl.

Add the almond flour, coconut flour, baking powder, jalapeno, cheddar cheese, and 3 eggs. Mix until evenly combined.

Pack the cauliflower mixture into a 1/2-cup measuring cup and run a butter knife along the exterior. Invert onto the baking tray and make a hole in the center. Use your fingers to shape any parts that don't look compact.

Use a silicone brush to break up the remaining egg. Brush the egg wash over the bagels and sprinkle generously with poppy seeds.

Bake for 32 to 34 minutes until dark golden on top, turning the tray halfway through for even baking. Cool the bagels a bit before eating and store in the fridge with a paper towel (to absorb moisture that releases). Enjoy within 3 days or freeze.
Notes
Due to the fragile nature of these bagels, I find it best to reheat the bagel whole in a toaster. If you have a toaster oven, that would work even better.
Recipe adapted from Kirbie's Cravings – Everything Bagels.
Nutrition
Calories:
212
kcal
|
Carbohydrates:
9
g
|
Protein:
12
g
|
Fat:
15
g
|
Saturated Fat:
8
g
|
Cholesterol:
122
mg
|
Sodium:
504
mg
|
Potassium:
383
mg
|
Fiber:
4
g
|
Sugar:
2
g
|
Vitamin A:
425
IU
|
Vitamin C:
37
mg
|
Calcium:
305
mg
|
Iron:
1
mg