A great topping is key to a sweet potato casserole. Amiright? And, let me tell you, this cool and creamy coconut whipped cream garnished with candied pecans will give you life. Get ready.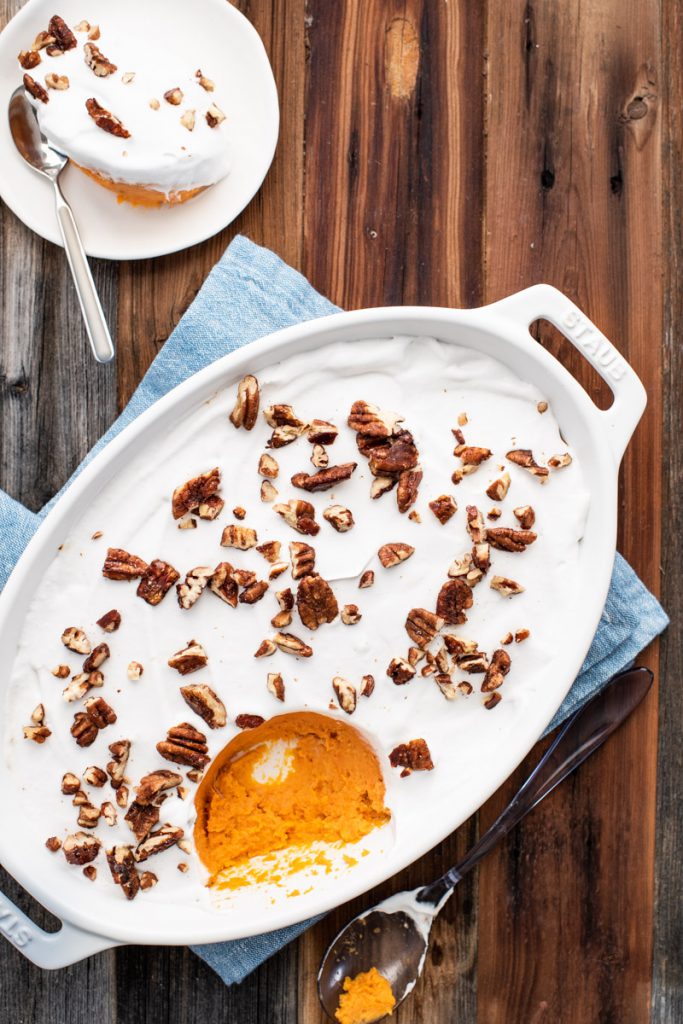 We all know Thanksgiving side dishes steal the show, and I am tossing you a crowd-pleaser that I want you to make your own and love, okay? It is a real food recipe, both comforting and refreshing, and it's coming for you right now, ready?
You guys, the unusual thing about this sweet potato casserole is that it's best served cool or at room temperature because of the coconut whipped topping. It's pie-like, but it's not very sweet so it doubles as a side to turkey, stuffing, and gravy and might rival your actual desserts.
Also, side note: This is a recipe that people with different dietary preferences can indulge. It's vegetarian, gluten free, dairy free, soy free, and refined sugar free.
Let's talk toppings.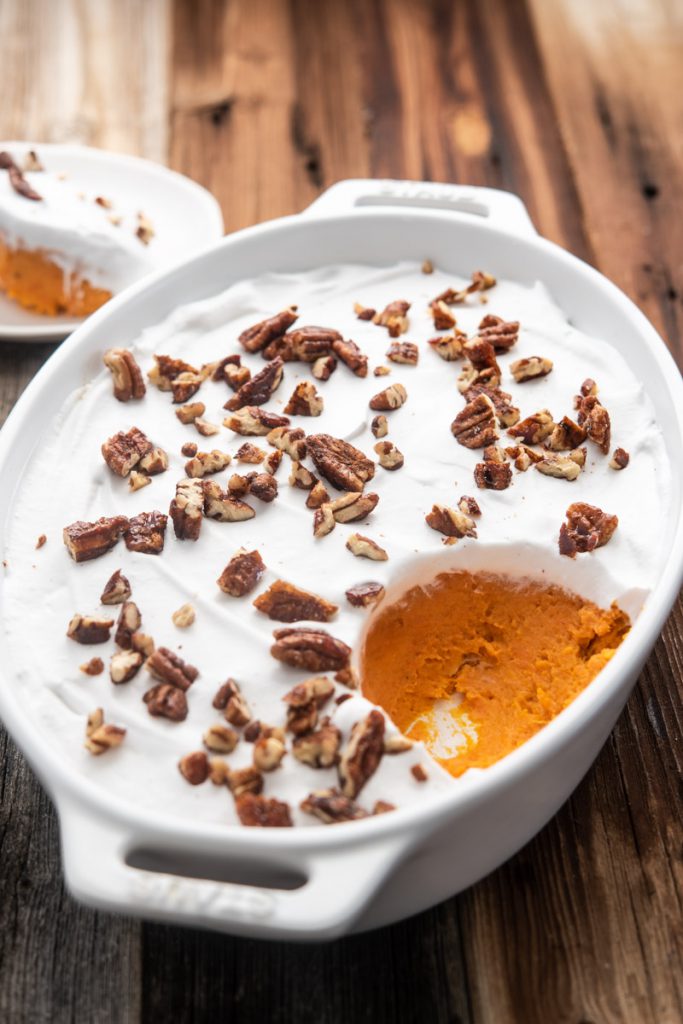 The Topping Situation
I see a few options for you right now. You can simplify this recipe and choose to top the sweet potato base with just the coconut whipped topping or the candied pecans. Admittedly, it's pretty spectacular with both, so I'm calling this one. For the best taste and texture, this cloudlike casserole deserves the crunch (and so do you).
How to Make Coconut Whipped Cream
To make coconut whipped cream, you must chill the bowl and whisk of a stand mixer. Similarly, the can of coconut milk must be chilled as well. I used full fat coconut cream but you may use just the thick part of a can of full fat coconut milk, instead.
How to Quickly and Easily Candy Pecans
Okay, you've picked your topping. It's time to candy those pecans. I never advise that you toast pecans in a skillet because they're too large. Therefore, you can just pop them into the oven (with the cinnamon, coconut oil, maple syrup, and salt) until they develop a crisp exterior and nice snap.
Once cool, give them a chop and now you've got a nice, crunchy topping.
Now, Make the Sweet Potato Base
I like to microwave the sweet potatoes because it cuts the bake time in half. Once they are completely tender all the way through, I find it's best to just scoop them directly into a ricer and press. Once you have the mash, go ahead and add the coconut milk, maple syrup, vanilla, salt, nutmeg, and eggs.
Give everything a good stir until the eggs are completely worked in and the mixture is streak free. Then, spread the sweet potato mixture into a casserole dish.
Common Questions About This Sweet Potato Casserole
Can this sweet potato casserole be served warm?
Since coconut whipped cream has a tendency to melt, I'd warm the base only and serve the cool coconut whip on the side.

Can I bake the sweet potato instead of microwaving it?
Yep. Just prick all over with a fork, place on a tray, and bake for 45 minutes in a 400°F oven until completely tender all the way through.

I don't like coconut, is there another topping I can use?
Sure! If you're still looking for a wholesome recipe, I wouldn't hesitate to use heavy whipping cream, instead.

Can I serve this for dessert?
It's minimally sweet as-is, so I'd increase the maple syrup by about 1/4 cup to the base and add 2 tablespoons powdered sugar to the coconut whipped cream.

How can I make this sweet potato casserole vegan?
To make this vegan, simply omit the eggs.

This sweet potato casserole with coconut whipped cream is inspired conceptually by sweet potato pie. In terms of method, I've shaved some time from traditional sweet potato casserole by microwaving the sweet potatoes.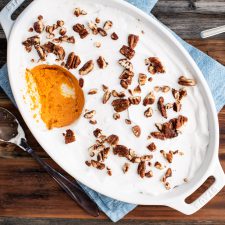 SWEET POTATO CASSEROLE WITH COCONUT WHIPPED CREAM
This sweet potato casserole is sweetened solely with maple syrup and seasoned with warm fall spices, so you already know it's good! Served with fresh coconut whipped cream and candied pecans, this dessert definitely deserves a spot on your Thanksgiving menu.
Print
Pin
Rate
Ingredients
For the casserole:
4

large

sweet potatoes

weighing approximately 4 pounds

1

cup

coconut milk or coconut cream

for a richer flavor

½

cup

maple syrup

2

large

eggs

1

teaspoon

vanilla extract

1

teaspoon

sea salt

1/4

teaspoon

ground nutmeg
For the pecans:
1

cup

pecans

1

teaspoon

refined coconut oil

2

tablespoons

maple syrup

1 1/2

teaspoons

cinnamon

1

pinch

sea salt
For the toppings:
1

13.5-ounce

can of coconut cream*, chilled
Instructions
Preheat the oven. Preheat the oven to 350°F and chill the bowl and whisk of a stand mixer in the fridge or freezer.

Mash the sweet potatoes. Pierce the potatoes all over with a sharp knife and place on a plate. Microwave on high heat until they are completely fork tender all the way through, about 20 to 25 minutes. Let the potatoes cool slightly, then slice open and scoop out the flesh into a large bowl, discarding the skins. Mash with a potato masher, being careful not to over-mash–alternatively, press through a ricer.

Mix and spread the casserole. Using a spatula, stir the coconut milk, maple syrup, eggs, vanilla, salt, and nutmeg into the sweet potato mash until smooth. Spread the mixture into a 13 by 9-inch baking dish. Bake until the top feels just slightly firm and is no longer sticky to the touch, about 35 minutes (or up to 45 depending on the size of your sweet potatoes). Remove from the oven and place on a wire rack to cool, about 30 minutes.

Toast the pecans. Spread the pecans onto a sheet tray lined with parchment paper. Add the coconut oil, maple syrup, cinnamon, and sea salt. Use your fingers to gather and coat the pecans then spread back out in a single layer. Bake at 350°F for about 10 minutes then allow to cool. Chop and set aside for garnish.

Make the whipped topping. Pour the chilled can of coconut cream into the chilled bowl of a stand mixer. Whip on high speed for a few minutes until the mixture begins to stiffen and turn to whipped cream. Chill the cream in the refrigerator. It will firm up even more as it sits in the refrigerator for the next few hours or overnight.

Chill and serve. Cover the sweet potato casserole and chill for at least 2 hours or up to overnight. To serve, spoon the whipped coconut cream over the top and spread gently with an offset spatula. Serve immediately with the candied pecans as garnish.
Nutrition
Serving:
1
scoop
|
Calories:
301
kcal
|
Carbohydrates:
43
g
|
Protein:
4
g
|
Fat:
13
g
|
Saturated Fat:
6
g
|
Cholesterol:
37
mg
|
Sodium:
318
mg
|
Potassium:
598
mg
|
Fiber:
5
g
|
Sugar:
18
g
|
Vitamin A:
19349
IU
|
Vitamin C:
4
mg
|
Calcium:
81
mg
|
Iron:
2
mg
Some of the links on this page are affiliate links, which may pay me a small commission for my referral at no extra cost to you!