This autumn ingredient salad is chock-full of roasted Delicata squash and raw fresh ingredients for balance. While the squash is roasting, you can toss the salad together with a simple vinaigrette for a quick side dish.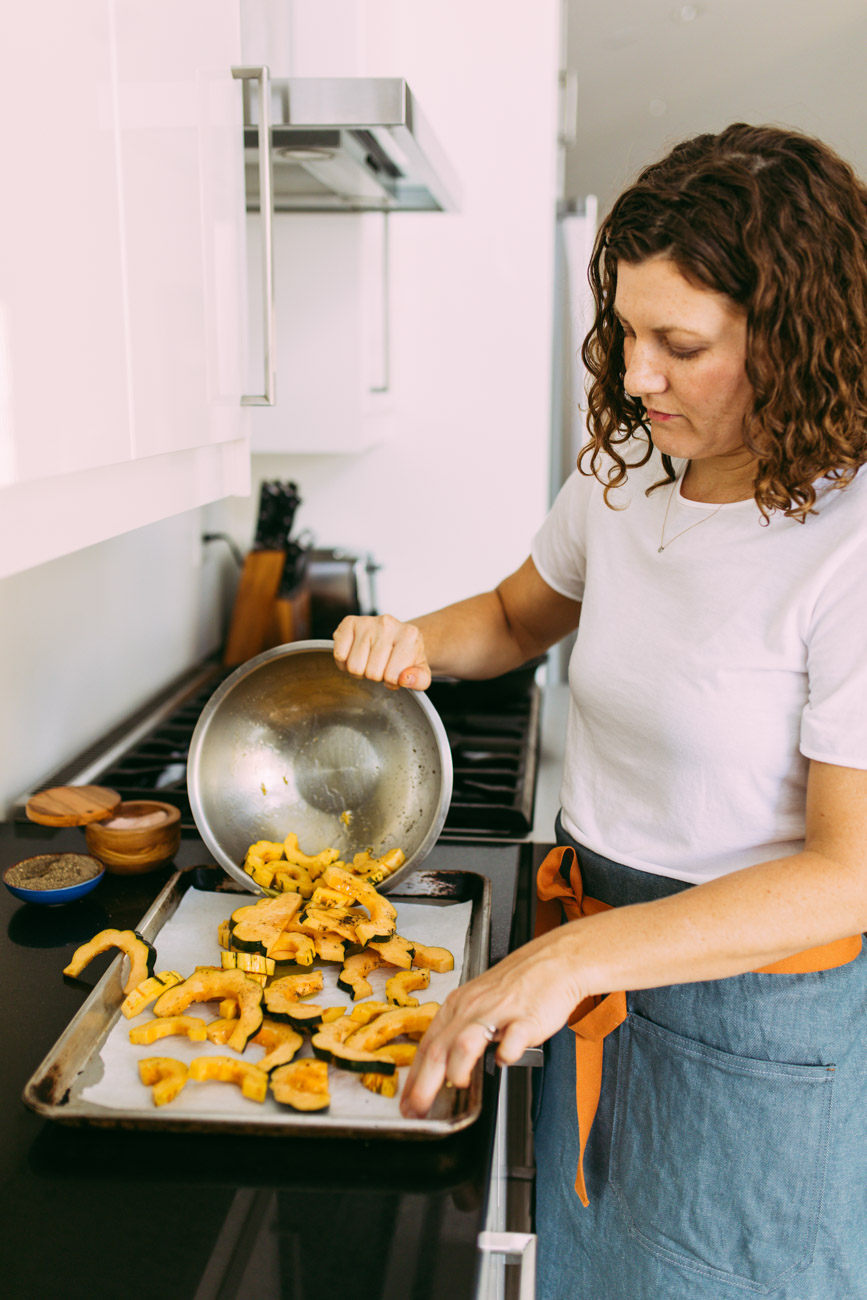 Delicata squash is available from late summer into early winter, so there's plenty of opportunity to mix and match whatever you're harvesting from your garden or finding at the farmer's market. For the greens, I recommend something hearty like peppery arugula, baby kale, or those power greens from Costco.
Cutting and Roasting the Delicata Squash
Also called "sweet potato squash," Delicata is a variety of winter squash that is known for its delicate rind, which can be eaten. When cut into half rounds and roasted until caramelized, it becomes especially sweet and creamy.
While you could toss it with noodles and pumpkin seed pesto, I think it's equally lovely to experience it with other Fall ingredients salad-style.
So grab your apron and let's get hands on!
Step-by-Step Delicata Squash Salad
Don't fear the squash. Remove the stem end then plant the tip of your knife into the flesh and cut straight down the middle (lengthwise). You will be greeted with golden-colored flesh and the awesome smell of pumpkin.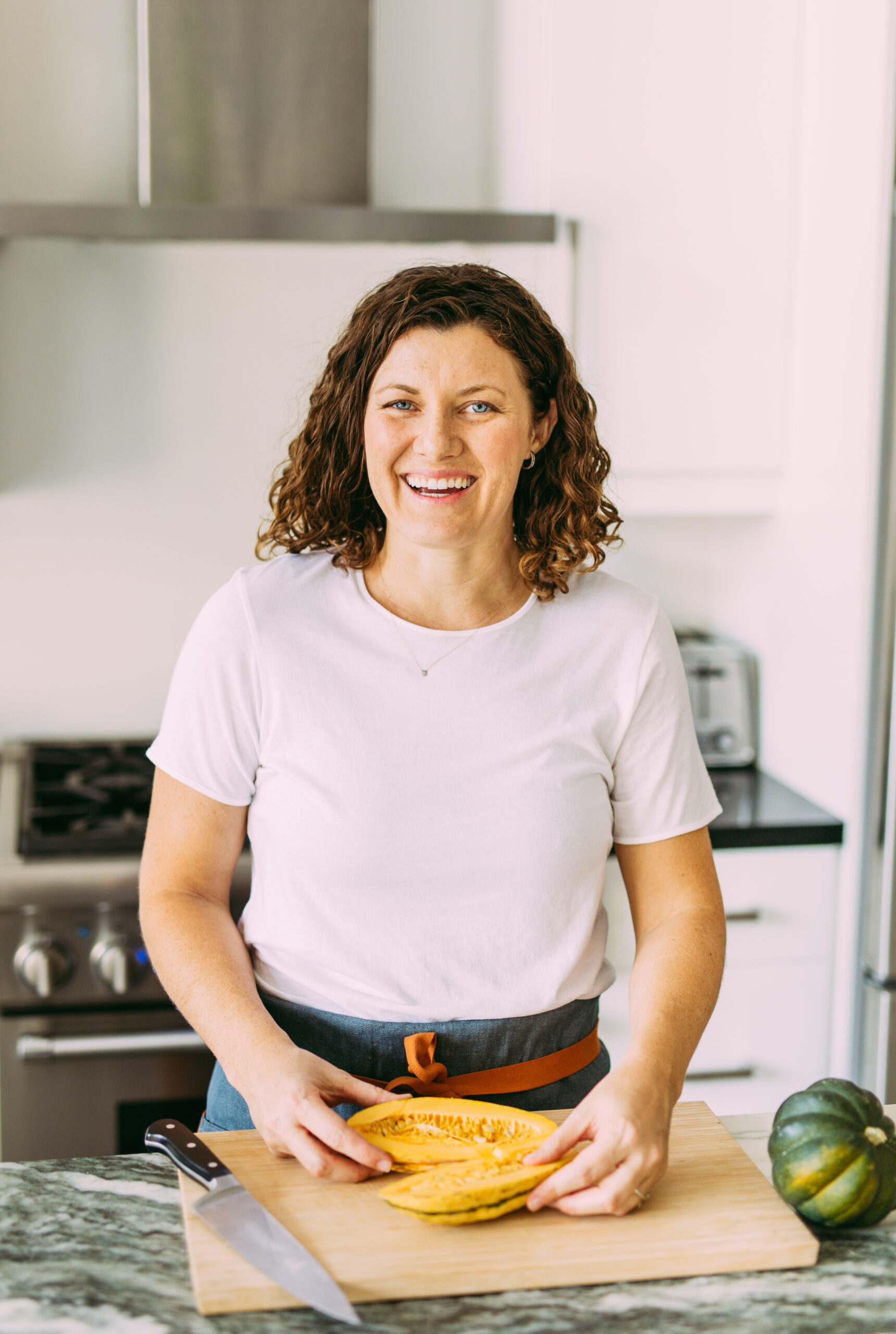 As you can see, there aren't many seeds. Simply take a spoon and scrape them out. You can roast them if you want, give them to the pig, or toss them into your compost pile:)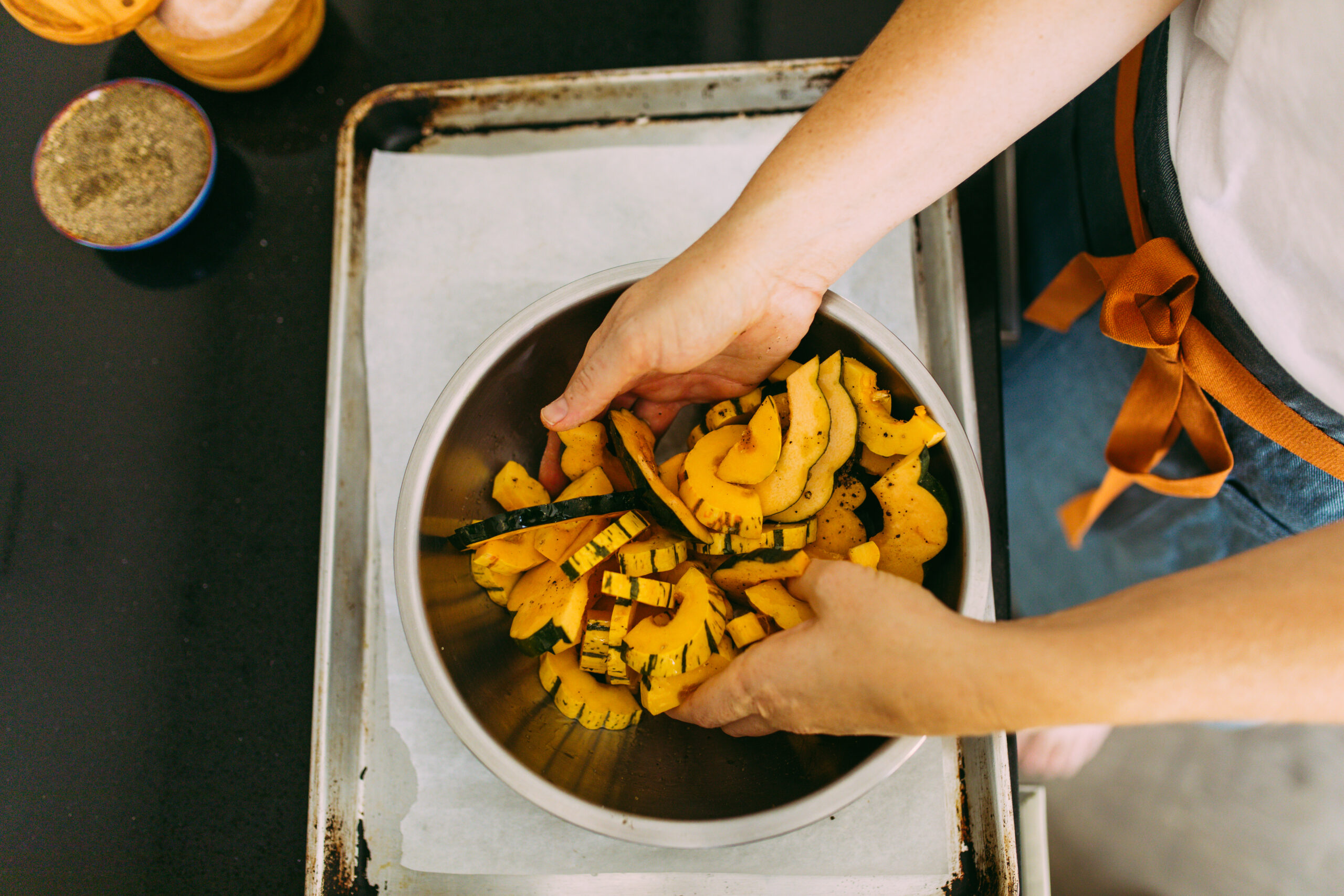 Technique Tip: For the best browning, I like to slice the squash into 1/4-inch thick half-moons and toss with olive oil, salt, and pepper in a bowl. I love stainless steel prep bowls for achieving a thin, even coating of oil for roasting because the food won't get greasy or dry.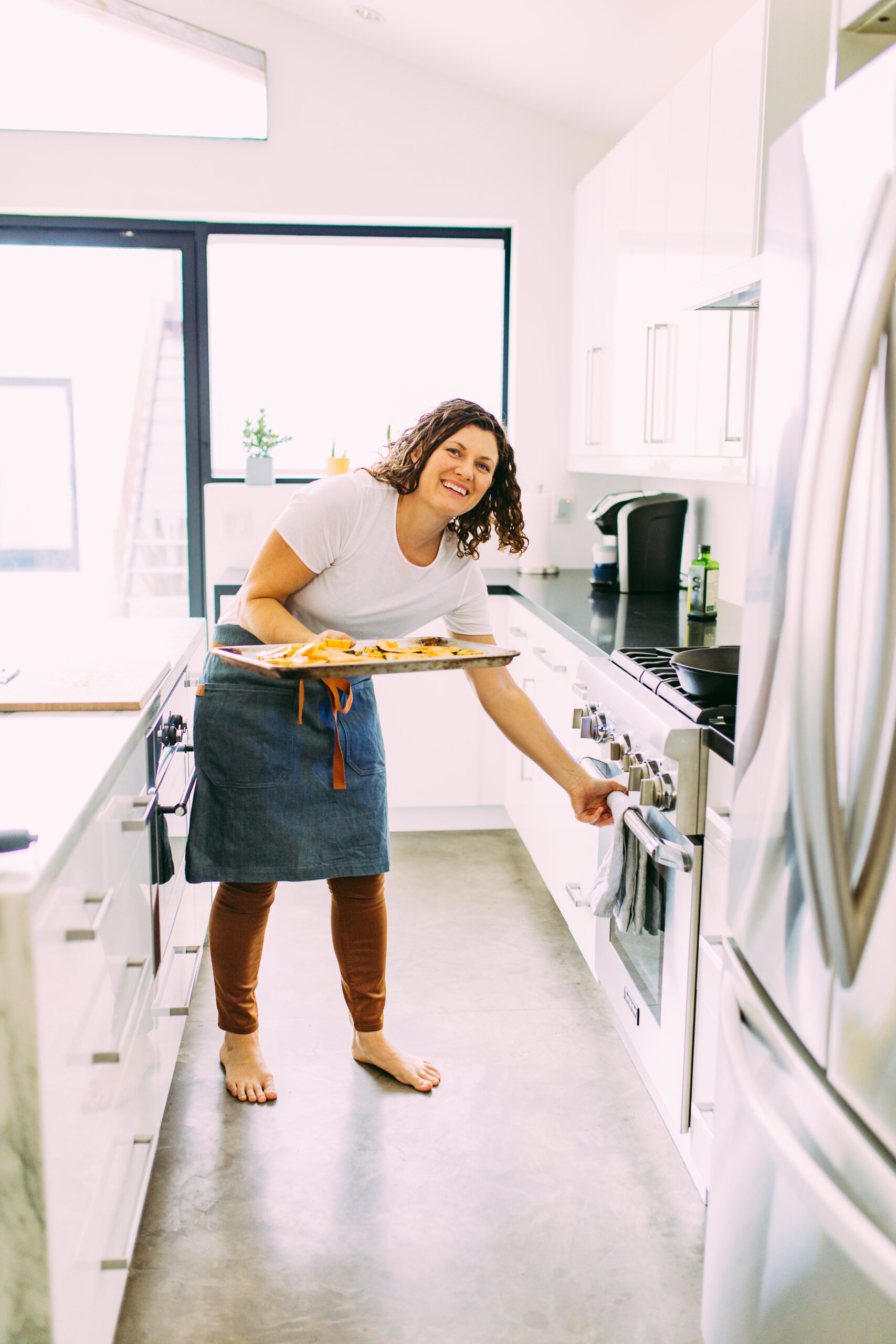 Be sure to spread the squash out evenly in a single layer on your sheet tray. You can lay down parchment paper for easy clean-up. Roast at 425 degrees for about 25 minutes or until slightly brown.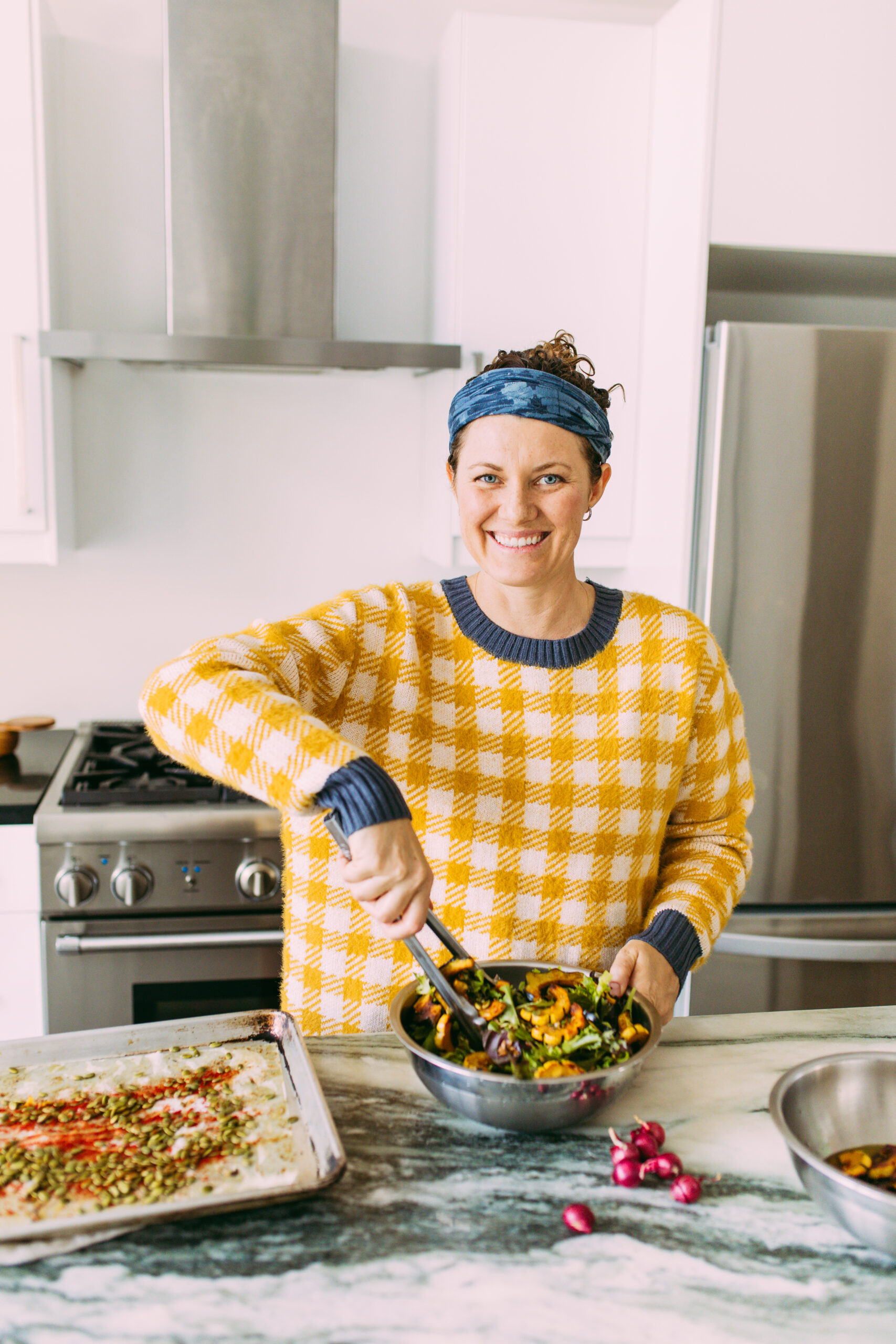 While the squash is roasting, you can prepare whatever ingredients you have on hand for the salad. At a bare minimum, you need the greens and the dressing. I'll include a list of my favorite add-ins for inspiration, too!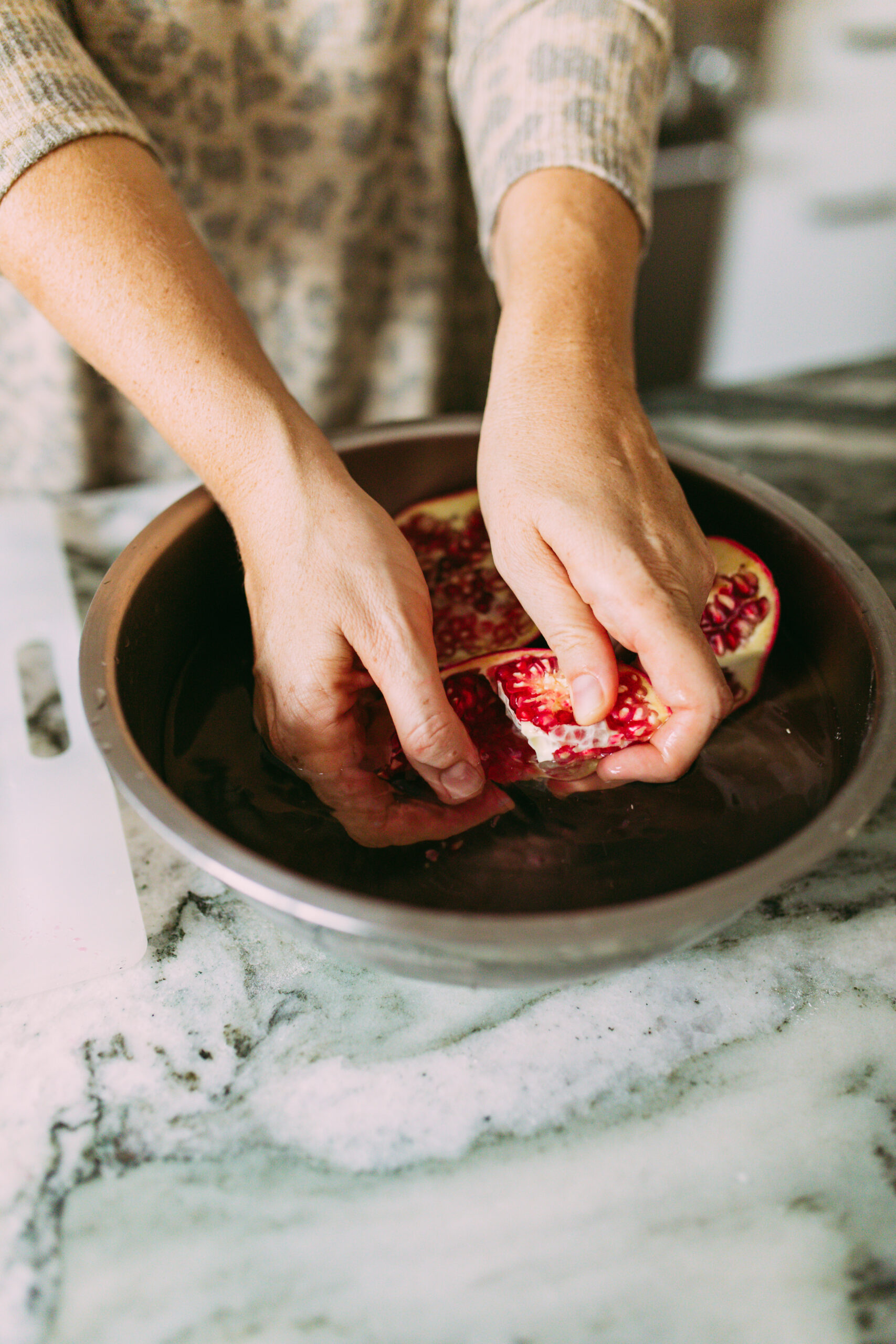 Vinaigrette Ingredients, Tips, and Substitutions:
You are aiming for an acidic leaning dressing for this particular salad, which means that the ratio you should target is 2 parts oil: 1 part acid (for example, 2 Tablespoons oil and 1 Tablespoon Vinegar).
olive oil: extra virgin olive oil, avocado oil, or walnut oil are good options for the vinaigrette portion of the recipe
vinegar: I like medium acidity vinegar with some nice flavor for salad, such as apple cider, sherry, or red wine vinegar
Dijon mustard: Just a tiny amount of good quality mustard plays the role of emulsifier in this garlic-less dressing. If you don't have Dijon, by all means, use garlic paste instead.
sweetener: I think the slightest (and I mean like 1/4 teaspoon or less) of maple syrup, brown sugar, or coconut sugar helps to just slightly lift the flavors and balance everything out
sea salt and red chile flakes: I love the duo of mineral-rich sea salt and the fruity, hot flavor of red chile flakes for seasoning. You could use ground black pepper if you prefer.

Frayed Apron Tip: Always taste your salad dressing on the leaf you are serving it on. Your salad dressing may need adjustments to acid, oil, or salt, depending on which green you choose.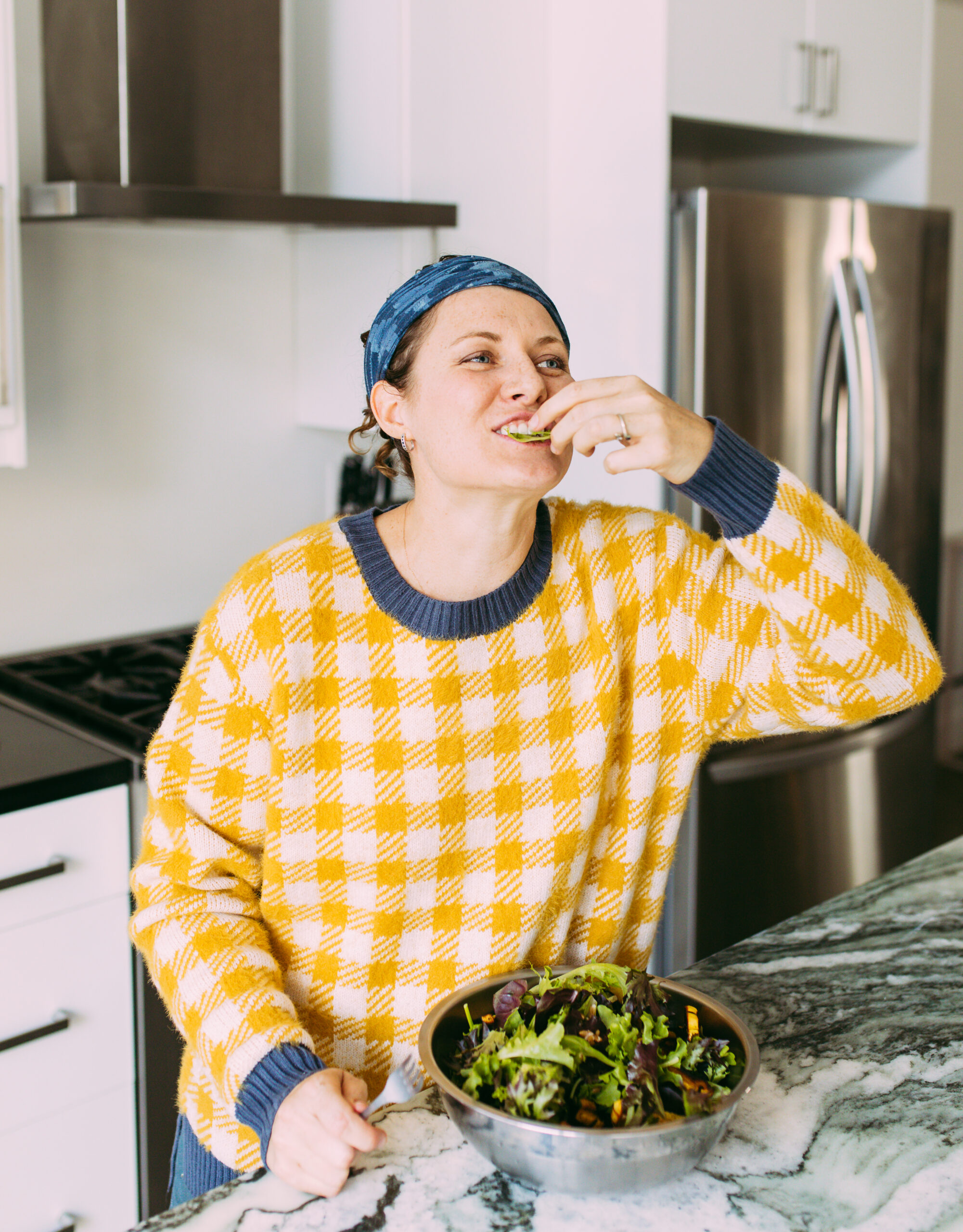 Flavor and Ingredient Add-Ins and Variations:
Squash – If you can't find Delicata squash, the best substitute would be acorn for its mild nutty, sweet flavor.
Pumpkin Seeds – You could roast the seeds inside the squash or you could buy sprouted, raw, or roasted pumpkin seeds. If you want to roast your own, spread them out on a sheet tray, sprinkle with smoked paprika, salt, and pepper and a drizzle of olive oil. Watch carefully and roast just until aromatic and slightly brown.
Pomegranate – Slice in half in a bowl of water, remove the jewel-colored seeds and toss into your salad for a pop of sweet, sour flavor.
Onion – The key to using raw onions in salad is to slice thinly and soak them for about 20-minutes in cold water. I actually love using red onions for their flavor in salads. You can use any variety, such as pearl, shallots, or red cultivars such as the Southern Belle onion.
Apple – Green (Granny Smith) or red apples (Gala) with a crunchy texture sliced thinly and fanned would make for a lovely presentation.
Greens – Since the squash is so hearty, you want a green that can stand up to a higher acid dressing. Baby kale, spinach, arugula, and mixed greens are all good options. Just avoid butter leaf or iceberg lettuces for this salad.
Fresh Herbs – I love adding a combination of fresh herbs to salads. Thyme leaves or minced parsley add a fresh, unexpected flavor. You can also add minced tarragon, which has a nice anise flavor.
Watch How to Cut an Onion for Salads:
See the "sandwich aka salad slice" in this video where I show you how to cut "against the grain."
Squash and Salad FAQs
Can you eat Delicata squash skin? Yes. The skin is pleasant and there's no need to peel it.
When to harvest Delicata squash: Depending on your climate zone, you will harvest in late summer into early winter.
Can I make this salad ahead? As a rule of thumb, you can make salad ahead if 1) you don't toss it with the vinaigrette until time to serve and 2) if using greens that can handle a little rough handling–your baby kale, arugula, curled endive, etc.
What is the best way to prepare salad greens? I recommend submerging greens in a bowl of cold water and lifting the greens out (any grit will sink to the bottom). Moisture is the enemy with salad. Therefore, you should dry wet salad greens before tossing with an oil-based vinaigrette. For this reason, a salad spinner is an essential piece of kitchen equipment.
More Easy Fall Recipes for You:
If this is your first time experimenting with roasted squash in salad, you are in for a real treat. Here we go!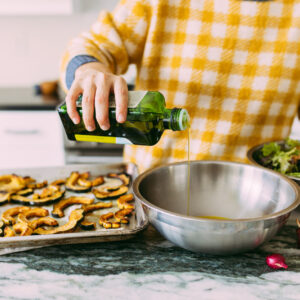 Roasted Delicata Squash Salad
Dairy Free, Nut Free, Gluten-Free, Vegetarian
Here's the gist of this simple salad: You just toss sliced Delicata squash with olive oil, salt, and pepper and roast until the flavors intensify. Meanwhile, mix up a quick vinaigrette and toss with whatever ingredients you have on hand: fruit, nuts or seeds, plus onion all work!
Print
Pin
Rate
Ingredients
2

Delicata squashes

cut in half lengthwise, seeded, and sliced into 1/4-inch thick half-moons

olive oil

extra virgin, for drizzling

salt and pepper

to taste

1/2

cup

red onion

sliced thinly

Fruit

optional, such as thinly sliced apple or pomegranate seeds

6

cups

greens

such as arugula, baby kale, or a mix

thyme leaves

optional
Vinaigrette
2

tablespoons

olive oil

extra virgin

1

tablespoon

vinegar

apple cider, sherry, or red wine vinegar

1/4

teaspoon

Dijon mustard

a little goes a long way

tiny

pinch

brown sugar

or a drop of maple syrup

sea salt and red chile flakes
Instructions
Roast the Squash. Preheat oven to 425℉. Place the prepared squash pieces in a bowl and toss generously with olive oil and several pinches of salt. Add freshly ground black pepper then spread onto a baking sheet in a single layer. Roast until brown, about 25 minutes.

Prepare the salad ingredients. Cover the onion with cold water and soak for about 20 minutes. Prepare fruit, if using. For the greens, rinse if necessary and spin dry before combining with any add-ins (thyme leaves, sliced apple, pomegranate, roasted pumpkin seeds, sliced onion). Set aside.

Make the vinaigrette. Whisk all the vinaigrette ingredients (olive oil, vinegar, Dijon, brown sugar, salt and chile flakes) in a bowl.

Toss and serve. Allow the squash to cool slightly then toss warm with the vinaigrette, greens, and any fruit or nuts, if using. Serve within 1-hour or the greens will wilt.
Nutrition
Serving:
1
bowl
|
Calories:
107
kcal
|
Carbohydrates:
16
g
|
Protein:
2
g
|
Fat:
5
g
|
Saturated Fat:
1
g
|
Polyunsaturated Fat:
1
g
|
Monounsaturated Fat:
3
g
|
Sodium:
19
mg
|
Potassium:
623
mg
|
Fiber:
3
g
|
Sugar:
4
g
|
Vitamin A:
2519
IU
|
Vitamin C:
29
mg
|
Calcium:
51
mg
|
Iron:
1
mg