If you're looking for a salad that takes 20 minutes to make, packs a punch, and doesn't require lots of cooking – this asparagus watercress salad is it!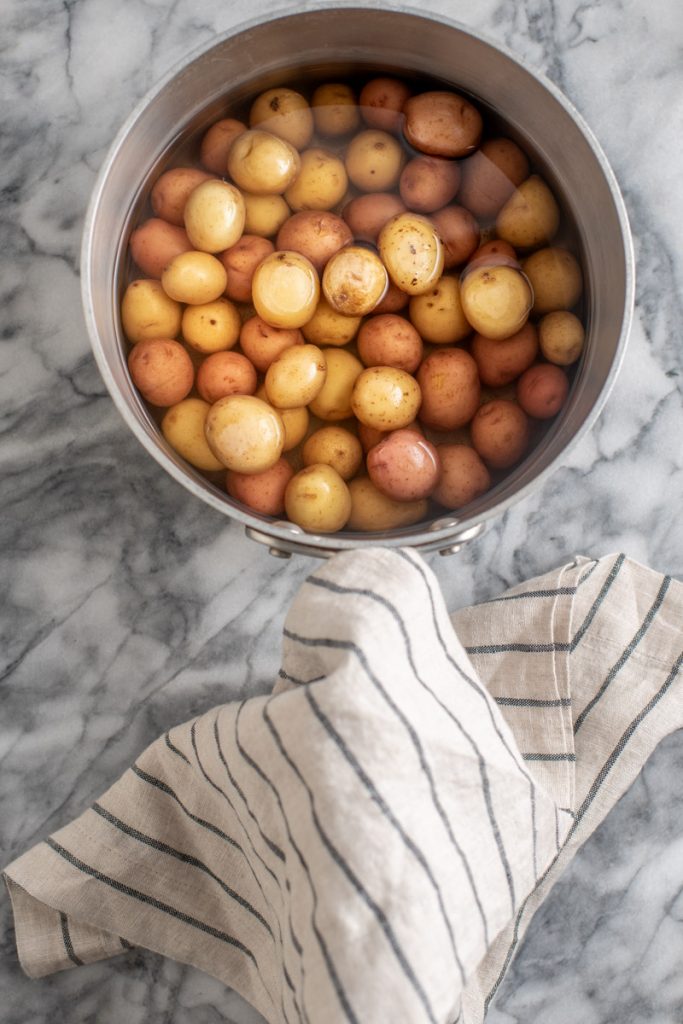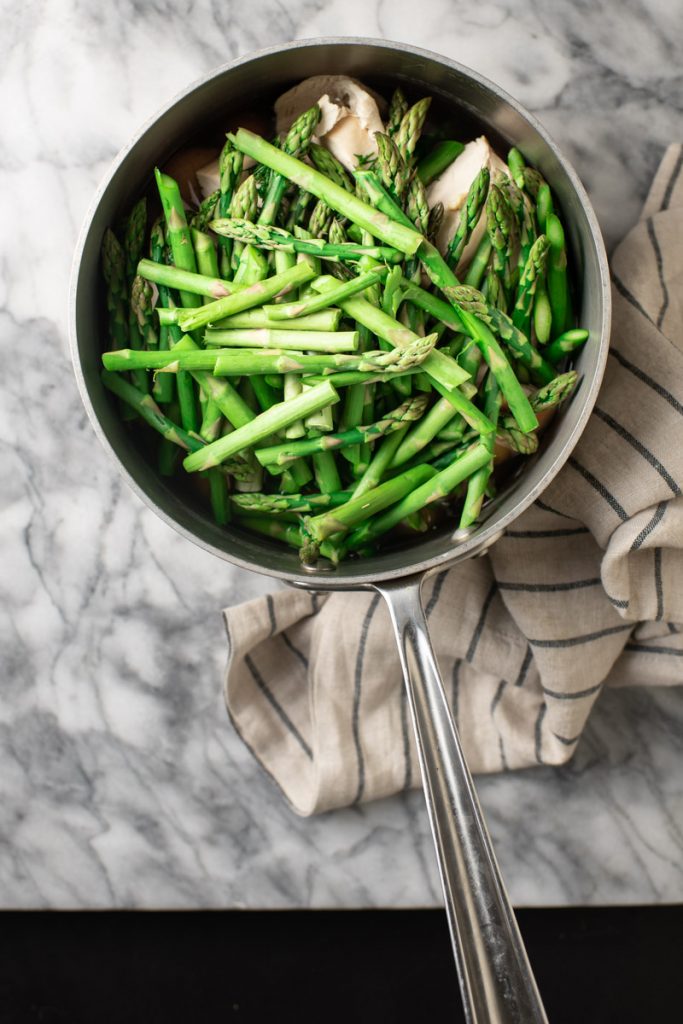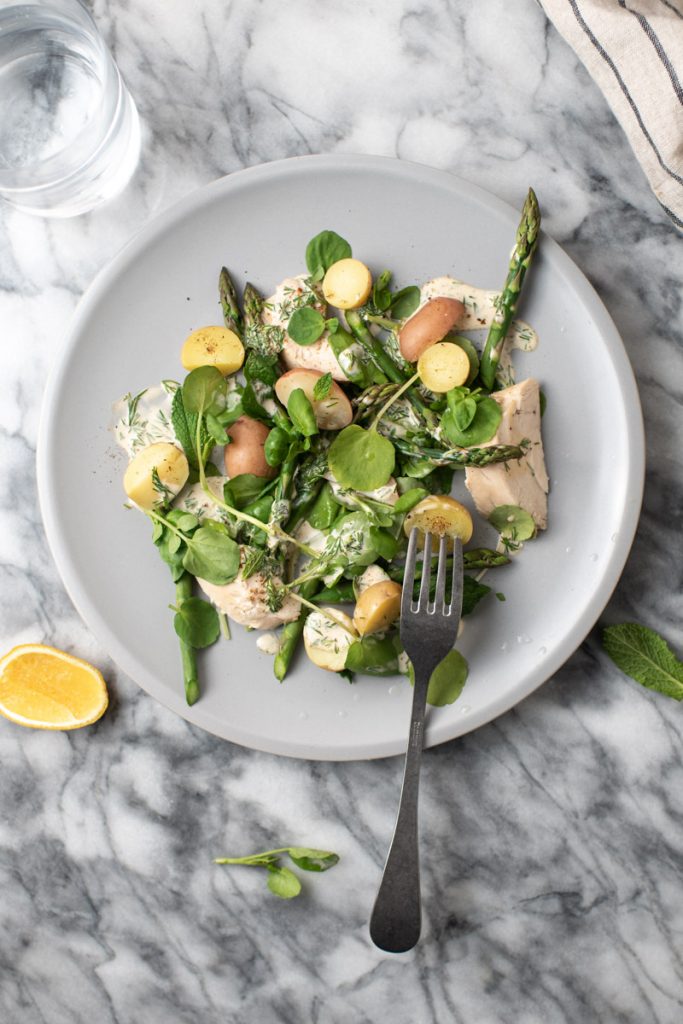 If there's one thing that makes me get excited about spring cooking, it's working with all the fresh green things. I LOVE when fresh herbs are suddenly abundant, and I can toss them by the handful into everything from salads to drinks.
This cold asparagus salad has been on my mind for weeks. I first saw it in Cook90 by David Tamarkin, one of my current cookbook obsessions, and immediately knew I wanted to put my spin on it. It's loaded with all the herbs, a bright and creamy dill dressing that you'll want to drink, and some baby potatoes and rotisserie chicken for good measure. The result is a healthy, happy meal that comes together in no time.
It's perfect for any patio meal or Easter lunch. Best when served cold if you ask me!! And, don't be afraid to make it your own – it's great to mix and match ingredients. Try add-ins or swaps like chickpeas, tuna, hard-boiled egg, or pasta. Do what you want!
What Goes In Asparagus Salad:
Aside from the asparagus and flavorful dressing, feel free to change it up
asparagus ~ thinner stalks work best for this salad, and I barely blanche them in salt water so they stay brilliant green
watercress ~ provides a peppery flavor that holds up well against the creamy, punchy dressing. To substitute watercress, use baby arugula which is similar in flavor and texture.
baby potatoes ~ look for yukon gold or red varieties about 1-inch in diameter for a creamy texture that perfectly compliments the dill dressing.
rotisserie chicken ~ I like to slightly blanche in salted water to warm through when serving the salad fresh. Makes the salad a substantial meal. Substitute pasta, hard-boiled egg, or washed canned chickpeas.
mint ~ a spring salad needs fresh herbs! Don't skimp on the mint leaves.
creamy dill dressing ~ One of my favorite dressings! Adds richness and acidity thanks to Dijon, mayonnaise, fresh lemon juice, fresh chopped dill, and freshly ground black pepper
How to Use Watercress in Salad
You will likely find watercress sold in a bag if grown hydroponically or by the bunch (thicker stemmed, more peppery flavor). When using in a salad, you want to use the leaves and delicate stems but avoid using the root which is typically slightly brown and dirty. Fully submerge the watercress in a bowl of water, lift, and allow to drain on a towel. Pick through and use as much of the plant as possible:)
Once dressed, this watercress salad holds up well for about an hour (more or less depending on the weather and the sturdiness of your watercress).
For meal prep or make-ahead situations, I recommend storing the ingredients in one container and keeping the dressing separate until just before serving; mayo dressing won't break down the chicken, potatoes or the blanched asparagus but can wilt the watercress and mint leaves over time.
While this salad makes a complete meal, you can leave the chicken out and serve it as a side to pan-seared trout, tuna, or salmon. Oh! Or try it as a side salad with my salmon cakes.
How to Use Rotisserie Chicken in Salad
Ideally, you will enjoy this spring salad fresh because then you will experience the contrast of warm rotisserie chicken with cold salad greens. So refreshing.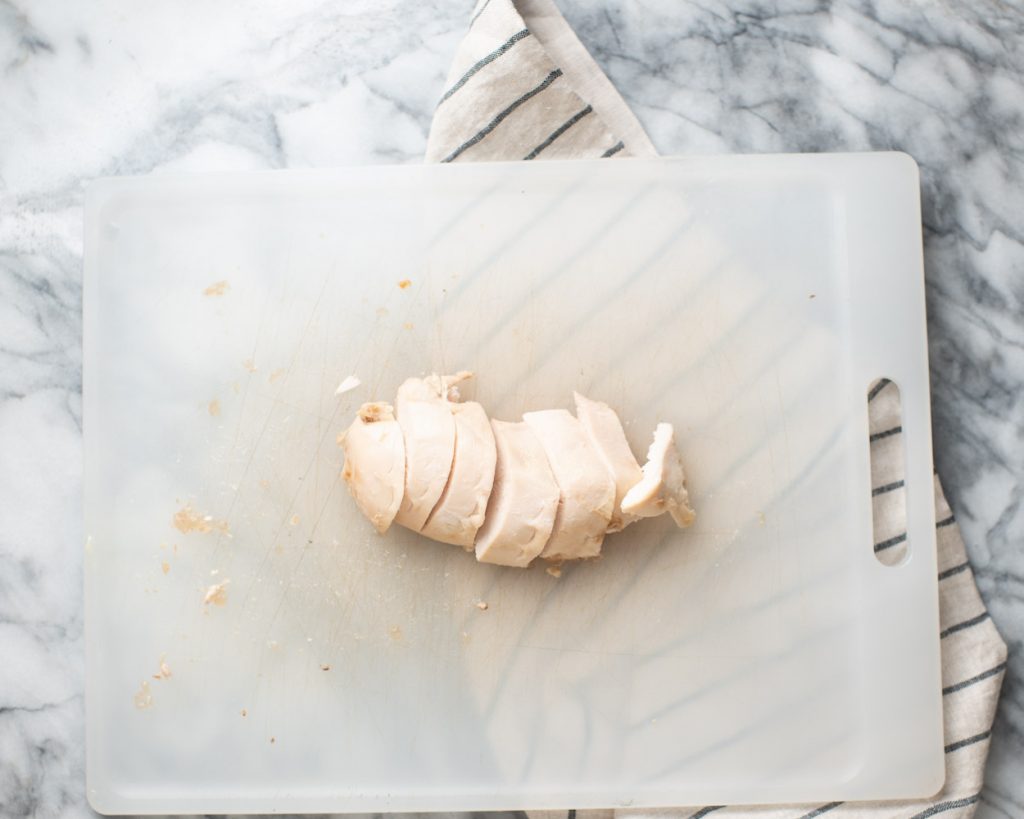 The key to using rotisserie chicken in a salad is to protect its moisture. Here are some tips for keeping Rotisserie chicken juicy (even after it's been chilled in the fridge):
Remove the skin; it can be rubbery.
Cut or tear the chicken pieces into thick (roughly 1/2-inch) slices
Steam-heat or salt water blanch just until warmed through
*If you plan to eat the salad cold, there's no need to reheat the chicken.
Last but not least, I'll point you in the direction of my Dutch oven roasted chicken recipe (just in case you feel like cooking the whole chicken yourself). It's a great spring chicken dish, too, because you can roast the chicken over radishes (addicting).
Need More Greens? – Here are a few of my favs: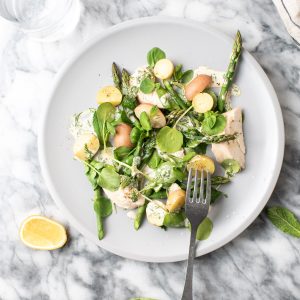 Asparagus Watercress Salad with Rotisserie Chicken and Creamy Dill Dressing
Make this refreshing spring salad when asparagus and watercress are plentiful and you're craving a bit of crunch after a long winter.
Print
Pin
Rate
Ingredients
Sea salt

1 1/2

pounds

baby new potatoes

yukon, gold, or red varieties

1

2 1/2 – pound

rotisserie chicken

1/3

cup

mayonnaise

1/4

cup

finely chopped fresh dill

3

tablespoons

fresh lemon juice

2

tablespoons

Dijon mustard

1/2

teaspoon

freshly ground black pepper

1

bunch

asparagus (about 1 pound)

ends trimmed and stalks cut into 2-inch long pieces

2

cups

watercress

or baby arugula

1/2

cup

fresh mint leaves
Instructions
Partially Cook the Potatoes. Pour water into a medium pot to a depth of about 1 inch and add two large pinches of salt. Cover and bring to a boil over medium-high heat. Add the potatoes, cover, and par-boil until a fork can pierce the potato with some resistance, about 10 minutes.

Prepare the Rotisserie Chicken. Meanwhile, remove the breasts and legs from the chicken and discard the skin. Cut the breasts on the bias into 1/2-inch slices. Tear large chunks of meat from the legs. Set aside.

Make the Dressing. In a medium bowl, combine and whisk the mayonnaise, dill, lemon juice, mustard, pepper, and a pinch of salt. Set aside.

Blanch the asparagus and chicken. To the same pot as the partially-cooked potatoes, add the asparagus and chicken. Cover and steam-cook until the asparagus is crisp-tender and the chicken warmed through, about 3 minutes. Transfer the potatoes, asparagus, and chicken to serving plates and drizzle with dill dressing. Top with the watercress and mint and season with salt to taste.
Notes
This high-protein, high-fiber salad is already gluten-free, nut-free, and dairy-free; best of all, it's easily adaptable to a variety of dietary preferences!
Make it Vegetarian: Replace the rotisserie chicken with pasta, rinsed canned chickpeas, or hard-boiled eggs
Make it Paleo: This salad is practically paleo, depending on the mayonnaise you buy. Look for mayonnaise made with avocado oil instead of soy or canola oil.
This recipe has been adapted from Cook90.
Nutrition
Serving:
1
plate
|
Calories:
295
kcal
|
Carbohydrates:
37
g
|
Protein:
7
g
|
Fat:
15
g
|
Saturated Fat:
2
g
|
Trans Fat:
1
g
|
Cholesterol:
8
mg
|
Sodium:
228
mg
|
Potassium:
1079
mg
|
Fiber:
7
g
|
Sugar:
4
g
|
Vitamin A:
1880
IU
|
Vitamin C:
56
mg
|
Calcium:
94
mg
|
Iron:
4
mg