It's hard to find a fresh cranberry muffin with a crunchy topping.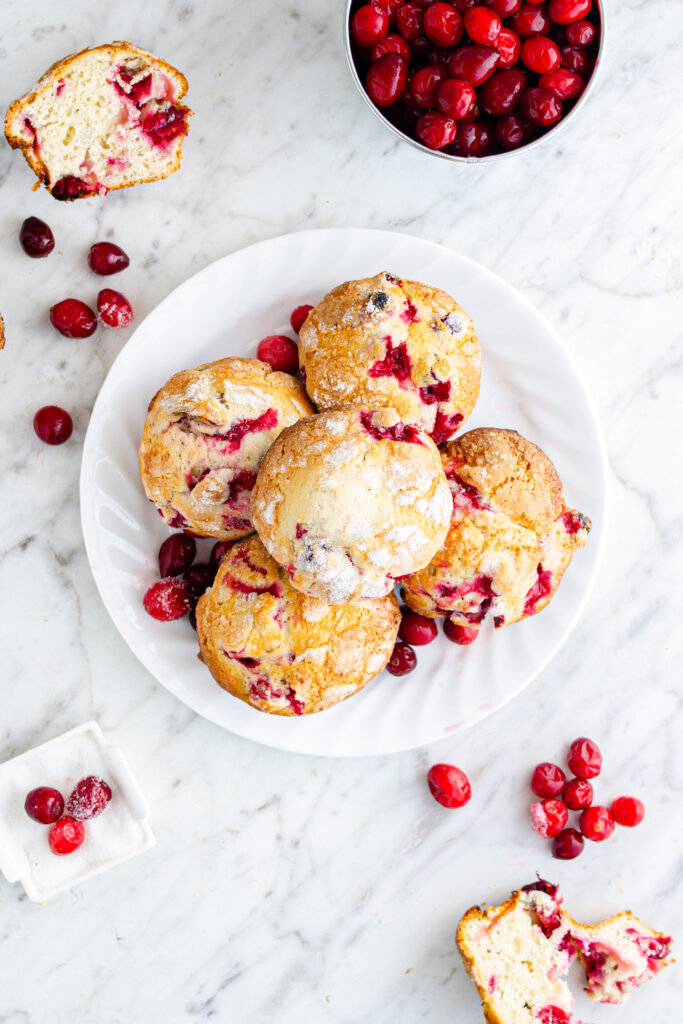 Anybody can make a good muffin, but a great muffin? It's about the details. Professionals know this and bake their muffins fresh daily because people really love the texture that gets lost in plastic wrapped muffins.
You don't have to go to a bakery to get a really good cranberry muffin. They're actually quite easy to make from scratch. These muffins are:
Tender and cakey in the middle with a bit of crunch
Sweet, yet buttery with pops of tart jammy cranberries
Domed up and out for that substantial look and feel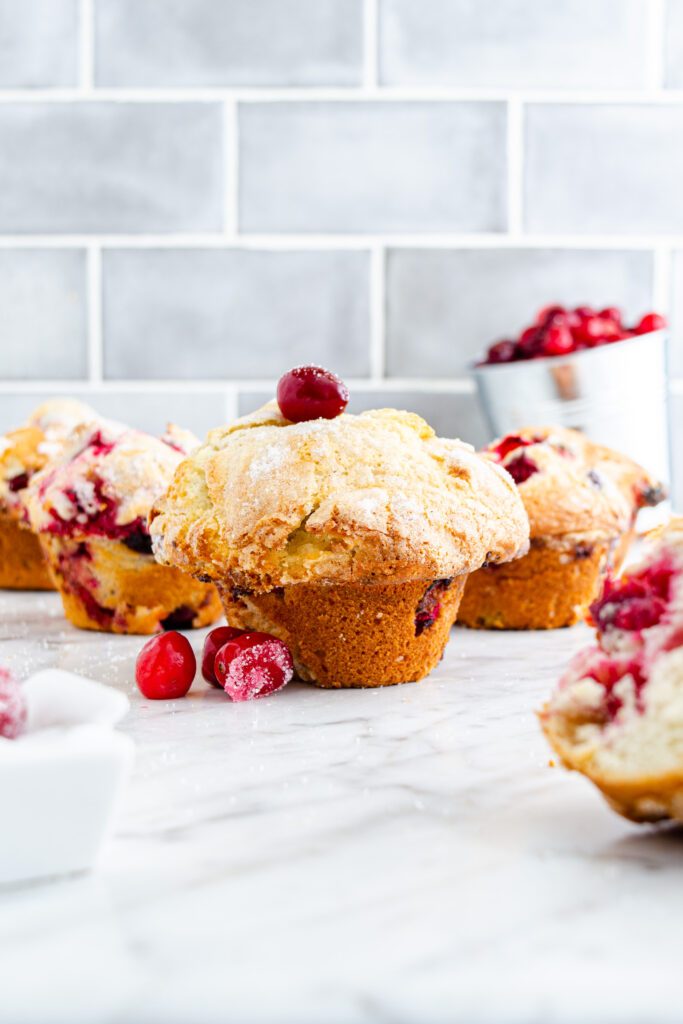 Don't be intimidated by cranberries. You can use them much like a lemon–they're tart and bright, especially when fresh and not dried.
Where's the orange?
Cranberries are often paired with mandarin orange or Grand Marnier because the bitterness helps tame the sweet-tart duo in sauces or custards. Since these sweet muffins are rounded out with rich and fatty butter, I thought it best to let those pops of bright, cranberry flavor come through loud and proud. If you'd like a great recipe with orange and cranberry, try my family recipe for cranberry orange bread.
Getting the cranberries evenly distributed
Unlike blueberries, which have a tendency to sink, cranberries have tiny air pockets that make them float (fun fact, they actually grow in bogs). To get them evenly distributed, I like to use my "pop some of them" trick to make sure some of them sink and some of them rise as they bake.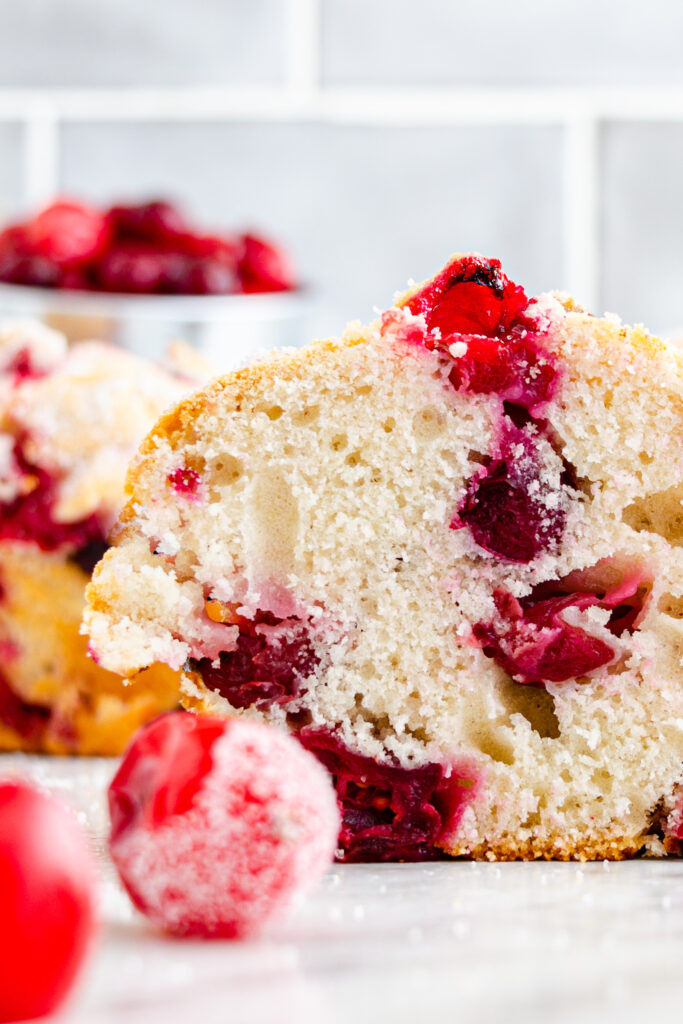 How to get "jumbo" style tops in a standard baking pan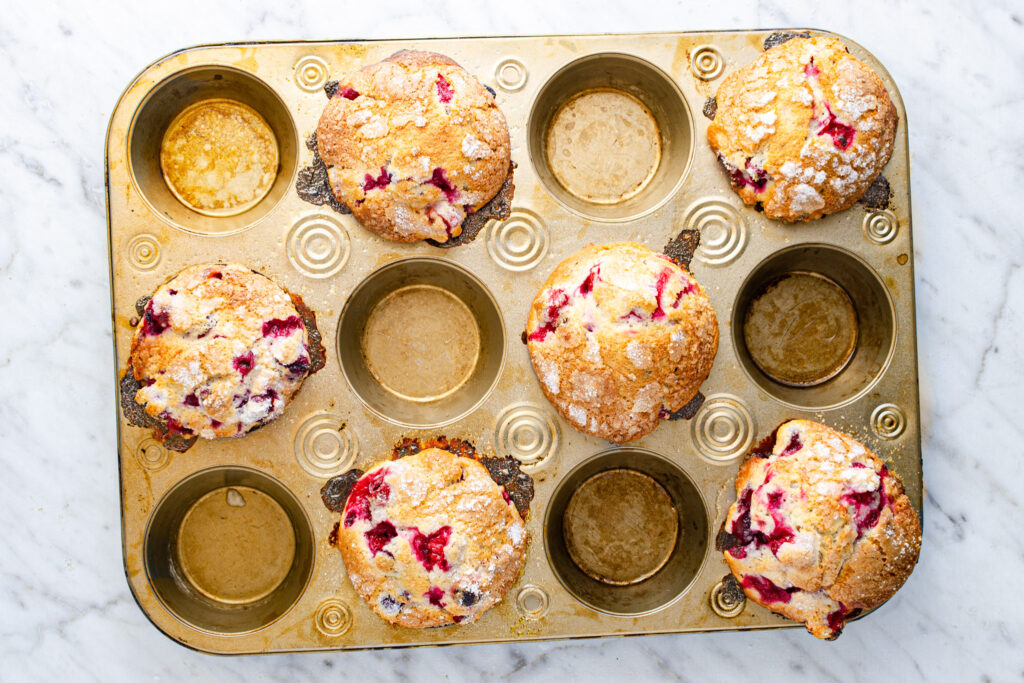 I put some baking wisdom to the test and found 3 methods that really matter if your goal is a large muffin top:
Use a generous scoop of batter: Ignore the advice to fill the muffin tin only half-way. A generous 4-ounce scoop will give you a much taller muffin. I own this button release scoop and love it.
Higher heat: Most recipes call for a 350F degree oven temperature. I actually found that a hotter oven (400F) was key to getting these muffins to climb up and out in harmony with all the other ratios.
Create space: Rather than fill every single cavity of the muffin tin, I decided to alternate the batter and leave some blank space between each muffin. This actually creates room for the muffins to spread out.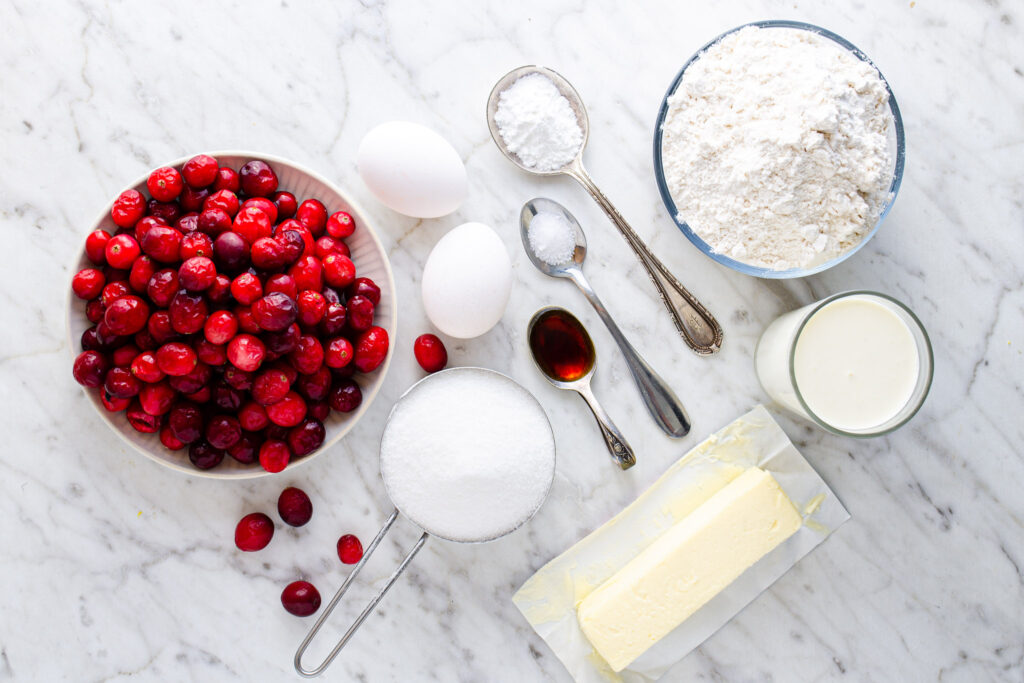 Why Fresh Cranberries/How to use fresh cranberries vs dried or frozen
I totally prefer a jammy cranberry over a chewy one in a muffin, so I elected to use fresh cranberries instead of dried. If you are looking for a dried cranberry muffin recipe, this one looks promising.
I know a lot of you (myself included) have frozen cranberries, but I don't recommend them in this kind of recipe because they are cold, heavy, and saturated with water. Better to save those for cranberry pancakes or syrup.
Where to find fresh cranberries
Fresh cranberries should be available in the produce section as early as October and as late as January. I usually buy at least 2 big bags at Costco. It's easy enough to use at least one bag fresh before they go bad and freeze the other bag. Even if they start to wrinkle, they are still plenty good in a recipe like this!
How to guarantee a light and fluffy texture.
This recipe involves a few trade secrets to get that light and fluffy crumb. Things like:
Creaming the butter and sugar: this step involves introducing extra air into the wet portion of the batter with no risk of over-mixing; this is why you don't just add the dry ingredients at the same time.
Baking powder: Not to be confused with baking soda, this ingredient creates tiny air bubbles during the baking process; be sure to use fresh baking powder (less than a year old) and do not open the oven door prior to 20 minutes or your muffins won't rise as much (hey, they may even sink in the middle).
Sugar sugar, dun, dun, dun, dun oh honey honey: don't be tempted to reduce the sugar in this (or any) baking recipe. It's there for a reason. Sugar helps you achieve a softer, cakier crumb.
Here's A Visual Step-by-Step Breakdown of this Muffin Recipe: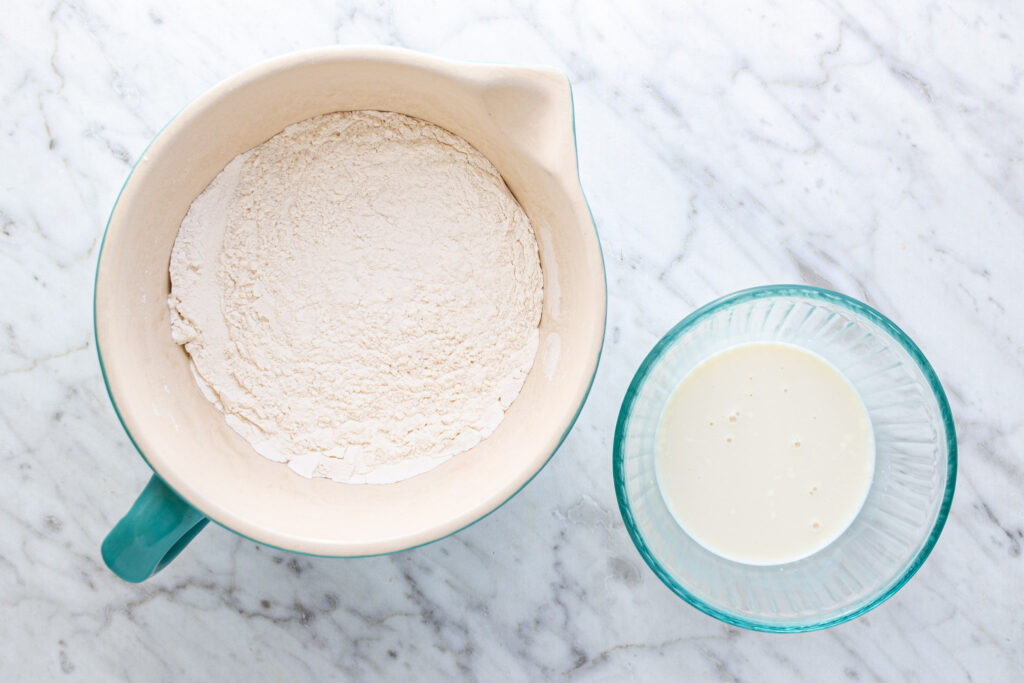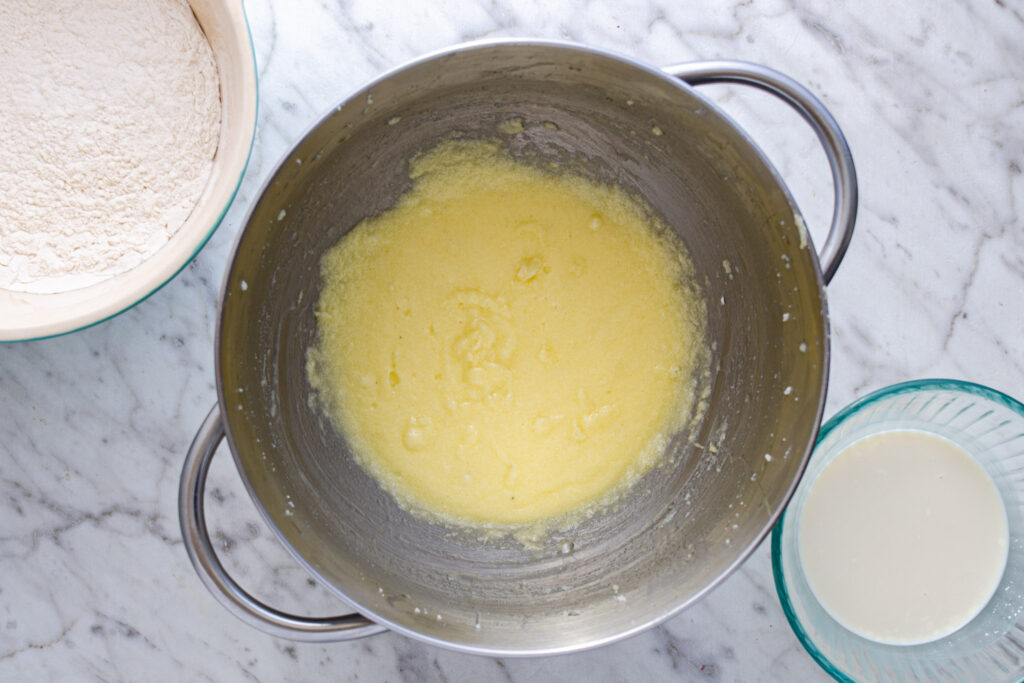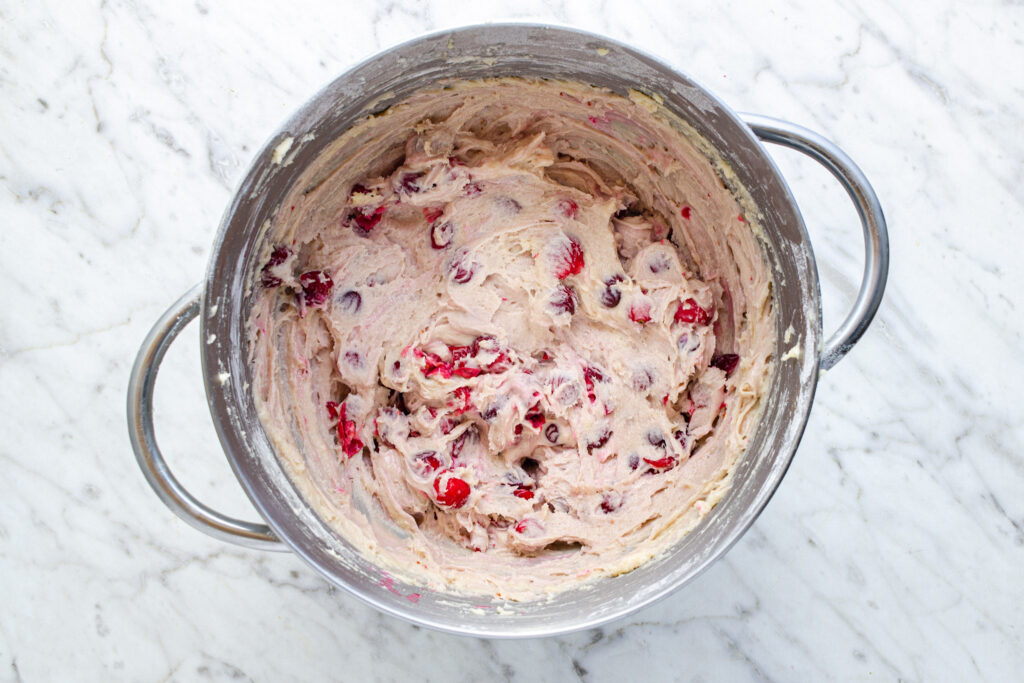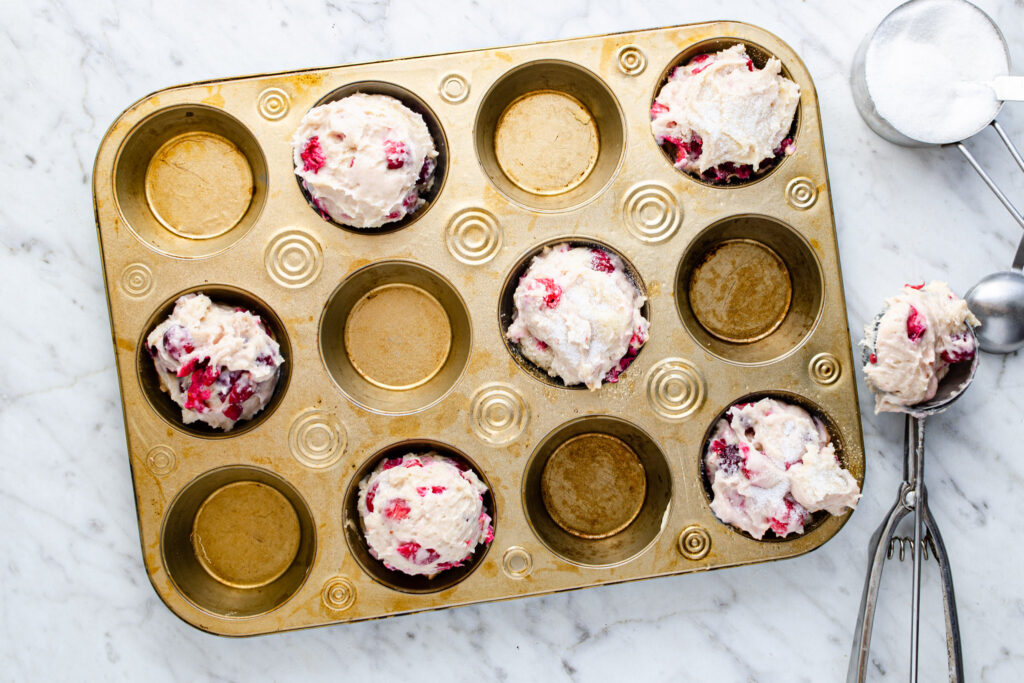 You'll notice from the pictured steps above that there's a short resting period before scooping the batter. This step is optional, but I recommend it if you care about having a uniform size. Another stand out is that you get 8 muffins instead of the standard 12, but each muffin is larger (so worth it).
How to Remove Muffins and Prevent Tearing
With this recipe, you do not need to line the tray. However, be sure to generously coat the pan with a neutral vegetable oil (I like coconut or avocado oil) and use an offset spatula to carefully pry the edges of the muffin tops (instructions included in the recipe) to remove successfully.
Storage
Since the entire point of a fresh muffin is the texture you get, I don't recommend wrapping these in plastic. You can get away with baking them one day ahead and storing, uncovered on the counter.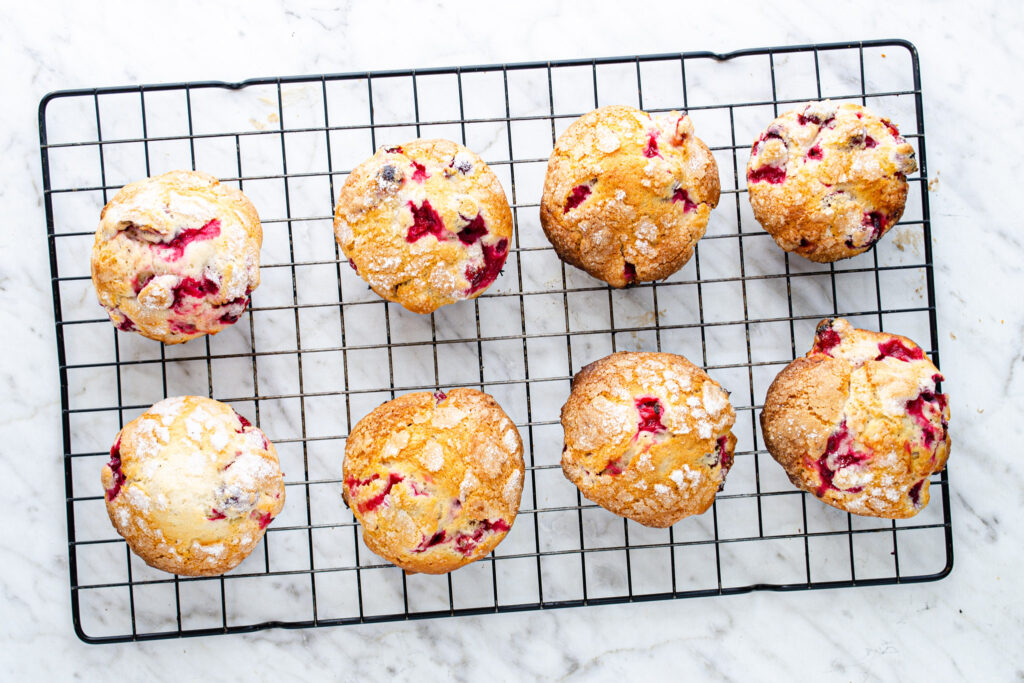 Remember, a great cranberry muffin is all about the details. Just follow the recipe and you'll soon see why I included all the extra notes and tips.
More Winter Baking Recipes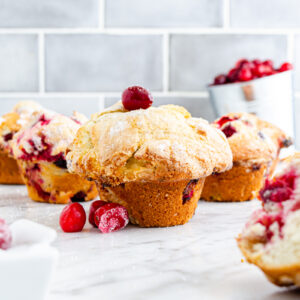 FRESH CRANBERRY MUFFINS
These stud muffins achieve sky-high, crusty domes with some uncommon baking wisdom (like a hotter oven and spacing them out in the tray). If you want a perfect, no-fail muffin recipe to enjoy fresh cranberries, this is it!
Print
Pin
Rate
Ingredients
2 1/2

cups

10.75 ounces or 305 grams all-purpose flour

2

teaspoons

baking powder

½

teaspoon

sea salt

½

cup

4 ounces or 113 grams whole milk, at room temperature

1

teaspoon

pure vanilla extract

1

cup

7 ounces or 200 grams granulated sugar

½

cup

4 ounces or 113 grams unsalted butter, at room temperature

2

large eggs

at room temperature

2 ½

cups

8.8 ounces or 250 grams fresh cranberries

at room temperature

Cooking spray or avocado oil for coating the pan

8

teaspoons

granulated sugar

for garnish
Instructions
Create the dry and wet mixtures. In a medium bowl, whisk together the all-purpose flour, baking powder and sea salt. Set aside. In a small bowl or liquid measuring cup, combine the whole milk and vanilla extract. Set aside.

Cream the butter with the sugar. In the bowl of a stand mixer fitted with the paddle attachment, combine the sugar and butter. Beat on low for 30 seconds then increase to medium-high until light and fluffy and doubled in volume, about 2 minutes. Use a spatula to scrape the edges of the bowl as needed. Reduce the speed to low and add the eggs one at a time, allowing each egg to fully incorporate, scraping down the bottom and sides after each addition.

Combine the wet and dry mixtures with the creamed butter-sugar mixture. With the mixer on low, add the dry ingredient mixture in three equal parts, alternating with the wet ingredient mixture in two parts. Beat until just combined, then scrape down the bottom and sides of the bowl once more and give the mixture a stir to make sure no visible flour clumps remain. Take ½ cup of the cranberries and pinch them between your fingers so they pop and release some of their juices; add to the batter and mix on high for 5 seconds to incorporate. Immediately reduce the speed to low and add the rest of the cranberries, mixing until incorporated evenly throughout the batter, another 30 seconds.

Rest the batter. Cover the bowl with plastic wrap and let the batter rest at room temperature for 1 hour. Note: While not strictly necessary, this step will ensure that the flour hydrates and the muffins have a more uniform size and texture.

Prepare the muffin tray. While the batter rests, position a rack in the center of the oven and preheat to 400F using the convection setting, if available. Prepare two muffin tins by spraying the inside and border of every other cavity generously with cooking spray. Use your fingers to spread the oil to coat. Alternatively, coat generously with a high-heat, neutral oil (avocado oil works great).

Scoop and top with sugar. Use a 4-ounce ice cream scoop to fill each sprayed cavity with batter for a total of 8 muffins (ex. 6 cavities filled in the first tin and 2 in the second). Sprinkle the tops of the batter with the granulated sugar, aiming for 1 teaspoon per muffin.

Bake and cool. Bake each muffin tin for 20 to 22 minutes, or until the muffins are domed, golden brown around the edges, and spring back when touched lightly in the center. A skewer inserted into the center of a muffin should come out with a few crumbs attached. Cool the muffins in their muffin tin on a wire rack for 15 minutes, then use an offset spatula to run underneath the edges of the cranberry muffin tops to prevent them from sticking in the pan. Be careful to just run the spatula under the edges and avoid cutting too deeply into the muffin bottom, which will cause the muffins to tear in half when removing.

Carefully remove and serve. After unsticking the outer edges of the muffins, continue to rest until completely cooled. Do not try to turn these top-heavy muffins out while they are still warm or they will rip. To remove, carefully run the offset spatula underneath each muffin top once more and gently begin to pry, tilting upwards, working your way around until the muffins gently lifts. Serve immediately or same day or wrap in plastic and store at room temperature for up to 2 days.
Nutrition
Serving:
1
muffin
|
Calories:
397
kcal
|
Carbohydrates:
64
g
|
Protein:
6
g
|
Fat:
14
g
|
Saturated Fat:
8
g
|
Polyunsaturated Fat:
1
g
|
Monounsaturated Fat:
4
g
|
Trans Fat:
0.5
g
|
Cholesterol:
73
mg
|
Sodium:
171
mg
|
Potassium:
211
mg
|
Fiber:
2
g
|
Sugar:
31
g
|
Vitamin A:
458
IU
|
Vitamin C:
4
mg
|
Calcium:
80
mg
|
Iron:
2
mg
Photographed by Adam Rahman.