Fresh pumpkin gets baked between custard drenched layers of challah bread for a decadent Fall breakfast that the whole family will love. If you don't have pumpkin, this basic dish is delicious with any seasonal fresh or frozen fruit.
I've been using challah bread to make French toast for years, but I love the simplicity of baking it casserole style. It's got the traditional elements of French toast (butter, bread, eggs) but also merges some of the elements of bread pudding (namely, moisture).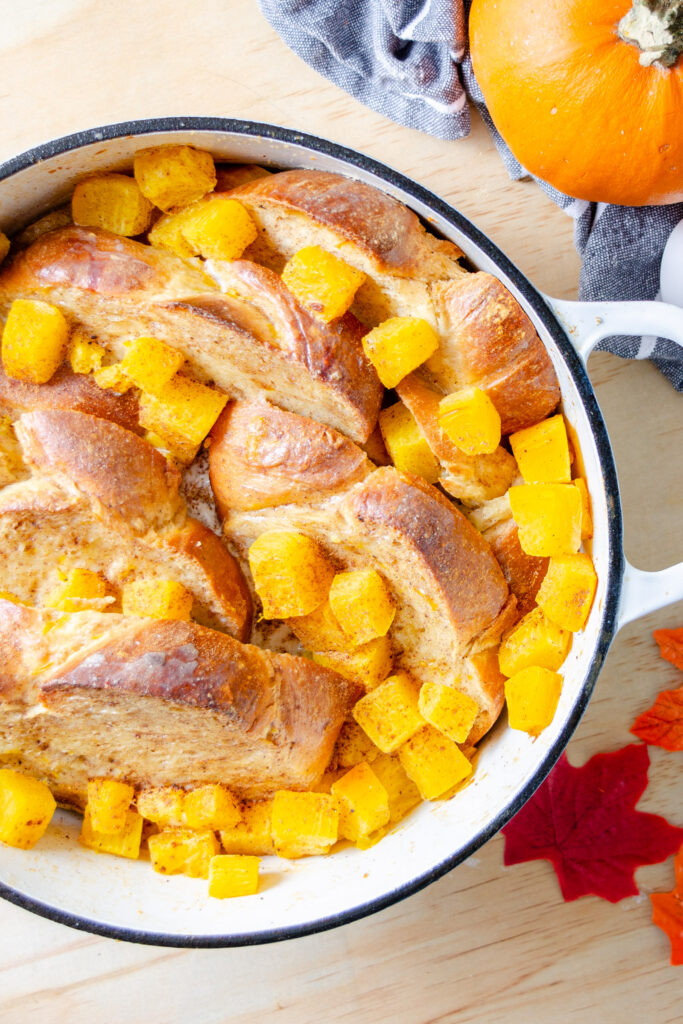 With simple ingredients and easy preparation, this dish is perfect for any occasion – from lazy Sunday mornings to special gatherings. So, break out the Dutch oven and get ready to go for seconds because this French toast casserole = scarf down territory.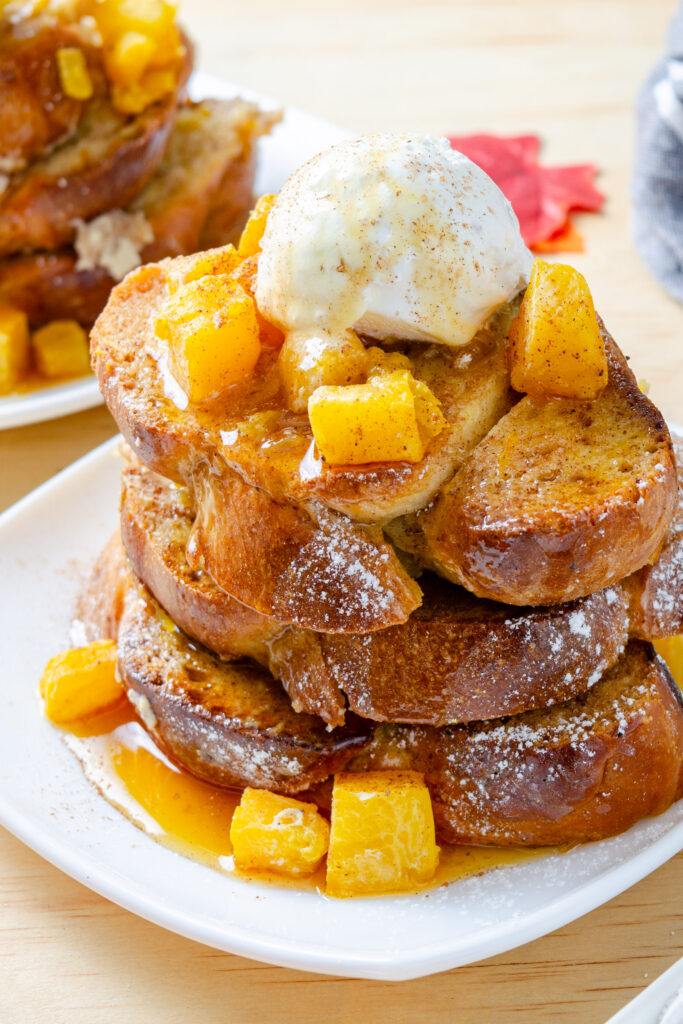 Why French toast casserole is the perfect brunch dish
incredibly versatile – To customize, you can mix-and-match whatever ingredients you have on hand. For a classic, stick with cinnamon and vanilla. For something seasonal, experiment with different spices and extracts, the possibilities are endless.
a crowd-pleaser – It's a dish that appeals to both kids and adults alike, making it the perfect choice for family gatherings or brunch parties.
make-ahead friendly – No need to stand in front of a skillet. French toast casserole is all about spending less time in the kitchen so you can enjoy the company of your loved ones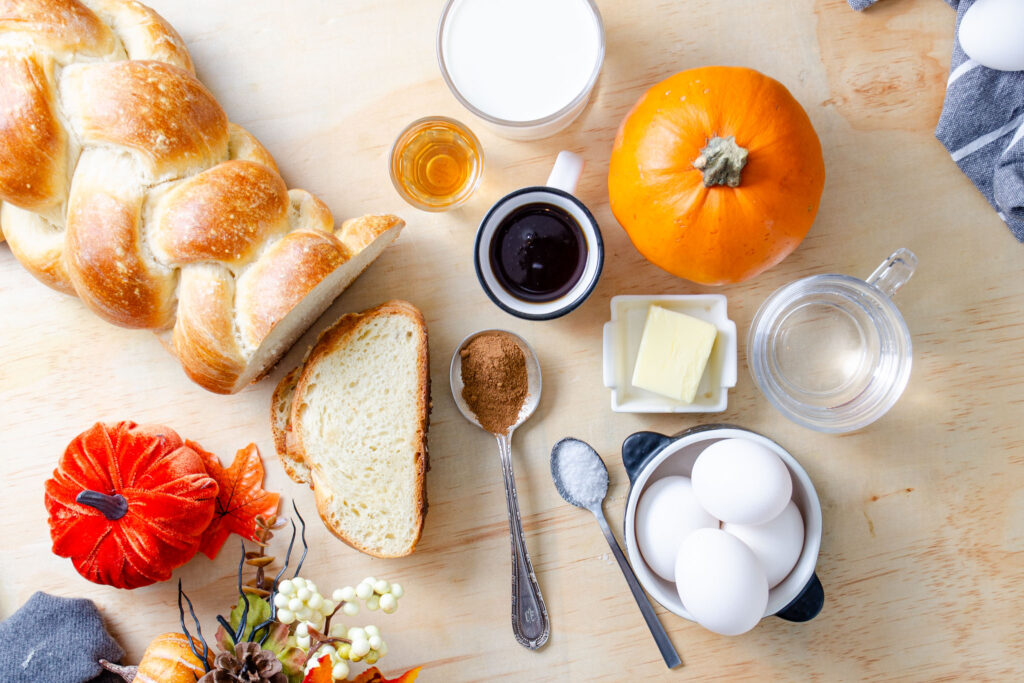 Ingredients
You need 9 ingredients to make this dish:
pumpkin: I think diced pumpkin (from a sugar pumpkin or butternut squash) is attractive but you could use canned pumpkin puree, too.
butter: salted or unsalted, for preparing the Dutch oven
day-old loaf challah bread: slice or cubed, this is my preference for French toast casserole because it's soft and tender
eggs: this creates the custard base that gets sopped up by the bread
half-and-half: I love how the fat ensures a rich tasting French toast. The best substitute would be egg nog or a mixture of heavy cream and whole milk.
Pure maple syrup: Definitely use the good quality stuff. Nothing artificial please.
Salt: Sea salt or Kosher salt work to enhance the sweet and savory flavors.
Bourbon: Plays a supporting roll and compliments the Fall flavors. Substitute 1:1 with vanilla extract, rum, or your favorite liqueur.
pumpkin pie spice: a blend of warming spices that may be swapped for any combination of ground cinnamon, ground ginger, nutmeg (freshly grated is best). Use strong spices like ground cloves or allspice sparingly. A little goes a long way.
Optional Toppings: powdered sugar, maple syrup, whipped cream, freshly grated nutmeg
Step-by-Step Instructions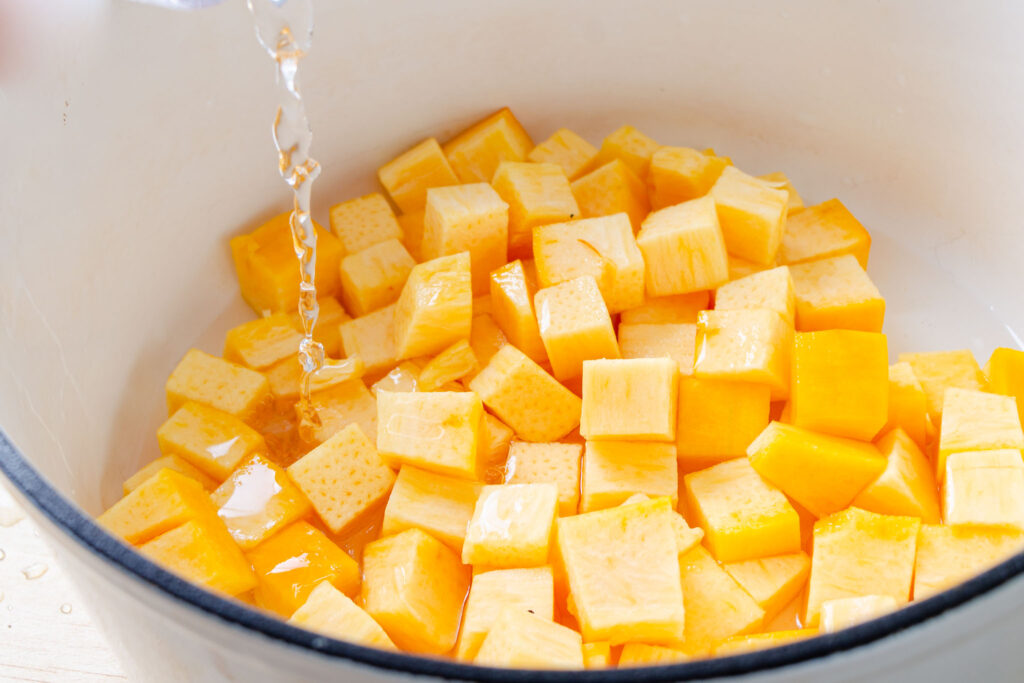 If using pumpkin, start by peeling the pumpkin. Halve and use a spoon to remove the seeds. Cut into 1/2-inch pieces. Simmer with water to partially cook. Set aside.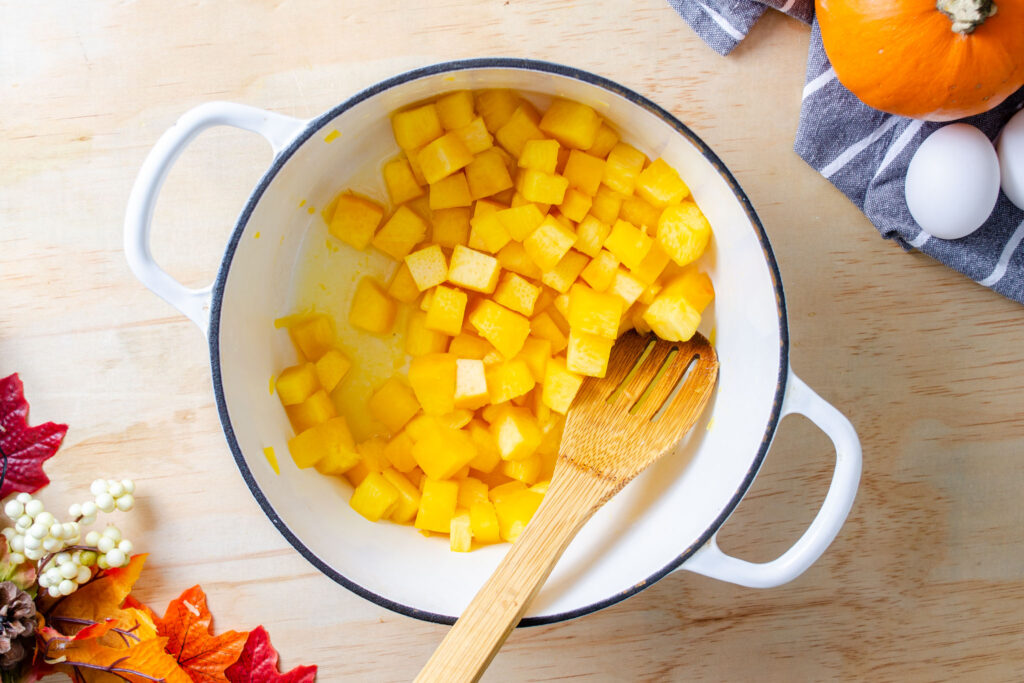 Grease a 9×13-inch baking dish or Dutch oven with butter or cooking spray.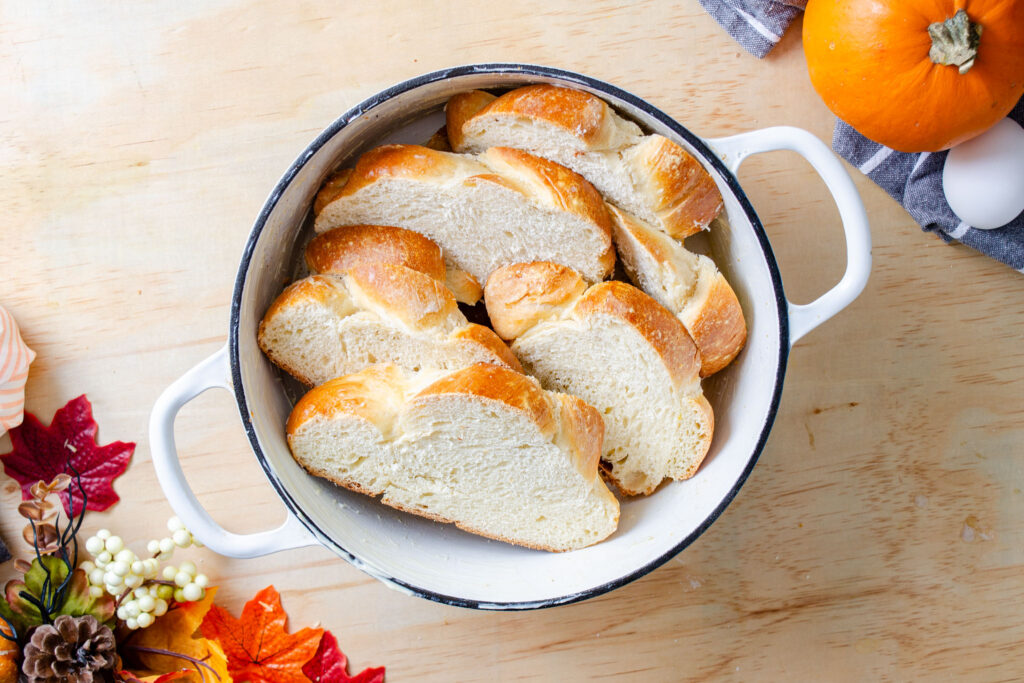 Slice the loaf of bread into 1-inch thick slices. Arrange the slices in the prepared baking dish, overlapping them slightly.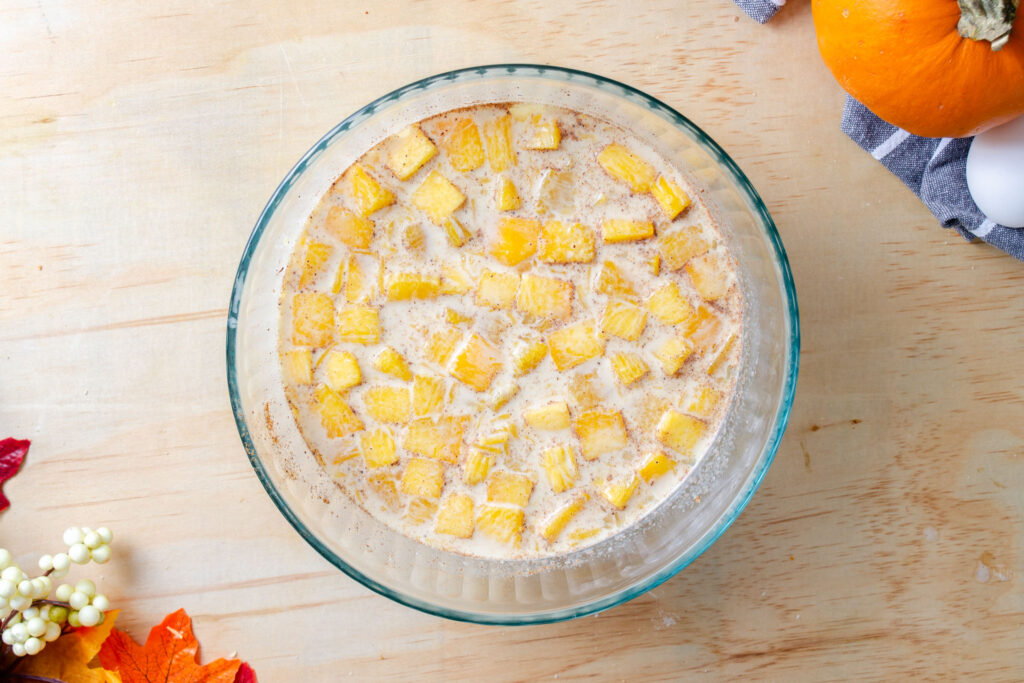 In a medium mixing bowl, whisk together the eggs, half-and-half, maple syrup, salt, bourbon, and pumpkin pie spice to combine. Add the partially cooked pumpkin.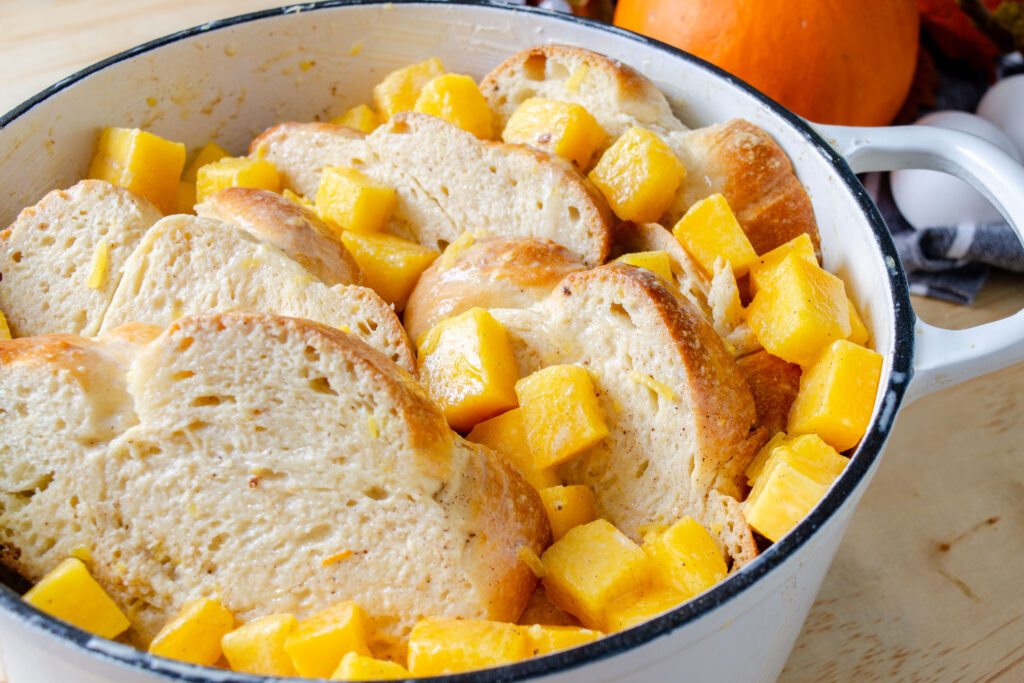 Pour the egg mixture over the bread slices, making sure each slice is evenly coated. Press down lightly to ensure the bread absorbs the custard mixture.
When you're ready to bake, preheat your oven to 350°F (175°C). Cover the baking dish with aluminum foil (or use the lid of your Dutch oven) and bake for 40 minutes (or refrigerate overnight if making ahead).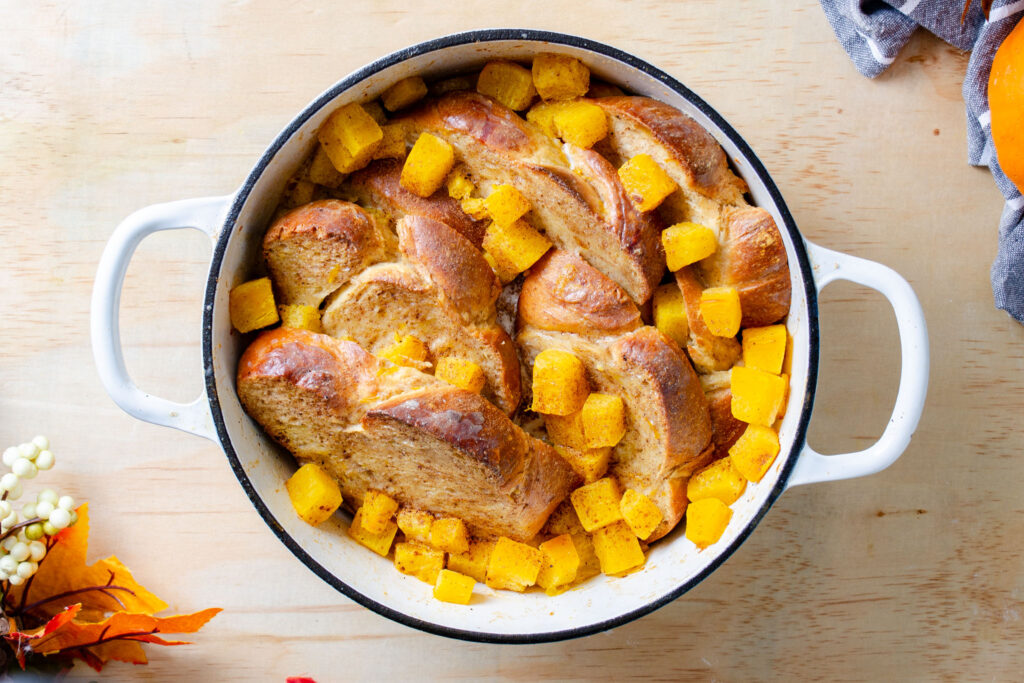 Remove the foil/lid from the baking dish and bake for 10 minutes longer or until the top is golden brown and the center is set.
Once baked, remove the French toast casserole from the oven and let it cool for a few minutes before serving.
Serve the casserole warm with your favorite toppings, such as powdered sugar, maple syrup, or whipped cream.
Tips for customizing your Casserole
– Experiment with different types of bread, such as cinnamon swirl bread, Hawaiian sweet bread, or even croissants, for a unique twist on the classic recipe. What's important is to use a rich, tender bread for the best possible texture and flavor.
– For an extra indulgent touch, sprinkle some chocolate chips or chopped nuts, over the bread before pouring the custard mixture.
– If you prefer a more caramelized casserole, try sprinkling brown sugar in the greased baking dish.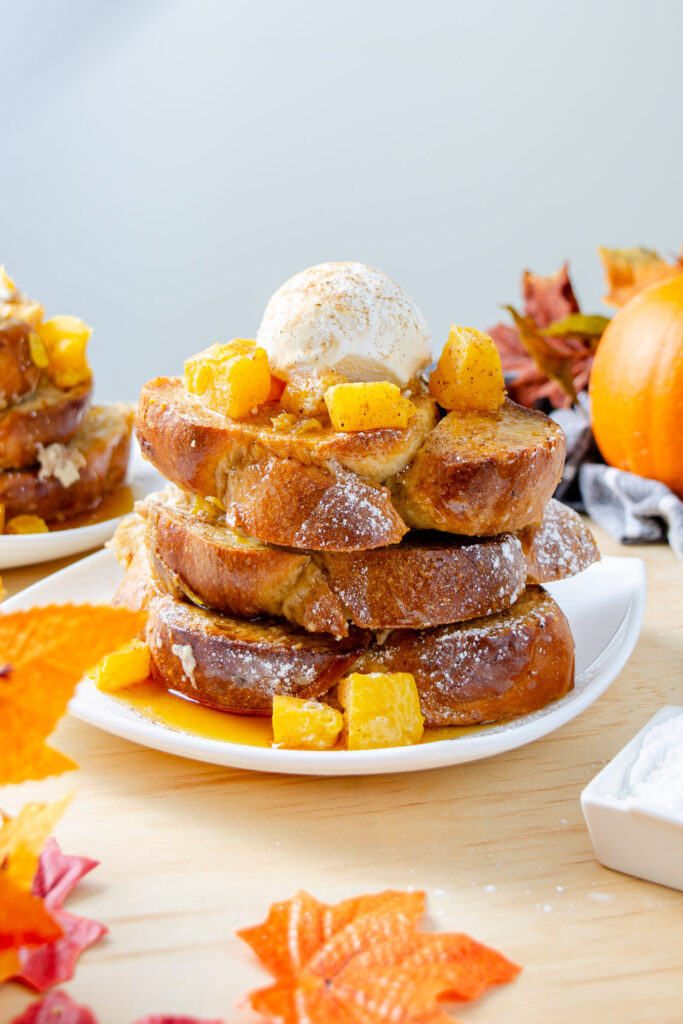 – Feel free to adjust the spices to suit your taste. Try adding a pinch of nutmeg, cardamom, or ginger for a subtle flavor variation.
How to Serve a French Toast Casserole
You can scoop and serve this as-is or add toppings:
– Powdered sugar: Dust the top of the casserole with powdered sugar for a touch of elegance using a sieve.
– Maple syrup: Drizzle warm maple syrup over the casserole or add extra butter for a classic look. The combination of maple syrup and custard-soaked bread is simply heavenly.
– Whipped cream: Add a dollop of homemade whipped cream to each serving for a light and creamy texture. You can also flavor the whipped cream with a splash of vanilla extract or a hint of cinnamon for an extra kick.
Sweet and Savory Variations You Could Try:
While the classic French toast casserole is sweet and indulgent, there are also savory variations that are equally delicious. Here are a few ideas to inspire your culinary creativity:
– Savory French Toast Casserole: Instead of using cinnamon and sugar, season the custard mixture with herbs, such as thyme, rosemary, or parsley. Add savory ingredients like cooked bacon, sautéed mushrooms, and shredded cheese between the bread slices. Bake as usual for a savory brunch delight.
– Stuffed French Toast Casserole: Take your French toast casserole to the next level by adding a cream cheese or apple butter filling between the bread slices. Simply spread a layer of cream cheese or apple butter on each slice before arranging them in the baking dish. The result is a gooey and decadent treat that will leave everyone asking for seconds.
Make-ahead and freezing instructions for French toast casserole
One of the greatest advantages of French toast casserole is its make-ahead, hands-free nature. You can prepare the casserole the night before and store it in the refrigerator overnight. This not only saves you time in the morning but also allows the bread to fully soak up the custard mixture, resulting in a more flavorful dish.
To freeze French toast casserole, follow these simple steps:
1. Prepare the casserole as instructed, but do not bake it.
2. Cover the baking dish tightly with plastic wrap and then with aluminum foil. If using a Dutch oven, use plastic wrap then cover with the lid.
3. Label the dish with the date and any additional instructions.
4. Place the dish in the freezer and store for up to 3 months.
5. When ready to bake, thaw the casserole in the refrigerator overnight.
6. Remove the plastic wrap and foil, then proceed with baking as directed.
Frequently asked questions about French toast casserole
1. Can I use stale bread for French toast casserole?
Yes, stale bread works great for French toast casserole as it absorbs the custard mixture more easily. If your bread is fresh, you can dry it out slightly by toasting it in the oven for a few minutes before assembling the casserole.
2. Can I use a different type of milk?
Yes, you can use any type of milk you prefer, such as egg nog, buttermilk, almond milk, coconut milk, soy milk, or oat milk. Just keep in mind that the flavor and texture of the casserole may vary slightly.
3. Can I make French toast casserole gluten-free?
Absolutely! There are many gluten-free bread options available that work well in this recipe. Simply substitute your favorite gluten-free bread for the regular bread called for in the recipe.
4. Can I reheat French toast casserole?
Yes, you can reheat individual servings of French toast casserole in the microwave or oven. To reheat in the oven, preheat to 350°F (175°C), place the desired portion on a baking sheet, and bake for about 10 minutes or until heated through.
The simplicity of this French Toast Casserole has been a game-changer when it comes to brunch. Its combination of fluffy, custard-soaked bread, warm spices, and a hint of sweetness creates a truly unforgettable dish. Whether you have fresh or canned pumpkin, this recipe can be customized easily.
So, let's go. Gather your ingredients, follow the step-by-step instructions, and get ready to feel accomplished!
When I was writing Easy Dutch Oven Cooking, I created this fluffy, custard-soaked brandy berry French toast recipe. This is a modified version of that recipe with warm autumn spices, fresh pumpkin, and a splash of bourbon.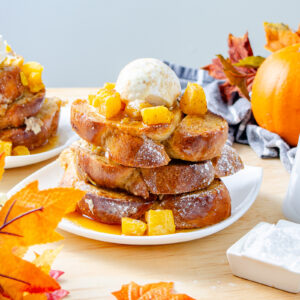 Bourbon Pumpkin French Toast Casserole
One-Pot, Nut-Free, Vegetarian
This challah French toast gets its pumpkin fall vibe from a top layer of egg, pumpkin pie spice, and fresh pumpkin. Of course, you could hand dip and pan-fry individual slices of bread, but that takes time and, in my experience, means the cook is the last to eat. So, if you want hands-free French toast that you get to sit down and enjoy hot along with everyone else, French toast casserole is the way to go.
Print
Pin
Rate
Ingredients
1 ½

cups

diced pumpkin

see step 1

¼

cup

water

Unsalted butter

for preparing the Dutch oven

1

1-pound day-old loaf challah bread, sliced

4

large eggs

1 3/4

cups

half-and-half

⅓

cup

pure maple syrup

plus more for serving (optional)

½

teaspoon

salt

1

tablespoon

bourbon

1

teaspoon

pumpkin pie spice
Instructions
Prepare the pumpkin. Peel, seed, and chop the pumpkin into roughly equal ½-inch pieces. Combine the pumpkin with the water in a Dutch oven. Simmer over medium-high heat to partially cook, about 3 minutes. Transfer the pumpkin to a bowl–add a drizzle of maple syrup to the pumpkin so that when it cooks, it caramelizes. Pour any remaining water out of the Dutch oven.

Preheat the oven. Preheat the oven to 350℉. Grease the inside of the Dutch oven generously with butter.

Assemble and bake the casserole. Slice the bread and put in the Dutch oven, overlapping the slices. In a medium bowl, combine the eggs, half-and-half, maple syrup, salt, bourbon, and pumpkin pie spice. Whisk to combine. Add the partially cooked pumpkin. Pour the mixture over the bread, making sure to get the liquid between the slices. Cover and bake for 40 minutes. Remove the lid and cook for 10 to 15 minutes longer or until golden. Serve with maple syrup or whipped cream.
Notes
Variation Tips:
Add crunch with walnuts, pecans, or hazelnuts. You can add up to ½ cup during step 3. Make sure to use raw, roughly chopped nuts.
If you have my homemade apple butter on hand, you could also incorporate this into the casserole during step 3 for even more Fall flavor.
Instead of bourbon, try rum or almond liqueur.
Nutrition
Serving:
1
scoop French toast
|
Calories:
201
kcal
|
Carbohydrates:
18
g
|
Protein:
6
g
|
Fat:
11
g
|
Saturated Fat:
6
g
|
Polyunsaturated Fat:
1
g
|
Monounsaturated Fat:
3
g
|
Trans Fat:
0.01
g
|
Cholesterol:
134
mg
|
Sodium:
295
mg
|
Potassium:
285
mg
|
Fiber:
0.2
g
|
Sugar:
15
g
|
Vitamin A:
2879
IU
|
Vitamin C:
3
mg
|
Calcium:
120
mg
|
Iron:
1
mg
Photography by Adam Rahman