When the leaves begin to fall, I look forward to the cozy tradition of baking for people I love. My family adores this golden pumpkin bread. Oh, how it fills the house with wafts of cinnamon and pumpkin!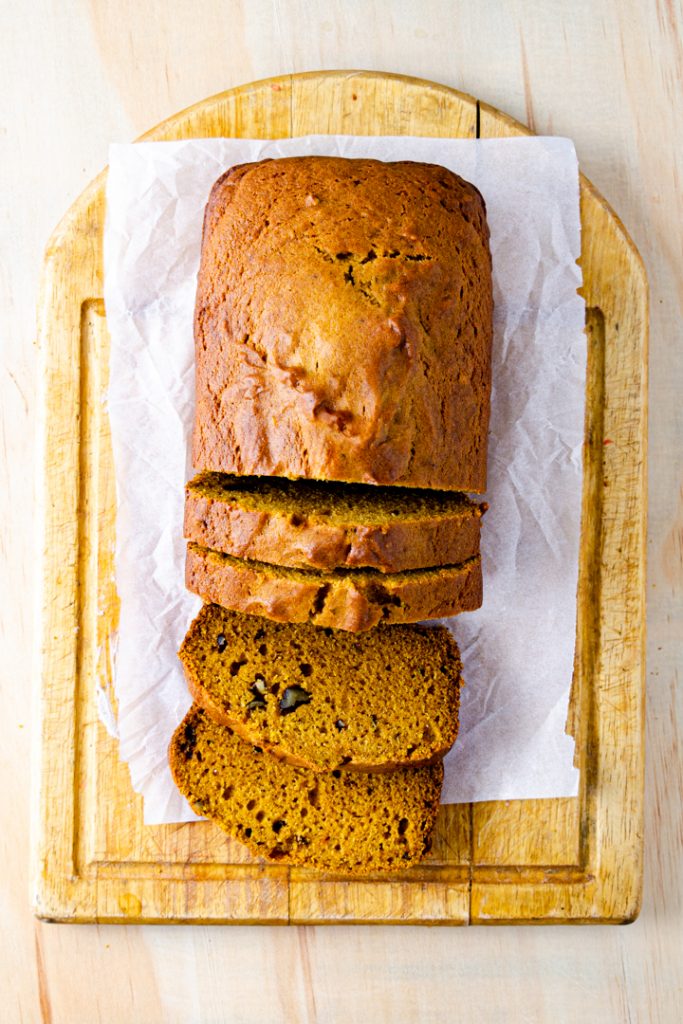 Most of the ingredients, you will already have on hand. You might need to pick up pumpkin puree and mascarpone (for serving).
Once you've located your ingredients, it comes together quickly in a large mixing bowl, about a 5 minute process of mixing first the oil and sugar, then the wet with the dry ingredients. The hardest part is waiting patiently while it bakes and then cools.
You'll definitely be rewarded with moist, rich loaves that taste marvelously of fall. And, yes, you can use either pumpkin puree from the can or from freshly baked pie pumpkins.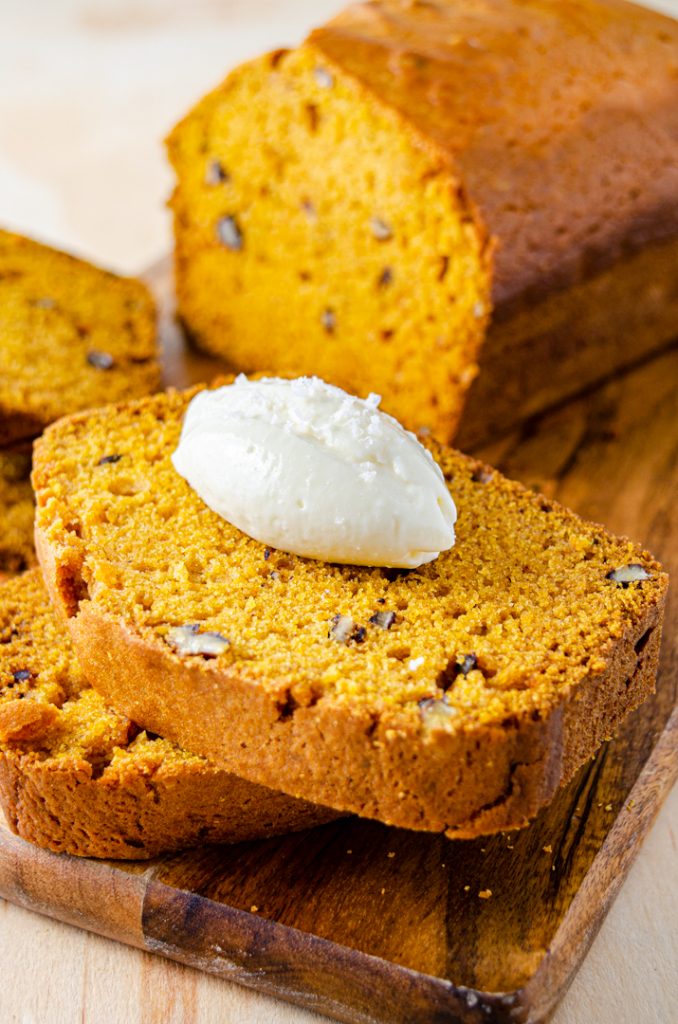 History and Variations of My Grandma's Pumpkin Bread
My dad passed his mom's recipe along to me (along with his annual baking tradition). While his approach changed every year — sometimes there were cranberries, sometimes pecans, wheat bran, even chocolate chips–my family prefers the nut free version best with a generous smear of mascarpone.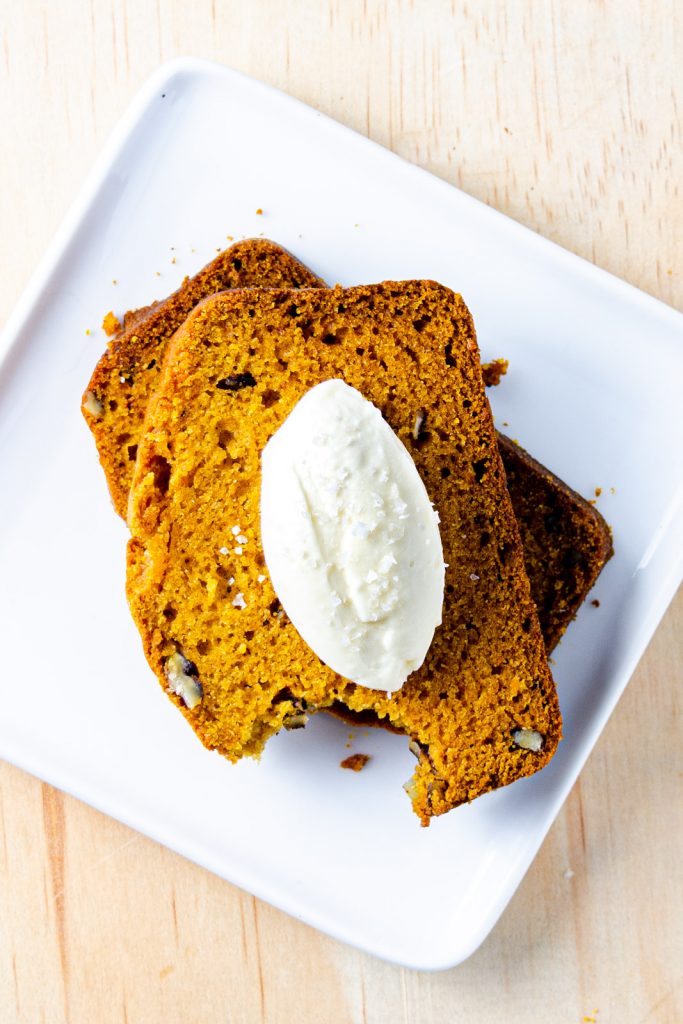 As always, I try to present the least number of steps and ingredients so you'll see the straightforward version with add-ons as options.
P.S. Speaking of pumpkins, I thought I'd share my (more involved) pumpkin recipe for pumpkin pie and this freaking awesome southwest pumpkin stew!
No Matter What Bakeware You Have, You Can Make This Recipe
Assuming you go with my recommended loaf pans, you'll get two easy-to-slice-and-serve loaves in about 1 hour. I usually just slice and freeze the second loaf which is a really convenient way of enjoying pumpkin bread when the urge strikes.
Technique Tip: The volume of your bakeware impacts how long your loaves need to stay in the oven. You can adjust bake time up or down by checking the loaves instead of following an exact time. Instructions included in the recipe.
Want to Make Ahead? Try Freezing!
Allow the pumpkin bread to cool completely, then slice and portion into sealable bags.
Freeze for up to 2 months.
To enjoy, move the frozen bread to the refrigerator the day before to defrost and reheat in the oven until warm for the best texture.
Why Mascarpone and Other Serving Ideas
Mascarpone adds a hint of savory richness that makes this bread more like a dessert experience. Kind of like how whipped cream compliments pumpkin pie–While you don't strictly need it, mascarpone is an interesting, nice surprise to bite into when smeared on top.
Serve warm with mascarpone, butter, maple cream, or whipped cream and see which one is your favorite.
Ingredient Tip: Mascarpone is an Italian-style cream cheese that may be found next to refrigerated gourmet dips or cheeses in your grocery store.
How to Make Pumpkin Bread from Scratch – Step-by-Step
To get started, gather your ingredients and bakeware.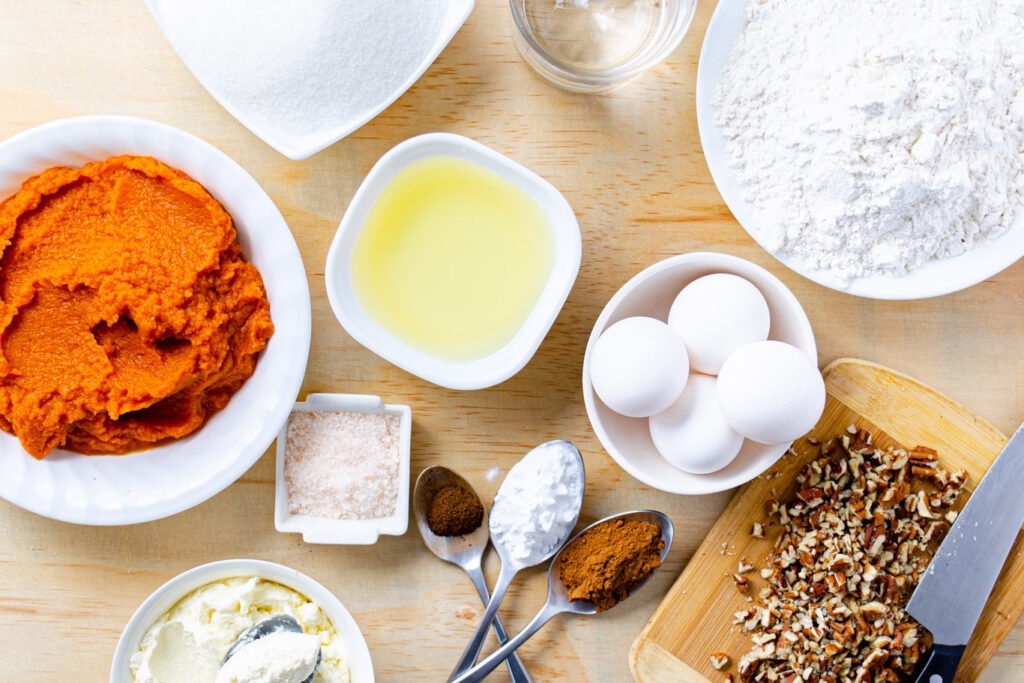 You will need canned or fresh pumpkin puree (not pumpkin pie mix, which is pre-seasoned). Nuts are optional. After gathering your pantry staples, select your bakeware. I recommend two standard (8.5-inch x 4.5-inch) baking pans because I like to enjoy one loaf fresh and freeze one.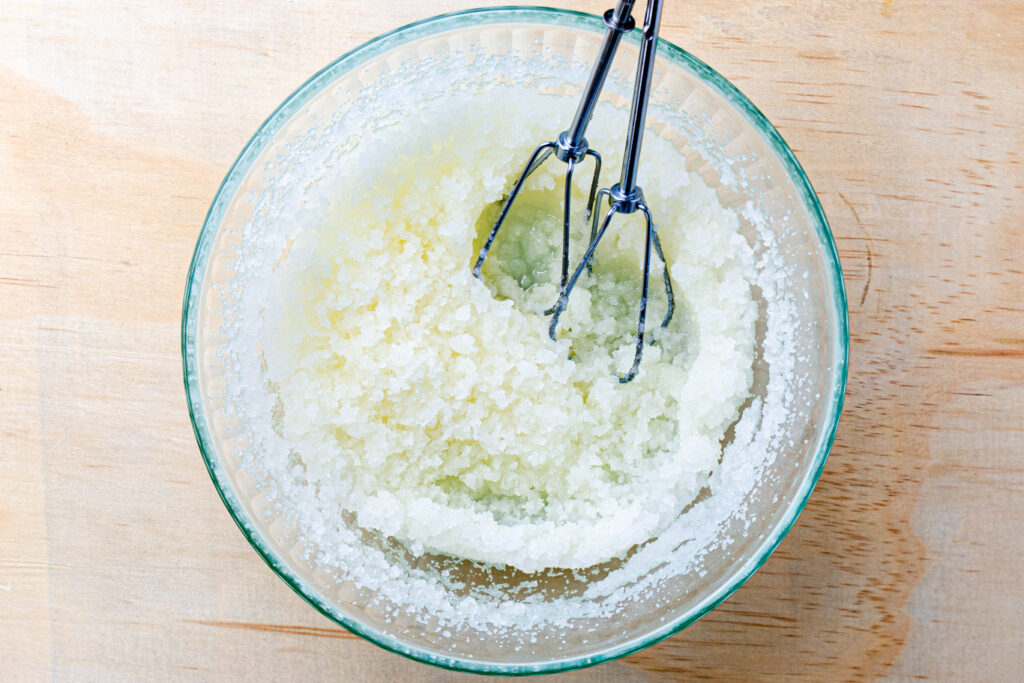 Grab a large bowl. You can cream the sugar with oil by hand using a whisk. It will have a gritty, wet sand consistency (pictured above).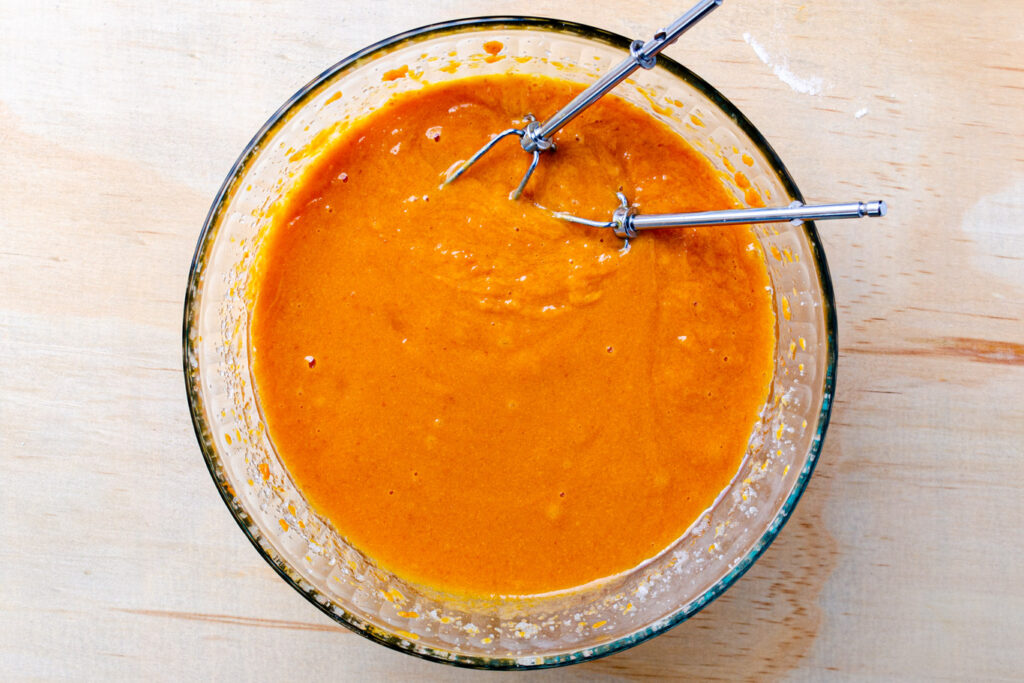 To the oil-sugar mixture, mix in the eggs, pumpkin, then water to form a smooth creamy consistency.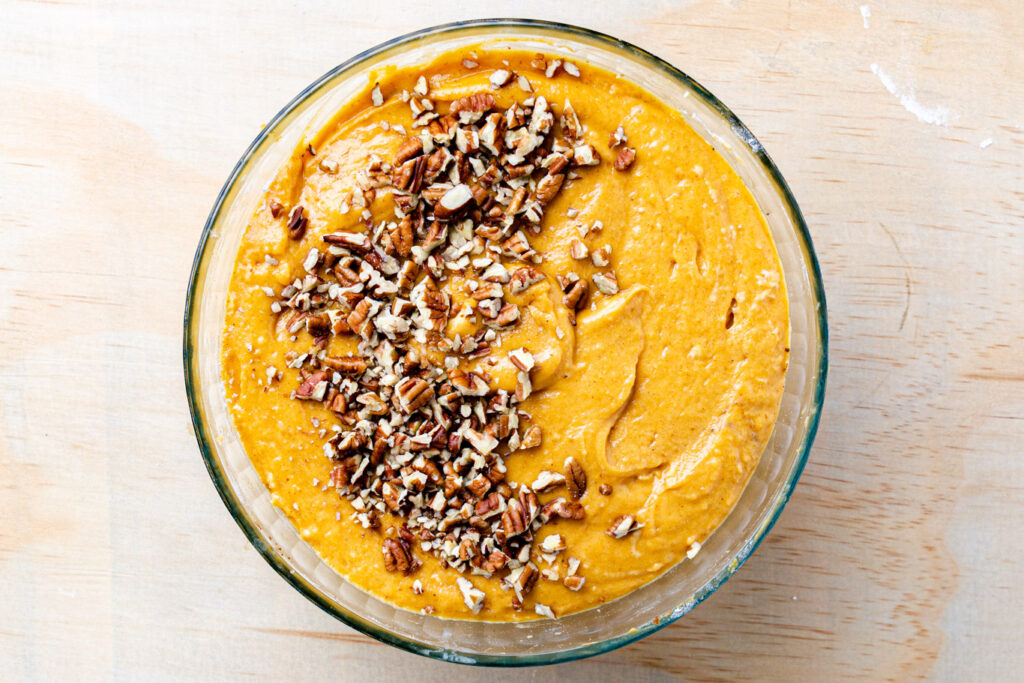 To the pumpkin mixture, add the flour, baking soda, cinnamon, (cloves are optional, too), and salt. Whisk only until just incorporated. This is the time to fold in chopped nuts, if desired.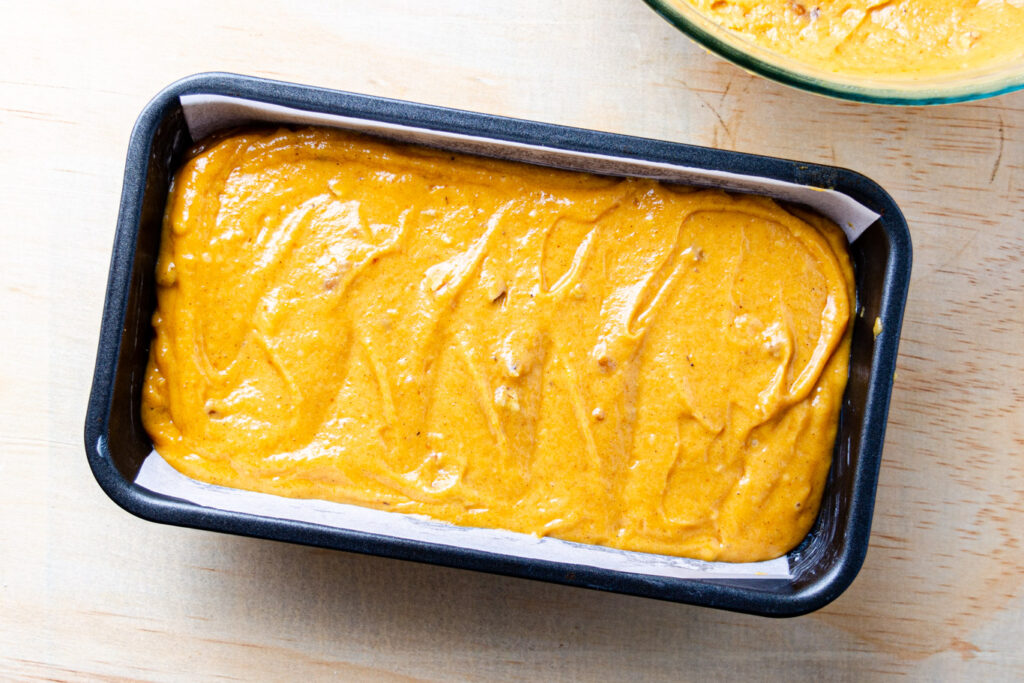 To prevent sticking, be sure to generously grease (i.e. coat with oil) the entire inside of your selected bakeware. You can also line the loaf pan with a section of parchment paper for lifting the loaves out.
Only fill 2/3 full because the batter will rise as it bakes and you don't want it to overflow. I like to smooth the top with a spatula then give the pan a hard tap on the counter to remove any air pockets.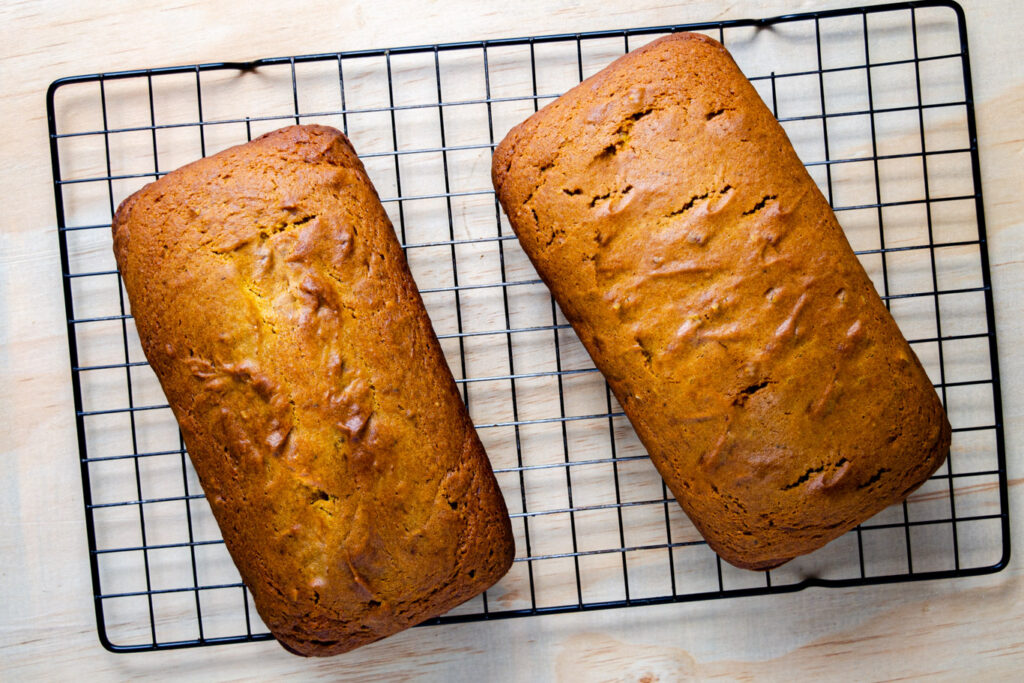 Regardless of cook time, you want to bake until the top, center of the loaf bounces back when lightly touched and a toothpick inserted in the center comes out clean.
*This could take much longer or shorter than the suggested cook time, depending on your oven and the size of your loaf pans. I'd hate for you to end up with pumpkin soup!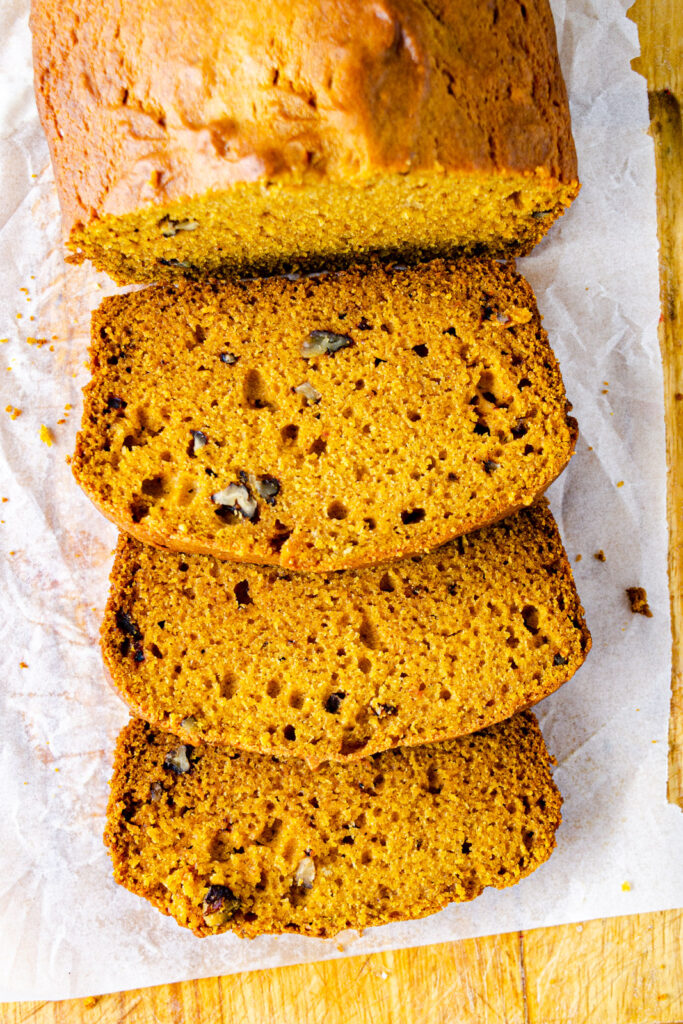 For the optimal texture, please allow 20 minutes of cooling before inverting. If the bread seems stuck at all to the sides, you can use an offset spatula to scrape along the sides to help the loaves release.
There's nothing like a warm, thick slice of pumpkin bread with a cup of coffee.
Last but not least, I hope you share any experiences you have with this recipe. Readers especially value specific details like your bakeware dimensions, cook times, and any noteworthy changes.
Bake on!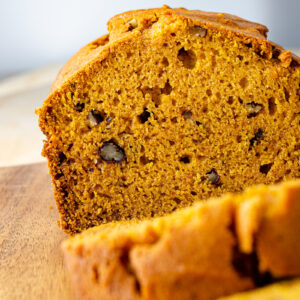 GRANDMA'S PUMPKIN BREAD WITH MASCARPONE
This pumpkin bread recipe was passed down from my grandma to my dad to me. Served warm with a dollop of salted mascarpone, this pumpkin bread is good enough to be dessert.
Print
Pin
Rate
Ingredients
2

cups

granulated sugar

1

cup

vegetable or canola or other neutral oil*

plus more for greasing

4

large

eggs

15

or 16 ounces canned pumpkin puree

not pie filling

3/4

cup

water

3

cups

all-purpose flour

2

teaspoons

baking soda

2

teaspoons

cinnamon

1

teaspoon

salt

Mascarpone

for serving
Instructions
Preheat the oven. Preheat the oven to 350°F. Grease 2 standard (8.5 x 4.5-inch) loaf pans (or see notes below for non-standard bakeware).

Mix by hand or in a stand mixer. Cream the sugar and oil together in a medium bowl with a whisk. Add the eggs and pumpkin and beat until well combined then mix in the water. Add the flour, baking soda, cinnamon and salt. Whisk only until just incorporated.

Bake and serve. Pour the batter into the prepared pans–don't fill higher than ⅔ full because the bread rises as it bakes. Bake for about an hour (if using standard loaf pans) but start checking for doneness after 45 minutes–the loaves are done when the top center springs back when touched. Allow to cool in the pan for 20 minutes before inverting onto a cooling rack. The bread will have the best texture if allowed to cool completely before slicing. Serve warm with a dollop of mascarpone.
Notes
Bakeware and Cook Time
This recipe yields two standard 8.5 x 4.5-inch loaves that should be checked after 45 minutes and take about 1 hour total.
or
This recipe yields 4-5 mini loaves. Be sure to check after 30 minutes but they could take up to 45 minutes to cook through. See the doneness test below for adjusting your bake time accordingly.
Doneness Test: The center of the bread will spring back when lightly touched when it is done and a toothpick inserted in the center should come out clean. *You can adjust the bake time up or down depending on how many loaves you are baking. For example, when I made this recipe in one large baking pan, I had to double the recommended bake time!
Optional Add-Ins and Tested Substitutions:
Spices: 
1/4 teaspoon ground cloves (optional addition)
You may substitute 2 teaspoons pumpkin pie spice for cinnamon
Oil:
Canola oil, Safflower oil, avocado oil, vegetable oil are all suitable neutral (no taste) oils
Coconut refined, even unrefined may be used and will impart zero coconut taste in my experience but you must warm these oils then measure because they solidify at room temperature
Nuts/Fresh Cranberries/Chocolate Chips:
1/2 cup to 1 cup chopped pecans, walnuts, cranberries, or chocolate chips may be folded into the batter at the end of step 2.
Nutrition
Serving:
1
slice
|
Calories:
321
kcal
|
Carbohydrates:
44
g
|
Protein:
3
g
|
Fat:
15
g
|
Saturated Fat:
3
g
|
Polyunsaturated Fat:
8
g
|
Monounsaturated Fat:
4
g
|
Trans Fat:
1
g
|
Cholesterol:
46
mg
|
Sodium:
301
mg
|
Potassium:
45
mg
|
Fiber:
1
g
|
Sugar:
25
g
|
Vitamin A:
208
IU
|
Vitamin C:
1
mg
|
Calcium:
12
mg
|
Iron:
1
mg