In anticipation of harvesting armfuls of collard greens from my garden, I'm sharing one of the best ways to prepare and cook them for fresh eating. Even people who dislike greens love this recipe. It's rock solid as-is, but you could zazz it up with some cooked black-eyed peas and ham.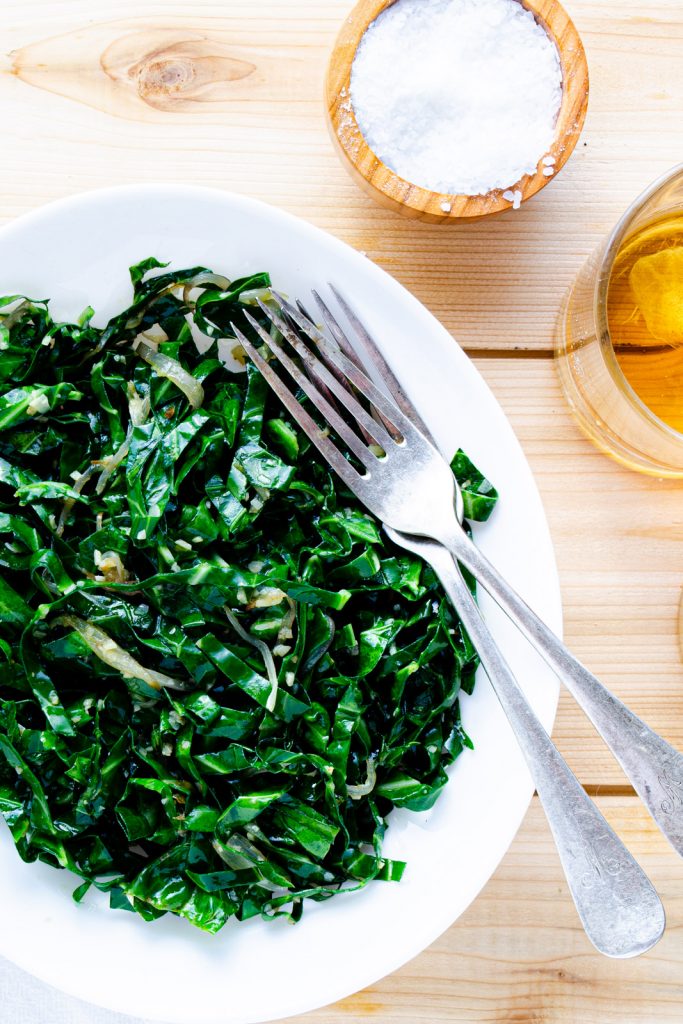 These garlicky ribbons are surprisingly good. I learned how to cook them Brazilian style from a colleague and have been making them this way ever since.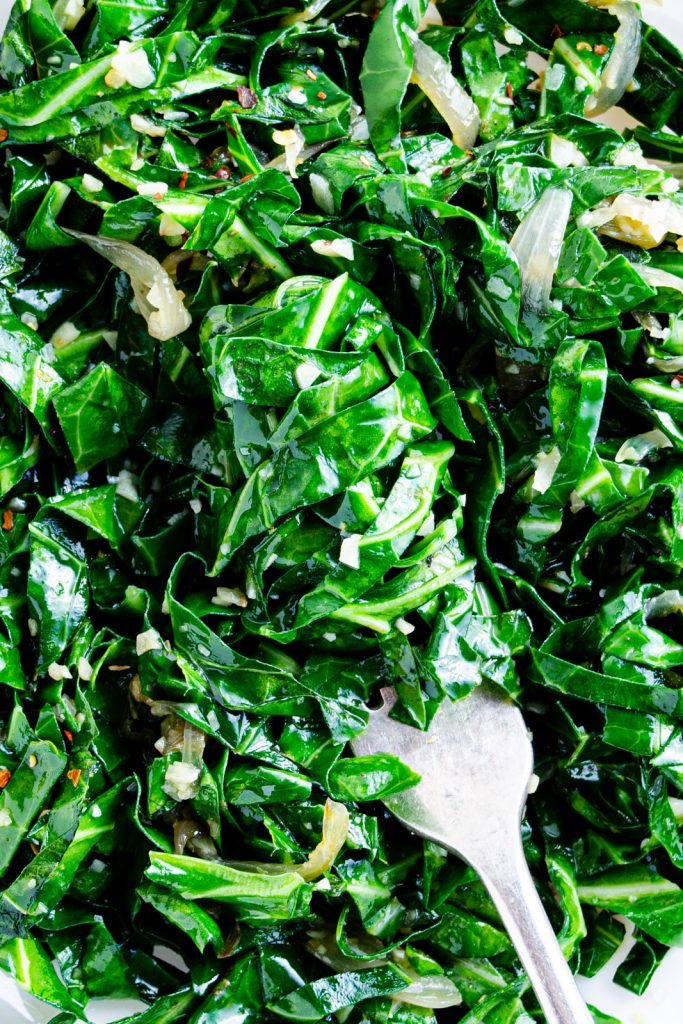 Like kale, collard greens are tough and fibrous, so it's necessary to cook them until tender. You can cook the whole leaf and use it as a wrap for chicken salad, like in these collard green wraps or you can try this simple preparation as a fast side dish.
In this recipe, you'll be rolling and cutting the leaves into thin little strips. This way, the strips break down quickly and don't get mushy.
Unlike Southern style collards, which tend to be stewed for a long time, these collard greens come out with a vibrant green color and a simple, pleasant flavor. I like a bit of garlic and shallot (or red onion, if you prefer).
Are collard greens available year round?
Yes. You can buy them year round but will find them to have the best flavor in the colder months after the first frost, so definitely try this recipe in the fall or winter if you can.
Sautéed Garlic Greens
Sautéing is a popular basic cooking technique for when time is of the essence. Greens break down fast in a small amount of oil, and you can even add a splash of vinegar to bring out more of the color after removed from the heat.
Technique Tip: When sautéing, try adding a pinch of salt in the beginning and middle (dishes salted in the beginning, need less overall salt and salt helps draw out moisture). Add any aromatics you have on hand (garlic, onion, lemongrass, chile peppers).
How to Cook Greens
Let's get prepping so we can have everything in place when we start to cook: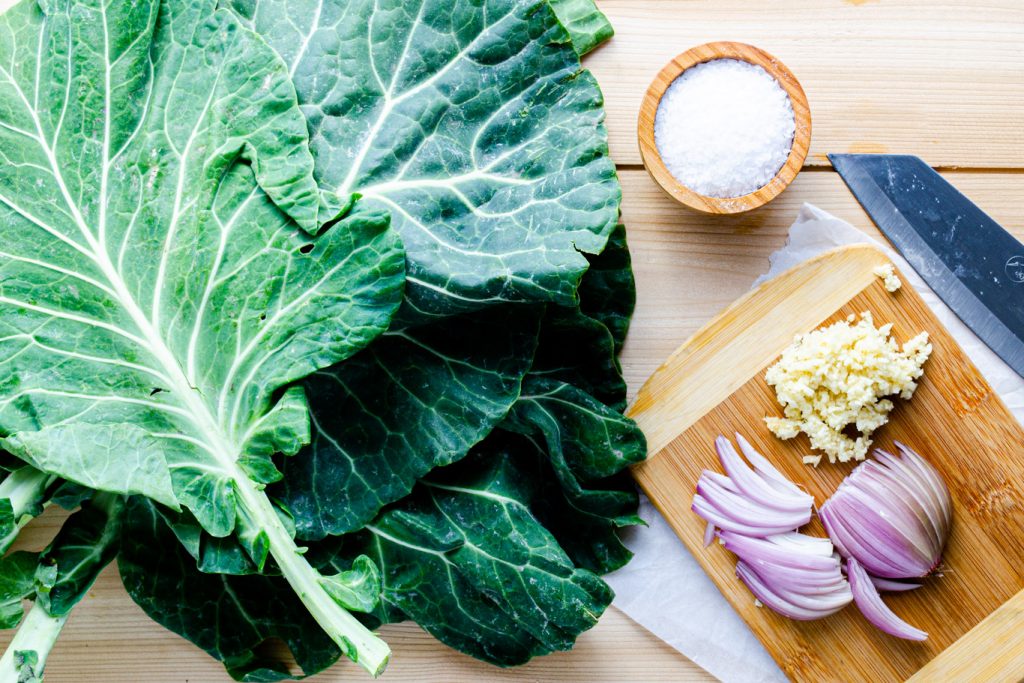 Gather your ingredients and a large pan. A cast iron skillet works great. Mince the garlic and thinly slice the shallot. Stack the collard greens and remove the stem by slicing with your knife on either side.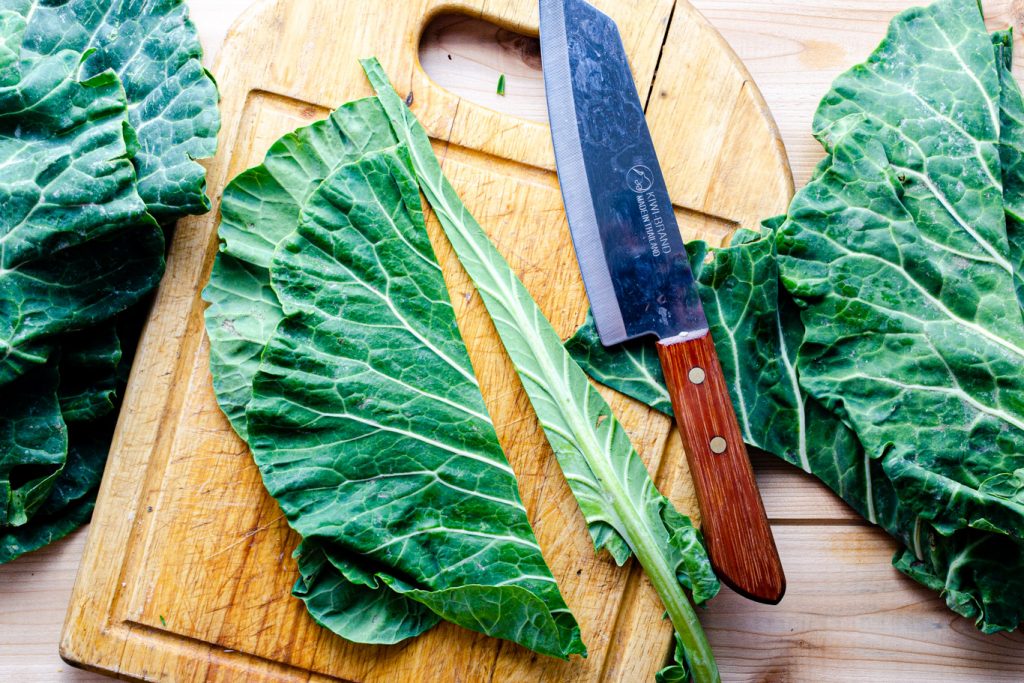 You can toss the stems into the compost bin or add them to your juicer.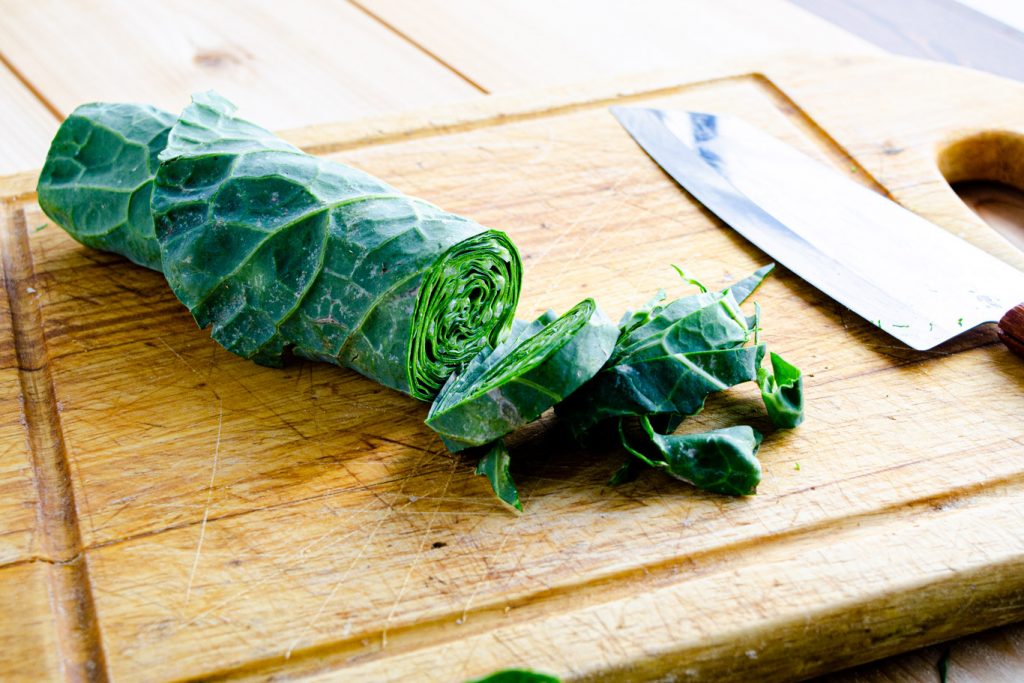 Stack a couple of leaves at a time and neatly roll into a cigar. Thinly slice about 1/4-inch thick or thinner, if you want. Collect the ribbons in a bowl.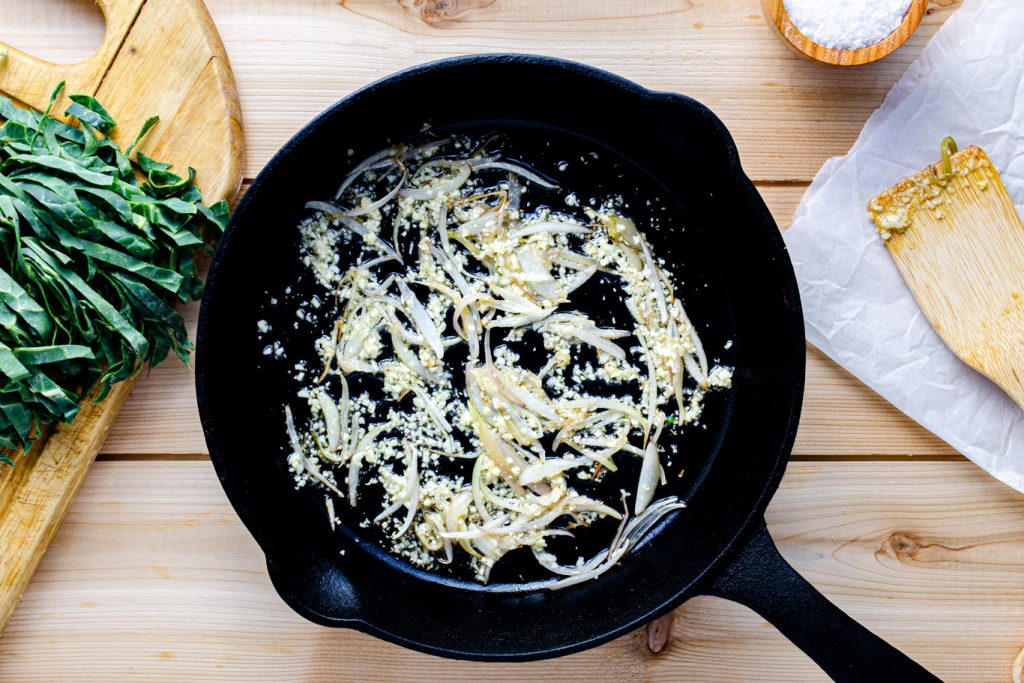 Cook the garlic and shallot down to release flavor and just before you see the garlic begin to brown, add the collard greens and stir.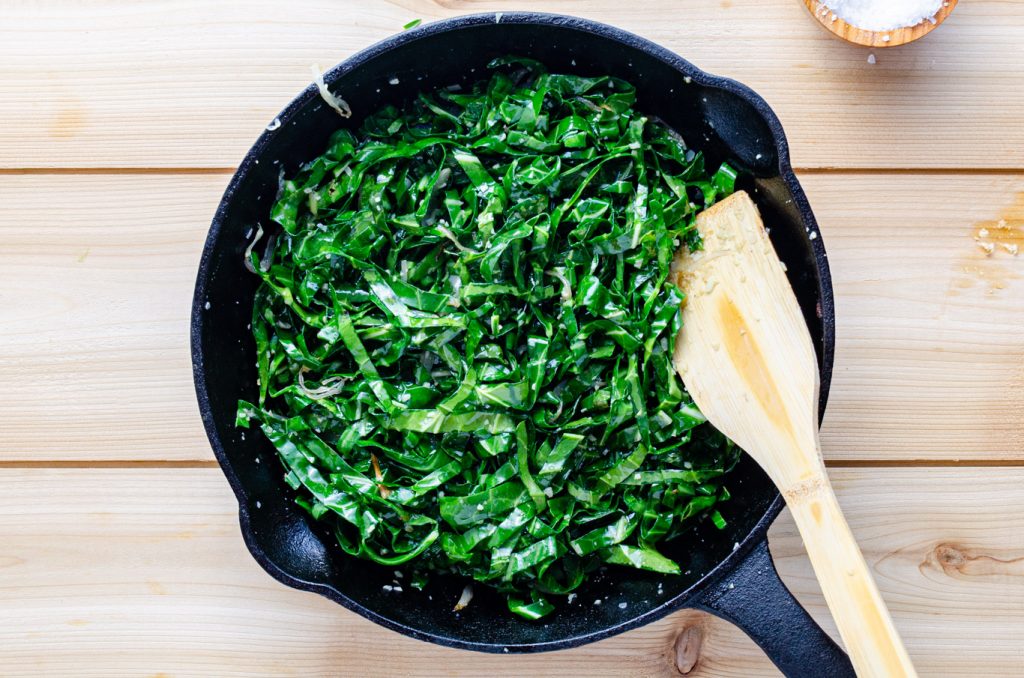 Cook, stirring to coat the leaves with garlic and shallot until the color turns bright green. Taste and add extra salt, if you like.
Kale vs. Collards — How to Sautee Kale
A quick word about kale. You can follow this technique with kale, but you won't be able to roll it neatly like collard greens because it tends to break. You can, however, stack the leaves and slice thinly.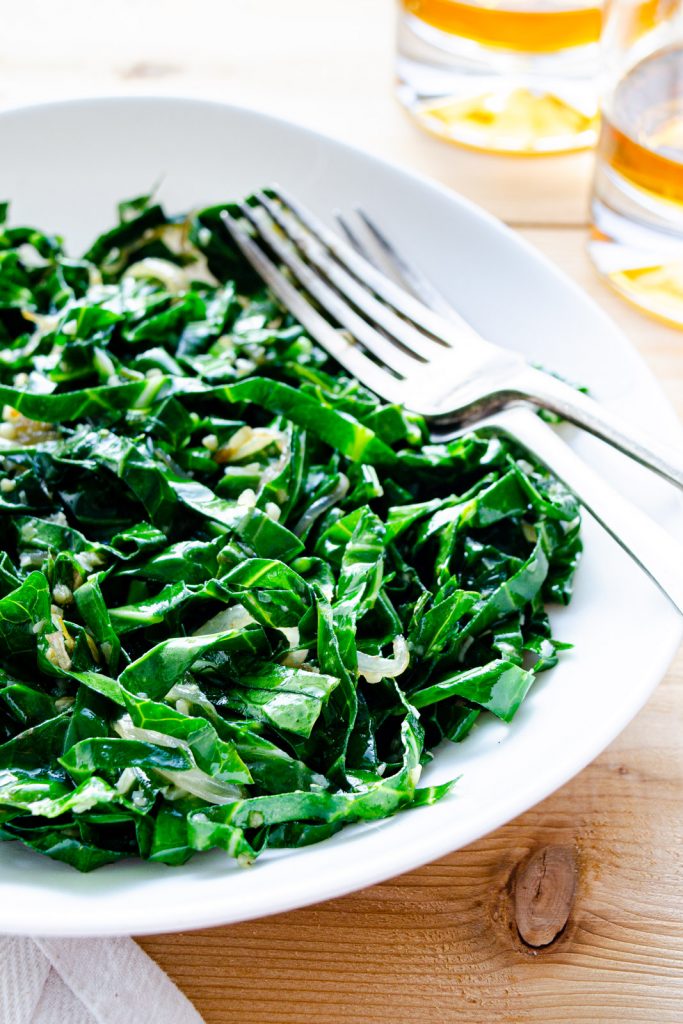 Serving Collards as a Side Dish or Make it a Meal
Side Additions: Add a wedge of lemon or a pinch of red chile flakes if you like a little heat.
Meal Plan: You can even make these a day ahead and just rewarm in the skillet and serve or prep (step 1) the greens and cook as needed throughout the week. Store cut greens in a sealed bag in the fridge.
Make it a Meal: One of my favorite dishes is kielbasa or spicy sausage, beans, and collards greens, but you could serve these with any side of fish, chicken, even a fancy prime rib roast. Share your ideas in the comments and any impressions you have of the dish.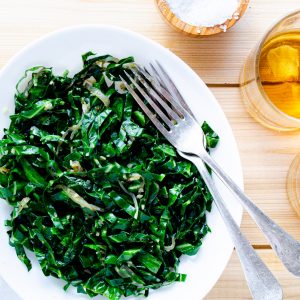 HOW TO COOK COLLARD GREENS
A bright, cheery approach to collard greens. These ribbons are so thin that the collards cook in no time at all. If you like, serve them with a wedge of lemon and a side of beans and rice.
Print
Pin
Rate
Ingredients
1

shallot

thinly sliced

3

garlic cloves

minced

1 ½

pounds

collards

washed and dried

1

tablespoon

extra virgin olive oil

Salt and pepper to taste
Instructions
Prepare the greens. Fold the collard leaves in half lengthwise and cut away the stems and inner ribs. Pile about 5 or 6 leaves on top of one another, and roll into a tight cigar. Starting at the top and cutting across the leaves, slice the leaves into needle thin strips.

Saute the aromatics then add the greens. In a large skillet, heat the oil over medium heat. Add the shallot and saute for a minute until fragrant. Add the garlic and saute for a few seconds but avoid browning because it adds a bitter flavor. Add the collards, season with salt and pepper, and saute (stir frequently) until they turn bright green and are just short of the wilting point (due to carry-over cooking, you want to pull the greens off the heat while they retain their vibrant color and remain slightly crisp). Serve warm.
Nutrition
Serving:
1
scoop
|
Calories:
93
kcal
|
Carbohydrates:
11
g
|
Protein:
5
g
|
Fat:
5
g
|
Saturated Fat:
1
g
|
Polyunsaturated Fat:
1
g
|
Monounsaturated Fat:
3
g
|
Sodium:
30
mg
|
Potassium:
392
mg
|
Fiber:
7
g
|
Sugar:
1
g
|
Vitamin A:
8538
IU
|
Vitamin C:
61
mg
|
Calcium:
401
mg
|
Iron:
1
mg