If you're looking for a really delicious, simple celery soup, this is it. It's light, yet flavorful, and best of all, puts all those winter vegetables to good use.
Best of all, it's 100% from scratch and the flavors come through. There's:
a homemade turkey stock – just a turkey back, some water, peppercorns, and leek
an entire bunch of fresh celery
ghee to add richness – but, yes, you can use olive oil or butter to sweat the vegetables
no cream – to keep the flavors clean and pure, but yes, you can make it your own with sour cream at the end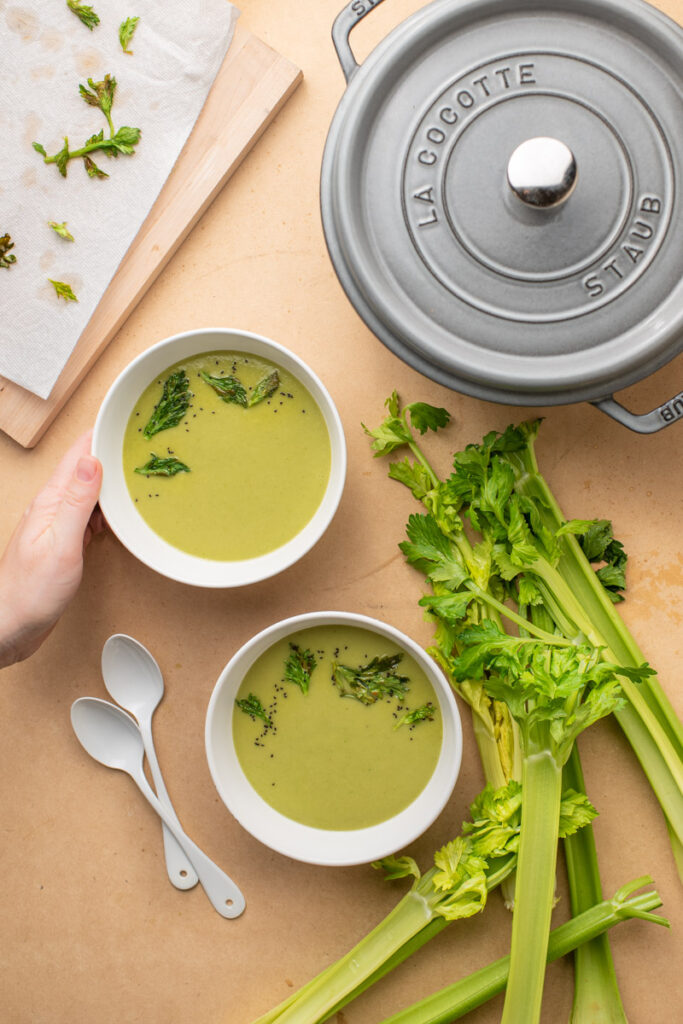 For the past week, I've been putting together your winter produce guide and realized: I don't have a lot of recipes featuring celery. Odd, considering how much I love celery.
As I was thinking about how to craft this soup recipe, it struck me to use leek instead of onion. I wanted to capitalize on the light green portion of the leek in the soup and use the dark green top for the stock. Root to frond cooking, how nice.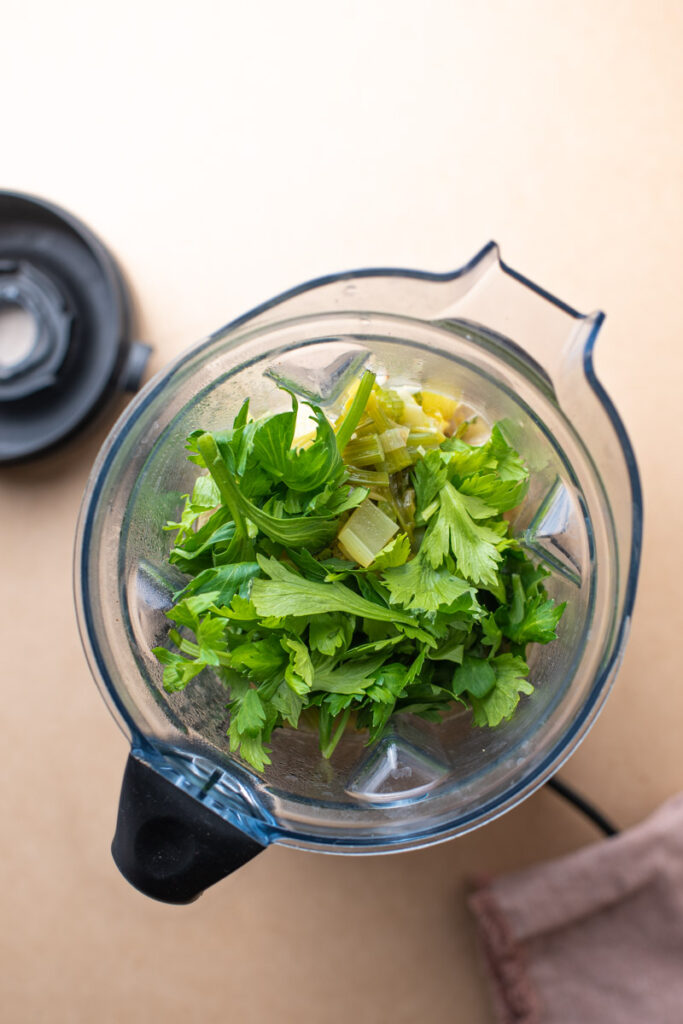 There's a whole bunch of celery leaves, too, that don't get cooked but just added to the blender, for nutrition and flavor. No waste. I even tried this new technique: you take a few celery leaves and blister them in a bit of hot ghee, about 20 seconds per side. They make for a unique garnish. Worth a try.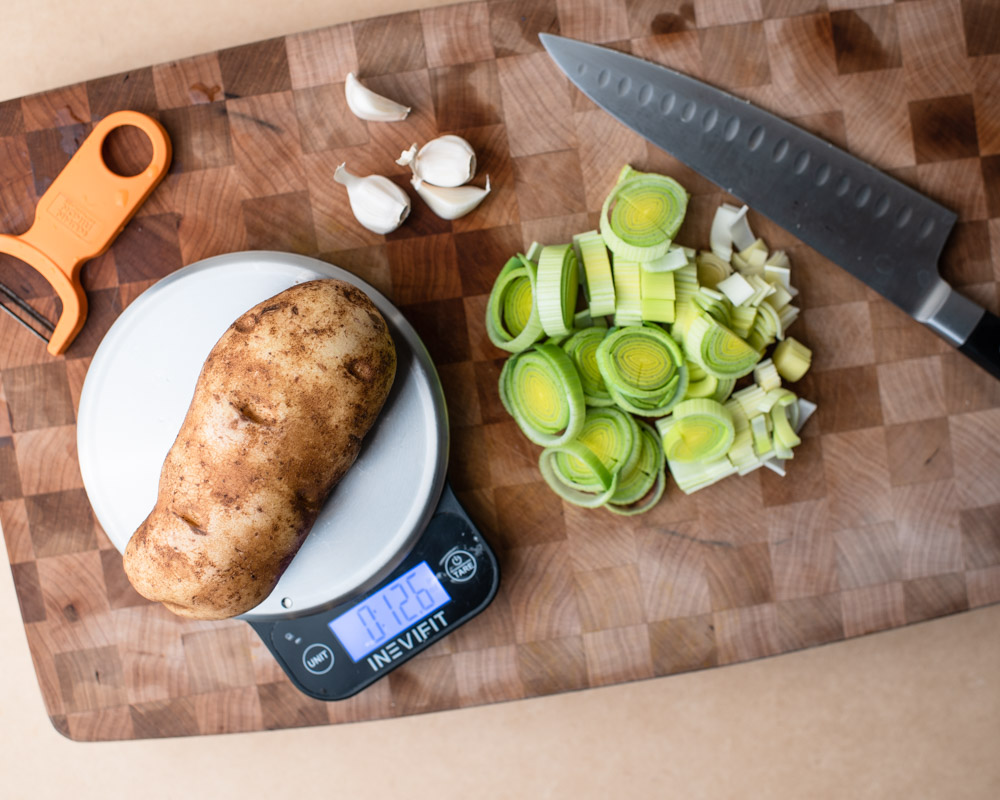 For those of you with gardens, I'm betting you have a bunch of fresh celery, leeks, and potatoes in storage. What better way to experience those flavors than together in a harmonious fresh-tasting winter soup?
How to Can and Store Celery Soup
If you have a pressure canner, you can multiply this recipe by however many heads of celery you'd like to use and proceed as follows:
After step 2, you will transfer the soup to glass jars and pressure cook them at 10 pounds pressure for 20 minutes.
To serve, you can blend and reheat each individual jar, adding fresh herbs or seeds (such as dill, parsley, nigella, or basil).
To store this recipe as-is (no canning), you can put it in the fridge for up to 1 week. Since it only makes about 6 portions, you may even want to double the recipe.
To freeze, vacuum seal the soup and use within 2 months. From frozen, you can defrost the soup overnight in the refrigerator or directly reheat from frozen in a Dutch oven or pot over medium heat, covered, until bubbly.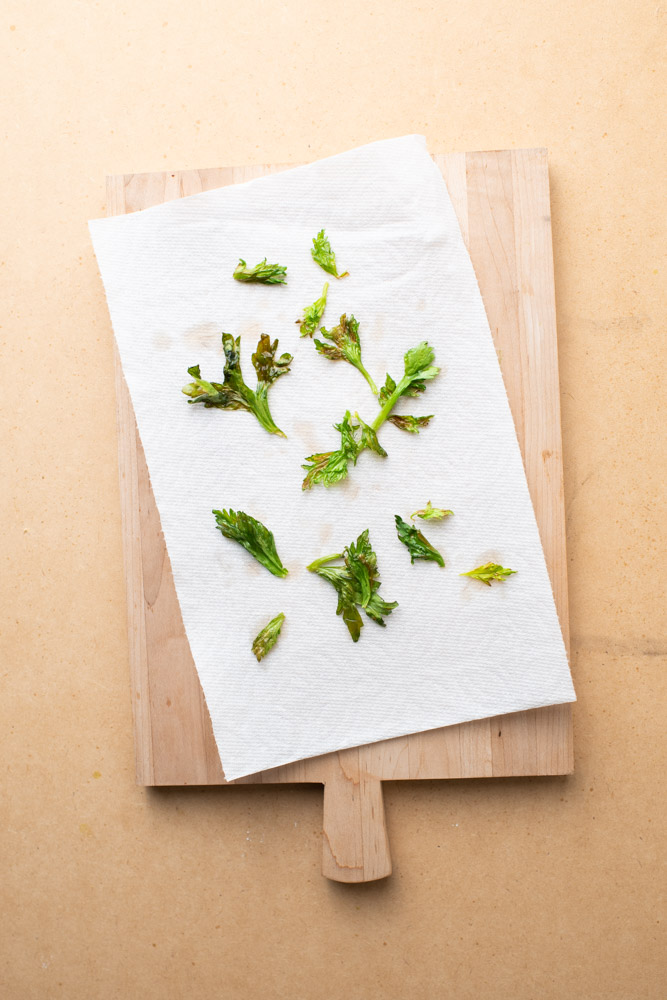 I hope you give this celery soup a go. It may sound strange to put celery in a soup, but it's really good!
P.S. This cauliflower leek potage.
This recipe is adapted from Feasting at Home's simple celery soup. Where Silvia gets a vibrant green color from incorporating fresh herbs, I've opted to leave those out for simplicity. I've also added an easy turkey stock from scratch to replace store-bought, using leek in place of the onion.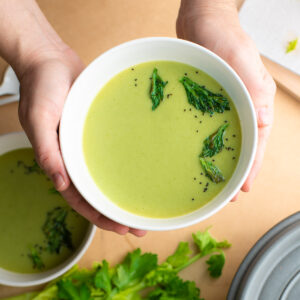 Celery Soup
This simple, satisfying soup features a quick homemade turkey stock and an entire head of celery. There's nothing I would change about it.
Print
Pin
Rate
Ingredients
7

cups

water

1

turkey back*

or 4 chicken wings

6

whole

peppercorns

1

leek

remove the green top portion for the stock, slice and reserve the light green/white portion for the soup

2

tablespoons

ghee

or substitute butter or extra virgin olive oil

1

teaspoon

sea salt

4

large

garlic cloves

roughly chopped

1

russet potato

(about 12 1/2 ounces), peeled and chopped

1

large

celery head

(about 1 1/3 pound), sliced, leaves reserved for blending and garnish

1

bay leaf

optional, remove before blending
Instructions
Make the poultry stock. Fill a large pot halfway with water (about 7 cups reduces to 5 cups stock). Add the turkey back, peppercorns, and the green top portion of the leek. Bring to a boil over high heat then simmer for about 40 minutes.

Sweat the aromatics. Meanwhile, in a Dutch oven or medium pot, melt the ghee over medium heat. Add the sliced light green/white portion of the leek along with the sea salt. Stir occasionally, sweating until tender, about 5 minutes. Stir in the garlic and turn off the heat to avoid burning.

Simmer the vegetables. To the leek and garlic mixture, add the potato, celery, bay leaf and 5 cups of the poultry stock (from step 1, above). Cover and simmer over medium heat for 10 minutes.

Blend and finish the soup. Use a ladle to transfer the vegetables to a blender. I like to do this in 2 batches to avoid any messes. Add 1 cup reserved celery leaves (save a few for frying, if desired)*. Blend on low then increase to high until the soup is completely smooth. Transfer to a pitcher for easy pouring. To serve, taste and adjust seasoning. Garnish with celery leaves, sour cream, or fresh herbs.
Notes
Celery and Celery Leaves: Favor organic celery for its color and flavor for this soup and select celery with a as many leaves as possible. You should get about 1 loose cup of leaves per head/bunch. If your celery is missing a lot of leaves, you may omit them or add 1/2 cup flat leaf parsley, instead.
*Turkey Back: Turkey back has a lot of flavor and very little meat, making it perfect for homemade stock. If you can't find it, you may substitute 4-6 whole chicken wings. You may also make the poultry stock using a very lean whole chicken/rooster. To save time, feel free to substitute 5 cups ready made chicken stock for the liquid in this recipe (replaces step 1 above).
Blending: While you can use an immersion blender, I think you should process this soup in a countertop blender to get the creamiest consistency. Fill your blender half-full and secure the lid. Start the blender on low and slowly increase the speed to avoid splatters.
Nutrition
Serving:
1
bowl
|
Calories:
155
kcal
|
Carbohydrates:
16
g
|
Protein:
6
g
|
Fat:
7
g
|
Saturated Fat:
4
g
|
Cholesterol:
19
mg
|
Sodium:
675
mg
|
Potassium:
391
mg
|
Fiber:
1
g
|
Sugar:
4
g
|
Vitamin A:
255
IU
|
Vitamin C:
5
mg
|
Calcium:
24
mg
|
Iron:
1
mg