These brown sugar walnut bars are heavenly: chewy when warm and punctuated with crunchy bits of walnut. They have a nice balance of sweet and fat thanks to dark brown sugar and eggs. When they bake, they get a smooth top, much like a blondie, and when timed just right, the sugar melts, giving them a sticky center that makes your eyes want to roll. So simple, so good.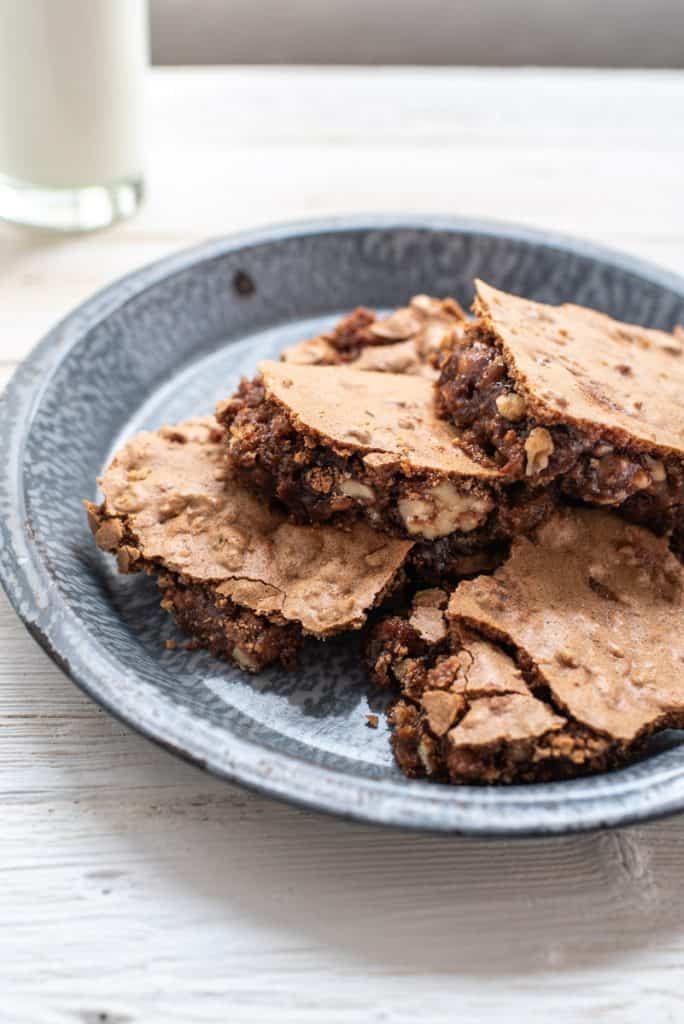 Brian Noyes, one of Virginia's most treasured bakers, has a book out: Red Truck Bakery. This book is a compilation of nostalgic recipes from his rural bakery of the same name — it's got bakery favorites like pies and cookies and recipes he grew up eating.
Brian's desire to support local producers is evident throughout the book, coupled with charming photographs, Red Truck Bakery makes centuries-old Southern classics feel familiar and yet surprising.
Take, for example, his mom's walnut chews recipe. Brian writes:
"We had a walnut tree in our backyard when I was growing up, which may be the reason my mom was inspired to make these […] when you cut into a sheet of these chews, the beautifully brittle top flakes into sweet shards, but somehow underneath they're soft and nearly juicy […]"
Interesting, right?
He goes on: "My sisters, Cheryl and Diane, would've been heartbroken not to see these in the book."
Thank you Cheryl and Diane. After baking these bars, I have to agree, they truly are remarkable. To me, these bars are perfection: chewy, perfectly sweet, with a hint of vanilla. But what differentiates them from other brown sugar bars is the exclusion of butter, which, like Tori Dunton's Walnut Bars, gives them the loveliest chew.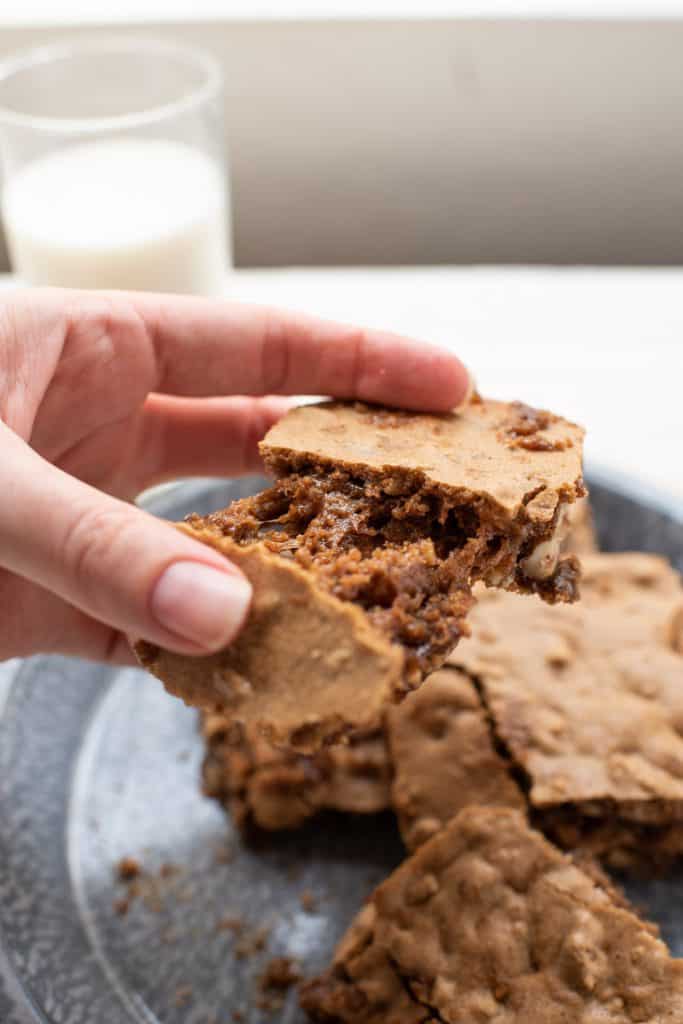 Out of the oven, these bars are ooey gooey but are even more irresistible when allowed to cool a bit. I found they keep well at room temperature for up to 5 days, so don't be afraid to make them ahead of time. If you're looking for a homemade gift for anyone who can't do chocolate, look no further. In a lovingly packed tin, these sturdy bars will travel well.
Happy baking, friends! I'll see you in the new year.
PS: Fudgy Brownies with Espresso
How to Make Chewy Walnut Bars
Here's the play-by-play: Gather your ingredients and roughly chop the walnuts.
Use a stand mixer fitted with a paddle attachment to combine the wet ingredients (eggs, dark brown sugar, and vanilla extract). It's important at this phase to mix well (at least 3 minutes) to help dissolve the brown sugar.
In a separate bowl, sift the flour using a sieve and whisk together the dry ingredients (all-purpose flour, baking soda (not baking powder), and salt).
Combine the dry and wet mixtures then stir in the chopped walnuts. Spread into a greased baking dish (see picture below).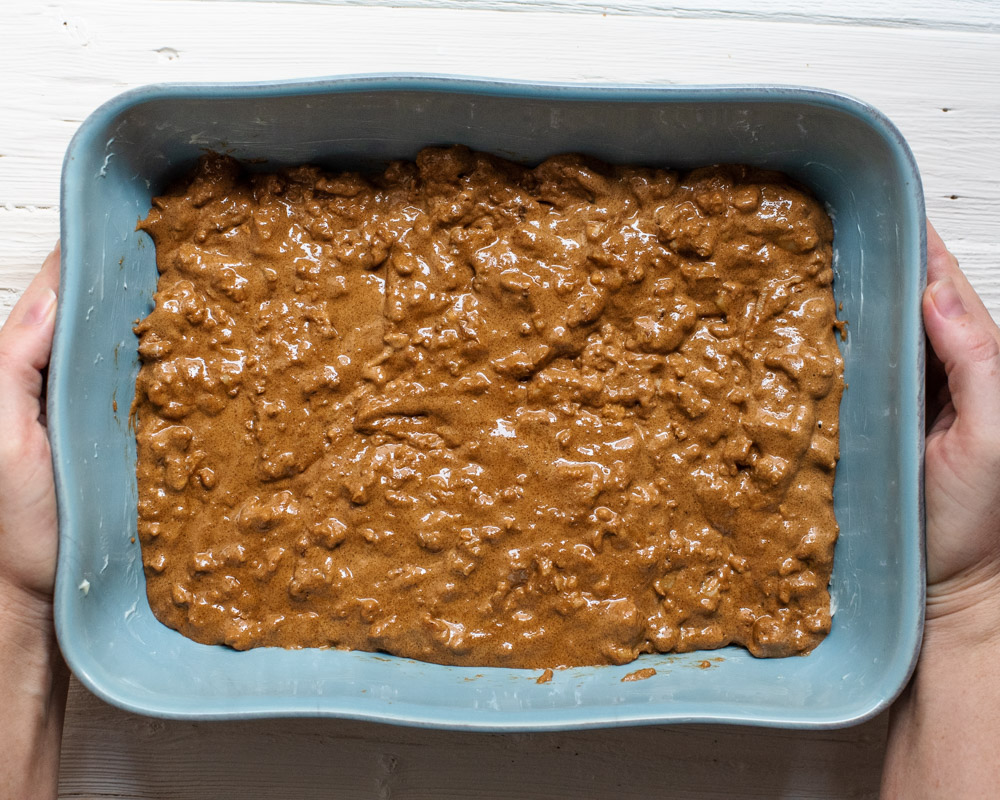 Bake and allow to cool before cutting into squares.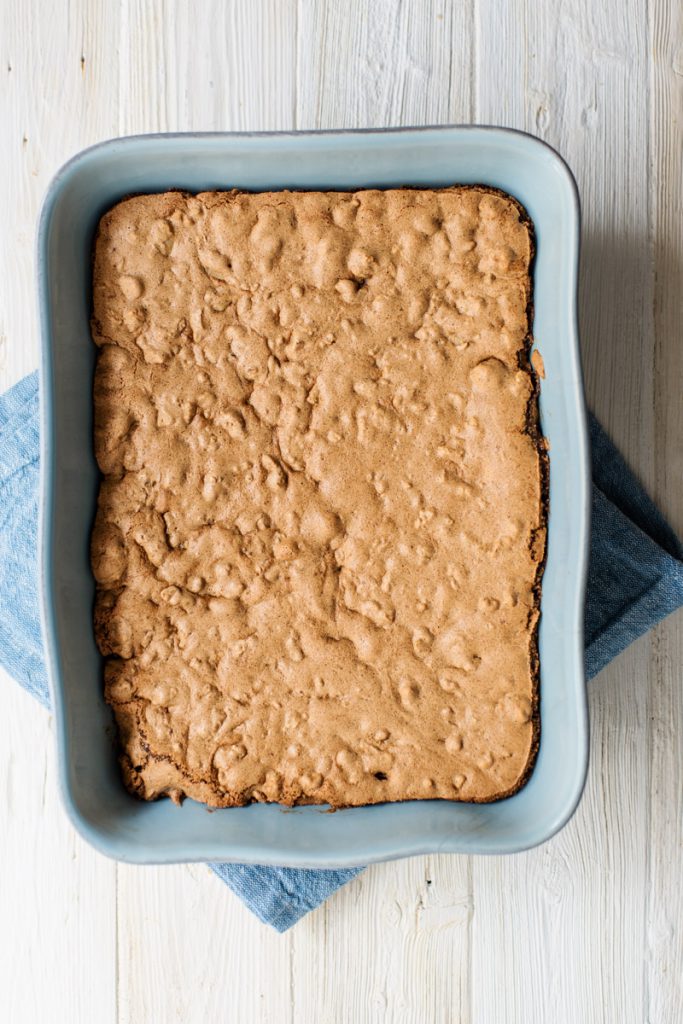 How to Store
If you store these in a tin at room temperature they will dry out a little faster than if you use a sealed plastic bag, about 5 days. I really prefer the texture of these bars when they are slightly warm, so I like to microwave them for about 10 seconds.
FAQ
Can these be mixed by hand?
Yes! I like to use a stand mixer because it helps to really incorporate the eggs with the brown sugar, but you could do this with a spatula and a little bit of elbow grease. After all, a preheated oven will do most of the work for you (in terms of melting the sugar).
Can I substitute baking powder for baking soda?
In this recipe, you may use baking powder (which is baking soda with cream of tartar added). However, it's not a 1:1 substitution. You should use 1/2 teaspoon baking powder in place of baking soda.
Can I add chocolate chips?
Sure. Go ahead and mix them into the batter, along with the walnuts. Your bars will have a denser consistency the more you use. I recommend starting with about 1/3 cup bittersweet chocolate chips.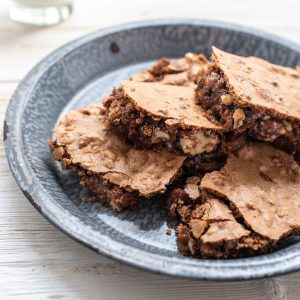 Brown Sugar Walnut Bars
Adapted from Brian Noyes's Red Truck Bakery Cookbook
These soft and chewy walnut bars are made from dark brown sugar and eggs. They may soon become a tradition in your house.
Print
Pin
Rate
Ingredients
Unsalted butter

for coating baking dish

2

large

eggs

2

cups

packed dark brown sugar

1

tsp

vanilla extract

1

cup

all-purpose flour

sifted

1/4

tsp

baking soda

1/4

tsp

sea salt

2 1/2

cups

raw walnuts

roughly chopped
Instructions
Preheat the oven. Preheat the oven to 325°F. Coat a 9 x 13-inch baking dish with butter.

Beat sugar and eggs. Using a stand mixer fitted with a paddle attachment, beat together the eggs, dark brown sugar, and vanilla on medium speed for at least 3 minutes or until the sugar is no longer gritty and the mixture has a nice sheen.

Mix the dry ingredients then combine with the wet. In a medium bowl, whisk together the flour, baking soda, and salt. Add the flour mixture to the brown sugar mixture and beat until the flour is incorporated and streak free. Stir in the walnuts.

Bake and cut into squares. Pour the batter into the prepared baking dish and smooth the top with a spatula. Bake for 23 minutes, until the edges pull away from the sides and appear lightly brown. Allow the dish to cool then cut into squares. Store in an airtight container at room temperature for up to 5 days.
Notes
Baker's Notes:
Salt: The only change I have made here is to add salt: 1/4 teaspoon felt like the right amount. I love a sweet treat with a good balance of salt and sugar, but I also know I have a high salt tolerance, so please use your judgment when deciding how much to use. I do not find these to be the slightest bit salty (note that I used unsalted, raw walnuts).
Nonstick cooking spray: I don't believe in using this kind of ingredient and prefer to rub my bakeware with butter. It worked well for me, but you can use cooking spray, if you prefer.
Walnut halves: The original recipe calls for walnut halves, but I decided to roughly chop them because I thought they would be easier to portion into squares. That said, I think the bars would still hold up nicely if you wanted to leave the walnut pieces whole.
Baking Soda: I found a few recipes that call for a similar proportion of flour (1 cup) with 1/2 teaspoon baking soda (this Taste of Home recipe and this recipe from The Perfect Pantry). I found that 1/4 teaspoon baking soda was plenty to achieve a nice rise without imparting "a taste."
Nutrition
Serving:
1
bar
|
Calories:
347
kcal
|
Carbohydrates:
47
g
|
Protein:
5
g
|
Fat:
17
g
|
Saturated Fat:
2
g
|
Cholesterol:
31
mg
|
Sodium:
87
mg
|
Potassium:
170
mg
|
Fiber:
2
g
|
Sugar:
36
g
|
Vitamin A:
46
IU
|
Vitamin C:
1
mg
|
Calcium:
60
mg
|
Iron:
2
mg
Some of the links on this page are affiliate links, which may pay me a small commission for my referral at no extra cost to you!