When I want a quick table bread FAST, my mind always clings to this Irish Soda Bread.
I've become kind of addicted to baking bread with my Dutch oven and I'm so glad I found this recipe. I can't believe it was ready in 45 minutes 🤯 but it turned out amazing. New favorite. Thanks so much!

Jerrica (Pinterest)
I've been baking this rustic Irish soda bread every year for 10 years and like to think it connects me to my ancestors. After testing this bread every which way, I can hardly explain how much I love this dutch oven version. Crusty on the outside, moist and tender on the inside, and best enjoyed warm with butter.
As I sit here with some flour on my shirt and a belly full of bread, I feel content. Bread baking wasn't always this easy for me. My dad was the bread baker in the family, and I've had more failures than I can count. But lately, I've been successful, and nothing smells better than the sweet victory of freshly baked bread. Thus, is the journey of a frayed apron baker.
It may look complicated, but I can assure it's not. There's almost nothing to making this bread because the baking soda does most of the work for you. It's practically a no-knead bread, where you knead for less than 1-minute, gathering the sticky dough into a disk, followed by a covered and un-covered bake in the thick, reliable walls of your dutch oven.
What you can't see is how it sounds when you saw a knife through it, or how it thuds when you tap it out of the oven. The scent of this bread will waft through your house, and make you feel like a master bread baker. Better yet, it's the least fussy bread EVER.
What is traditional Irish Soda Bread?
There are many variations on Irish soda bread today. So, what makes this recipe traditional? This quick bread sticks to 4 basic ingredients: flour, baking soda, salt, and buttermilk. Plus, I use a little butter to prevent the bread from sticking (this has the added bonus of helping the bread brown on the sides and bottom). If you want to learn more about the rich history of Irish soda bread, I love this resource from the Society for the Preservation of Irish Soda Bread!
What other variations could I try with Irish Soda Bread?
Currants, carraway seeds, and nuts are a few variations I've seen, BUT I'm confident you will love the traditional version, so I suggest trying it first.
How can this bread be ready so quickly?
I know. Bread is never ready in 45 minutes. That is the miracle of Irish soda bread. It's a no-rise, non-yeasted bread that relies entirely on baking soda to give it rise with tangy buttermilk giving the bread both flavor and tenderness.
Buttermilk Substitution Tip:
If you can't find buttermilk, you can make your own easily enough. Mix 1 Tablespoon lemon juice or vinegar per 1 cup milk. Allow it to curdle for a few minutes, then measure and use in this recipe as indicated.
More Easy Bread Recipes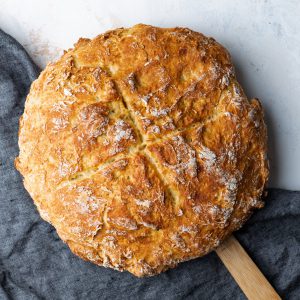 Traditional Irish Soda Bread
A 4-ingredient traditional Irish soda bread recipe made in a dutch oven in 45 minutes.
Print
Pin
Rate
Ingredients
1

T

unsalted butter

4

cups

all purpose flour, plus more for sprinkling (16 oz)

1

tsp

baking soda

1 1/2

tsp

salt

1 ¾

cups

buttermilk (14 oz)
Instructions
Preheat the oven to 425° F. Grease a dutch oven with butter and dust with flour to prevent the bread from sticking.

Combine the flour, baking soda, and salt in a large bowl, then stir in the buttermilk to form a sticky dough. Gather and knead the dough gently for 1 minute, shaping into a thick round disk (about the size of your dutch oven).

Lay the dough flat in the dutch oven, cover, and bake 30 minutes on the center rack. Uncover and bake for an additional 14 minutes until the bread is golden brown and hollow sounding when tapped.

Cover the bread in a clean towel and lightly sprinkle with water to keep the bread from drying out. Best enjoyed fresh, but will keep at room temperature for up to 3 days. Serve bread toasted with butter and jam to preserve the crusty texture.
Nutrition
Calories:
182
kcal
|
Carbohydrates:
34
g
|
Protein:
5
g
|
Fat:
3
g
|
Saturated Fat:
1
g
|
Cholesterol:
6
mg
|
Sodium:
323
mg
|
Potassium:
92
mg
|
Fiber:
1
g
|
Sugar:
2
g
|
Vitamin A:
87
IU
|
Calcium:
47
mg
|
Iron:
2
mg
Some of the links on this page are affiliate links, which may pay me a small commission for my referral at no extra cost to you!