When you don't know what the heck to make, let risotto be your muse. Easy to make, always fabulous, this risotto will earn you a notch on your apron and bonus points from your spouse. How could it not? It's adorned with amazing ingredients (um, hello saffron) and features a fabulous line-up of fresh clams, blistered cherry tomatoes, and andouille sausage.
So, what gives this risotto its interesting orange color? Tomato paste and saffron. Aint she a beaut? Would you believe me if I told you this is really easy to make? Like any risotto, it's all about stirring rice with liquid, adding each ingredient at the right time. Jump to see the steps for making risotto perfectly.
Why This Recipe Works:
Flavor Affinities: Every ingredient was picked because it pairs well with the others.
Fresh herbs give the flavor an aromatic lift.
Saffron and tomato imbue the risotto and season the rice as it cooks, making this a good summer dish.
You can make the entire recipe in 30 minutes for quick and easy weeknight eating that doesn't sacrifice on flavor or quality.
---
If you've never worked with clams, don't let that stop you! I'm confident you can handle them with success after reading this post. Worst case scenario – you can simmer the clams in water so they open and just remove the meat with a butter knife [thumbs up].
How to Clean Clams
Clams should smell fresh and are easier to open when cold.
Examine the clam shells to see if they are tightly closed, indicating a live clam. Throw away any clams that are open.
Under running water, scrub the shells thoroughly before opening. Avoid jostling the clams or they will tighten further, making them difficult to open.
Opening Clams
Hold the clam in your non-dominant hand. Place the edge of the clam knife against the crack between the shells.
Squeeze the dull edge of the knife against the crack to force the blade through.
Change the angle of the blade and slide the knife against the top shell to cut through the two abductor muscles. Be careful to avoid piercing the soft clam.
Open the clam and finish detaching the meat from the upper shell.
Cut the muscles away from the lower shell to loosen the clam completely. Discard the top shell. Remove any particles of shell before serving.
FAQ
What is andouille sausage? Andouille is a smoked pork sausage often associated with Creole cuisine.
What is a good substitute for andouille? A good substitute for andouille would be chorizo.
Can I make this risotto with shrimp? You can replace the clams in this risotto with any shellfish, such as shrimp, scallops, or mussels.
How do you know if clams are dead? There are several signs that a clam is dead and should not be eaten. A dead clam won't open when cooked. Prior to cooking, a clam with an open shell is questionable to eat (my mantra? when in doubt, throw it out). If a clam does not smell fresh like the sea…if it stinks at all…it's dead.
Saffron uses: Saffron has a sour-sweet-bitter profile that is activated by heat. It adds a bright yellow/orange hue and though it's expensive, a little goes a long way. It's used in Spanish, Indian, Moroccan and Mediterranean cuisines and pairs beautifully with fish, risotto, and shellfish. For example, I used it to infuse mayonnaise with these salmon cakes.
How to Make Saffron Risotto
Sweat the onion and simmer the chicken stock with the saffron.
Stir in the rice. Then add the wine – the best wine for risotto is a dry red or white (e.g. chardonnay, pinot grigio, or sauvignon blanc).
Add sliced andouille sausage and cook for a minute.
Stir in 1/2 cup of hot chicken stock and simmer to reduce.
Repeatedly add 1/2 cup of chicken stock at a time. Simmer and reduce to cook the rice.
Flavor the risotto with tomato paste, salt, and fresh clams. Continue to add chicken stock until the rice is tender and no longer gritty.
Right before serving, stir in freshly grated Parmesan cheese. Add fresh herbs like thyme leaves or chopped parsley.
This is an optional step that I think adds a lot. You blister cherry tomatoes with some salt and olive oil in the oven. Since they are delicate, I like to just set them on top when serving.
More Recipes with Tomatoes
Did you make this recipe? Leave a comment and star rating below!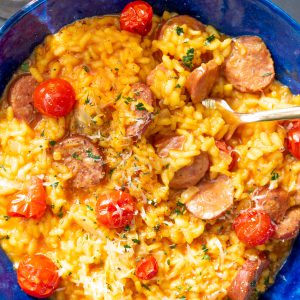 Saffron Risotto with Clams, Andouille Sausage, and Cherry Tomatoes
I love this risotto because it comes together simply with one pan and is ready in 30 minutes! Saffron and tomato paste add flavor and a vibrant red-orange hue. Plus, there's a ton of exciting ingredients like clams, andouille sausage, fresh herbs, blistered cherry tomatoes and Parmesan cheese.
Print
Pin
Rate
Ingredients
1

quart

chicken stock

(4 cups)

2

pinches

saffron threads

1

tbsp

olive oil

extra virgin

1/2

large

onion

medium dice

salt

1

cup

arborio rice

rinsed

1/4

cup

dry wine

Sauvignon Blanc

4

oz

andouille sausage

2

tbsp

tomato paste

1

pound

clams

cleaned and removed from shells

2

oz

Parmesan

shredded

thyme leaves

for garnish

parsley leaves

chopped, for garnish

1/2

cup

cherry tomatoes

for garnish
Instructions
In the microwave or on the stove in a small pot – heat the chicken stock with the saffron threads.

In a large skillet, warm the olive oil over medium heat. Add the diced onion and sweat along with a pinch of salt until translucent and tender. Add the rinsed and strained rice to the onion and toss around for 2 minutes. Add the wine and simmer until reduced by half.

Add the andouille sausage slices, stirring to coat. Add a ladle of chicken stock (about 1/2 cup) to simmer the rice over low (medium-low) heat. Once the liquid is reduced by half, repeat with another ladle of chicken stock (anywhere from 4-5 times).

When the rice is nearly cooked through (after about 15 minutes), stir in tomato paste, uncooked clams, and two pinches of salt. Continue to simmer with chicken stock until the rice is completely cooked through.

At the last possible moment, fold in freshly grated Parmesan. Garnish with blistered cherry tomatoes (see below) and fresh herbs.
How to Blister Cherry Tomatoes
Heat the oven to 350°F. Spread the cherry tomatoes on a sheet tray and coat with a small amount of olive oil. Sprinkle with salt. Roast for 15 minutes or until the skin blisters.
Notes
Cooking Risotto Perfectly
Sweating the onion means cooking but not browning. For best results, always add salt when cooking with onion.
Use arborio rice because it yields the best creamy texture for risotto.
Always use hot stock (chicken, vegetable, or seafood stock work equally well)
Continue to simmer with small amounts of liquid at a time until the rice is cooked through.
Parmesan gets added only at the very end.
Fresh herbs are used for their aroma at the last second.
Seafood Risotto Variations
This recipe involves cleaning and removing fresh clams from their shells, but you could use any seafood in this risotto.
Shrimp Risotto –
Add raw shrimp to the risotto at the point when the risotto is almost cooked through. Shrimp only need a few minutes of simmering to cook through and will season the rice as they cook.
Scallops –
When the risotto is almost cooked through, add the raw scallops. Scallops take just 4 to 5 minutes to cook!
Nutrition
Calories:
493
kcal
|
Carbohydrates:
54
g
|
Protein:
23
g
|
Fat:
19
g
|
Saturated Fat:
6
g
|
Cholesterol:
46
mg
|
Sodium:
989
mg
|
Potassium:
532
mg
|
Fiber:
2
g
|
Sugar:
6
g
|
Vitamin A:
375
IU
|
Vitamin C:
8
mg
|
Calcium:
192
mg
|
Iron:
4
mg
Some of the links on this page are affiliate links, which may pay me a small commission for my referral at no extra cost to you!