Garlic flavored naan is everybody's favorite, and it tastes incredible baked fresh. The tricky part is adding the garlic at the right stage. Some people roast the garlic, but that makes it overly sweet. I like to add thinly sliced garlic to the raw dough so that it gets slightly cooked into the bread.
Let the oven work its magic. Then brush with a little ghee (or butter) and you'll be in garlic naan heaven. Now for the most important part…
It's not naan unless there's fire. You have to torch the cooked bread a bit to achieve the signature char. Sadly, I don't have a gas stove, so I use a culinary torch. Works like a charm.
Naan is one of the easiest traditional Indian flatbreads to make at home because it's just flour, yeast, water, and salt. While they only take 5 minutes to bake, the dough needs time to rise – a simple enough task with a little planning.
Garlic Naan Dough
Just like this pizza dough, naan is also a yeast bread with a 2 phase proof:
1st Proof (30 minutes): warm water + yeast + only a portion of the flour gets added
2nd Proof (until doubled in size): after kneading the dough for 10 minutes, cover, rest in a warm place
You may be wondering, how long does the 2nd proof take? This is very difficult to say because yeast is alive and that means it may rise more quickly in a warm environment. For example, it took 40 minutes in my house at about 75°F. Just eyeball the size, and your bread will be perfect.
This recipe makes 8 large naans. You can work in the sliced garlic into the dough.
Fun Garlic Tip: Cut the garlic super thinly or chop. Large pieces tend to break through and fall out of the dough.
Sticky dough warning: Some people expect to be able to handle dough cleanly – meaning, no sticky dough hands. This is not the case with naan. You can add a bit of flour after the 2nd rise as you shape it into ovals.
In bread baking, I've discovered that it's best to err on the side of sticky because after the dough rests, it forms air pockets that make the bread light (rather than a dense bread that might be less sticky).
Lastly…
Are you familiar with nigella seeds? It's an onion-like black seed that tastes fantastic baked onto naan. If you happen to have nigella seeds, you know, lying around – sprinkle 1 Tablespoon over the dough (then bake).
I almost forgot to tell you about the ghee:) It's very similar to clarified butter and gets brushed over the hot, baked bread. Butter is a perfect substitute – just promise you'll brush it generously AND salt it before you taste…it makes all the difference.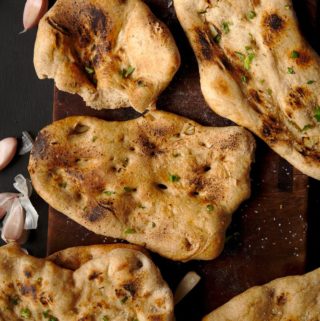 Garlic Naan
This garlic naan is a traditional Indian flatbread that gets baked and charred. It's a flavorful whole wheat version that tastes especially yummy hot out of the oven slathered with ghee (or butter).
Print
Pin
Rate
Equipment
Stand Mixer with Hook Attachment
Ingredients
2 1/2

cups

warm water

1

tbsp

active dry yeast

3

cups

all-purpose flour

divided

2 1/2

cups

whole wheat flour

divided

1

tbsp

kosher salt

4

cloves

garlic

sliced thinly

1

scallion (green part)

minced (for garnish)

1

tbsp

ghee or butter

for brushing
Instructions
Place the water in a large bowl or stand mixer with hook attached. Add yeast, stirring to disperse. Add 1 cup AP flour plus 1 cup whole what flour and stir well. Cover and leave for 30 minutes (1st proof).

Add the salt, and remaining 2 cups AP flour and 1 1/2 cups whole wheat flour and knead for 10 minutes. It's normal for the dough to be very sticky. Let it rest, covered, in a warm place until it doubles in size (2nd proof).

Transfert the dough to a counter sprinkled with flour. Preheat a baking stone in the middle rack of the oven – 500°F. If you don't have a baking stone, you can bake the dough on a baking sheet layered with parchment paper.

Portion the dough into 8 pieces. Use your hands to flatten the dough into ovals. Rest for 15 minutes. Dimple the surface with wet fingers and press garlic slices into the dough.

If the dough is very sticky or difficult to peel off the counter, you can knead it with a sprinkle of flour. Flatten about 1/2" thick. Sprinkle with a bit of flour to prevent the bread from sticking. Bake 5 minutes.

Brush with ghee or butter. Sprinkle with salt and minced green onion. Char over an open flame, coals, or use a culinary torch (recommended).
Notes
With 8 large naan breads, there will be about 3 separate batches @ 5 minutes each. You can make the breads smaller and bake for 4 minutes. Look for a slightly golden color (very slight). The char comes from the flame after the bake.
How to achieve the char:
You can grasp the bread with tongs and move into a high flame. Rotate quickly (30 seconds) to char different areas of the bread.
I actually love doing this with a culinary torch because you have a lot of control over where the char goes. Lay the bread flat and hold the torch above the bread until it turns dark brown-black.
Nutrition
Serving:
1
naan
|
Calories:
305
kcal
|
Carbohydrates:
64
g
|
Protein:
10
g
|
Fat:
2
g
|
Saturated Fat:
1
g
|
Sodium:
875
mg
|
Potassium:
207
mg
|
Fiber:
6
g
|
Sugar:
1
g
|
Vitamin C:
0.5
mg
|
Calcium:
23
mg
|
Iron:
3.6
mg
Some of the links on this page are affiliate links, which may pay me a small commission for my referral at no extra cost to you!