My mom is taking cooking classes from me (her idea), so this post is all about how I'm approaching some of her biggest cooking challenges. Things like:
how to create sauces
basic cooking techniques
more vegetables and fresh ingredients
plating
To kick off this series, I thought we'd start with an approachable, ingredient-centric dish to really showcase how important basic technique is and how to start thinking about the interaction of salt, fat, acid, and heat.
Summer Menu
Pan-seared pork tenderloin over cherry tomatoes (20 minutes)
Blanched Green Bean Salad (10 minutes)
Roasted Garlic Polenta (1 hour)
Ratatouille (40 minutes)
Cilantro Sauce (5 minutes)
Cooking Techniques: Blanching and Shocking, Roasting, Caramelization, and Knife Skills
Lesson 1: Caramelization
If we're going to talk about technique, we gotta acknowledge the role of caramelization in making food taste good. So, what is it? How do we get it?
Caramelization is what you get when you apply heat and fat to salted food. It's where the natural sugars in the food come to the surface and begin to transform into a concentrated sweet, savory and crunchy layer.
Frayed Apron Tip: Some of the most patient cooks are some of the most skilled. Observe whether the food is browning before moving it. Give it as much time as it needs.
How to Sear and Caramelize Pork Tenderloin
Mom is no dummy. She chose a cast iron skillet to pan sear the tenderloin. A hallmark of cast iron is that it distributes heat evenly, making it a smart way to achieve a crust on meat.
Her Question: When do you turn on the heat? Before or after adding the oil?
Answer: Either way is correct. You want to allow the oil to get hot before you add the food.
Coat that pan. Because cast iron is porous, you need about 1/4 cup of oil (more oil than you would need for non-stick). Any high heat oil, such as olive oil, lard, or refined coconut oil will do. Turn the heat to medium and give the pan a minute to preheat. When you see a wisp of smoke, it's time to get cookin good lookin.
Seasoning Tip: You can get great flavor with a 50/50 blend of salt and pepper with pork. Season from a great height to distribute seasoning evenly across the entire surface of the meat.
Once the meat touches the pan, let it be. Moving food around is a sure way to delay or prevent caramelization. So, the goal then, is to let the hot pan work its magic on the pork for about 5 minutes each side. You can turn the meat with tongs to get a brown crust all along the exterior.
After about 15 to 20 minutes total, use a meat thermometer to take the internal temperature. While pork is safe to eat at 145°F, I recommend taking it to 155°F if you don't want the inside to be pink.
Let it rest. It's super important to let the meat rest for at least a few minutes before slicing. Rushing to slice meat will cause those juices to gush out, and we don't want that to happen.
Lesson 2: Sauce
A well-balanced sauce can add the finishing touch to meat and vegetables alike. When I want to improvise a sauce, I consider the taste of the thing I'm putting it on, and how I might contrast those flavors.
Why This Cilantro Sauce Works with Pork
Imagining the savory, sweet flavor of pork, I wanted a bright and fresh sauce, preferably herbaceous. So, this sauce is all about using briny, zesty, and fresh flavors to accentuate pork. To make this sauce, you need cilantro, garlic, olive oil, apple cider vinegar (or any wine vinegar), capers, and caper brine. For a smooth texture, I like to blitz everything with an immersion blender in a bowl.
Taste and adjust. At this point, I like to taste the sauce to see if it's too heavy or too light in any one dimension. If it's too acidic, add more olive oil. You could even add a pinch of red chile flakes for a spicy kick.
Lesson 3: Plating
Plating might be my favorite part because it's the moment of anticipation before you get to eat! Let's be honest, mom and I stood over the cutting board eating that pork right away.
Add a garnish. I love some lemon zest or some thinly sliced green onion on most things and make a practice of using fresh garnishes as much as possible for a bit of intrigue and to signal that this is a fresh meal.
Plating 101: Organize the food in the center of the plate so the edges are nice and clean.
Pile it high. So, rather than spreading all the food around, I added a layer of sliced cherry tomatoes to set the pork medallions on top and build in some height.
Even the polenta gets baked with some sliced garlic and then topped with a roasted vegetable ratatouille, which acts a bit like a sauce/garnish.
I really hope you enjoyed what we covered, and if you want to cook along, this recipe would make a fabulous dinner party. If cooking for 1 or 2, you will get plenty of leftovers that will keep for about 4 days. Feel free to make any of the components by themselves, too.
I'll be sharing more of these cooking with mom classes, so stay tuned or subscribe to my weekly emails.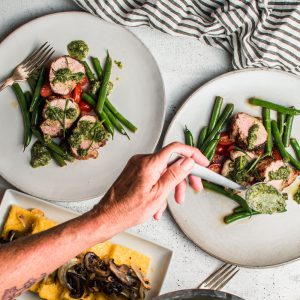 Caramelized Pork Tenderloin, Cilantro Sauce, and Garlic Polenta
This pan-seared pork tenderloin meal is the perfect light and bright summery meal. There's cherry tomatoes, cilantro sauce, a spicy green bean salad, and a roasted polenta side that can be served with a roasted vegetable ratatouille. This meal is gluten free and dairy free.
Print
Pin
Rate
Ingredients
Ratatouille
1

white

onion

sliced

1

bell pepper

sliced

2

cups

mushrooms

sliced

1

large

tomato

sliced

1/4

cup

olive oil

6

sprigs

fresh thyme

de-stemmed

sea salt

freshly ground black pepper
Pork Tenderloin
1/4

cup

olive oil

2

pork tenderloins

sea salt

freshly ground black pepper
Cilantro Sauce
1

bunch

cilantro

tough stems removed

1

clove

garlic

minced

2

tbsp

apple cider vinegar

3

tbsp

olive oil

2

tbsp

caper berries

2

tbsp

caper berry brine

red pepper flakes

optional
Serving Ideas:
cherry tomatoes

sliced (optional)

blanched and shocked green beans*
Instructions
Make the Polenta
Preheat a Dutch oven or large pot over medium heat. Add the polenta, salt and water and simmer, stirring frequently until it begins to thicken. After about 10 minutes, scrape along the bottom of the pan to prevent burning and turn the heat to low. Cover and simmer until no longer gritty, about 20 minutes.

Spread the cooked polenta onto a sheet tray to cool. As it begins to set, preheat the oven to 425°F. Score the polenta into squares and top with sliced garlic, red pepper flakes and a drizzle of olive oil. Bake for 20 minutes or up to 30 until just to crisp slightly (be sure to remove if you see the garlic beginning to turn golden).
Make the Ratatouille
Arrange all of the sliced vegetables and thyme leaves so that they fit snugly inside of a baking dish. Drizzle with olive oil and season with salt and pepper. Roast uncovered at 425°F until you begin to see the vegetables brown around the edges, about 40 minutes.
Make the Pork Tenderloin
Preheat a large cast iron skillet over medium heat. Meanwhile, season the pork on all sides with salt and pepper. Pour the olive oil in the skillet and when you see a wisp of smoke form, add the pork tenderloins. Sear on all sides until very brown, about 5 minutes per side or 20 minutes total. Use an internal thermometer and remove the pork when it reads 155°F. Rest on a cutting board for 5 minutes before slicing.
Make the Cilantro Sauce
Add the cilantro, garlic, apple cider vinegar, olive oil, caper berries and brine, and red pepper flakes (if using) to a bowl. Use an immersion blender to blend on high until smooth, about 1 minute.
Notes
I didn't want the recipe card to get unreadable, so I will delay sharing the green bean recipe for another day. It's basically boiled green beans with tamari, apple cider vinegar, garlic, olive oil and red pepper flakes if you want to make it by taste.
Nutrition
Calories:
811
kcal
|
Carbohydrates:
11
g
|
Protein:
96
g
|
Fat:
40
g
|
Saturated Fat:
9
g
|
Cholesterol:
295
mg
|
Sodium:
889
mg
|
Potassium:
1971
mg
|
Fiber:
1
g
|
Sugar:
2
g
|
Vitamin A:
823
IU
|
Vitamin C:
25
mg
|
Calcium:
42
mg
|
Iron:
5
mg
Some of the links on this page are affiliate links, which may pay me a small commission for my referral at no extra cost to you!