Kneading is deeply satisfying, and so is that first warm bite.
This challah bread smells fantastic.
And, since today is the release of Easy Dutch Oven Cooking, I thought, why not break some bread together?
You can bake this loaf on a baking sheet, but if you own a Dutch oven, there are many benefits to using it.
A Dutch oven is king for distributing heat evenly, and there are people who swear by Dutch ovens for baking everything from sourdough bread boules to Irish soda bread.
If you need a little convincing, try making this braided saffron challah recipe, and you'll see what all the fuss is about:)
My amazing editor, Britt Bogan, passed along this glowing review from her colleague:
"The end result was INCREDIBLE. I'm saving the recipe forever."

Reina, Assistant Editor, Callisto Media
As you can see, you can curve the dough to fit any size or shape Dutch oven.
How to Make Challah Bread
Even if you've never made bread or challah, specifically, you should give this recipe a try! It's easy enough, but just involves some patience as the dough takes time to rise between steps.
Step 1: Mix, Knead, and Rise.
You can mix and knead the dough by hand or use the dough hook and a stand mixer. For the best chewy texture, be sure to knead for at least 10 minutes to develop the gluten.
Allow the dough to rise, covered, in a warm place until doubled in size.
Step 2: Second Rise.
Just fold the dough and re-cover. Allow to rise again until doubled in size.
Technique Tip: In the winter, move your dough on top of the refrigerator or in the kitchen, whichever is warmer to promote the development of the yeast.
Step 3: Preheat the Oven and Braid the Bread.
This is the fun part because you get to practice your braiding skills!
Roll into 3 equal ropes, approximately 2-by-20-inches long. Pinch at one end and weave the strands to form a thick loaf. Transfer the loaf to a parchment-lined Dutch oven or baking dish. Cover and allow to rise until doubled in size.
Variation Tip: If you're up for a challenge, follow my step-by-step guide for braiding the dough into 6 strands.
Step 4: Bake the Bread.
Remove the lid and bake for about 40 minutes or until a thermometer registers around 190°F (this is the minimum temperature for finished bread).
For a nice shiny crust, brush the egg wash over the loaf. Once coated, sprinkle with sesame or poppy seeds (optional) and return to the oven to brown, about 5 to 10 minutes — more or less, depending on how dark you want the color to be.
Cutting and Serving
I recommend fully allowing this bread to cool before slicing. Use a serrated bread knife to avoid smashing the loaf. Serve as-is or top with soft butter. Use challah for sandwiches, toast, or as a side for dinner.
Storing Leftover Challah
Once cooled, wrap the bread in plastic wrap or foil and store at room temperature for up to 2 days. For longer storage, slice and freeze in sealable plastic bags for up to 1 month. To defrost, place the sliced bread in the refrigerator overnight or toast until warmed through in a toaster.
If you're challah dries out, I highly recommend making this challah french toast recipe with maple whipped cream. It's the BEST thing since sliced bread:)
How to Season and Flavor the Bread Dough
Don't have saffron? You can still make this recipe! Simply leave the saffron out or try adding whatever spices or seasoning you have on hand.
Spices and Seeds: cinnamon, poppy, sesame, chia (add to the dough or add after the egg wash)
Mix-ins: cheese, chocolate chips, raisins, walnuts, pecans, pistachios (add up to 1/4 cup to the dough)
Seasoning: bagel seasoning, Italian seasoning (sprinkle onto the egg wash at the end)
More Dutch Oven Recipes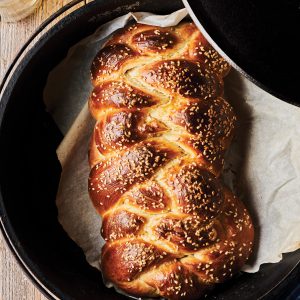 Braided Saffron Challah Bread
Challah is characterized as an enriched bread because it contains fat from eggs and butter. It's easy to make but requires extra time to rise between steps because the fat slows down the yeast. I like how the unusual flavor of saffron straddles sweet and savory in this loaf, reflecting challah's unique status in both sweet and savory applications.
Print
Pin
Rate
Ingredients
1

cup

lukewarm water

1/4

cup

sugar

1 1/2

tsp

active dry yeast

Pinch saffron threads

3

large

eggs

divided

1

large

egg yolk

4

tbsp

(1/2 stick) unsalted butter

melted

1 1/2

tsp

salt

3 1/2

cups

all-purpose flour

plus more for dusting and kneading

1

tbsp

olive oil

1

tbsp

water
Instructions
Mix, knead, and rise. In a medium bowl, stir together the warm water, sugar, yeast, and saffron. Let the mixture sit for 15 minutes, until it looks frothy, an indication the yeast is active. Incorporate 2 eggs, the egg yolk, melted butter, and salt into the yeast mixture, mixing well. Gradually add the flour, mixing as you go to form a soft, sticky dough. Dust a work surface with flour and transfer the dough to the prepared surface. Knead the dough for about 10 minutes, gradually adding up to 1 additional cup of flour if needed, until you have a smooth, elastic dough. Coat a medium bowl with olive oil, then set the dough inside and turn it to coat in the oil. Cover the bowl with a clean kitchen towel and let the dough rise in a warm place for 1 hour, until doubled in size.

Second rise. Turn and fold the dough. Re-cover the bowl and let rise for 1 hour more, again allowing the dough to double in size.

Preheat the oven and braid the bread. Preheat the oven to 350°F. Divide the dough into 3 equal pieces to make a braid. Roll each piece into a 2-by-20-inch rope. Pinch the ropes at the top and braid the dough, weaving the strands together to form the loaf. Line a Dutch oven with parchment paper and set the braided loaf inside, curving the loaf to fit the shape of your Dutch oven. Cover the pot with the lid and let the dough rest for 20 minutes, until doubled in size.

Bake the bread. Remove the lid and place the pot on the middle rack. Bake for 40 minutes, until the internal temperature of the bread is between 190°F and 205°F–the outside of the bread will be light brown and have a hollow sound when tapped. In a small bowl, whisk the remaining egg and water to create an egg wash. Brush the bread with the egg wash and bake for 5 to 10 minutes more. Let the bread cool completely before slicing. Store the loaf at room temperature, wrapped in plastic wrap or aluminum foil, for up to 2 days, or slice and freeze in sealable plastic bags for up to 1 month.
Nutrition
Serving:
2
thick slices
|
Calories:
319
kcal
|
Carbohydrates:
49
g
|
Protein:
7
g
|
Fat:
10
g
|
Saturated Fat:
5
g
|
Cholesterol:
107
mg
|
Sodium:
444
mg
|
Potassium:
73
mg
|
Fiber:
2
g
|
Sugar:
6
g
|
Vitamin A:
298
IU
|
Calcium:
21
mg
|
Iron:
3
mg
Some of the links on this page are affiliate links, which may pay me a small commission for my referral at no extra cost to you!