Almond Bear Claws–necessary dippers for your coffee. Resembling a bear's paw, these are nutty, buttery, exceedingly tender, flaky, and delicious. These are the BEST.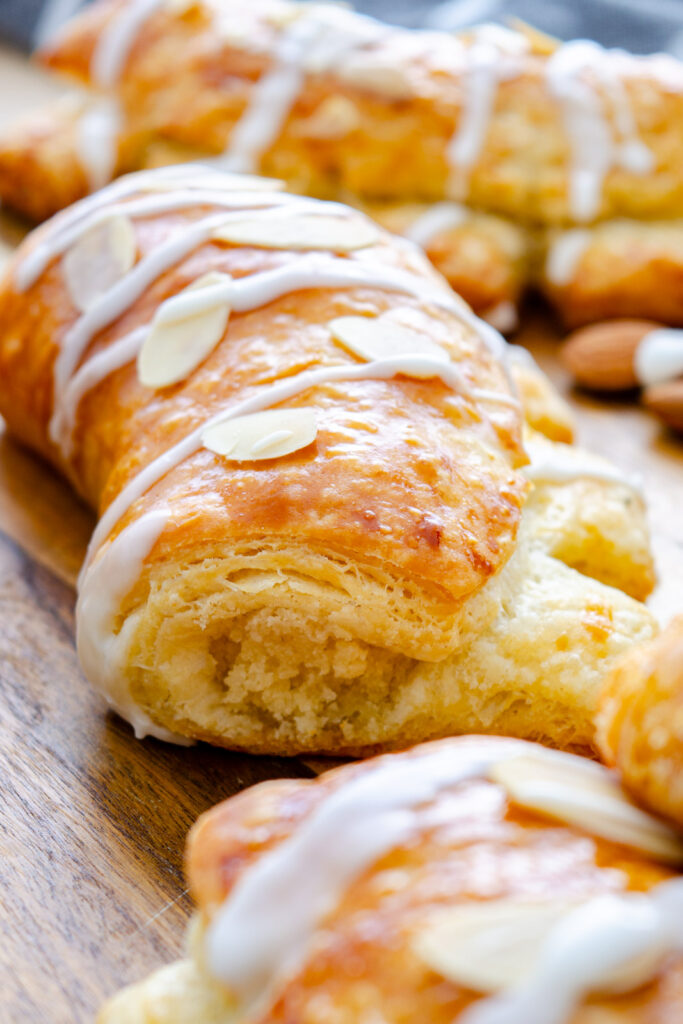 Coffee was made for just-baked almond bear claws. I know it. You know it, and these cutely shaped bear paws know it.
Here's my job today: to give you the bear claws you need to complete the coffee bear claw set. Buttery, sweet almond bliss. You know I take my job very seriously.
Here's an Almond Bear Claw Perks Recap. They are:
Able to be made while binge-watching your favorite tv show
Simple for a pastry.
Frayed apron goals.
Why you own a Kitchen Aid.
So mixing dough and almond filling takes 1 minute.
A duo of pillowy yet flaky balanced with moist and nutty
Highly dip-able.
Adaptable to your favorite shapes, flavors, etc.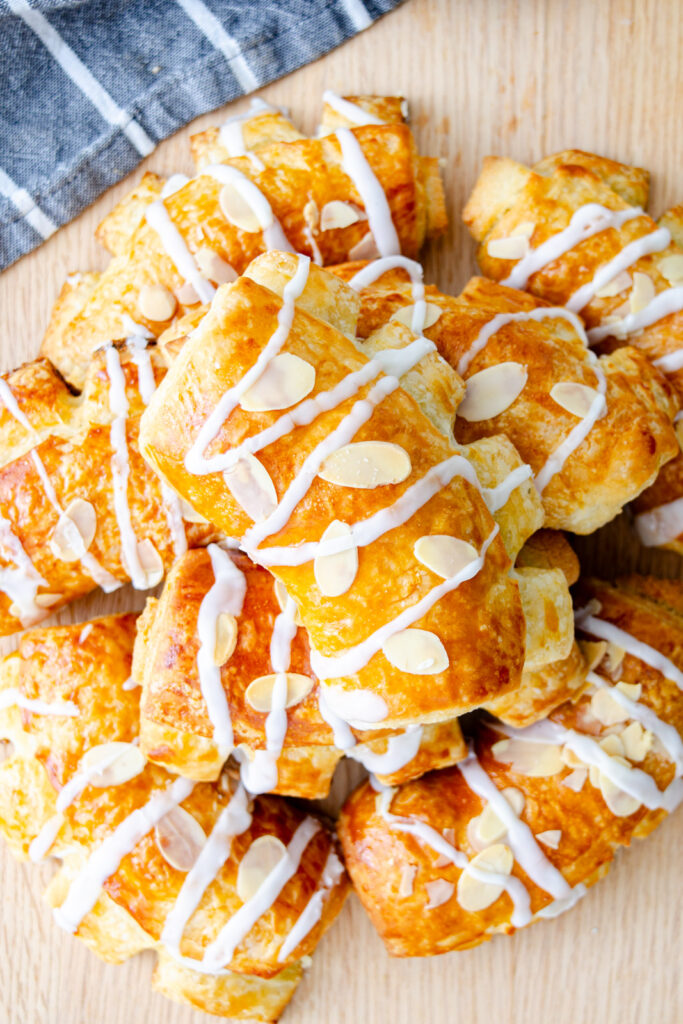 Here's a quick rundown of what you're making:
Bear claws are pastries made with a type of yeasted dough called Danish pastry dough, think croissant dough (not puff pastry).
The dough is important because it gives bear claws that signature look (where the bear's "toes" spread out and puff up during baking). The texture is all soft and flaky (a tad chewy?)–the perfect match for the just-sweet and moist almond filling.
And for the best part: yeasted pastry dough= very easy to handle. Here's a sweet note from my photographer/recipe tester:
By the way, this recipe is getting rave reviews, multiple people have said it's the best pastry they have had. It was by far the most successful laminated dough I have ever made. I will definitely be using this method moving forward.

Adam Rahman
See?! You can do this!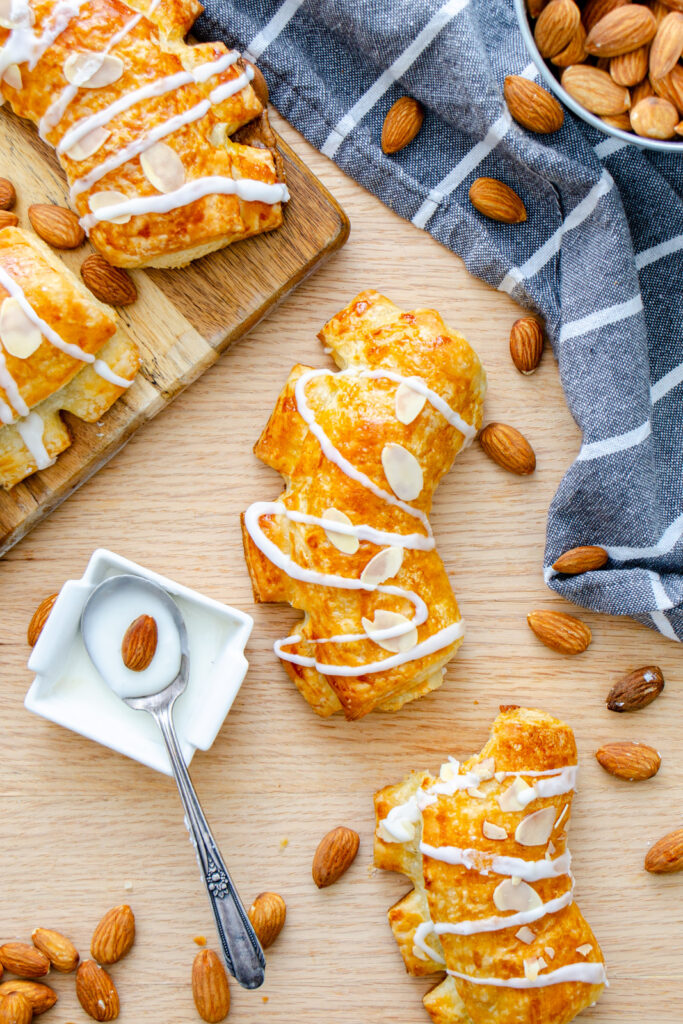 Short on Time? Break It Up.
Danish pastry dough involves several rounds of folding and refrigerating but there's very little active time. You could make the dough 1-2 days in advance and then finish the pastries on a different day.
The Trick to Shaping Pastry into Bear Claws (or Paws)
Picture a bear's foot.
You're going to roll out the homemade chilled dough, cut into equally-sized squares, place almond filling on top, and fold the dough over to form 12 bear claw pastries.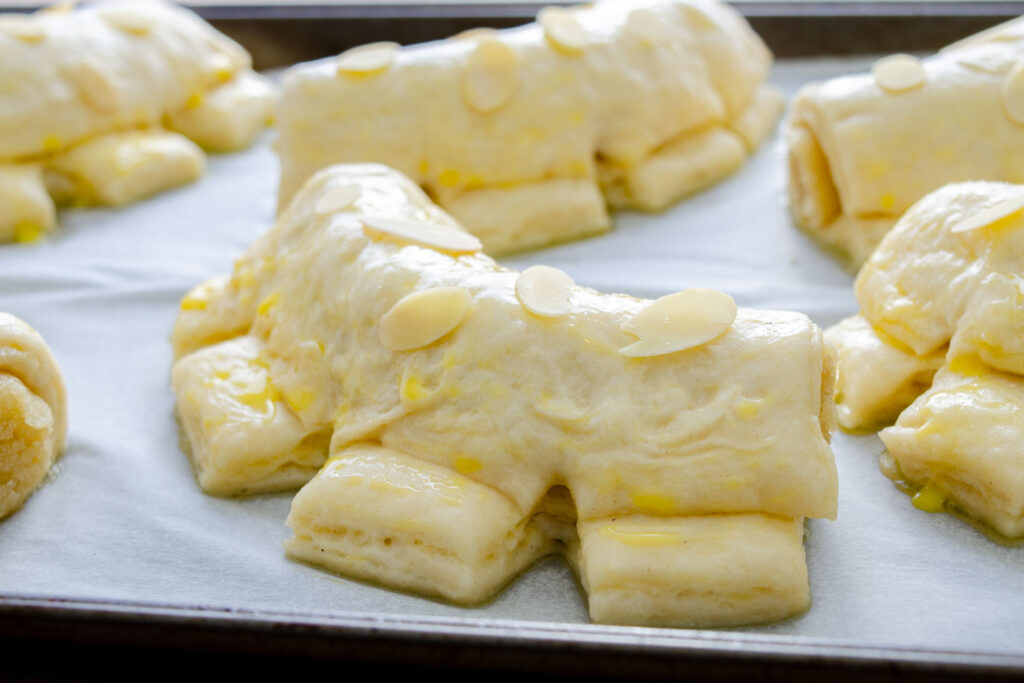 Now for the fun part: you cut small incisions in each bear's paw to create "toes", and sort of bend the whole "paw" into a half-circle. This helps the "toes" to separate and gives that traditional bear claw appearance.
A Little Dash of History
Bear claw pastries originated in the United States during the mid-1910s. The origin of the name "bear claw pastry" is first attested in March 1914 by the Geibel German Bakery in Sacramento
You can find similar sweet almond stuffed pastries in many European countries. In the Netherlands, they make something called Banket, which is just pastry folded over almond paste (also referred to in England as almond rolls or almond letters).
My process for folding bear claws mirrors the traditional American techniques and ingredients with one change: I like to cut into squares first and form each pastry one at a time. My recipe also includes almond liqueur to amp up the almond experience.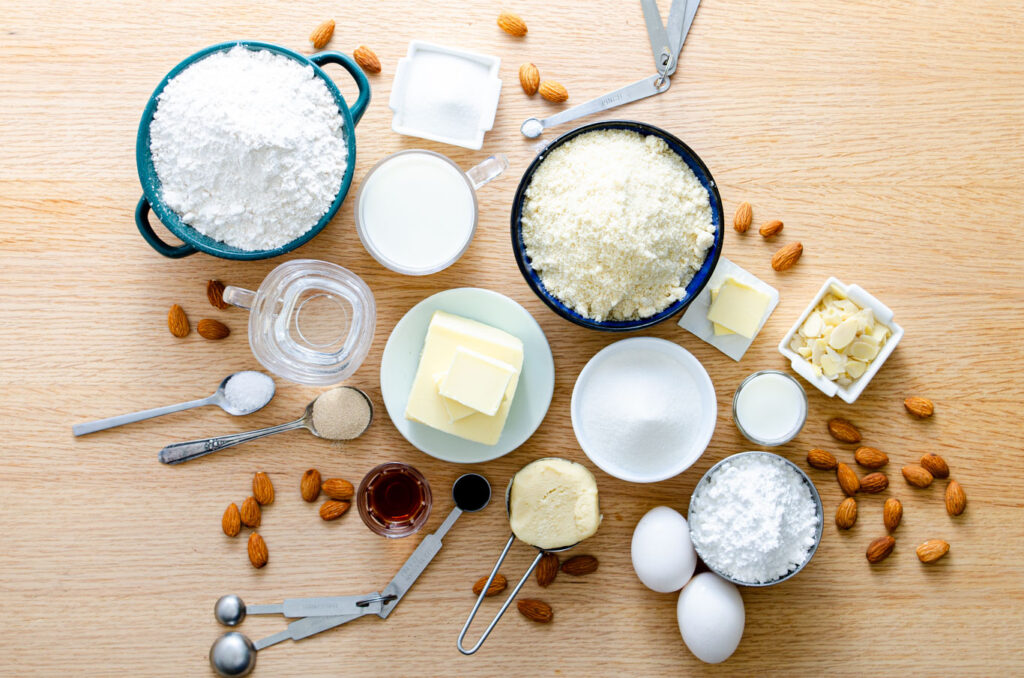 Bear Claw Pastry Ingredients, Tips, and Substitutions
Many of the ingredients are pantry staples and store very well. You will need:
all-purpose flour: it's best to weigh your flour using a scale. While you could substitute pastry flour, I haven't tested it so please let me know how it turns out. If you want to try making a gluten-free version, I'd recommend this measure for measure flour
whole milk: you can use whatever milk you have on hand (including dairy-free alternatives like homemade almond milk)
granulated sugar: white cane sugar is best
unsalted butter: you can substitute salted butter just be sure to leave out the salt
instant/quick rising yeast: active dry yeast may be used instead (since the dough has over 2 hours to rise)
sea salt: fine Himalayan salt works, too
Almond Filling Ingredients, Tips, and Substitutions
almond paste: I like Orzo almond paste which is available online or in the baking aisle. Be sure not to buy marzipan, which is sweeter than almond paste.
ground almonds/almond flour: you can use finely ground or regularly ground, with or without the almond skin (brown vs. white). You can also make your own if you have a food processor.
granulated sugar: white cane sugar is best
sea salt: you're just adding a pinch to accentuate the flavors (fine Himalayan salt works, too)
salted or unsalted butter work equally well
eggs: be sure to use the whites only (reserve the yolks for brushing the pastry for that shiny look)
almond extract: I like the duo of almond extract with sweet almond liqueur. IF you absolutely must, leave out the liqueur and substitute 1:1 with almond extract (plus 1/2 teaspoon granulated sugar because almond liqueur is sweet)
amaretto liqueur: Disaronno is available at Costco and adds tremendous flavor. You could substitute with amaretto syrup if you prefer
Optional Toppings
sliced almonds: I love the crunch and visual of blanched, slivered almonds because it informs you of what you're about to taste. Add as many or as few as you'd like.
powdered sugar aka confectioner's sugar: this is for the glaze/icing. I love spooning a zig-zag across each pastry using a spoon. Just before serving, use a sieve or sifter to dust powdered sugar over top.
Step-by-Step Guide to Making Almond Bear Claw Pastries From Scratch (Plus Tips)
At first glance, there are a lot of steps but BEAR with me. When you physically have the dough in front of you, it will all make sense. The pastry folding and shaping is focused fun and since the filling takes just a minute in a stand mixer, all-in-all, not overly fussy for a pastry recipe.
Step 1: Make the Dough, Shape Into a Rectangle, and Chill.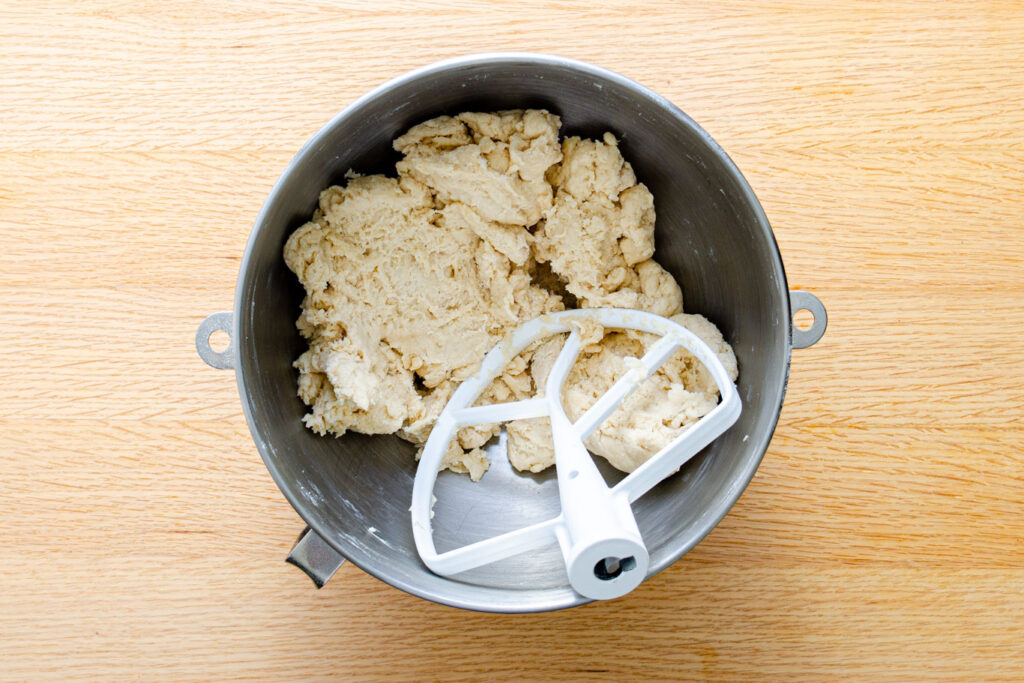 Technique Tip: Don't over-work the dough or it can become crumbly.
Step 2: Roll, Butter, Turn Dough 2x, and Chill.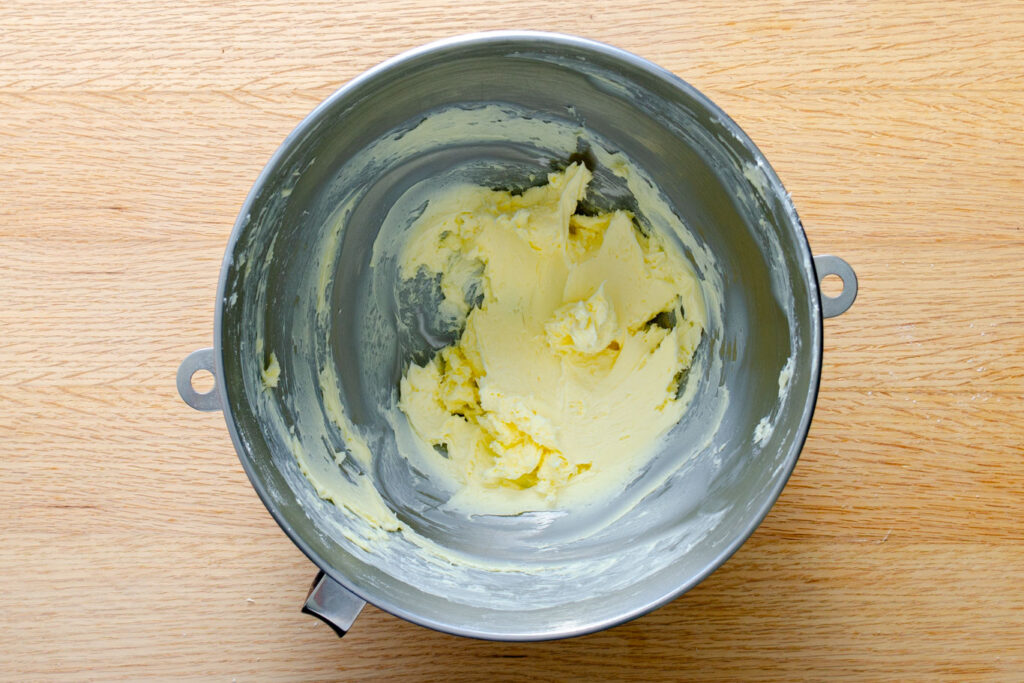 Technique Tip: Cold worked butter gets spread across 2/3 of the rectangle-shaped dough then folded like mailing a letter. For the best, flaky, fluffy texture, handle gently and work quickly.
Step 3: Turn Pastry a Third Time and Chill.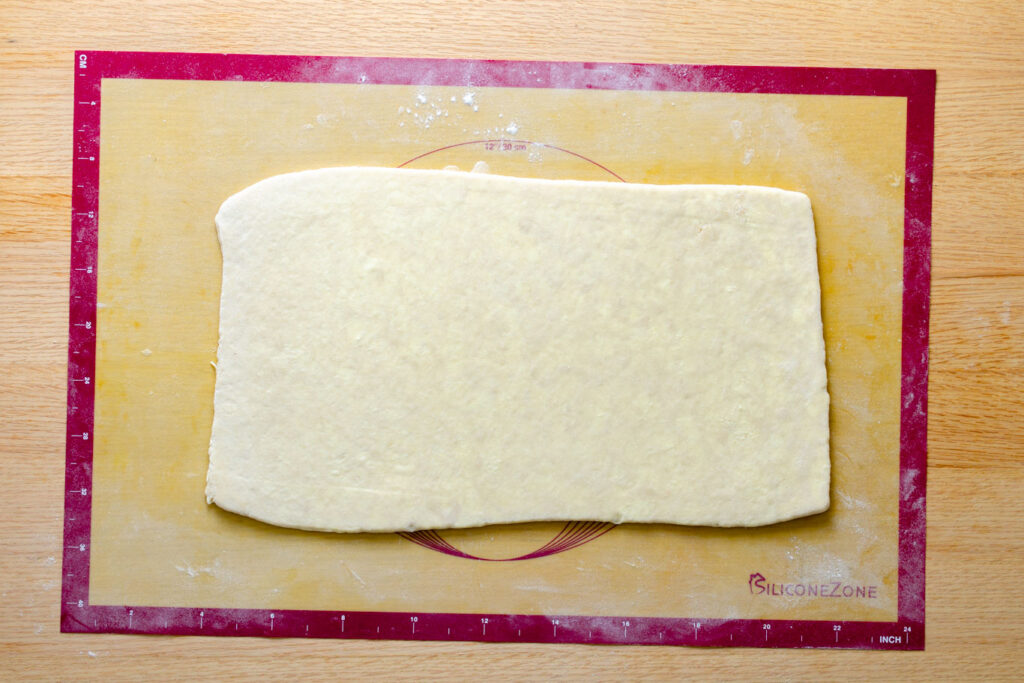 Make-Ahead Tip: At this point, you can wrap the dough and store it in the refrigerator for up to 2 days.
Step 4: Make the Almond Filling.
Ingredient Tip: You will only be using egg whites for the filling. Don't forget to reserve the egg yolks (you need those in step 6).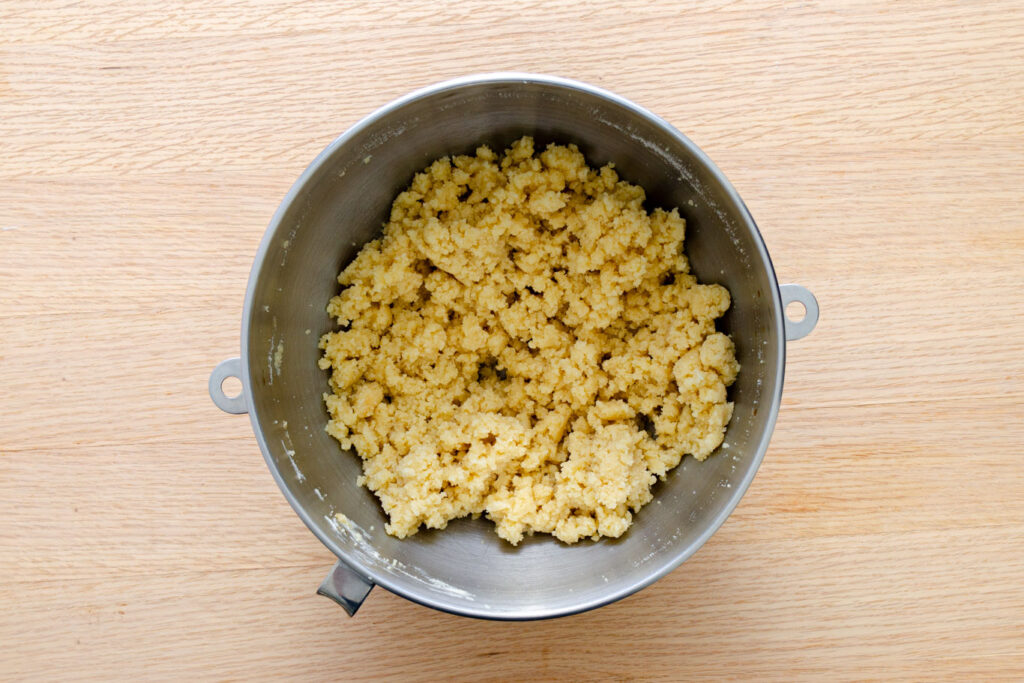 Technique Tip: While the almond filling will look crumbly, it should come together nicely when you shape it with your hands. I like to use a bench scraper with measurements to approximate the size of each almond log. Equal-sized pastries bake evenly and look professional.
Step 5: Roll, Cut into Squares, Fill, and Rest.
Tool Tip: You can measure and cut with a bench scraper.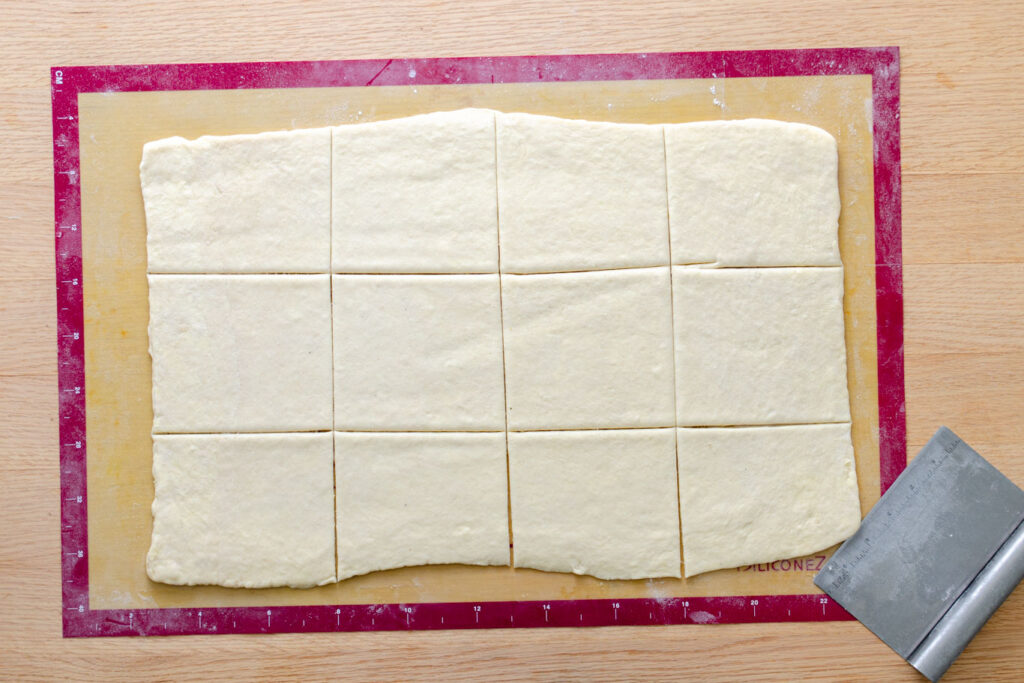 Technique Tip: Remember to handle the pastries delicately (trying not to mash down too hard). These will rise a bit, but not much. Bake the pastries on top of parchment paper or a silpat for easy clean-up.
Step 6: Brush with Egg Wash. Top with Almonds. Bake.
Technique Tip: An egg wash is where you brush mixed egg yolks on top of pastry to achieve a golden sheen. While not strictly necessary, I think it gives them a professional look.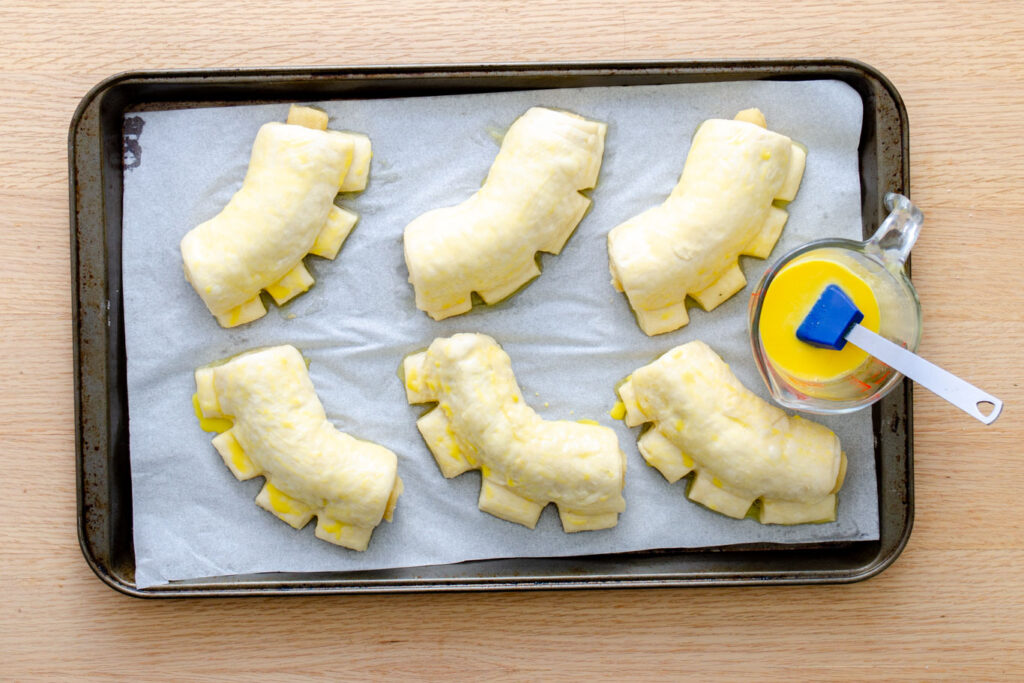 Step 7: Make Glaze, Top, and Serve.
Make-Ahead Tip: You can make the glaze and wrap with plastic wrap. It stores well for several days. Your bear claws will be less soggy and you will get a cleaner look if you ice just before serving.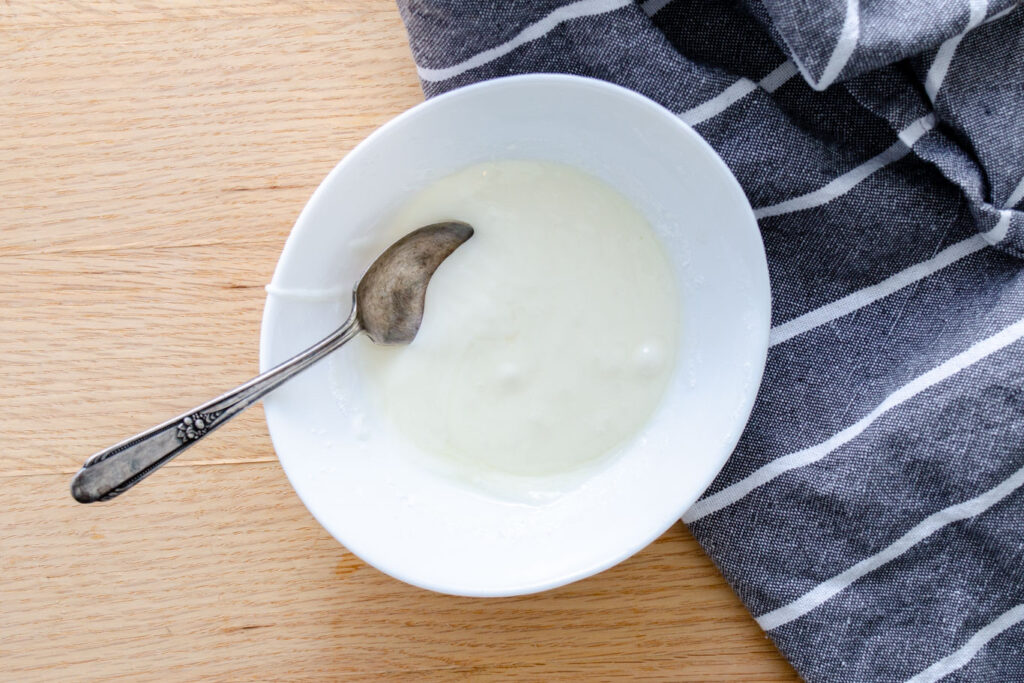 I didn't show these being dusted with powdered sugar. I guess I couldn't be bothered. Because that's really why we are making these from scratch. To rip, coffee dunk and devour.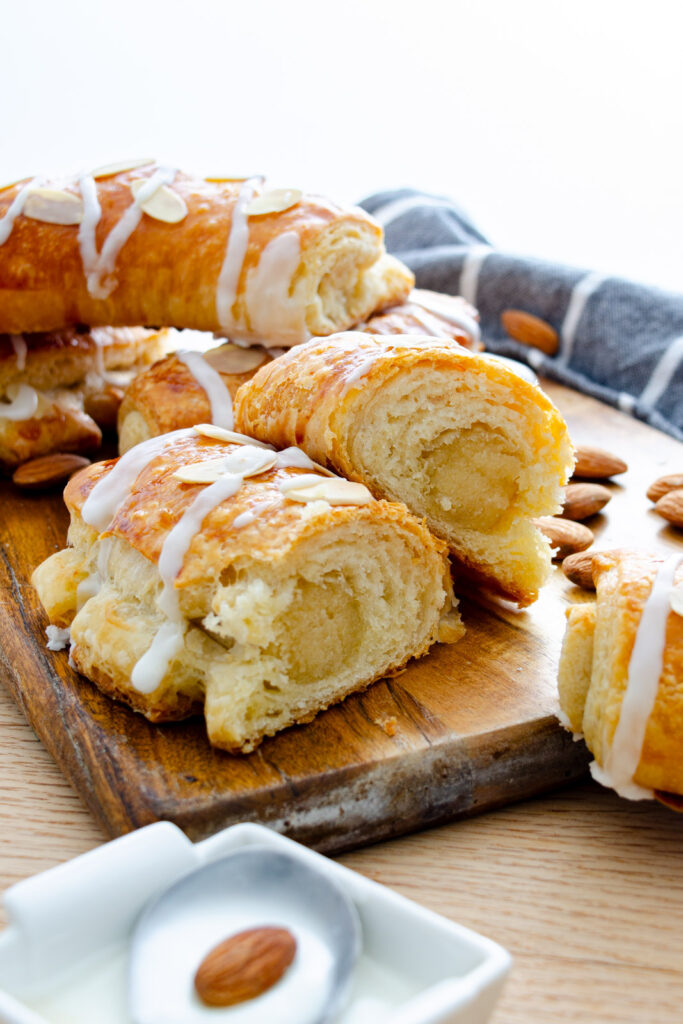 Variations of Almond Bear Claw Pastries
Bear claw pastries can be filled and shaped however you want.
Try adding raisins, chocolate, fruit compote, or mix-and-match chopped nuts.
Omit the topping and fold-over for "almond letters."
FAQs
What's a bear claw donut? Bear claw donuts are simply yeasted donut dough shaped into a paw and often flavored with cinnamon and a powdered sugar glaze. You can use my long john donuts with maple glaze recipe if you want to try shaping those into bear paws. One key difference: bear claw donuts are fried.
Can I use store-bought puff pastry? You can but I don't recommend it because puff pastry does not contain yeast so the texture won't be the same.
Can you freeze bear claws? Yes. Wrap the already baked pastry individually in foil (tightly and a double layer). Freeze for up to 1 month.
Happy baking!
Back in 2021, life got pretty hectic and I was skipping thanksgiving. By some miracle, my new neighbor came knocking offering my whole family some very generous plates of turkey, mashed potatoes, cranberry sauce, the works! It was one of the kindest things anyone has ever done for me. To thank her, I baked her a batch of these bear claws and this recipe was born.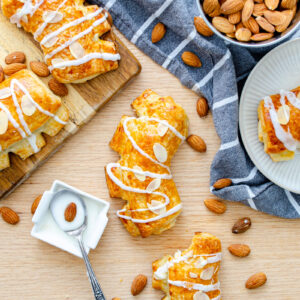 ALMOND BEAR CLAW PASTRIES
Generously-sized bear claws filled with sweet almond paste can brighten even the darkest of days, which makes them as effective as vitamin D as far as I'm concerned. If you're looking for your next Fall baking pick-me-up, this pastry dough is easy to handle and yields flaky, tender results.
Print
Pin
Rate
Servings:
12
bear claw pastries
Ingredients
Yeasted Pastry Dough (Croissant Dough):
4

cups

(500 grams) all-purpose flour, plus more for dusting

¾

cup

(180 ml) water

½

cup

(120 ml) whole milk

3

tablespoons

(30 grams) granulated sugar

2

tablespoons

unsalted butter

at room temperature plus 1 cup (225 grams cold butter)

2

teaspoons

instant/quick rising yeast

1 ¼

teaspoons

sea salt
Almond Filling:
⅓

cup

almond paste

packed to measure then crumbled

2 ¾

cups

ground almonds/almond flour

½

cup

granulated sugar

1

pinch

sea salt

2

tablespoons

salted or unsalted butter

2

egg whites

reserve eggs yolks for later

½

teaspoon

almond extract

2

teaspoons

amaretto liqueur

I used Disaronno from Costco
Assembly:
2

large egg yolks

1

tablespoon

plus 4 teaspoons whole milk

divided, for the egg wash and the glaze
Glaze
3

tablespoons

sliced almonds

for topping

1

cup

powdered sugar plus 3 tablespoons

divided, for the glaze and for dusting
Instructions
Make the dough, shape into a rectangle, and chill. In the bowl of a stand mixer fitted with a paddle attachment, combine the flour, water, milk, sugar, 2 tablespoons of room-temperature butter, yeast, and salt on medium speed just until cohesive, about 30 seconds. The dough will be soft and tacky to the touch. Line a sheet tray with parchment paper and sprinkle with flour. Use a spatula to scrape the dough out onto the parchment paper. Lightly sprinkle with flour, then pat and shape into a 1 inch-thick (2.5cm) rectangle. Wrap the dough tightly in plastic wrap. Refrigerate for at least 2 and up to 4 hours. The dough won't rise much.

Roll, butter, and turn dough two times then chill. In the bowl of a stand mixer fitted with the paddle attachment, beat the remaining 1 cup (225 grams) cold butter until smooth and pliable but still cool, about 2 minutes. Unwrap the dough and transfer to a lightly floured work surface. Use a large rolling pin to hit and roll the chilled dough into a larger rectangle measuring about 12- by 6- inches, with a long side facing you. Flour the surface of the dough and roll it into an 18- by 10-inch rectangle. Using a spatula, smear the processed butter from left to right over only two thirds of the dough, leaving the right one third unbuttered. Fold the dough into thirds like a business letter: Fold the unbuttered section over the middle section, and then fold the buttered section over the unbuttered third. This is called a turn. Rotate the dough so the long open seam faces you. Roll out the dough again into an 18- by 10-inch rectangle. If at any time you see the butter seep through the dough (it shouldn't), sprinkle some flour over the area to seal it. Repeat the folding into thirds and rolling for a second turn. Place back on the baking sheet, wrap with plastic, and refrigerate for 30 minutes.

Turn a third time and chill. Unwrap the dough and place on a lightly floured work surface with the long open seam facing you. Repeat the rolling and folding for a third turn. Rewrap with plastic wrap and refrigerate for 30 minutes or overnight.

Make the almond filling. In a stand mixer fitted with a whisk attachment, beat the crumbled almond paste, almond flour, sugar, and salt on low. With the mixer running, add the butter, egg whites, almond extract and amaretto liqueur to form a mass of thick paste. Using slightly dampened hands to prevent sticking, roll the filling into twelve logs about 5-inch (12 cm) long; set aside.

Roll, cut into squares, fill, and rest. Line two baking sheets with parchment paper. Place the dough on a lightly floured work surface. Lightly flour the top of the dough. Using a large, heavy rolling pin, roll out the dough into a 20- by 15-inch (50 by 38cm) rectangle. Using a sharp knife, cut the dough into twelve 5-inch (12 cm) squares. Place a dough square in front of you. Place one of the almond filling logs ¾-inch (2 cm) up from the bottom of the square. Fold the top of the square over just to enclose the log, leaving about ½-inch (1.25 cm) of dough exposed beneath the seam, and gently press the seam closed. Cut three equally spaced slits in the exposed flap of the dough to make four "toes." Place the pastry on one of the lined pans, curving it into a U shape to open space between the toes. Repeat with the remaining dough squares and almond filling logs. Place six pastries on each pan, spacing well apart. Cover loosely with plastic wrap and let stand in a warm place until the pastries puff, about 1 ½ hours.

Brush with egg wash, top with almonds and bake. Position racks in the top third and center of the oven and preheat to 375F. In a small bowl, whisk the egg yolks and 1 tablespoon milk together. Brush the tops of the pastries lightly with the egg mixture and sprinkle with sliced almonds. Bake until golden brown, about 30 minutes, switching pans from top to bottom and front to back halfway through baking. Transfer to a wire cooling rack to cool for at least 20 minutes.

Make glaze, top, and serve. In a small bowl, mix 1 cup of the powdered sugar with 4 teaspoons of the milk. Whisk to form a thick, smooth paste—a great drizzle consistency. Serve warm or at room temperature with a zigzag of glaze and a dusting of powdered sugar.
Notes
Please see detailed notes, step by step photos and video in the body of this post.
Nutrition
Serving:
1
bear claw pastry
|
Calories:
646
kcal
|
Carbohydrates:
70
g
|
Protein:
19
g
|
Fat:
35
g
|
Saturated Fat:
5
g
|
Polyunsaturated Fat:
1
g
|
Monounsaturated Fat:
3
g
|
Trans Fat:
0.2
g
|
Cholesterol:
44
mg
|
Sodium:
263
mg
|
Potassium:
132
mg
|
Fiber:
8
g
|
Sugar:
26
g
|
Vitamin A:
179
IU
|
Vitamin C:
0.01
mg
|
Calcium:
158
mg
|
Iron:
4
mg
Storing and Reheating Baked Pastries
To store: wrap a plate of pastries in foil and refrigerate up to 5 days or individually wrap tightly in foil and freeze up to 1 month
To reheat, you just put the bear claw in the oven for a few minutes at 350°F. Be sure to let it cool a tad (that icing gets HAWT, ask me how I know). Boom. You've got breakfast ready before work. Top with extra powdered sugar if you want.
More Cozy Baking Recipes To Try This Fall
Photography by Adam Rahman.