If you've been looking for ways to make broccoli more appealing, then this is it! Ricing broccoli is a genius preparation that makes for an incredibly simple, yet flavorful side dish. Plus, it's loaded with vitamin C and A.
To be honest, I was skeptical about broccoli rice. I just thought it was a gimmick. In truth, it creates more surface area for the broccoli to cook evenly and, like rice, it does a good job absorbing sauces. It's now my favorite way to eat broccoli, and I daresay it will encourage us all to want more plants.
Since broccoli is at it's seasonal peak as we transition from Fall to Winter, this is the best time to use that broccoli.
What is Broccoli Rice?
Grated on the large holes of a box grater or pulsed in a food processor, broccoli rice is quite simply, sautéed tiny bits of broccoli made fabulous with a little garlic, butter, and heat.
Some of the links on this page are affiliate links, which may pay me a small commission for my referral at no extra cost to you!
If you are avoiding dairy, please try this with lactose free ghee, olive oil, or bacon fat (bacon is a natural flavor pairing with cruciferous vegetables).
How to Make Broccoli Rice – Just 2 Steps
To get started, rinse 2 small heads broccoli (or 1 large head) and trim away as much of the stem as you like. I left about 2 inches because my broccoli stems were very long.
For the box grater: There's no need to cut the broccoli. Simply grate on the largest holes onto your cutting board.
For the food processor: Break the broccoli into large chunks. Put half the broccoli into the food processor fitted with a metal blade. Pulse until the texture resembles the size of rice. Scrape into a bowl and pulse the remaining broccoli.
Doing it in 2 steps is about achieving uniform texture. If you try to do it all at once, you will inevitably have large florets that don't make contact with the blades.
Your broccoli rice should look like this (pictured below):
Your broccoli rice just came together in less time than it would take to measure and rinse rice. How about that?
Now, begin infusing the oil in a large saute pan with a little minced garlic first. Don't let the garlic brown at all. You just want to create an aromatic oil as a backdrop for the lovely green broccoli bits.
Now add the broccoli rice at once. We are just quickly cooking over high heat in a very small amount of oil – the very definition of sauteing! You go just until tender. Note that broccoli will become mushy in seconds, so don't walk away.
Cooked broccoli rice (pictured above) will have a vibrant green color with a few brown areas. These brown areas are like little flavor bombs where the spicy, pungent flavor of garlic mellows and sweetens a bit as it cooks.
Serving Suggestions
To compliment the broccoli flavor and texture, serve with chicken or fish and a light and bright lemony sauce or shave with fresh Parmesan cheese.
For a clean and light dinner, I love eating broccoli rice alongside a lemony chicken piccata, super easy and elegant!
Top Tips for Cooking Broccoli
Salt broccoli at the beginning of cooking so that the salt penetrates more deeply for flavor. Salt will preserve more nutrients in the broccoli.
Perfectly cooked broccoli has a short window of 30 seconds – 2 minutes. Taste for texture every 30 seconds, keeping in mind that broccoli will continue to steam cook as it rests.
Broccoli rice is best cooked and served right away, but you can still store leftovers in the fridge and reheat in the microwave.
If you don't like the flavor of broccoli, experiment with different cooking methods. Many people are surprised when they realize that the preparation can greatly affect their preferences for a vegetable.
More Vegetable Dishes You Might Like
*Do you struggle with the taste of broccoli? I'd love to know if this preparation won you over or not. Let me know your thoughts in the comments below. I love hearing from you!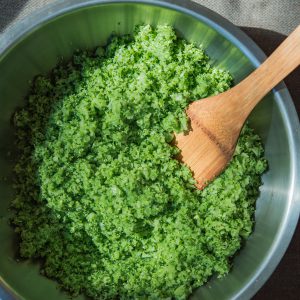 How to Make Broccoli Rice
Broccoli rice or sautéed broccoli is flavorful and less exacting than regular rice. It's quick, coming together in 5 minutes, has a beautiful color, and tastes amazing! This adaptable broccoli side dish is gluten free, paleo, dairy free, vegan, and keto.
Print
Pin
Rate
Ingredients
1

large

head broccoli

or 2 small heads

3

tbsp

olive oil

extra virgin

1

large

clove garlic

minced

2

tbsp

unsalted butter, ghee, olive oil, or bacon fat

1

tsp

salt

freshly ground black pepper

lemon

optional
Instructions
Rice the Broccoli
Rinse and trim the stem of the broccoli so that 2-inches remain. Break down the broccoli into large sections. Place half of the broccoli at a time into a food processor fitted with a metal blade. Pulse just until no large pieces remain – for a texture roughly resembling rice.
Sauté Broccoli Rice
Heat a large skillet over medium-high heat with the olive oil. Add the garlic and stir for 30 seconds until aromatic. Do not let the garlic develop any color.

Stir in the broccoli rice along with your preferred fat, salt, and a few grinds of black pepper. Cook until the fat is melted and the broccoli is tender – taste and remove quickly because the broccoli will continue to steam cook. Enjoy hot and fresh with lemon juice or as a side to chicken or fish.
Notes
Nutrition is calculated with unsalted butter.
Cauliflower Rice Variation
You can use this same recipe with cauliflower.
Cooking with Bacon vs. Bacon Fat
If you would like to incorporate bacon fat, you can use 1 strip of bacon, diced at the very beginning. Proceed with the garlic, broccoli rice, and reduce the salt to 1/2 tsp (bacon can be salty).
Nutrition
Calories:
131
kcal
|
Carbohydrates:
7
g
|
Protein:
3
g
|
Fat:
11
g
|
Saturated Fat:
3
g
|
Cholesterol:
10
mg
|
Sodium:
422
mg
|
Potassium:
320
mg
|
Fiber:
3
g
|
Sugar:
2
g
|
Vitamin A:
748
IU
|
Vitamin C:
91
mg
|
Calcium:
48
mg
|
Iron:
1
mg