Randomly, I was inspired to create a pie in order to enter a pie contest (I'll let you know if I win). So I came up with this truly original Sweet Corn Pie. As in, corn flavored crust and creamy corn center.
So, why corn?
First, I started thinking about how much I love buttered corn. So I thought, why not do a play on salty, buttery corn by making a corn flake crust? Then to top it all off, I created this ultra-light mousse to go on top. It's milky and has a delicate corn flavor that's definitely unlike any pie I've ever had (in a good way)!
Well, TM it. Copyright it. Tell Wikipedia, because I'm pretty sure I just invented sweet corn cream pie! (dance-dance-dance)
I looked, and it seems that nobody has ever made a sweet corn pie dessert before. Of course, other chefs have paved the way with corn flake ice cream (Christina Tossi of Milk Bar) and corn husk meringue (Enrique Olvera of Cosme) so I am definitely taking notes. I think it's safe to say that corn + dessert is smart.
That said…this pie is kinda corny. Not sure it's every human's desire to stray outside of their comfort zone. I mean, it's pie. Pie is like coming home. It's humble and practical for good reason. But then, corn is humble too. It's not like we're filling our pie with anything fancy.
I think you'll find that this dessert comes together quickly thanks to the corn flake crust and a short baking time. Once you fill the pie, throw it into the fridge for a bit as you start the rest of the meal (*maybe a nice and summery grilled steak salad). It'll be chilled and firm about an hour later — just in time for dessert.
Step 1: Tools + Ingredients
Tools:
food processor
cooling racks
pie dish
blender
mixing bowls
skillet
fine mesh strainer
hand mixer or stand mixer with whisk (you can do it by hand, it's a great workout)
oven preheated to 375°F (190° C)
Ingredients:
cornflakes
unsalted butter
granulated sugar
Kosher salt
3 ears corn
heavy whipping cream
mascarpone
For the best flavor, use "sweet corn." The color of the corn will not change the taste (I tested both) but it will affect the color. Look for yellow or bi-color corn for a pale yellow hue.
Step 2: Measuring the Corn flakes
Your best bet here is to weigh 175 grams of corn flakes then grind them into a fine powder.
If you don't have a scale, here's how to measure the corn flakes:
Use a measuring cup to measure approximately 6 1/2 cups of corn flakes into a food processor fitted with a metal blade.
Grind until the cornflakes become a very fine powder. The smaller the granules, the better for shaping the crust.
Measure 1 1/2 cups of the corn flake powder.
Step 3: Making the Corn Flake Crust
Similar to a graham cracker crust, this corn flake crust is one of the easiest crusts to make and is great for topping with corn mousse.
Add the melted butter, sugar, and salt to a large bowl. Using a spoon, mix until everything is combined.
Step 4: Forming the Corn Flake Crust
This crust will be more crumbly than sticky, so I recommend using wet hands to press it down to form a crust.
Pour the moist corn flakes into a pie dish. Use your fingers to spread an even layer. Sometimes I like to use a flat bottomed measuring cup to really pack it down.
The resulting crust will be grainy like a sand castle — but just holding together! If the corn flake granules are too large, they won't stick together.
Step 5: Baking the Pie Crust
Transfer the pie crust to the preheated oven or refrigerate until you are ready to bake.
Bake in a 375°F (190° C) oven for 16 – 18 minutes. The baking time depends on how thick your crust is and how dark you like it. Your crust should be in the range of light golden to dark golden brown.
Once your pie crust is done baking, place it on a cooling rack and allow it to come to room temperature.
Step 6: Making the Corn Cream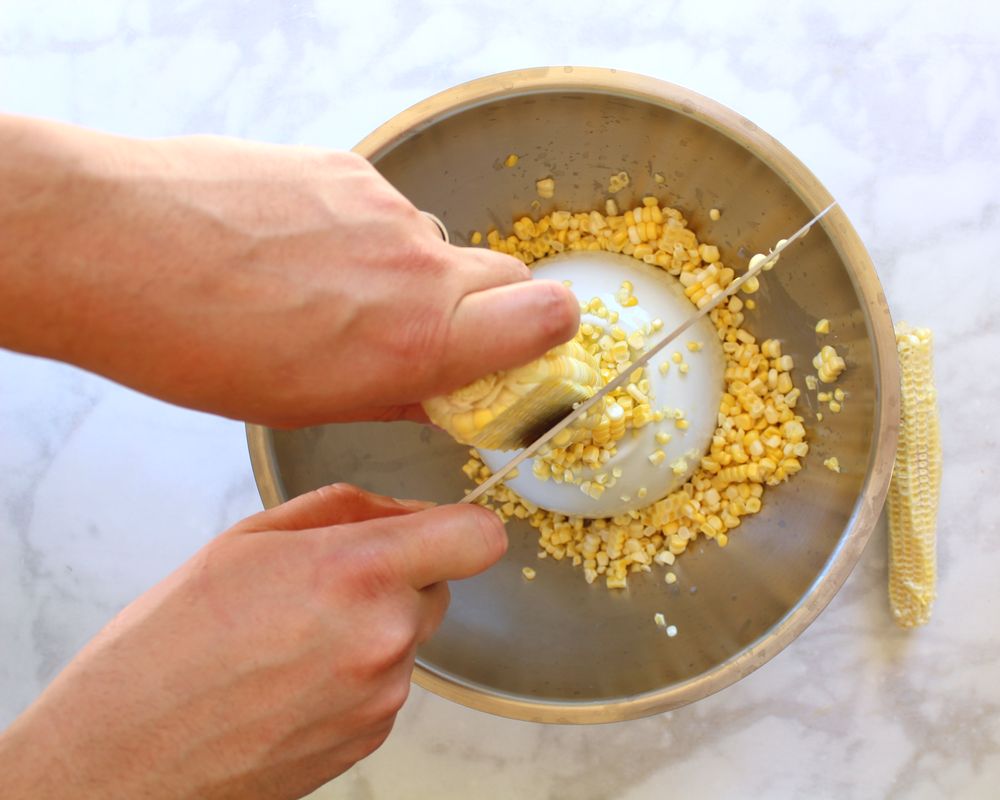 Not to be confused with creamed corn, this is a thick and creamy corn infused cream that creates the corn flavor base for the pie. To extract the essence of the corn, use fresh "sweet corn" kernels.
Combine the fresh corn kernels, 3/4 cup heavy whipping cream, 3 Tablespoons sugar, and 1/4 teaspoon of salt in a large skillet. Cook the corn in the cream over medium heat for 5 minutes. Stir frequently to prevent the cream from scalding.
Blend the tender corn mixture until very smooth. Pour over a fine mesh strainer fitted over a large bowl. This will remove any fibrous bits of corn. Scrape along the under-side of the sieve; there's lots of good corn cream down there.
That's it. Now you have ultra smooth and delicately flavored corn cream.
Step 7: Making the Corn Mousse
Move the corn cream to the refrigerator to cool while you make the whipped cream. Pour 1/2 cup of heavy whipping cream into a stand mixer fitted with a whisk attachment. You can also do this step by hand with a whisk.
Beat the cream just until it appears fluffy. It's important to avoid over-mixing whipped cream because it very quickly turns to butter.
Remove the cold corn cream and whisk in 1/4 cup mascarpone. Mix until very smooth, then fold in HALF OF THE WHIPPED CREAM (reserve the other half for topping the pie).
Step 8: Filling + Serving the Pie

Fill the pie crust with the corn mousse, spreading evenly with a spatula. Chill in the fridge until the mousse firms up a bit. Place a large dollop of the remaining whipped cream on top.
Use a sharp knife and offset spatula to serve by the slice.
Store any leftover pie in the fridge in a container. It'll be good for three days, but I doubt it will last that long.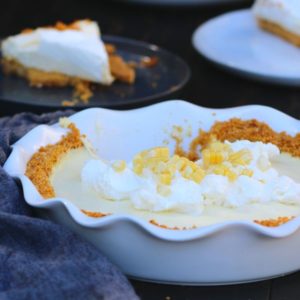 Sweet Corn Cream Pie
This sweet corn cream pie is PERFECT in so many ways. From the corn flake crust to the light and milky corn cream mousse, this (almost) no bake pie is great for summer. It's perfect in the way it allows the delicate flavor of corn to come through — a flavor that blends splendidly with butter, sugar, and mascarpone. What you get is a slightly savory, lightly sweet original pie.

Print
Pin
Rate
Ingredients
Corn Mousse Ingredients
3

ears

fresh corn on the cob

kernels removed (1 1/2 cups)

3

tbsp

granulated sugar

1/4

tsp

Kosher salt

1 1/4

cup

heavy whipping cream

divided (see instructions)

1/4

cup

mascarpone
Instructions
Make the Corn Flake Pie Crust
Preheat the oven to 375°F (190° C).


Add the finely ground corn flakes, melted butter, salt, and sugar to a large bowl. Stir to combine.


Transfer to a pie dish and use your fingers to press firmly until evenly spread. Moisten your hands or use a measuring cup to press down. The texture will be more sand-like (not sticky like a dough).


Bake the crust until golden brown, 16-18 minutes. Remove the pie crust and set on a cooling rack.

Make the Corn Mousse
In a large skillet, combine the corn kernels, sugar, salt, and 3/4 cup heavy whipping cream. Cook on medium heat for 5 minutes, stirring frequently.


Transfer to a blender and secure with a lid. Hold a towel over the lid to prevent hot liquid from escaping and causing burns. Blend on high speed until very smooth.


Place a fine mesh strainer over a large bowl. Pour the blended corn into the sieve and use a spatula to stir and press as much liquid as possible through. You can scrape along the under-side of the strainer to remove pools of corn cream.


Refrigerate to cool. Meanwhile, make whipped cream.


Add the remaining 1/2 cup heavy whipping cream to a stand mixer. Whisk just until the cream turns fluffy — avoid over-mixing.


Remove the chilled corn cream and whisk in the mascarpone until very smooth. Fold in half of the whipped cream (reserving the other half for serving the pie).

Fill the Pie
Add the corn mousse to the corn flake crust. Refrigerate to set. Serve with remaining whipped cream on top.

Notes
A Word on Choosing Corn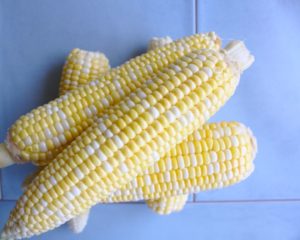 Look for white or bi-color labeled "sweet corn" on the cob. You can use all of the corn from 3 cobs or measure out 1 1/2 cups of the kernels.
Color does not affect the dish flavor or texture, but will impact the final color of the mousse (white vs. pale yellow).
If possible, make this recipe with good quality corn that's in season. It will produce the richest, sweetest flavor.
Snap shot –
In this recipe, you make a crumbly crust out of corn flakes, butter, salt, and sugar — this is the only thing you bake. You then make a corn infused cream on the stove that gets thickened with mascarpone and whipped cream. The final pie is chilled and served cold with a dollop of whipped cream.
Troubleshooting –
The main issue you could have is adding all of the whipped cream instead of dividing it as the recipe calls for. If this happens, your pie will still turn out, but the strength of the corn flavor will be diluted a bit (more milky).
I made 3 pies to test this recipe and each crust browned slightly differently. Keep watch and pull the crust when it's to your liking (i.e. golden). If you have a super crumbly crust, that's ok. It's likely the result of using corn flakes that were not finely ground enough.
If you like a sweeter pie, I suggest that you add up to 2 tablespoons to the whipped cream because this pie is just sweet (not overly so).
Nutrition
Calories:
507
kcal
|
Carbohydrates:
48
g
|
Protein:
3
g
|
Fat:
34
g
|
Saturated Fat:
21
g
|
Cholesterol:
107
mg
|
Sodium:
341
mg
|
Potassium:
86
mg
|
Sugar:
25
g
|
Vitamin A:
1735
IU
|
Vitamin C:
6.4
mg
|
Calcium:
51
mg
|
Iron:
8.4
mg
Share
Thank you for being here! Did you make this recipe? Click on the star rating or leave a comment below. I'd love to hear how you got on. Connect with me @thefrayedapron on Instagram or Pinterest.