I find french fries to be exceedingly more challenging than potato chips. For whatever reason, my luck with making potato chips is pretty darn good.
Normally, I thinly slice waxy potatoes like a Yukon gold, but this time, I decided to go for yams for more of a sweet potato barbecue chip. And the best part is, these sweet potato barbecue chips are made with 100% real ingredients!
To be honest, I much prefer the plain ol' jane ol' white potato, BUT nothing beats a first impression. Friends, an orange potato covered in barbecue seasoning grabs the eye. Don't worry, these chips aren't just about their good looks. They taste pretty amazing.
I'm my own worst critic so I casually made these sweet potato barbecue chips one day and set them off to the side. A day later, I hear Marcus say, "Whoa, these are really, REALLY good chips."
I don't know why, but sometimes these affirmations from others are all we need to be 100% sure we've made something great. I guess my hesitation was that I'm used to a really crispy chip, but the yams tend to be slightly less crispy.
Obviously, yams contain more sugar and sugar cooks super quick. If you fry a yam at one temperature and a white potato at another, guess which ones burns faster? Yep, that damn yam!
How to Make Sweet Potato Chips
This recipe will require you to be vigilant about the frying oil. I must have lowered and raised the temperature of my oil 10x. The name of the game is test-adjust. Use a single slice of potato to test the temperature — low and slow is a good idea for a full cook, but not so low that you end up with greasy chips.
Last but not least, here are a few simple visual aids for your chip making project. Once you see how easy these are to make, you'll prefer your own barbecue chips guaranteed. No more nasty ingredient lists with maltodextrin and corn syrup. Just goes to show that if you want a barbecue potato chip done right, you have to do them yourself. Let's get chippin'.
It's a good idea to slice your potatoes very thinly to ensure an even cook and crunch. I prefer to use a mandolin to slice my potatoes for chip making because it is really fast and every chip is the same width.
Do you make your own chips or french fries? Do you prefer baked or fried?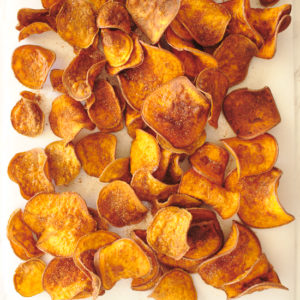 Sweet Potato Barbecue Chips
Nothing beats freshly fried barbecue sweet potato chips. For a seriously fun snack, make a batch of these for game day or movie night. They are addicting and contain only real ingredients.

Print
Pin
Rate
Ingredients
2

yams

or 4 waxy white potatoes

3

cups

canola oil

1

tsp

paprika

1/2

tsp

garlic salt

1/4

tsp

maple sugar

or white sugar

fine sea salt

for seasoning
Instructions
Pour the oil into a high sided frying pan or use an electric fryer set to between 325-350.


Thinly slice the potato (skin on). This can be done on the thinnest setting of a mandolin or by hand. Add slices to a large bowl of ice water while you work to prevent the potato from browning.


Strain the sliced potato on a towel until completely dry. Meanwhile, warm the oil. Line a baking sheet with paper towels to set up an efficient fry station to salt and season the chips. Combine the seasoning (paprika, garlic salt, maple sugar) for sprinkling.

Fry the Chips
Add 1 chip to the oil to test the temperature. If it bubbles and cooks slowly, then that's a good chip frying temperature. If it burns right away, lower the heat. If you see no bubbles, turn the heat up or wait a while until it gets hotter. Work in batches until all the chips are slightly crispy.


Strain the fried chips when they appear brownish-orange onto paper towels. Season generously with salt and spices while hot so the seasoning sticks to the chip. Best enjoyed fresh.
Notes
Yams or sweet potatoes contain sugars that turn dark when heated, making them a difficult chip to fry. That being said, you can adjust the oil temperature to get the chips to crisp a bit. The key is the slice these very thin to begin with.
If you've never made chips, I suggest starting with Yukon gold potatoes instead. They are more forgiving.
Nutrition
Calories:
207
kcal
|
Carbohydrates:
39
g
|
Protein:
2
g
|
Fat:
4
g
|
Sodium:
206
mg
|
Potassium:
1151
mg
|
Fiber:
5
g
|
Vitamin A:
380
IU
|
Vitamin C:
23.9
mg
|
Calcium:
24
mg
|
Iron:
0.8
mg
Some of the links on this page are affiliate links, which may pay me a small commission for my referral at no extra cost to you!
Thank you for being here! Did you make this recipe? Click on the star rating or leave a comment below. I'd love to hear how you got on. Connect with me @thefrayedapron on Instagram or Pinterest.
Similar Recipes to Check Out