When making almond milk from scratch, I like to soak the almonds in boiling hot water first to get an even richer, creamier almond milk. Even though it only takes a few minutes, I like to make a big batch all at once to use throughout the week for Dalgona coffee or as a non-dairy base for smoothies.
One of my favorite late night drinks is a glass of cold almond milk because it's rich, like a dessert, but won't spike your blood sugar. So it's a satisfying way of curbing a craving. Sometimes I like to blend in a frozen banana and some molasses, too, for a quick and easy milkshake.
Is it worth it to make your own almond milk?
As of this posting, almond milk costs about $.05 per ounce, so your typical 1/2 gallon container is $3.20. So the question is, if raw almonds cost roughly $7 per pound, how many almonds could you use to make the equivalent 1/2 gallon of almond milk yourself?
From a purely financial standpoint, it will take approximately 1 3/4 cups raw almonds per 1/2 gallon to break even. I've been making almond milk for years, and I generally follow a ratio of about 1 cup almonds per 4 cups water, so the value of making your own almond milk isn't exactly financial.
So, why do it?
Control. Flavor. Quality.
To me, the purpose of a milk alternative is to indulge in something delicious and high quality. There's a purity to freshly blended almonds that can't be found in a box.
I've tasted every brand of almond milk I can find, and I still prefer the freshly blended stuff. My basic almond milk recipe consists of 3 ingredients: raw almonds, water, and salt. That last ingredient is to bring out the natural sweetness of the almonds. Of course, you can add sweetener to the whole batch, but I prefer to leave it out and add as-needed depending on how I'm using it.
What do you need to make nut milk at home?
To get started, you really need a fine mesh strainer called a nutmilk bag, a large bowl to prevent messes, a blender, and a pitcher for storing the milk.
How do you make extra rich and creamy almond milk?
My #1 tip is to use boiling hot water, which breaks the almonds down better than cool water. You'll notice that the water turns brown after the almonds soak. Sometimes I blend as-is, but sometimes I like to strain the water for a super white color.
You can also remove the skins of the almonds by rubbing them between your fingers. This is time consuming, so feel free to skip this step.
You can see that straining is the first step and squeezing is how you extract the most flavor from the pulverized almonds. I like to do this step over a large bowl to prevent making a mess.
Almond Milk Variations:
Try the plain flavor first and then experiment with mix-ins.
1-3 tablespoons to taste of either cane sugar, maple syrup, coconut sugar, agave or your favorite sweetener of choice
1 tablespoon maca powder (for a natural caramel flavor) or 1/2 teaspoon vanilla extract
1 pinch of cinnamon or freshly grated nutmeg for an almond milk horchata
How to Use Almond Milk
Over the years, I've figured some things out with non-dairy milks. To save you the trial-and-error testing:
Do not heat almond milk for coffee, it separates.
Use almond milk 1:1 in baking as an alternative to milk (the exception to this is if a recipe requires heavy cream). Coconut milk is a better alternative for cream due to being high fat.
Do not use as a non-dairy milk with savory dishes. I'm just not a big fan of almond milk mac and cheese, for example.
Last but not least, if you are following the Instagram trend to make Dalgona coffee, I highly recommend using homemade almond milk with your coffee foam (I'll be sharing a recipe for that soon).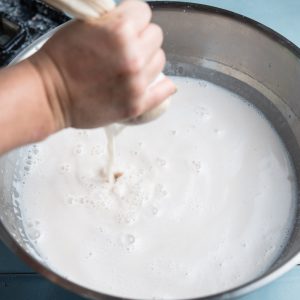 Extra Rich Homemade Almond Milk
Homemade almond milk has such a fresh and rich flavor — better than anything out of a box. It's easy to make if you have a few minutes to blend and squeeze.
Print
Pin
Rate
Ingredients
2

cups

raw almonds

3

cups

boiling water

for soaking the almonds

8

cups

water, divided

for blending

1/4

teaspoon

sea salt
Instructions
Put the almonds in a large bowl and cover them with the hot water. Allow the almonds to soak for at least 10 minutes but up to 30 minutes. Strain the almonds to discard the brown water and transfer the almonds to a blender.

Cover the almonds with 4 cups water (reserve 4 cups for the next batch). Blend on high for 1 minute then strain the almond mixture through a nutmilk bag held over a large bowl. Return the pulverized almonds to the blender and fill with the remaining 4 cups water. Blend for 1 minute, then strain through the nutmilk bag over the bowl again. Squeeze to extract as much liquid as possible.

Pour the almond milk into a large pitcher and add salt. Stir and refrigerate for up to 4 days. If the almond milk settles, stir before pouring. You can add sweetener or spices at this point, if desired.
Nutrition
Serving:
1
cup almond milk
|
Calories:
35
kcal
|
Carbohydrates:
1
g
|
Protein:
1
g
|
Fat:
3
g
|
Sodium:
398
mg
|
Fiber:
1
g
|
Sugar:
1
g
|
Calcium:
300
mg
Some of the links on this page are affiliate links, which may pay me a small commission for my referral at no extra cost to you!