If you're searching for the very best chocolate cupcakes, you've found them (and here's why)…
For my niece's 5th birthday, I put two different cupcake batters to the test and the results are in!
I started with the prototypical oil-based batter, and then I tested a slightly more involved creamed butter batter and compared the results side by side. To my surprise, the creamed butter method resulted in a far moister, richer, and more flavorful chocolate cake.
So stark was the contrast, that I found myself only wanting to eat the creamed butter chocolate cupcakes (and this is the recipe I'm sharing with you today).
Why this recipe works:
Creaming method: When you cream the butter into the sugar, you get a cupcake with a looser crumb structure, so instead of a dense experience, it's like you're biting through something really delicate but structurally sound.
Sour cream: Somewhat replaces the need for more eggs while adding a full, rich flavor that accentuates the chocolate, resulting in an incredibly moist, tender cake (this is key).
Buttermilk: Yet another way to add depth, richness, and support the flavor of the chocolate. You can even *diy buttermilk by adding 1 tablespoon apple cider vinegar or lemon juice to a measuring cup and filling to the 1 cup line with milk.
Almond extract: A hint of almond extract makes bittersweet chocolate feel lighter. It's pleasing, and I really don't know how else to describe it, except to say, it makes the chocolate come to life.
Vanilla frosting: With such an intense chocolate cake as the base, it feels cooling to bite into a creamy, vanilla frosting. What can I say? I'm a sucker for contrasting experiences.
How and Why to Cream Butter with Sugar for Cupcakes:
Creaming is an easy technique to master with the right tool. You need either a hand-held mixer plus a mixing bowl or a stand mixer fitted with a paddle attachment. The basic premise being, you want to whip air into slightly soft butter with sugar until it appears light and creamy; this is a 5-minute operation that anyone can pull off with perfection.
It's totally worth it in the end to enjoy the softness of these cupcakes.
The Scoop on Room Temperature Butter
What does it mean when a recipe calls for room temperature butter? It literally means, butter that is cool but pliable to the touch. In a typical house, this takes 1 hour from the time you remove cold butter from the fridge. If you are in a hurry, you could defrost the butter for about 10 seconds in the microwave.
Unlike other wet batter that you might be used to, this cupcake batter will be quite fluffy when you go to scoop it into the cupcake liners. For this reason, it's imperative that you double tap the cupcake tray by slamming it down hard on the counter prior to baking to prevent giant air gaps from exploding in the oven.
Technical Tip: Resist the urge to fill cupcake liners more than halfway. If you overfill them, your cupcakes will spill over onto the tray and the tops will tear when you try to remove them.
Can I substitute dutch process cocoa for all natural cocoa powder for chocolate cupcakes?
Sorry, but not really. These cupcakes employ baking soda which relies on the acidity of cocoa powder to activate. Therefore, I don't recommend substituting dutch process cocoa, without adjusting other aspects of the recipe to compensate for such a change.
Bake Ahead and Store:
You can bake the cupcakes up to 2 days in advance and the frosting, too. Just be sure to hold off on frosting the cupcakes until the day-of serving. I like to remove the frosting about 30 minutes before I'm ready to pipe it so it's still cool, but not stiff.
To store cupcakes, be sure to use a clean container that does not have any odors from previous food storage. I love my dedicated cupcake snapware box for storing and transporting frosted cupcakes.
Unfrosted cupcakes can be held at room temperature for up to 1 day (as long as you don't have a humid environment). Frosted or unfrosted cupcakes can be stored in a sealed container in the fridge for up to 4 days.
Serve cupcakes at room temperature for the best texture. I recommend removing the cupcakes 1 hour prior to serving. For a single serve situation, you could speed things up by microwaving on the defrost setting for 7 seconds (honestly, who can wait an hour to eat a cupcake?).
And, if you're baking these to put a smile on somebody's face, you might want to get all fancy and pipe the vanilla frosting on top. For reference, I used a 1M star tip, but you could use any tip from your standard piping bag kit.
More Dessert Recipes You Might Like: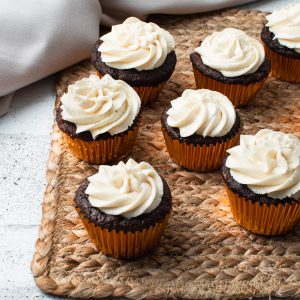 Chocolate Almond Cupcakes with Vanilla Frosting
Deeply rich and flavorful chocolate cupcakes with a hint of almond and a rich and creamy vanilla frosting.
Print
Pin
Rate
Ingredients
3/4

cup

unsalted butter (1 1/2 sticks)

at room temperature

1-2/3

cups

granulated sugar

2

large

eggs

3/4

cup

sour cream

1

teaspoon

vanilla extract

1

teaspoon

almond extract

2

cups

all-purpose flour

spooned and leveled

2/3

cup

unsweetened cocoa powder

2

teaspoons

baking soda

1/2

teaspoon

salt

1

cup

buttermilk

*
Vanilla Frosting
10

tablespoons

butter (1 stick plus 2 tablespoons)

at room temperature

5

cups

powdered sugar

2 1/2

teaspoon

vanilla extract

6

tablespoons

whole milk
Instructions
Cream the butter and sugar on low with a hand mixer or stand mixer fitted with paddle attachment. After 1 minute, increase the speed to medium-high and continue beating for 2 minutes until creamy and light. Add eggs, one at a time, beating well after each addition. Add sour cream and extracts; mix well. In a separate bowl, whisk the flour, cocoa, baking soda and salt; add to the creamed mixture alternately with buttermilk, beating on low after each addition. Use a spatula to fold the mixture (scooping along the bottom especially) to incorporate everything *just until you don't see any streaks* but avoid over-mixing.

Spoon the fluffy batter into the cupcake liners only halfway (this is imperative! Only halfway!). Bang the tray hard on the counter to release any air pockets. Bake on the middle rack until a toothpick inserted in the center comes out clean, 19-21 minutes. Cool completely before frosting.

For frosting, cream butter, powdered sugar and extracts together over low speed for about 1 minute. Add the milk to form a thick, smooth frosting. Spread with an offset spatula or pipe over cupcakes just before serving.
Notes
Buttermilk: To make your own buttermilk, measure 1 tablespoon apple cider vinegar or lemon juice into a liquid measuring cup and fill to the 1 cup line with whole milk (2% works also).  Garnishes: To accentuate the almond extract, you could garnish with toasted, slivered almonds for a bit of crunch. You could also garnish with crumbled espresso beans.
Nutrition
Calories:
273
kcal
|
Carbohydrates:
38
g
|
Protein:
2
g
|
Fat:
13
g
|
Saturated Fat:
8
g
|
Cholesterol:
48
mg
|
Sodium:
202
mg
|
Potassium:
79
mg
|
Fiber:
1
g
|
Sugar:
28
g
|
Vitamin A:
411
IU
|
Vitamin C:
1
mg
|
Calcium:
33
mg
|
Iron:
1
mg
Some of the links on this page are affiliate links, which may pay me a small commission for my referral at no extra cost to you!