During my culinary school days, I once made over 300 salmon croquettes for a catering event. We were short staffed and it was a race against the clock, but I absolutely loved the pressure to get it done.
There's no greater way to become a better cook than moving as quickly as you possibly can and problem solving on the fly.
Today, I'm offering some time-saving short cuts. For example, I got the idea to use canned salmon instead of fresh from fellow food blogger, The Traveling Locavores. On their site, I came across a recipe called Mommy's Salmon Croquettes and was intrigued by the name.
Their post begins with a hand-written recipe from 1969. I can't EVEN. If there's ever a reason to zone out in the kitchen, it's over some person's scribbled recipe, especially when I know that person made it every Tuesday for dinner.

As I read and reread the recipe, it occurred to me that I didn't want salmon with a side of potatoes and asparagus. Rather, I wanted an hors d'oeuvre that is a bite sized version of that meal. I think I've achieved that by incorporating the potato as a binder for the salmon and the asparagus as a garnish. I've also added a saffron aioli because I think a croquette needs sauce to balance out the dryness.
In retrospect, a lemon aioli would have been better…
How to Make Salmon Croquettes
A croquette is best when the primary flavor of the food comes through–in this case, that's salmon.
Tip 1
Binders like potato, flour, eggs should be secondary, and there should never be a raw spice taste, which can happen with croquettes. I once served a chickpea croquette to a chef for a test of my culinary skill. She loved it, but the spices! She explained they were not cooked.
A light bulb went off. Of course the spices in the middle of the cake aren't receiving direct contact with the heat source. The takeaway? Toast your spices.
Tip 2
Shape croquettes and use a binder if they don't stick together.
I was assisting a chef with 100 quinoa edamame sliders, and we had a heck of a time binding them without eggs. These were intended to be vegan and gluten free, so our only hope was to use pumpkin nut flour and to rotate them in and out of the freezer.
The Verdict: Fresh Salmon vs. Canned Salmon

In most cases, I advocate for fresh fish over canned. Obviously.
In a croquette though? I believe there is a comparable taste, and you can find really sustainable canned salmon. Therefore, I will be using canned salmon from now on for these croquettes, but feel free to play around with fresh fish. This is a versatile base for crab or any fatty fish.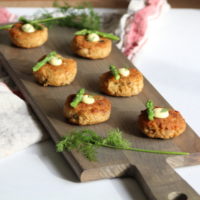 Salmon Cakes
These bite sized croquettes are great for entertaining because they are easy to make and look impressive. These hors d'oeuvres have all the components of a complete meal (potatoes, salmon, and asparagus) in one, and while they seem very fancy, they can be made with canned salmon. This recipe was inspired by The Traveling Locavores food blog.

Print
Pin
Rate
Servings:
14
2-inch cakes
Ingredients
3

5 oz

canned salmon

drained

1

egg

1

golden potato

peeled, large dice

1

tsp

dijon mustard

2

tsp

capers

drained

1/2

cup

canola or olive oil

to panfry

salt and pepper

to taste
Saffron Aioli
1

small pinch

saffron

1

tsp

water

1/4

cup

mayonaise

14

tips

asparagus

blanched and shocked

1

oz

fresh dill

for garnish
Instructions
Make the Cakes
Mash the salmon with a fork in a medium size bowl and stir in the egg. Meanwhile, drop the diced potato in a small pot and cover with water. Add a large pinch of salt and bring to a boil. Simmer until completely soft, then drain. Mash the potatoes or run through a ricer and add potatoes to the salmon.

Combine the salmon, mashed potatoes, dijon, and capers until the mixture sticks together when pressed. Use your hands to form patties that are flat on the top and bottom and approximately 2-inches in diameter.

Warm the oil in a large pan over medium heat and carefully set the salmon cakes in the hot oil to pan fry. Adjust the temperature as needed so that the cakes cook about 2 minutes per side until golden brown. Try not to flip the salmon cakes more than once as they can be fragile.

Transfer the salmon cakes to a sheet tray lined with paper towels using a fork or slotted spatula.
To Make the Aioli
Set the mayonnaise in a small bowl. In a separate bowl or ramekin, add the saffron and water. Soak for 10 minutes to allow the water to absorb the flavor and color of the saffron. Strain over the mayonnaise and stir until smooth. To garnish, place a dollop on top of the salmon cake and add a sprig of fresh dill. Place the blanched asparagus on top if desired.

Notes
To blanch and shock asparagus means to submerge asparagus in boiling, well-salted water (blanch) just until cooked–about 30 seconds. To shock means to stop the cooking process by moving the asparagus to ice water. This protects the vibrant green color and prevents the asparagus from over-cooking.
Nutrition
Calories:
40
kcal
|
Carbohydrates:
1
g
|
Fat:
3
g
|
Cholesterol:
13
mg
|
Sodium:
45
mg
|
Potassium:
69
mg
|
Vitamin A:
180
IU
|
Vitamin C:
3.1
mg
|
Calcium:
10
mg
|
Iron:
0.6
mg
Did you make this recipe? Please leave a comment or a rating. Proud of your work? Tag me @thefrayedapron on Instagram, I wanna see!