I was browsing Instagram the other day and saw somebody talking about "Dalgona coffee" as though we all know what that means. I looked it up and quickly discovered there's a food trend that even I am behind on.
Apparently, everybody is finding joy and overcoming boredom by whipping their coffee while quarantined. So, of course, I had to know what all the fuss is about.
I bought decaf instant coffee and mixed it with equal parts honey and boiling water. I whipped everything together in my stand mixer for about a minute, and lo and behold, the coffee mixture turned to foam which then turned to stiff peaks.
I served the lovely bittersweet coffee foam over my extra rich homemade almond milk and had one of the best iced coffee experiences of my life. It was pure magic to see coffee transform into something decadent (and it took only 1 minute). So, when it comes to Dalgona coffee, count me in.
Actually, after drinking 2 of these this morning, I was really eager to make another one for my husband (and, ok, I had another one, too, but who's counting?). His first impression was that it was good and weird. I have to agree with him.
It's a very good and very weird thing to have the intensity of the coffee floating on top. Admittedly, I didn't use a straw, which I think had something to do with it. I found out part way through the drink, that it's even better if you swirl the coffee foam around a lot so that it mixes with the milk, too.
How to Make Dalgona Coffees with Almond Milk
I recommend whipping the coffee, honey, and boiling hot water in either a stand mixer fitted with a whisk attachment or with a hand held mixer. The coffee whips into stiff peaks in about 1 minute. To serve, fill a glass half full with cold almond milk (ice optional). Stir in the foam or just set it right on top. Serve with a straw.
Many people just use granulated white sugar, but I wanted to know if honey would whip up. Sure enough, it does!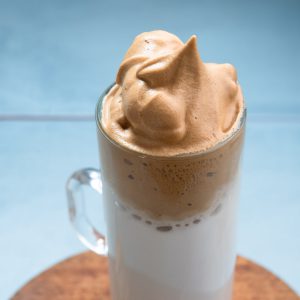 Dalgona Coffee with Honey and Almond Milk
Whipping coffee with honey is pure magic, and I just love the bittersweet combination of the coffee foam over almond milk.
Print
Pin
Rate
Instructions
In the bowl of a stand mixer (or in a bowl, if using a hand held mixer), combine the instant coffee, honey, and boiling water in a ratio of 1:1:1. Turn the mixer on low for 20 seconds or until the coffee granules dissolve. Increase the speed to high and beat; the coffee mixture will foam at first then will gradually become smooth and glossy. Stop when you reach stiff peaks.

To serve the Dalgona coffee, pour the almond milk into 2 glasses about halfway full. Use a spoon to push the coffee foam on top. Swirl around to mix it up a bit, then top with more foam. Serve with a straw for easy sipping.
Nutrition
Calories:
99
kcal
|
Carbohydrates:
22
g
|
Protein:
1
g
|
Fat:
2
g
|
Saturated Fat:
1
g
|
Sodium:
165
mg
|
Potassium:
177
mg
|
Fiber:
1
g
|
Sugar:
17
g
|
Calcium:
157
mg
|
Iron:
1
mg
Some of the links on this page are affiliate links, which may pay me a small commission for my referral at no extra cost to you!