These Seared Ahi Tuna Steaks with a salt and pepper crust get a burst of bright flavor from a lemony cutting board salsa, all in less than 15 minutes!
If you're lucky enough to find fresh tuna steaks, buy them. You can pay top prices for a chef to cook tuna for you, but I'll let you in on a little secret: they're beyond easy to cook perfectly at home.
Rather than go the Asian route, I wanted to deliver a simple American recipe with simple, clean flavors that the whole family would love. I went with a medium-rare cook and served the tuna sliced thick over a bed of toasted rice with chopped avocado, jalapeno, and tomato.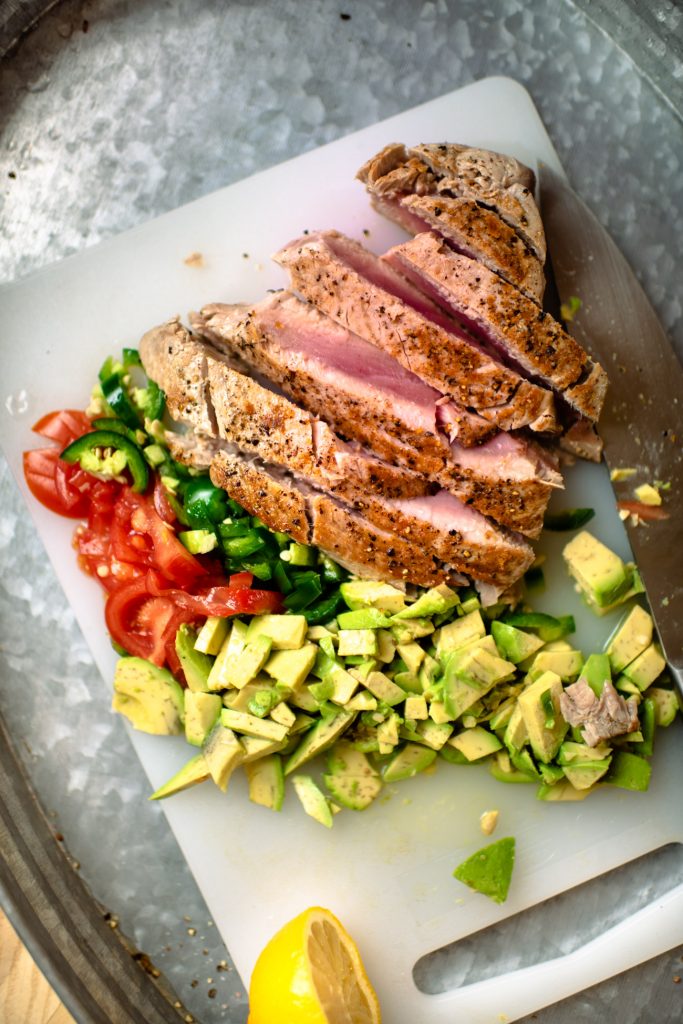 Let me level with you. Even as a trained chef, it takes a lot of intention to get dinner on the table in under 30 minutes. Which is why, you'll note that I have a lot of fast fish recipes, like this Crispy Sea Bream with Olives and Pickled Onion or this Baked Salmon with Parsley Garlic Crust. Fish to the rescue, again.
You'll note, this recipe involves day-old rice. If you can prep this in advance, you'll be the beneficiary of a truly awesome effect: day-old rice is drier than fresh rice and can therefore be pan-fried crispy and toasty in the SAME pan after the fish. A one pan wonder.
Even with fresh rice, this dinner is so wonderful, we had it twice in one week (once with fresh rice, and two days later with crunchy rice). Both epic meals worth repeating.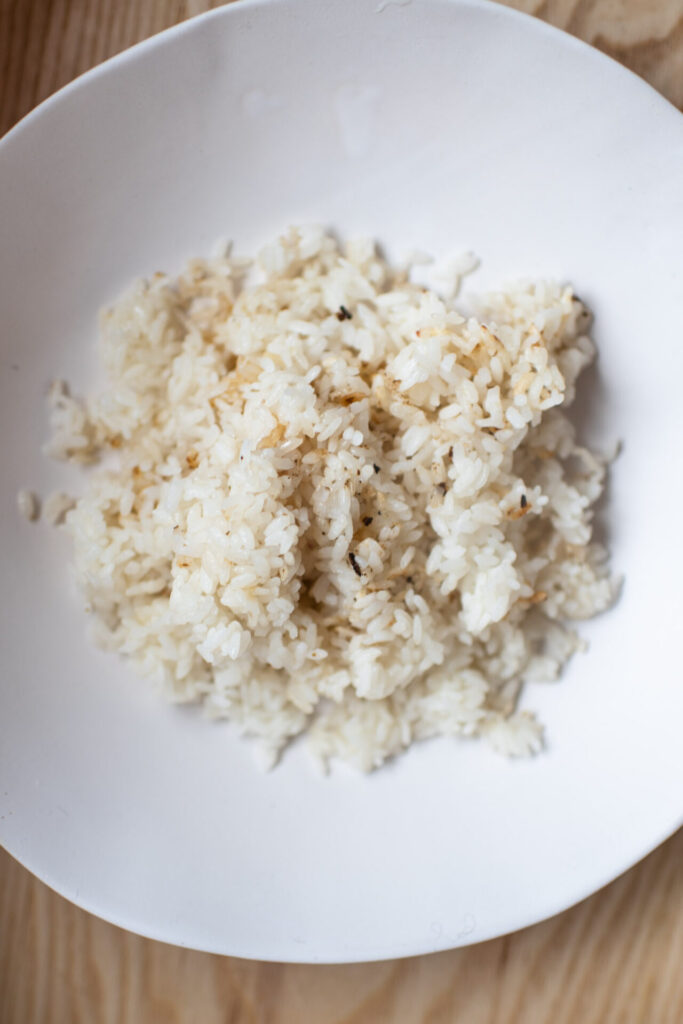 Since fish cooks up extremely quickly, it's important to start with a hot pan to get a good sear. I have a few more tips for you, so read on.
The Star Ingredient: Ahi Tuna
The best Ahi tuna steaks (also called Yellowfin) to look for are the ones that are fresh, not frozen. You want the really thick steaks, about 1 1/2- to 2-inches, because tuna is very lean and should ideally be served rare or medium-rare. While you can cook ahi tuna all the way through, it develops a tough, fall-apart texture that's reminiscent of canned tuna. I would only fully cook tuna if I was throwing together a leveled up tuna melt sandwich.
Now, let's say, you only have access to frozen tuna. You can still make this recipe, but be sure to completely defrost before attempting to cook it and realize that frozen ahi is often sold as a thinner cut and may cook a lot faster so you won't get as nice of a crust on the outside.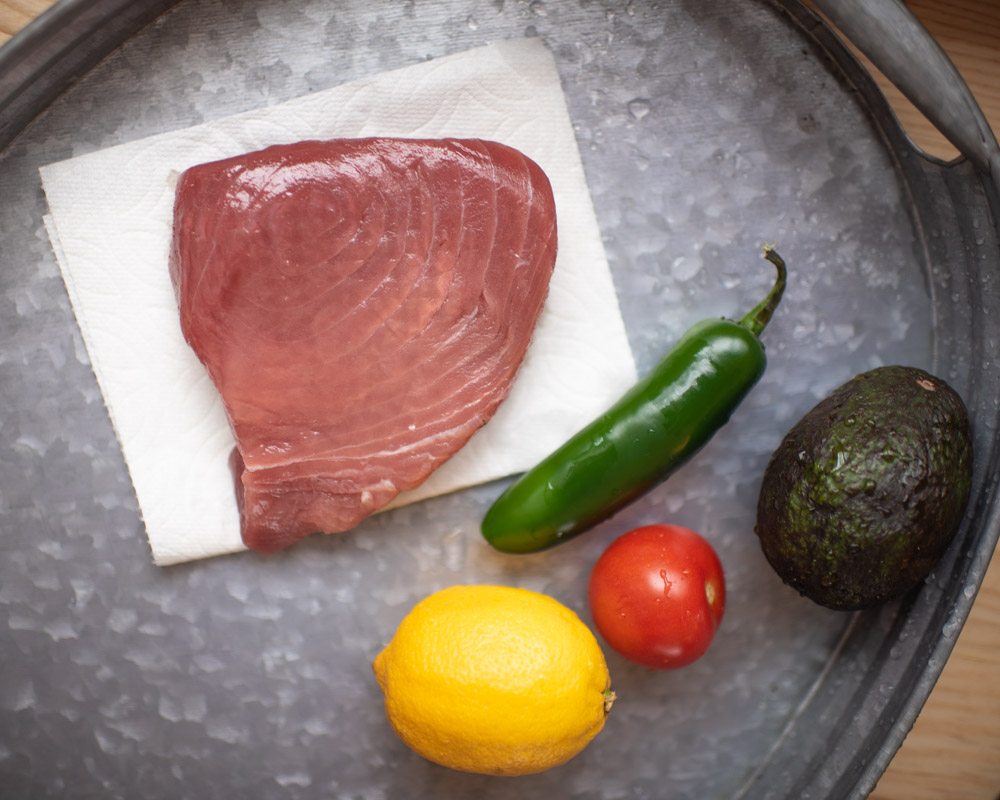 How to Cook a Tuna Steak in Just 6 Minutes
When working with tuna steak, like any fish really, you want to make sure the outside is totally dry. Pat with a paper towel then season right before cooking.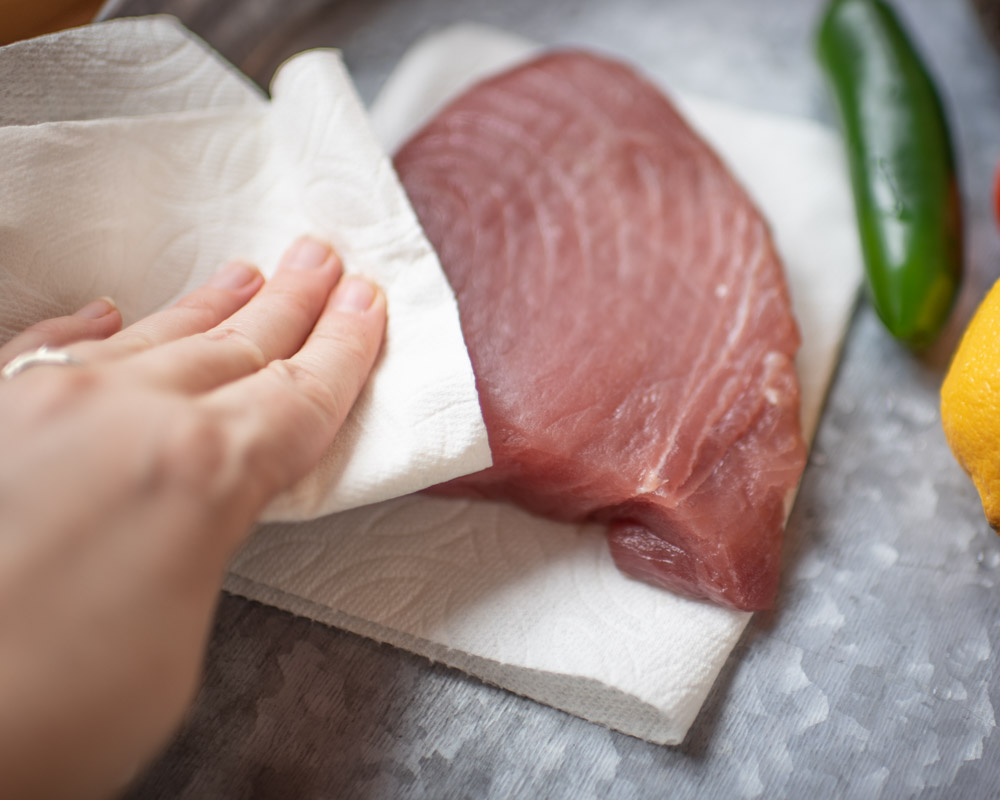 You will need a hot pan and enough olive oil to generously coat the pan. Here's how much salt and pepper I like to use to develop the best crust (see below image).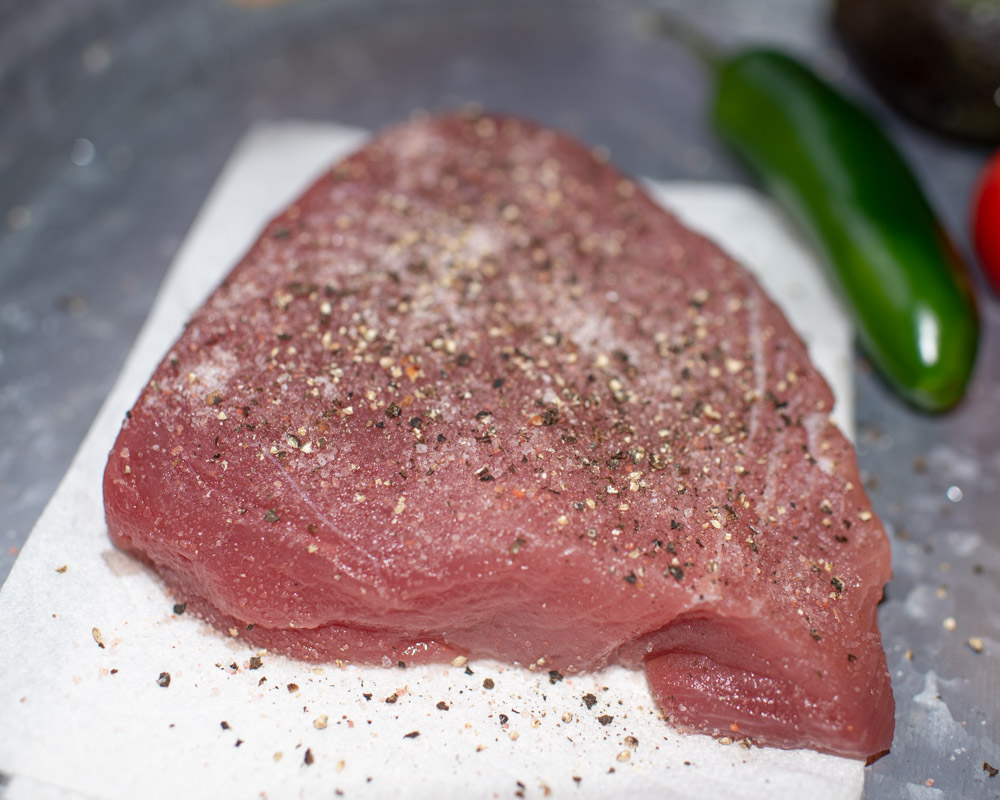 My best tip for achieving a golden sear AND a medium-rare center is to let the tuna be. Once it hits that hot oil, don't move it at all. Just let the heat work its magic. You can flip it over after about 2 to 3 minutes to do the other side.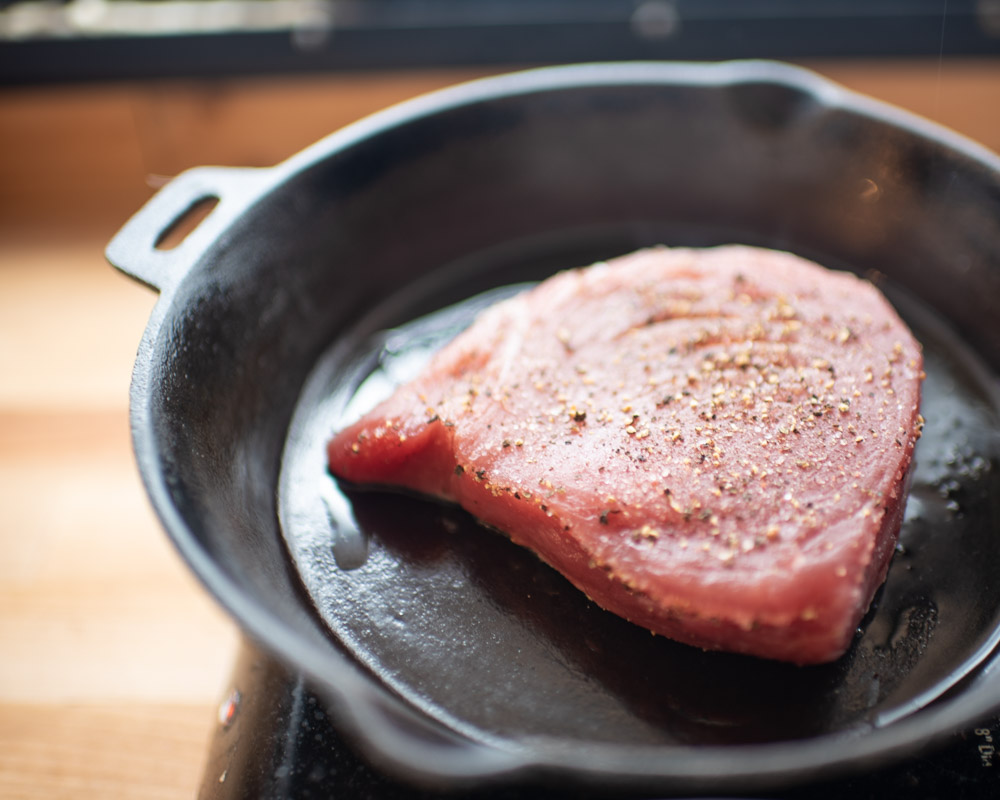 I'm showing you what the side of the tuna looks like after you sear one side. You can see that the pink starts to disappear around the edges. Don't worry, you should still have a pink center as long as you remove it to a cutting board as soon as you see that golden color.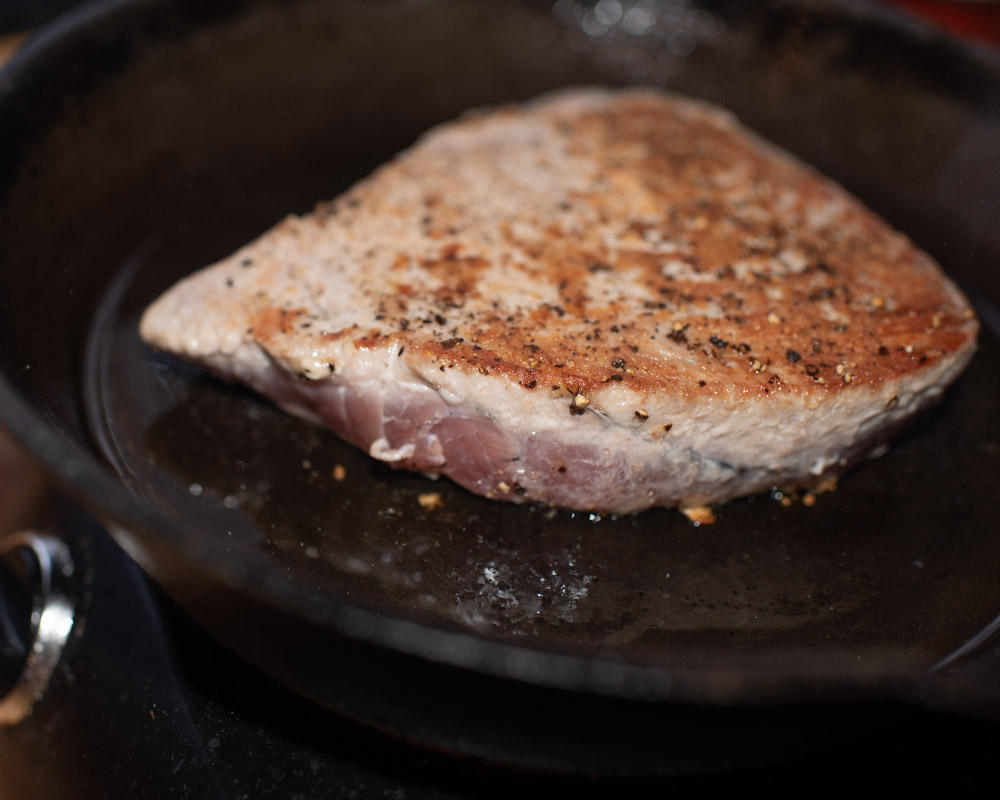 While the tuna rests, I like to reuse the same skillet to reheat the rice–there's some really good flavor in there.
Here's the technique: Spread the rice out, then let it be for at least 3 minutes or until you begin to smell a pleasant, toasty aroma. You should definitely see some gold color after you remove the rice.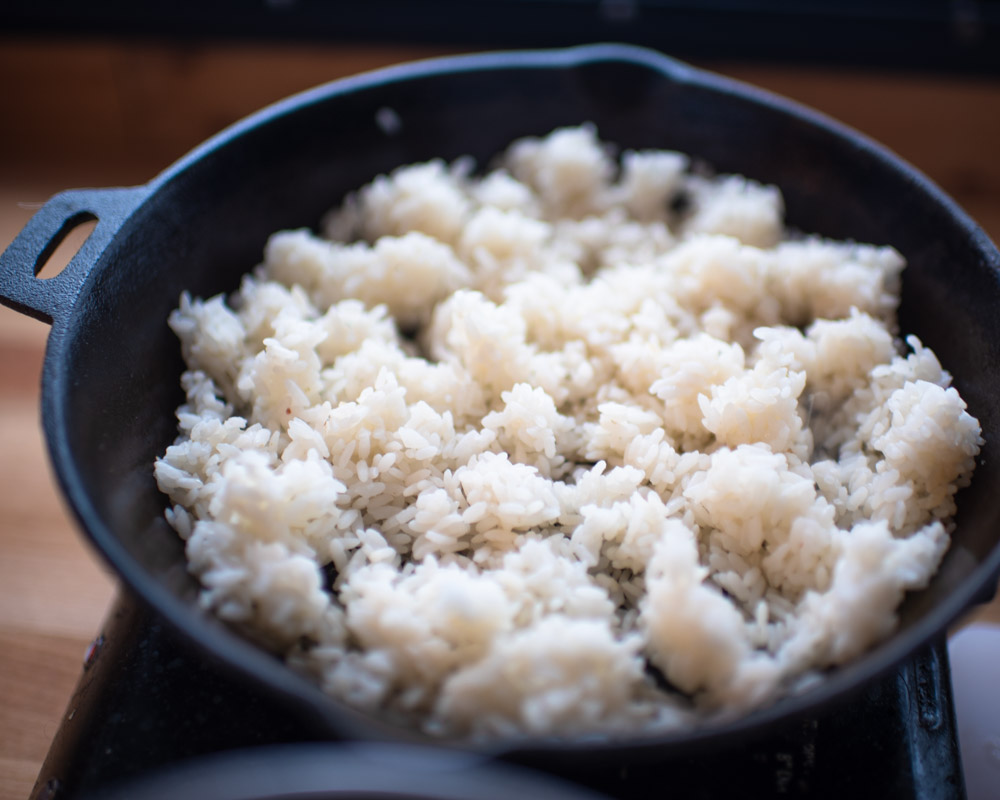 Slicing and Serving the Tuna in Bowls
To get the best texture, I like to slice the tuna really thickly so it holds together in strips. It's really a fun meal served in a bowl. I like to portion the rice in two bowls and lay the tuna on top. Then, I like to divide the salsa over top and add an extra spritz of fresh lemon juice.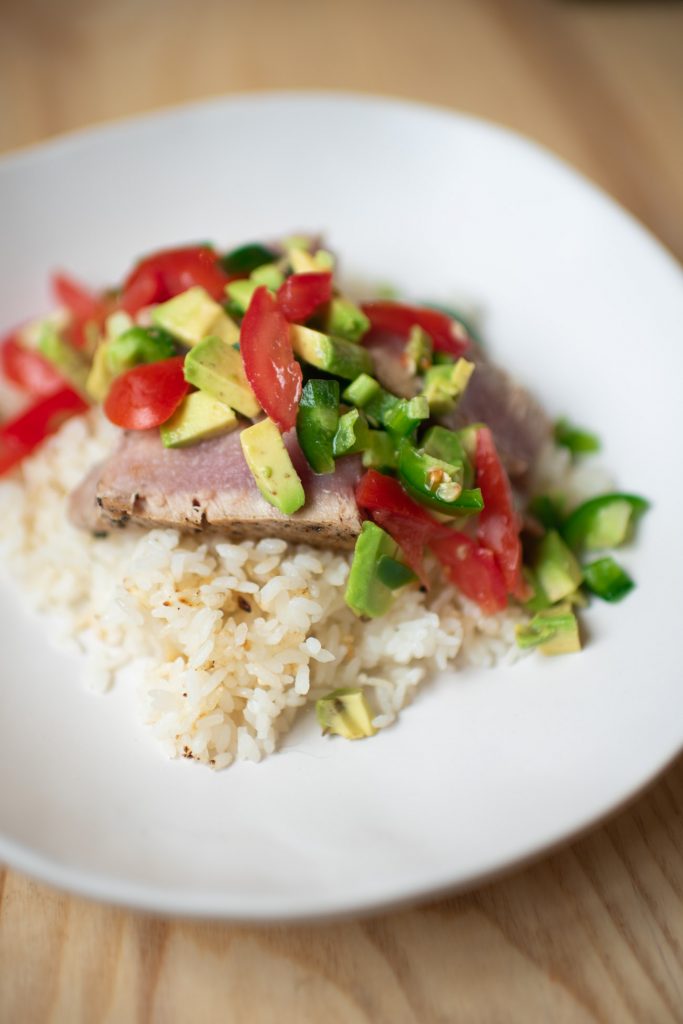 I hope you love the ease of preparation and the flavor of this American tuna recipe. Enjoy!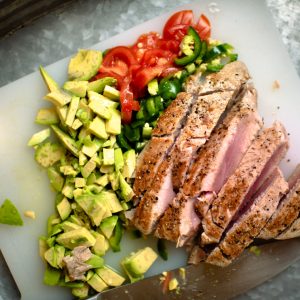 Pan-Seared Ahi Tuna with Crispy Rice
With fresh ahi tuna and a hot skillet, you are just 15 minutes away from a meal bursting with flavor. A quick salsa can be made to compliment the fish. Day-old rice rounds out the meal and can be prepared in the same skillet.
Print
Pin
Rate
Ingredients
1

ahi tuna steak

preferably fresh, not frozen

sea salt

freshly ground black pepper

2

tablespoons

olive oil

2

cups

cooked rice

1-2 days old

1

jalapeno

1

avocado

1

tomato

1

lemon
Instructions
Preheat a cast iron skillet over medium-heat. Pat the tuna steak dry with a paper towel. Season both sides with salt and pepper. Coat the hot skillet with olive oil and set the tuna steak in the pan. Do not move for at least 2 minutes to achieve a golden color or crust. Flip and cook 2 minutes to brown the other side. Immediately transfer to a cutting board to avoid over-cooking.

In the same skillet, add the "day-old" cooked rice. Spread it out but then do not stir at all. Allow it to cook undisturbed for at least 3 minutes. It's ready when you begin to smell a toasty, nutty aroma. Transfer the rice to a serving bowl.

On a cutting board, chop the jalapeno, avocado, and tomato to form a "cutting board salsa." Top with a spritz of lemon juice.

To serve the fish, cut it into thick slices and serve over top the crunchy rice. Top generously with salsa and season to taste with more lemon juice or salt.
Notes
Please see the post for complete notes regarding Ahi Tuna selection and step-by-step cooking process photos.
Nutrition
Serving:
1
bowl
|
Calories:
641
kcal
|
Carbohydrates:
61
g
|
Protein:
27
g
|
Fat:
34
g
|
Saturated Fat:
5
g
|
Polyunsaturated Fat:
5
g
|
Monounsaturated Fat:
22
g
|
Cholesterol:
32
mg
|
Sodium:
46
mg
|
Potassium:
995
mg
|
Fiber:
10
g
|
Sugar:
4
g
|
Vitamin A:
2602
IU
|
Vitamin C:
55
mg
|
Calcium:
56
mg
|
Iron:
2
mg