Never in a million years did I think I would make beignets as good as Cafe Du Monde. Well, I did.
Once fried, these beignets are chewy, puffy, pillows of perfection. They truly are irresistible by themselves, but I have a long-standing obsession with nutella, so I decided to stuff the hollow center. Gotta say, I'm an even bigger fan of these nutella-stuffed donuts and no longer feel that I have to go to New Orleans to get my beignet fix.
These puffy sweet treats do not come out of a box mix, and yet, they are really easy to make — Totally do-able for anyone willing to wait a bit for the dough to rise. After at least 2 hours, you can cut out the squares of dough and deep fry them in 4 batches. This is really easy to do in a Dutch oven or dedicated deep-fryer.
How to Make French Quarter Beignets
Step 1: Proof the yeast
This is where you combine dry yeast granules with warm water (not hot) and watch for bubbles or foam. It's ok if those bubbles are barely noticeable. You just want to make sure the yeast is alive before adding the flour because the soft, pillowy texture depends on those little guys.
Step 2: Form a sticky dough, knead it on the counter
I'm inclined to warn you that this dough is very sticky (that's normal). You can certainly add a bit of flour, but I don't recommend adding too much or it will affect the outcome.
Step 3: Let the dough rise for at least 2 hours
I like to grease a bowl with coconut oil and cover it with a clean kitchen cloth. You can turn the oven on for 1 minute, turn it off, and put the bowl in the oven (just make sure it's off).
Step 4: Cut into squares or rectangles
I recommend using either a bench scraper or pizza wheel for this. I've tried using a knife but find that it tears the dough.
Step 5: Preheat the oil and fry in batches
When deep-frying, maintain between 350 and 400 degrees F. Do not overload the fryer. Rather, work in batches of 5 or 6 pieces of dough at a time.
How to Stuff the Donuts with Nutella
What is the difference between a donut and a beignet?
Beignets are French style deep-fried donuts made from a sweet yeasted dough; they require time to rise and are often served plane with powdered sugar.
What can I use instead of half-and-half?
For beignets, I recommend a milk with a decent amount of fat for a really soft texture. Whole milk, half-and-half, or evaporated milk all work well.
What fry oil is good for beignets?
Refined coconut oil is really stable and will fry cleanly at about 365 degrees F. You can take the temperature as high as 400 degrees F (which is the point at which the oil smokes). You may substitute canola oil or vegetable oil instead.
How to use a tester instead of a thermometer
A deep-fry pot thermometer is a great tool to have for frying, but you don't need one. You can pinch off a piece of dough before frying; add the "tester" to the oil and see what happens. The oil is ready for the first batch when the tester floats, bubbles form, and it turns golden.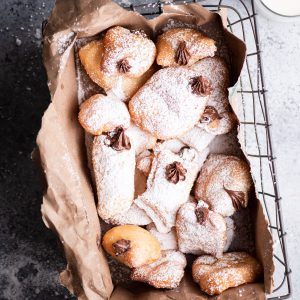 Nutella Stuffed Beignets (French Donuts)
It's pure joy to bite into these New Orleans style beignets to find warm hazelnut and chocolate goo. These nutella stuffed donuts are light and chewy and every bit as spectacular as the beignets I had in the French Quarter. This recipe yields 24 rectangular beignets; they expand quite a bit as they fry.
Print
Pin
Rate
Ingredients
For the Beignet Dough
½

cup

lukewarm water

90 to 115℉

3

tablespoons

cane sugar

1

teaspoon

active dry yeast

1

large

egg

½

teaspoon

sea salt

3

tablespoons

half-and-half

2 ⅓

cup

bread flour

plus extra for dusting

1

tablespoon

refined coconut oil
For Frying and Serving
4

cups

refined coconut oil

for frying

1/4

cup

powdered sugar

1/2

tsp

cinnamon powder

optional

1/2

cup

nutella
Instructions
Make the Beignet Dough
In a medium bowl, stir the lukewarm water with the sugar and yeast. Wait until you see tiny bubbles forming (this is proofing the yeast and takes about 5 minutes).

To the yeast mixture, add the egg, salt, and half-and-half. Stir, then add the flour and 1 tablespoon coconut oil. Stir well to form a very sticky dough.

Dust the counter with flour and knead the dough for several minutes, adding a bit of flour only if necessary, until the surface becomes smooth, about 5 minutes. Grease a bowl and set the dough inside. Cover with plastic wrap and let rise in a warm place until doubled in size, about 2 hours.
Frying and Serving the Beignets with Nutella Stuffing
Preheat the refined coconut oil in a dedicated fryer or Dutch oven over medium heat to 365°F.

Roll the dough into a rectangular shape approximately ¼-inch thick; cut into rows, then rectangles forming about 24 little rectangles. Fry 5 to 6 pieces of dough at a time, turning constantly until golden with a spider, tongs, or slotted spoon. Transfer to a plate lined with paper towels.

Fill a piping bag with nutella; poke a hole in each beignet using the metal tip and squeeze to fill each donut with nutella. Dust the beignets with powdered sugar (and cinnamon, optional) and enjoy with coffee, if desired.
Nutrition
Calories:
132
kcal
|
Carbohydrates:
16
g
|
Protein:
2
g
|
Fat:
7
g
|
Saturated Fat:
6
g
|
Cholesterol:
9
mg
|
Sodium:
56
mg
|
Potassium:
48
mg
|
Fiber:
1
g
|
Sugar:
6
g
|
Vitamin A:
19
IU
|
Calcium:
12
mg
|
Iron:
1
mg
Some of the links on this page are affiliate links, which may pay me a small commission for my referral at no extra cost to you!