This 4-ingredient salted caramel sauce is foolproof, takes 10 minutes to make, and is irresistibly buttery.
Put it in your coffee, pour it over your apple pancakes, or lick it off a spoon. Just know that you will soon be having a blissful caramel moment.
Look, I know caramel can be intimidating. That's exactly why I'm making it as approachable as possible with clear instructions and step-by-step photos.
Simply follow along (no candy thermometer required), and you'll soon see what all the fuss is about. Nothing beats homemade warm and gooey salted caramel mmm-k?
The Dreaded Sugar Melting Phase
Everybody's least favorite part: watching the sugar do unpredictable things. Let's just skip the misleading time estimates, shall we? Sugar melts at drastically different rates, anywhere from 2 to 15 minutes, depending on moisture.
So, don't feel bad if you don't see anything happening. Simply wait patiently until you do. Every once in a while, peer into the pot, and look for a puddle of liquid sugar forming along the bottom.
Once you see areas where the sugar is melting, begin to stir with a heat proof spatula or wooden spoon until it goes from clumps to thick brown, amber-colored liquid.
The Bubbly Butter Phase
As soon as the sugar is completely melted, you've basically made caramel. Congratulations! The reason we add the butter and cream is to maintain a pour-able sauce consistency that won't harden.
It's important to use your eyes for this next part. Watch the color transform from clear to dark amber before adding the butter.
Technique Tip: The longer you cook the melted sugar, the more intense the caramel flavor. Just be sure to avoid burning.
When you like the color, it's time to halt the caramelization process. Add the butter and stir vigorously to combine. It will appear separated, but just keep stirring and it will come together.
The Cream Phase
Just after adding the butter and stirring, you will add the heavy cream. Very slowly, drizzle the cream while stirring. Since the cream is colder than the caramel, it will bubble rapidly at first.
To finish the sauce, add a generous pinch of sea salt and allow to cool before tasting.
Ways to Serve This Caramel Sauce Recipe
The possibilities with this caramel sauce are limitless.
For an instant snack, try serving the sauce as a dip for sliced apple or make a caramel apple sundae. If you have a little more time on your hands, use this sauce as a garnish for apple pie bars (pictured below) or swirl into wedding cake frosting for cupcakes.
A Thin Consistency
Just to prepare you, this caramel recipe is meant to have a liquid consistency (that's why there's a bunch of butter and cream). If you refrigerate it, it may thicken slightly, but you can thin it back out by warming it back up.
If you're looking for a caramel that hardens and can be pulverized into caramel powder, check out this recipe.
AND…for those of you looking to make caramel apples (my favorite Halloween treat), you'll want to reduce the amount of butter to 2 tablespoons and only add 2 tablespoons cream for a thicker consistency.
Best Salt for Homemade Caramel Sauce
Salt and caramel are best buds dontchaknow? So, which salt is best?
I prefer the subtle flavor of Celtic sea salt, an all-around fantastic finishing salt that dissolves quite well. Basically, avoid table salt, which contains iodine and can be bitter but feel free to use Kosher, Himalayan pink salt, or fine sea salt.
If you want a standard caramel sauce (without a salty flavor), you should start with 1/2 teaspoon salt — you can always add more.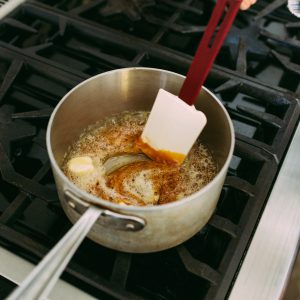 Easy Homemade Caramel Sauce
You need 4 ingredients to make unbelievably rich and buttery caramel sauce: sugar, butter, cream, and salt.
Print
Pin
Rate
Servings:
16
people (yield: 1 cup)
Ingredients
1

cup

granulated sugar

6

tablespoons

room temperature butter

salted or unsalted, cut into chunks

1/2

cup

heavy cream

1

teaspoon

sea salt
Instructions
Caramelize the sugar. In a medium saucepan over medium heat, begin to heat the sugar without stirring. Very slowly, the sugar will begin to pool at the bottom. Stir with a heat-proof spatula or wooden spoon until it melts into a clear liquid. Once the sugar dissolves, cook for about 3 minutes; the sugar will develop a delicious caramel aroma and amber color. Immediately, turn off the heat and add the butter.

Stir in the butter. While stirring constantly, let the butter melt into the sugar until you have a smooth, unified sauce.

Stir in the heavy cream. Slowly, pour the heavy cream in a steady stream while stirring; be careful, it will bubble a lot at first. Stir in the salt, and let the sauce cool completely before tasting. Refrigerate the caramel in a sealed mason jar for up to 1 month. It will thicken as it cools, so you may need to warm it before each use.
Notes
Sugar: White granulated or evaporated cane crystals work best. You definitely don't want to try this recipe with brown sugar.
Salt: Any non-idodized sea salt will work for this recipe. If you want to reduce the saltiness, simply start by adding 1 pinch; it's easy to add more but impossible to take away.
Caramel Candies or Candy Apples: The amount of butter and cream in this recipe keeps it at a pour-able sauce consistency. If you need something thicker that will set, you must reduce the amount of butter and cream drastically.
Nutrition
Serving:
1
tablespoon
|
Calories:
112
kcal
|
Carbohydrates:
13
g
|
Protein:
1
g
|
Fat:
7
g
|
Saturated Fat:
4
g
|
Cholesterol:
21
mg
|
Sodium:
186
mg
|
Potassium:
6
mg
|
Sugar:
12
g
|
Vitamin A:
241
IU
|
Calcium:
6
mg
Some of the links on this page are affiliate links, which may pay me a small commission for my referral at no extra cost to you!