Step aside green bean casserole. There's a new game in town and it's more colorful and flavorful than you.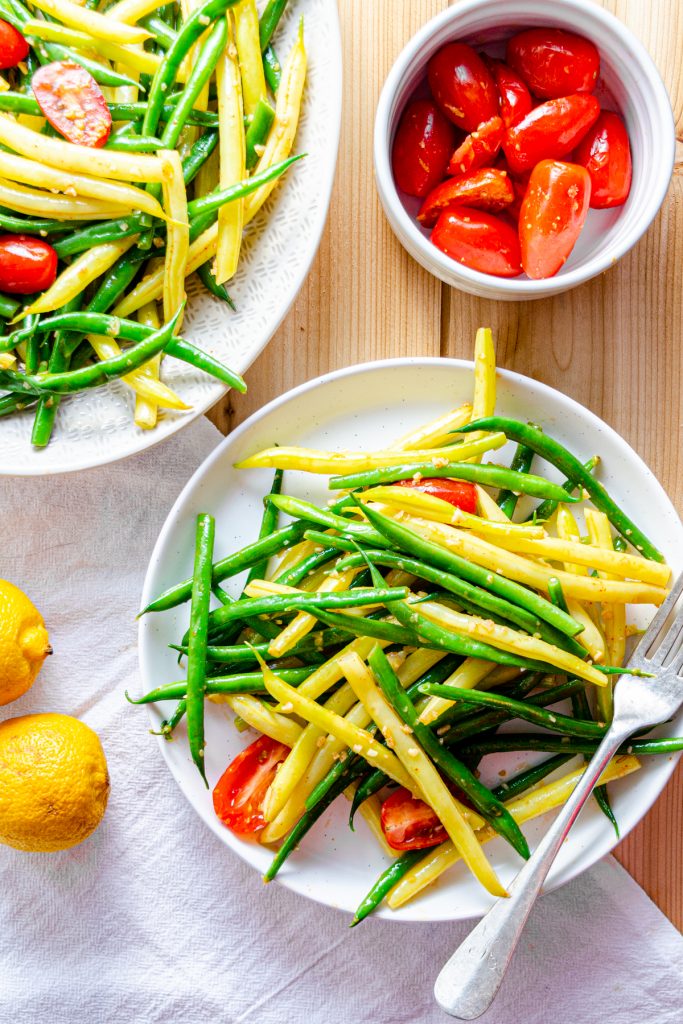 These waxy beans get salt-boiled and drenched in a fresh garlic marinade and practically pop off the plate. It's a lightening fast way to serve green or yellow string beans as a side dish or salad arrangement. Oh, the possibilities!
In terms of ingredients, there's a salivating line-up of fresh garlic, apple cider vinegar, olive oil, and cayenne powder in the vinaigrette so there's every incentive to eat a lot of these.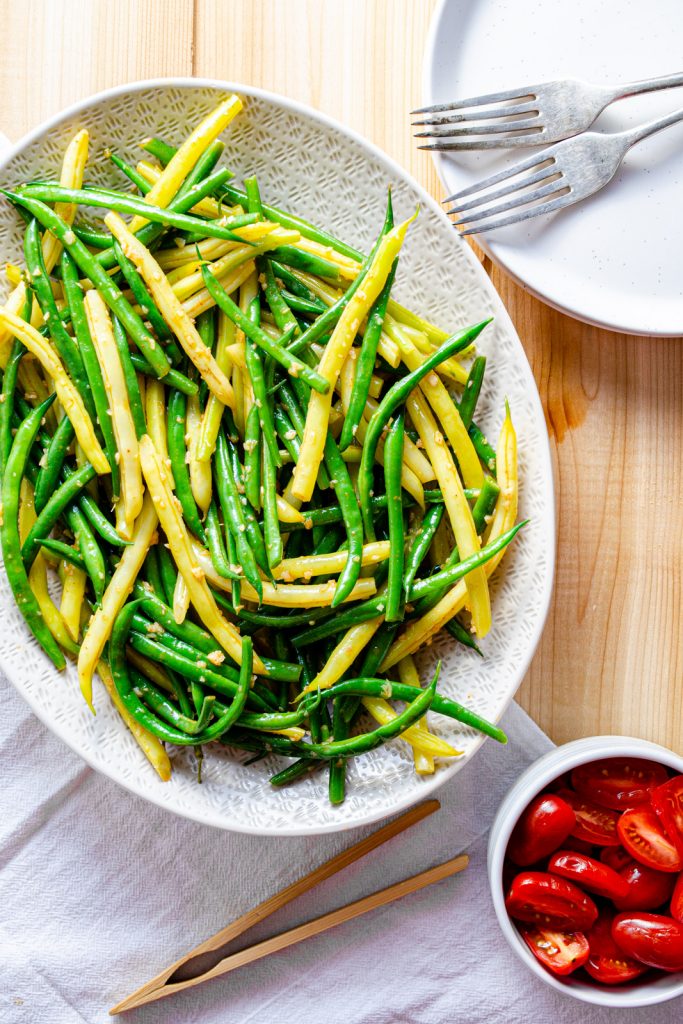 If you've ever worked with green beans, you know they simply repel seasoning.
Well, I have a trick for you. You have to toss them in a strongly flavored vinaigrette WHILE warm. This is key. They actually take on more flavor this way, and they can sit for hours (even overnight) without getting mushy.
You know, I'd actually like to touch on a subject that doesn't come up nearly often enough. This recipe is a great way to connect with yourself in the kitchen. It's tactile and aromatic. Plus, there's something satisfying about pinching the stems off with your fingers over a prep bowl. A minor point, but not insignificant.
P.S. My second favorite way to eat them? Fermented. If you have extra green beans, you should definitely try making Dilly Beans because they are a great pantry staple to have on hand for snacking.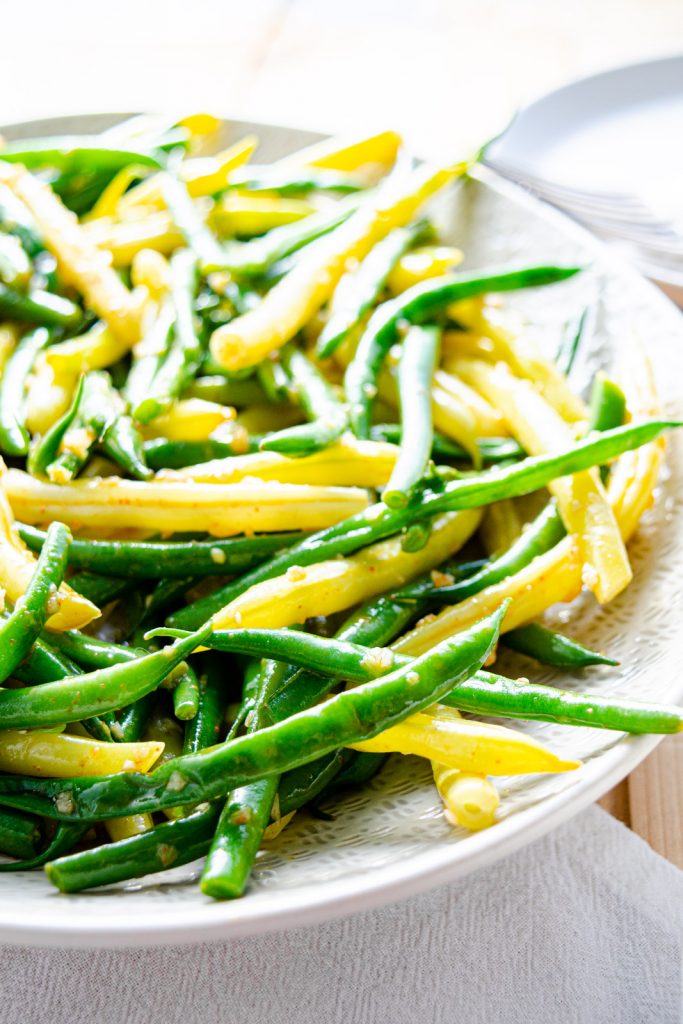 Even if you're a green bean first-timer, this recipe won't give you any trouble, and you can see the steps below. Let's go!
How to Make this Yellow and Green Bean Salad
Ok. You get to make a decision. Do you want to serve these legumes whole or cut in half? It's personal preference, but I like how 2-inch pieces fit on a fork.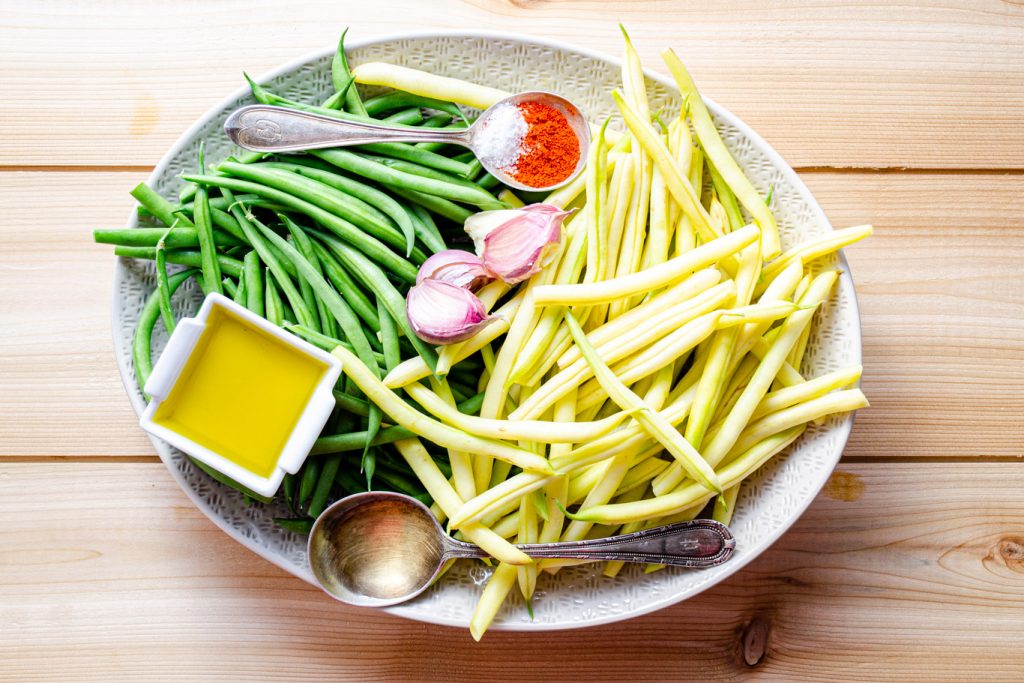 While you're pinching off the stems (those tough parts that may or may not be on the end of each bean), you can bring a large pot of water to a rapid boil. Be sure to generously salt the water. In other words, about 3 large pinches of salt.
Dump the beans in the boiling water all at once and after about 4 minutes, pour them into a colander set inside the sink.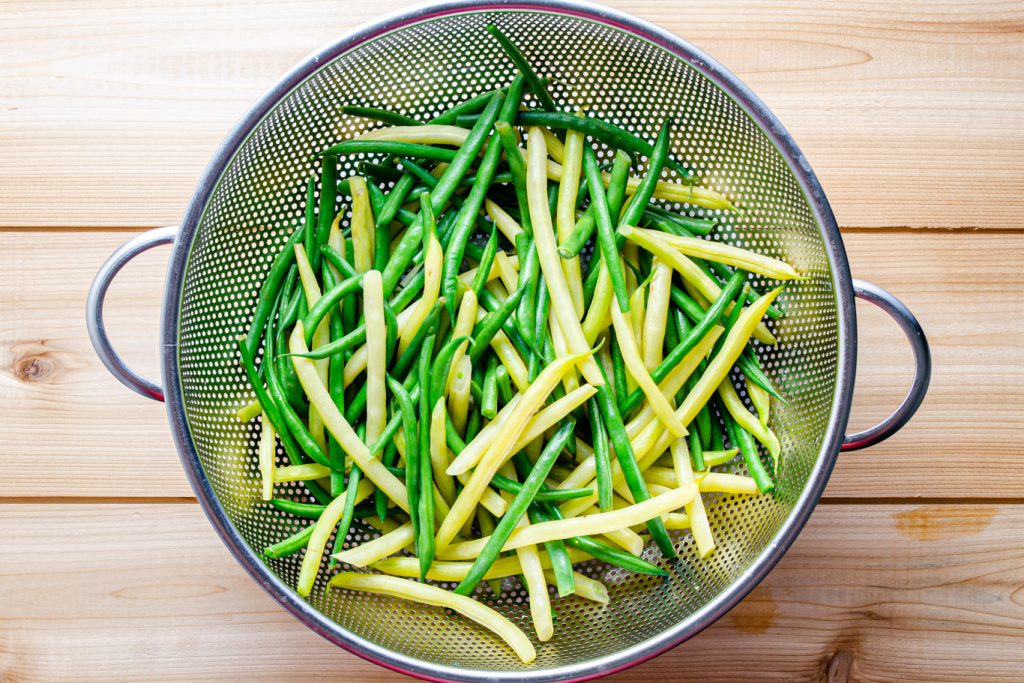 Make the yummy marinade. Combine the smashed, minced garlic, apple cider vinegar, olive oil, and cayenne powder.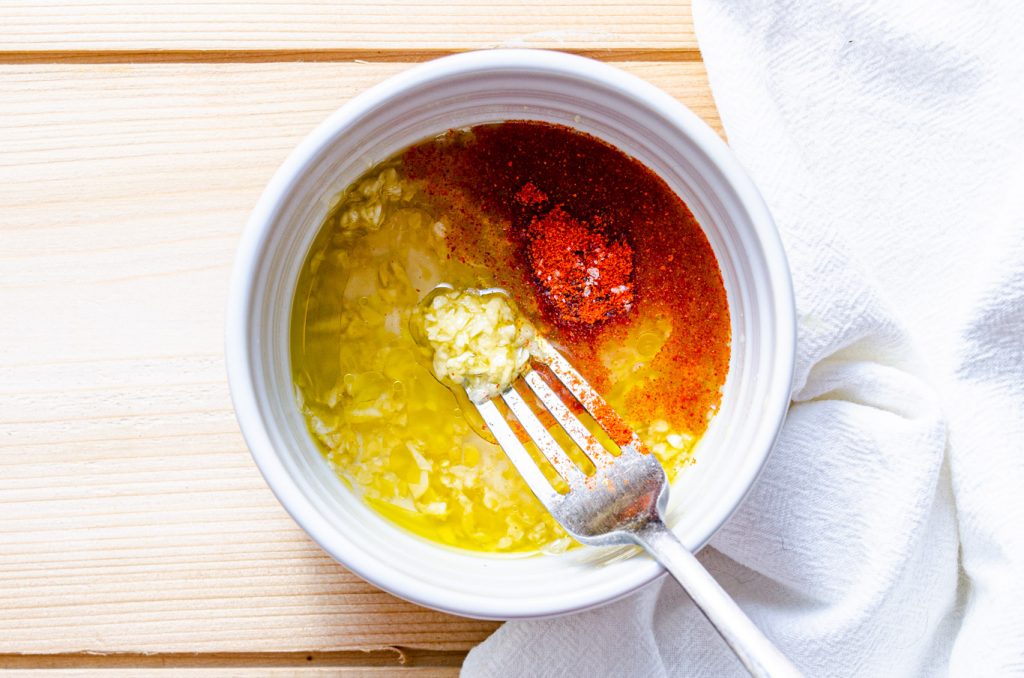 Toss the warm, strained green beans with the marinade using tongs to coat. Allow them to sit for about 20 minutes to let the flavors develop.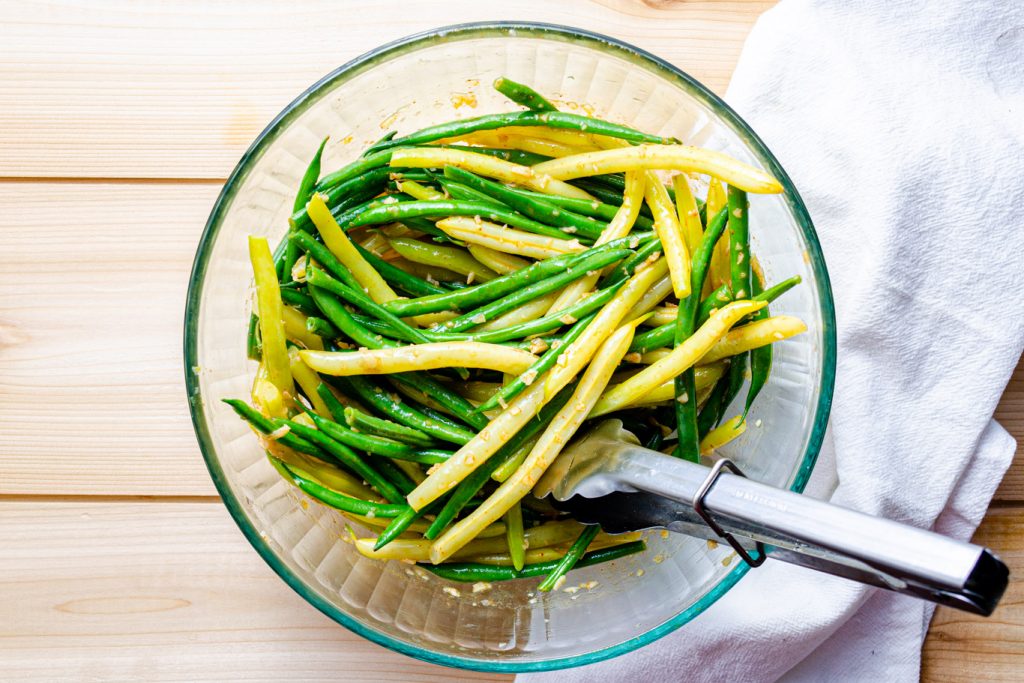 Pop a bean in your mouth and adjust for salt. You may or may not need more depending on how much you salted the water.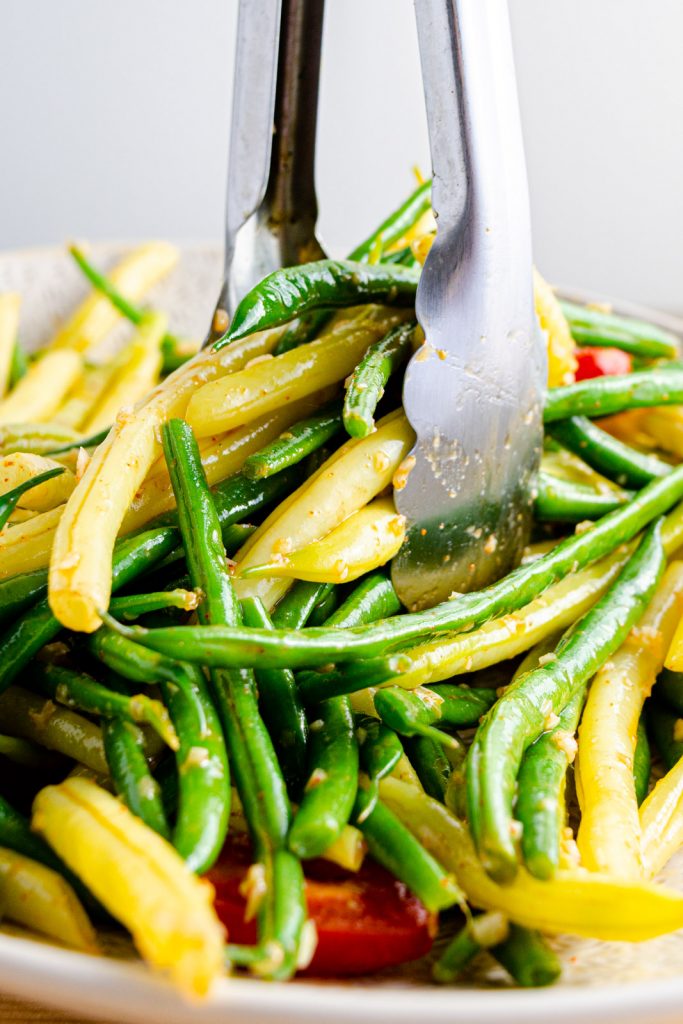 Serve at room temperature.
What to Serve With A Green Bean Side Dish
Serve as a side dish as-is or a salad by mixing in cherry tomatoes or anything, really.
Anything savory (so, any meat dish) is a great accompaniment. Green beans are a nice seasonal side for a summer barbecue and you can even find them fresh in the store up to Thanksgiving.
Here are a side dish ideas: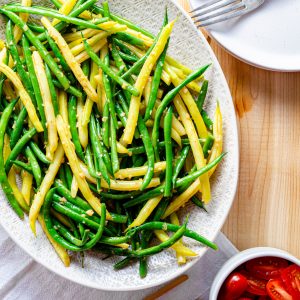 Garlicky Green Bean Salad
This green bean recipe uses fresh green beans and garlic, so this side is really fresh, flavorful, and healthy. If you're in a hurry, you can keep the green beans whole, as I have done or you can break them in half (this size fits better on a fork). Feel free to add cherry tomatoes or use a combination of green and yellow beans for more visual interest.
Print
Pin
Rate
Ingredients
½

pound

yellow/wax beans

cut in half on diagonal

½

pound

string beans

cut in half on the diagonal

3

tablespoons

extra virgin olive oil

3

garlic cloves

smashed and minced

¼

teaspoon

sea salt

½

teaspoon

cayenne pepper

1

teaspoon

apple cider vinegar
Instructions
Boil the beans. Bring a medium pot of water to a boil. Add the beans and boil for 5 minutes. Pour over a colander set in the sink.

Toss and serve. Pour the olive oil, garlic, and salt into a small bowl. Mash the garlic well with a fork. Add the cayenne pepper and apple cider vinegar. Mix well then toss the dressing on the warm beans. Marinate 20 minutes. Serve with tongs.
Nutrition
Serving:
1
side
|
Calories:
115
kcal
|
Carbohydrates:
5
g
|
Protein:
1
g
|
Fat:
11
g
|
Saturated Fat:
1
g
|
Polyunsaturated Fat:
1
g
|
Monounsaturated Fat:
8
g
|
Sodium:
149
mg
|
Potassium:
135
mg
|
Fiber:
2
g
|
Sugar:
2
g
|
Vitamin A:
495
IU
|
Vitamin C:
8
mg
|
Calcium:
26
mg
|
Iron:
1
mg