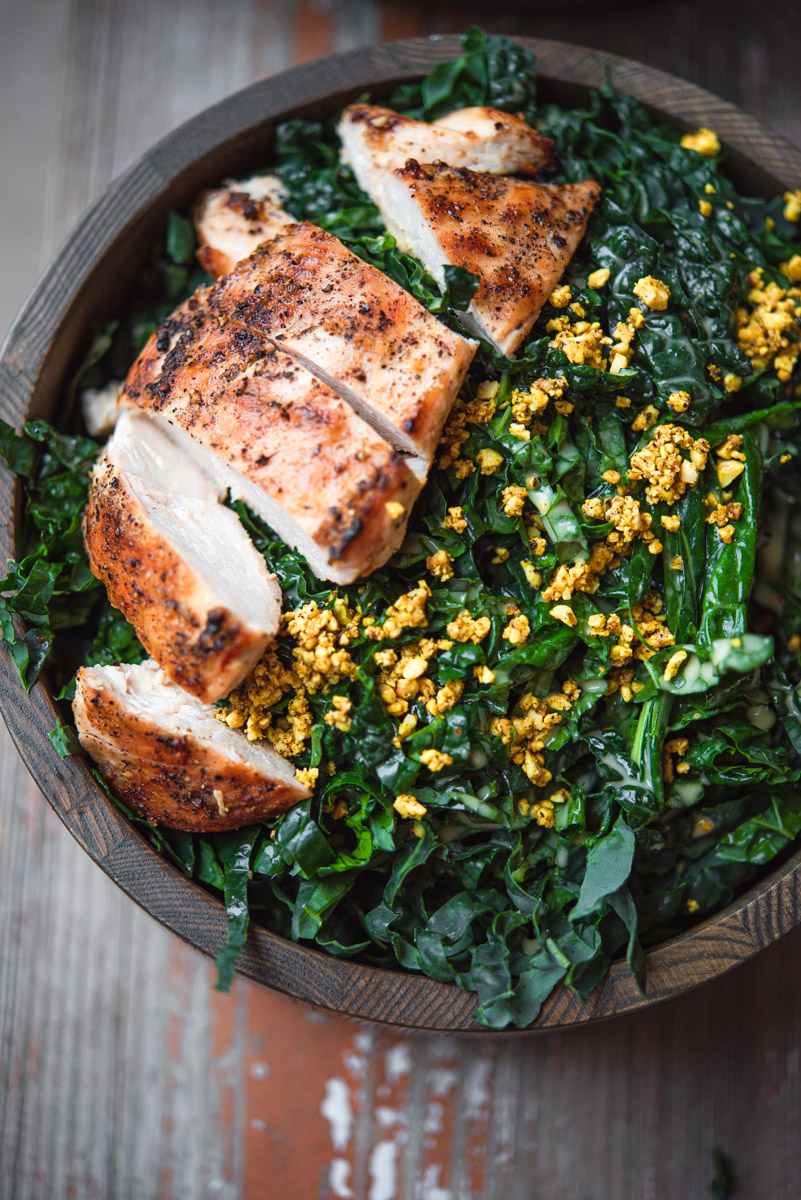 This kale salad can be prepared in a real hurry, where you cut corners. Been there, done that. BUT, if you have the time to carefully wash and dry the kale, chop it into thin little ribbons, and blend the dressing until smooth, it's transformative.
I'm a sucker for a fresh, clean salad and have been perfecting this lemony kale since my culinary school days. It's the only food I eat weekly that hasn't become tiresome. As you can imagine, many variations have emerged with time and practice, and I'm sharing every little kale detail with you today.
After a bazillion renditions, let's just say the turmeric cashew crumble is where it's at. It's pure gold. This full of life and lemon and turmeric salad is the kind of good that gets me really emotional, the way that only the minority of great food ever can. You'll want to savor every last bite and then you'll want it again and again and again.
Tuscan Kale Salad Components
This salad is quite simply chopped kale, ground cashews, and chicken on steroids. It may be a salad, but it's flavor upon texture upon flavor. Let's break it down.
Toasting Cashews: a dairy free, gluten free alternative to cheese and breadcrumbs
If you've never tried toasting your own cashews, I have a little short-cut for you. By grinding the cashews first, you can quickly toast them in a skillet (no oven required). I used to make this recipe with Pecorino Romano and breadcrumbs, but I vastly prefer the punchy flavor of the turmeric.
It adds a savory dimension of ginger umami (that 5th taste) every few bites that entirely compliments the lemon garlic dressing, and it's positively magnificent. So, I say, skip the croutons and embrace this fabulous turmeric cashew topping which (side note) reduces inflammation, is gluten free, dairy free, and paleo (even AIP).
Which kale to buy – the ins, the outs, the what-have-yous
Meet the flat kale of many names. This dark green variety goes by Lacinato, Dinosaur or Tuscan, has a hearty texture, and needs a nice acidic dressing (enter my essential lemon garlic sauce). My culinary instructor would disagree, but I maintain that raw kale can be palatable … provided, its tough, chewy texture and bitterness yields to a salty massage.
When it comes to kale, splurge for organic. Leafy greens are notorious for making the dirty dozen list, and we certainly don't need pesticides with our liver detox salad.
How to Remove the Stems and Get Perfectly Thin Strips
For best results, you should take the time to slice along the stem with the tip of your knife. Compost or juice the fibrous stems. Stack the leaves into a neat pile and slice as thinly as you can. You can even fold the leaves lengthwise for a nice manageable stack.
Please note that if the leaves are wet, the dressing won't have anything to cling to. You can (and should) blot with a clean cloth to wick away moisture. Of course, you can also bust out the salad spinner.
How long to grill chicken (and keep it juicy!)
Grill each side of the chicken breast for 5-7 minutes over medium heat with the lid closed.
Avoid moving the chicken to develop a crust.
A simple salt – pepper – olive oil seasoning is all you need for flavorful chicken.
I like to plan for 1 breast per person or about 6 ounces.
Pounding the chicken with a meat mallet is a great way to tenderize the meat and helps to create a flat surface area for even cooking.
Want to know the secret to really tender, juicy chicken? Let it rest. Only cut into the chicken (straight up and down please, no diagonal cuts) after it sits on the cutting board for a few minutes. Follow these tips and you will get restaurant quality results every time.
Making Raw Kale Palatable
With kale, it's important to toss with dressing several minutes before serving so the leaves have time to relax. You can massage by hand or spread around with tongs. Feel free to let it sit while working on the other components of the recipe (or even overnight).
Since the already salted essential lemon garlic sauce breaks down the cell structure of the kale, you'll notice that water releases and pools in the bottom of the bowl. Really roll the kale in the bottom of the bowl to sop up extra dressing just before plating.
Grinding and Toasting the Cashews – A Lesson in Using Your Nose
There are several ways to achieve the ground cashew effect. You can chop the raw cashews with a knife (a tad laborious) or grind with a mortar and pestle (easy peasy). It just takes a couple minutes to toast the cashews in a skillet. Once the nutty aroma is released into the air and the cashews glisten with their own oil, you can season with turmeric powder. Give it a good stir to disperse, then douse the salad with all that toasty goodness.
Storage Tips and Clever Meal Prep
Kale: Once dressed, you can store the kale in the fridge overnight. It will still be perfect the next day. For extended shelf life or pack-able lunches, store the dressing separately from the kale until ready to serve. You could easily massage the kale and dressing together in a plastic bag or shake around in a container.
Chicken: You can grill as much chicken as you want and store in the fridge for up to 3 days.
Cashews: The cashew topping can be stored at room temperature or refrigerated for up to 1 week. This is a great make-ahead type recipe, and you won't be sorry if you double it!
Pro Tips for Working with Tuscan Kale
submerge in a large bowl to remove dirt or bugs and really dry the kale
use very fresh and green organic kale (discard any sections that may have turned yellow)
discard the stems and cut into thin strips about 1/4 – inch wide
fold or stack the leaves for efficiency and use a large cutting board
Use a blender when making the essential lemon garlic sauce for a smooth dressing with evenly dispersed flavor
Toss the kale with the dressing repeatedly and especially just before serving
Rubbed kale shrinks in size so aim for 2 bunches per 3 – 4 servings
I realize a kale salad does not require all this narrative, but I don't want to make any assumptions about you. Maybe you've never worked with kale. Maybe you have. Either way, I hope you love this kale salad and come back for more seasonal, healthy recipes, like this smoked salmon with lemon dill dressing, colorful winter fruit salad, and crunchy cabbage fennel salad.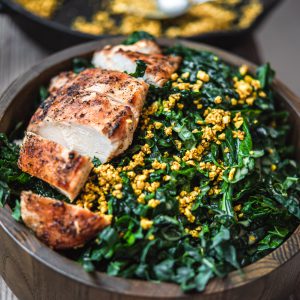 Tuscan Kale Salad with Grilled Chicken
This fresh, simple kale salad is pure gold. Tuscan (Lacinato) kale ribbons get coated with a bright lemon dressing & doused with turmeric-spiced cashews. Gluten free, paleo (AIP), dairy free, vegan optional.
Print
Pin
Rate
Ingredients
1

recipe

essential lemon garlic sauce

2

bunches

organic Lacinato (Tuscan) kale

4

chicken breasts

olive oil

as needed

salt and pepper

for seasoning

1/4

cup

raw cashews

1

tsp

turmeric powder

1/4

tsp

smoked paprika

optional
Instructions
Make the lemon garlic dressing in the blender (recipe linked above). Wash and dry the kale and remove the stems. Stack the leaves and fold in half lengthwise. Press down and cut into thin strips (about 1/4" wide). Toss into a bowl with the dressing and set aside.

Preheat the grill or a skillet over medium heat. Pat the chicken breasts dry with paper towel and pound lightly on both sides to tenderize with a meat mallet. Season front to back with salt and pepper and coat with olive oil. Lay the chicken breast directly on the grill. Cook without moving for 5-7 minutes, flip over and cook for 5-7 minutes or until cooked to 165°F. Remove and rest for 3 minutes before slicing.

Grind the cashews in a mortar and pestle or finely chop into a coarse crumble. Toast in a medium skillet over medium heat until aromatic, about 2-3 minutes. Add 1 teaspoon olive oil, turmeric and smoked paprika and stir in a pinch of salt. Remove from heat.

Swirl the kale to really coat it generously with the lemon dressing that sunk to the bottom. Serve with sliced chicken and a sprinkle of toasted cashews.
Nutrition
Calories:
398
kcal
|
Carbohydrates:
15
g
|
Protein:
55
g
|
Fat:
11
g
|
Saturated Fat:
2
g
|
Cholesterol:
145
mg
|
Sodium:
315
mg
|
Potassium:
1565
mg
|
Fiber:
1
g
|
Sugar:
1
g
|
Vitamin A:
13616
IU
|
Vitamin C:
165
mg
|
Calcium:
217
mg
|
Iron:
4
mg
Some of the links on this page are affiliate links, which may pay me a small commission for my referral at no extra cost to you!