When it comes to Cuban pork shoulder, I'm like a greedy trick or treater, always taking more than my fair share. That's probably the real reason why I cooked not one, but two, pork shoulders today.
You see, the internet is full of highly rated recipes for Cuban pork shoulder, but I couldn't make a decision about roasting or slow cooking based on photos alone.
My curiosity got the better of me, and I asked the butcher to split a nine pound pork shoulder right down the middle. Knowing that the marinade is where it's at anyway, I treated both pieces with all those yummy Cuban flavors.
Then I did a side-by-side comparison of the two methods; I'm sharing all the juicy details with you today so hopefully you can make an informed decision.
Method 1: Crockpot, Low, 8 hours
Method 2: Oven, High for 30 minutes, Lower 1 hour 30 minutes
But first…
We gotta talk about the signature Cuban marinade!
Mojo Criollo: Pork Marinade
Mojo (mo-ho) is a staple marinade and sauce in Latin cuisine. It is an absolute must when marinading Cuban pork for making cubanos. It even doubles as a dipping sauce for yuca fritas aka cassava fries.
To make mojo criollo, you need loads of garlic, sour oranges, herbs, and spices. Since sour oranges are a rare ingredient, you can swap in a sweet and sour combo of orange and lime juice instead.
If using mojo as a dipping sauce, I typically like to cook the garlic in oil (an infusion) before mixing with the other ingredients and then blend everything into a smooth consistency. These two steps aren't necessary when using mojo as a marinade.

Better Marinading Hacks
My number one take-away is to get the marinade to penetrate deeper into the meat. Pork shoulder is wrapped in a thick layer of fat (and sometimes skin). There's no way for the marinade to get down under all that fat, so we use a sharp knife to cut just past the fat layer. You can cut in straight lines or form a criss-cross pattern.
Or you could go all Dexter and use a knife to puncture around the entire pork shoulder. The idea with this is that the marinade is able to seep into the crevices. Whatever your choice, I recommend applying the marinade and allowing it to sit overnight or up to 24 hours for the best flavor.
Last but not least, wipe away all marinade bits before roasting. Garlic and fresh herbs just burn in the oven. I actually had to rotate out my pan because the drippings were starting to produce too much smoke.
Some of the links on this page are affiliate links, which may pay me a small commission for my referral at no extra cost to you!
Cooking Pork in the Crockpot or Oven Roasting
It was important to me to compare and contrast Cuban roast pork side-by-side with the crockpot version. I added the pork shoulder directly to the crockpot with a little bit of the marinade for moisture and let it do its thing for 8 hours on low (I love this programmable crockpot).
In terms of decision making. There was really only one, and it was staring me right in the face. Do I remove the skin for the crockpot version? I decided to remove it, and then threw a piece of skin in there separately to see what would happen.
What I learned is that it's very important to trim excess fat with the slow cooker version because that fat has nowhere else to go. That said, do not leave the skin on (if yours came with skin) because pork skin is really only good when it gets crispy — didn't happen with the crockpot.
vs.
Roast vs. Slow Cook: Side-by-Side Comparison
Big conclusion: You have got to get the marinade underneath all that fat to the meat below for the ultimate Cuban pork experience!
Pros +
good slice-able consistency, outside bark gets nice and crispy, skin-on renders!
Cons –
requires more babysitting, marinade (garlic & herbs) prone to burn during cooking

---
Pros +
convenient (leave it be), fall-apart texture, marinade doesn't burn

Cons –
not able to get crispy crust, skin-on pork doesn't render down

Color, Myoglobin, and Safety
A hotly debated and misunderstood topic has to do with the safety of eating pork with red juices. Many people assume red equals blood, but the red juices you see are called myoglobin, you can read all about it here.
The takeaway? Don't just rely on color alone to tell you if your pork is cooked properly. Always use a calibrated meat thermometer and cook pork at its deepest point to an internal temperature of 145°F – remember there's carry-over cooking so if you go all the way up to 160°F, you will have dry, bland pork.

Recap: How to Make Cuban Pork Shoulder
Whether you choose the crockpot method for convenience or the roast method for that wow factor, the pork will taste incredible. Start by making the mojo sauce so you can marinade the pork overnight. Then cook the pork in either the oven for 2 hours total (adjusting the temperature after 30 minutes) or go for that fall apart texture where it cooks for 8 hours.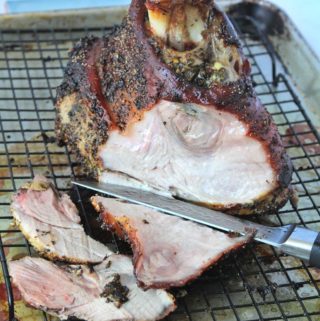 Cuban Pork Shoulder
Cuban pork is marinated overnight in a powerful mojo sauce then cooked until succulent and juicy. Recipe includes instructions for how to roast or cook pork shoulder in the crockpot. This pork tastes fantastic served with pickles, mustard, and swiss cubano style.

Print
Pin
Rate
Ingredients
3/4

cup

olive oil

extra virgin

1

cup

minced cilantro or parsley

1/4

cup

minced mint leaves

1

tbsp

orange zest

3/4

cup

fresh squeezed orange juice

1/2

cup

fresh lime juice

8

cloves

garlic

minced

1

tbsp

minced fresh oregano

2

tsp

ground cumin

1

tbsp

kosher salt

1

tbsp

red pepper flakes

3 1/2

pounds

boneless pork shoulder

or 4 1/2 pound bone-in pork shoulder
Instructions
Marinade the Pork
Combine all ingredients (except the pork shoulder) in a large bowl. Whisk to combine. Place the pork shoulder in a large plastic bag and pour the marinade over it. Refrigerate overnight.

How to Roast Cuban Pork Shoulder
Preheat oven to 425°F and place a metal rack over a sheet pan. Remove the pork shoulder and wipe away any pieces of garlic or herbs — they will burn. Discard the marinade. Season all over with salt and pepper and roast for 30 minutes.


Lower temperature to 375°F and flip the pork shoulder over. Continue to roast for 1 hour 30 minutes. Rest pork shoulder 30 minutes before slicing across the grain.

How to Cook Cuban Pork Shoulder in the Crockpot or Slow Cooker
Remove pork from marinade and trim away any excess fat. Season with salt and pepper and place in the slow cooker along with about 1 cup of the marinade. Cook on the "low" setting for 8 hours. Allow meat to rest for 30 minutes before slicing across the grain.

Notes
Cuban Marinade aka Mojo (mo-ho) – a traditional cuban mojo sauce is made of oil, garlic, and sour oranges. If you live in Florida, you can find sour oranges easily. For the rest of us, we have to settle for a combination of orange juice and lime juice to create the signature sour orange effect.
---
Pork Shoulder – You may find pork shoulder with or without the bone. It's a little difficult to cut around the bone but will taste great either way. Pork is sometimes available with the skin on. Roasting? Go ahead and leave (most) of the skin on. My overall recommendation is to remove 3/4 of the skin prior to marinading as this will allow more of the marinade to penetrate the meat. Using a crockpot? Remove the skin and trim away excess fat.
---
Chef's Tip – I wish I had scored the meat prior to marinading because more of the flavor would have penetrated through the thick skin-fat layer to the meat underneath it. To do this, cut in a criss-cross pattern every inch or so all the way through the fat layer. Then marinade, and you will have a beautiful cross-hatch effect + flavor all the way through.
*This side by side comparison was based on a roast pork recipe inspired by the movie Chef. You can find that recipe here.
Nutrition
Calories:
458
kcal
|
Carbohydrates:
6
g
|
Protein:
45
g
|
Fat:
27
g
|
Saturated Fat:
4
g
|
Cholesterol:
119
mg
|
Sodium:
999
mg
|
Potassium:
881
mg
|
Fiber:
1
g
|
Sugar:
2
g
|
Vitamin A:
560
IU
|
Vitamin C:
19.1
mg
|
Calcium:
47
mg
|
Iron:
2.8
mg
Thank you for being here! Did you make this recipe? Click on the star rating or leave a comment below. I'd love to hear how you got on. Connect with me @thefrayedapron on Instagram or Pinterest.