This deep dish pizza is easy to make and can be baked in either a Dutch oven or cast iron pan. You can use any cheese, pizza sauce, or topping with this recipe as a base; heck, you can even use store-bought pizza dough and follow the basic procedure.
Easy Spicy Sausage Sauce
For my pizza, I made a 5-minute sauce using fennel seeds, canned fire roasted crushed tomatoes, Farmer John pork sausage links, and Italian Calabrian peppers in oil.
Homemade Pizza Crust – Step by Step
There's nothing complicated about making pizza dough, but I've included a ton of process shots to show you what each stage should look like.
Best Temperature for Yeast and Best Pizza Dough Texture
You will need to dissolve active dry yeast into warm (not hot) water in order to proof the yeast*; use a robust dark honey if you can (but sugar works too). When working with yeast, the water temperature should be warmer than 90℉ but no hotter than 115 ℉.
Proofing is where you wait about 5 minutes to see if the yeast is alive. Tiny bubbles or foam form, especially when the yeast has a warm, sweet environment.
When you work with a lot of pizza dough, you eventually realize that less is more when it comes to flour. Your pizza dough should be very sticky at first, you can gradually mix in flour as you knead it, but aim for adding just enough extra flour to make it smooth, elastic, and only slightly sticky.
You'll notice that my dough is incredibly smooth; that's because a) I kneaded the heck out of it for 10 or 15 minutes and b) I like to stretch it repeatedly and tuck it under until I have a ball. The ball is the secret to getting a good rise.
You can do this step in the Dutch oven or a bowl, just be sure to cover the dough and move it to a warm (75℉) environment. It's also really important to coat the dough all over with olive oil to prevent any sections from drying out or developing a crust.
How to Tell When Pizza Dough is Ready
Check your dough after 30 minutes to check its size; you can see that my dough has doubled. Rather than rely on a clock to tell you your dough is ready, always go by it's size.
Chicago Style Variation
We associate deep dish pizza with Chicago, and their flaky, crunchy crust — sometimes stuffed, sometimes just layer upon layer of cheese, sauce, meat. This recipe has a small amount of olive oil, but if you want a true Chicago style deep dish pizza, I suggest replacing the olive oil with 3 tablespoons of softened unsalted butter. I would also recommend all-purpose flour and maybe replacing 1/2 cup with cornmeal flour.
Spicy Italian Sausage Sauce
Once you taste this homemade sauce, you won't want to use anything out of a jar. To start, you toast a few fennel seeds just until aromatic (30 seconds over medium heat). Once the smell of anise is wafting through the air, you add a glug of olive oil and begin to brown the sausage.
I went light on the sausage, but if you are a meat lover, feel free to add more.
As soon as the sausage is caramelized a bit, add the crushed tomato sauce and the spicy, sweet, tangy Calabrian peppers. I added 2 heaping teaspoons, and the pizza was between mild and moderate heat. Of course, add more if you like.
Non-spicy option: If you really can't tolerate spicy food, I have a work-around for you. Add a couple of strips of roasted bell pepper (chop them up first). I like to buy these from a jar in brine.
Forming a Deep Dish Pizza in a Dutch Oven
I recommend either a large 7-quart Dutch oven or large cast iron skillet for baking the crust because you need something to evenly distribute heat. If your Dutch oven is small to moderate in size, you can divide the dough in half. Cook each dough separately or reserve any extra dough in the fridge for up to 16 hours. Yes, you can even freeze pizza dough.
Line the pan with parchment; this is mistake #1, and I did not have an easy time removing my pizza. Spread the dough and press with your knuckles to push the edges up a bit to act as the crust.
Prebake the dough in a hot oven (I preheat my oven for at least 30 minutes and bake on the center rack). Layer the partially cooked dough with cheese then cover the cheese with sauce and toppings. Note that if you add a lot of toppings, particularly high-moisture vegetables, it will interfere with the cook time.
You don't have to pre-cook mushrooms, for example, but just be sure to leave plenty of room between the mushrooms to steam.
Best flour for pizza dough
I really like the chewy texture of bread flour, but you can substitute all-purpose flour, if you like. If you want a really crunchy texture, replace 1/2 cup flour with corn flour.
How to remove deep dish pizza
Straight out of the oven, let that hot, hot pizza sit for 10 minutes. Then, remove by holding onto both sides of the parchment paper. Lift and set the whole pizza on a cutting board. Top with fresh basil and slice. With deep dish pizza, I recommend slicing with a pizza wheel.
More Pizza Recipes You Might Like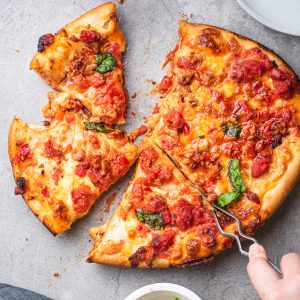 Sausage and Calabrian Pepper Pizza
A killer combination of crispy thick dough with melted mozzarella cheese, tomato sauce, sausage, and Italian Calabrian peppers. Every bite of this deep dish pizza is pure bliss. Please see the post for step-by-step photos of how to make the pizza crust, pizza sauce, and baking in either a Dutch oven or cast iron skillet. Recipe yields one large deep dish pizza (6 thick slices) or 2 medium size pizzas.
Print
Pin
Rate
Ingredients
For the Pizza Dough
1

cup

lukewarm water

115℉

1

packet active dry yeast

about 2 teaspoons

1

tablespoon

dark honey

such as buckwheat honey

1

tablespoon

olive oil

2 ½ to 3

cups

bread flour

divided (add gradually until the dough is barely sticky)

1

teaspoon

salt
For the Topping
1

tsp

whole fennel seeds

1

tbsp

olive oil

2

small

pork sausage links

such as Farmer John (about 4 ounces)

¾

cup

canned fire roasted crushed tomatoes

2 to 4

tsp

Calabrian peppers in oil

8

ounces

mozzarella cheese

cut into slices

5

leaves

fresh basil
Instructions
Mix the water, yeast, and honey in a medium bowl, stirring to dissolve. After the yeast begins to foam, about 5 minutes, stir in the olive oil, 2 cups bread flour, and salt. Sprinkle the remaining ½ cup flour on the counter and gradually knead in any additional flour until the dough is only slightly sticky. Knead the dough for at least 10 minutes.

Preheat the oven to 425℉.

Grease the inside of a Dutch oven or large bowl with olive oil and roll the dough in it to coat. Cover, and move to a warm place to rise until doubled in size, about 30 minutes.

Meanwhile, make the sauce. Toast the fennel seeds until aromatic in a small pot over medium heat, about 30 seconds. Add the olive oil and sausage; cook, breaking up the sausage until brown, about 3 minutes. Add the crushed tomatoes and Calabrian peppers and remove from heat.

Line a large 7-quart Dutch oven or cast iron skillet with parchment paper, then spread the pizza dough on top. Bake 15 minutes. Lay the mozzarella cheese on top then spoon the sausage sauce over top. Bake for 22 minutes or until fully cooked. Sprinkle fresh basil on top and allow to rest for 10 minutes. To remove the pizza, grab both ends of the parchment paper and lift up. Slice and serve.
Notes
Regular Crust Pizza Option
If you want a regular crust (not deep dish), portion the dough into 3 to 4 balls. Spread the dough out thinly on a sheet of parchment paper set on top of a pizza peel. Add a thin layer of the cheese and toppings. Cook the pizza on a pizza stone about 15 minutes or until fully cooked. 
Baking and Refrigerating Options
You can bake 2 pizzas using 2 medium size Dutch ovens or cast iron skillets. You can also refrigerate half of the dough for up to 16 hours. Of course, you can even freeze the dough in a sealed bag and then defrost in the fridge.
Nutrition
Calories:
479
kcal
|
Carbohydrates:
44
g
|
Protein:
21
g
|
Fat:
24
g
|
Saturated Fat:
9
g
|
Cholesterol:
57
mg
|
Sodium:
912
mg
|
Potassium:
263
mg
|
Fiber:
2
g
|
Sugar:
5
g
|
Vitamin A:
387
IU
|
Vitamin C:
4
mg
|
Calcium:
216
mg
|
Iron:
2
mg
Some of the links on this page are affiliate links, which may pay me a small commission for my referral at no extra cost to you!