Last night, I was torn between cooking the chicken I knew would go bad and eating leftovers. The chicken won, and so I have this miraculous chicken and leek recipe to share with you.
Why you'll love this grilled rosemary chicken and leeks:
The trifecta: quick, easy, and delicious.
Simple, yet flavorful. The olive oil, rosemary, and lemon just kisses the sweet flavor of the leeks and those yummy caramelized areas on the chicken.
Super clean and healthy, made with only a few simple ingredients (gluten free, paleo, aip, whole30).
You get to try grilled leeks. A true delicacy if you've never tried it.
How to Grill Chicken Breasts with Leeks
Start by firing up that grill. I always preheat my grill on high for about 10 minutes so the grates are piping hot, the key to getting those char marks. Just prior to cooking, I clean the grates using this bristle free grill brush.
Chicken breast is very prone to drying out on the grill. The solution? Chicken cutlets.
How to Cut Chicken Cutlets
A chicken cutlet is essentially half of a chicken breast. To make chicken cutlets, use a sharp knife to cut each chicken breast horizontally to divide in half for 2 thin cutlets per breast. If you've every attempted to grill a whole chicken breast, you will love working with cutlets; they lay flat on the grates and cook at a more even rate.
Pro Technique: For really moist and tender chicken, use a meat mallet to pound on the cutlets before cooking. Aim to gently pound, without breaking the meat, just until the cutlets have an even thickness.
After tenderizing the chicken, season both sides with salt, pepper, and a drizzle of olive oil.
How to Cut Leeks
Use a sharp chef's knife to halve the length of the leeks from the white root to the green top, cutting all the way through. Rinse to remove any sand then lay out on a sheet tray (keeping the leek layers intact) and season with salt and pepper. Drizzle with a bit of olive oil and rub with your fingers to coat.
The Steps: Grill then Marinade then Flip
I like to set the chicken and leeks on the grill (5 minutes) while I make the marinade (2 minutes). Be sure to lower the heat to medium and work in batches to avoid over-crowding the grill.
For the marinade, you will need the juice of 1 large lemon (or 2 medium) and some olive oil, plus 2 roughly chopped sprigs of fresh rosemary. I like to mix the marinade in a large bowl, so that I can use tongs to coat the leeks and chicken just prior to turning them over to the other side.
The reason why I apply the marinade partway through the cooking process is to a) add flavor and b) avoid burning the rosemary, which would impart a bitter taste. You can use tongs to lift and dip the chicken and leeks into the marinade or a silicone brush to coat the chicken and leeks directly on the grill. Both methods will work here.
What temperature to cook chicken:
A safe temperature for chicken is when the center reads 165°F on an instant read thermometer. Keep in mind that thinner cutlets will cook faster than thicker cutlets, and there may be up to 5°F of carry-over cooking.
Pro Tip: You should generally rest chicken for 5 minutes after cooking to prevent dry chicken. In other words, try not to immediately cut into hot chicken because all the juices will run out, and your chicken won't be as moist.
---
One last thing I'll say about the experience of eating leeks is that you want to eat the tender parts (white and light green sections). It's similar to eating an artichoke because it's very fibrous, but when you can get to that sweet, tender flesh, it will be worth it.
More Grillin and Chillin Recipes You Might Like: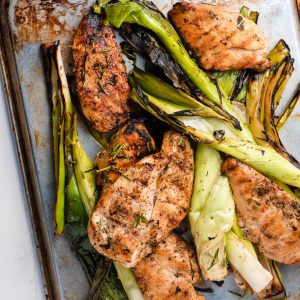 Grilled Rosemary Chicken and Leeks
Ready in just 20 minutes, this juicy grilled chicken is complimented by the sweet flavor of grilled leeks. A lemony, rosemary marinade gets applied halfway through the grilling process for a simple, flavorful finish.
Print
Pin
Rate
Ingredients
2

pounds

chicken breasts

3

medium

leeks

Salt

Pepper

1/3

cup

olive oil

plus more for drizzling

1

large

lemon

juiced (2 medium)

2

sprigs

fresh rosemary

chopped
Instructions
Preheat the grill on high, about 10 minutes. Meanwhile, use a sharp knife to halve the chicken to create 2 cutlets per breast (about 6 total). Set on a sheet tray. Cut the leeks lengthwise through the center to divide in half. Rinse (keeping the layers intact) to remove any sand. Lay on the sheet tray with the chicken. Season chicken and leeks front to back with salt, pepper, and a drizzle of olive oil to coat.

Working in batches, grill the chicken cutlets with the leeks over medium heat with the lid closed. Tip: You may need to lower or raise the heat, depending on your grill to prevent fire making contact with the food. Avoid lifting the chicken for the first 5 minutes, so that you can achieve caramelization. You can make the marinade while you wait.

In a large bowl, combine the olive oil, lemon juice, and rosemary. Set the bowl by the grill and use tongs to dip the partially cooked chicken and leeks in the marinade (just prior to turning over to the other side). Grill until you see a good layer of caramelization on the leeks and chicken, or until an internal thermometer reads 165°F for the cutlets, about 5 minutes per side. You can set the cooked pieces in the bowl with the marinade as its ready. Serve hot.
Notes
Variation Tip: Instead of leeks, try using zucchini. Cut the zucchini down its length to divide in half. Season with salt, pepper, and olive oil and grill for 5 minutes, until slightly charred. Coat in the rosemary-lemon marinade and then grill the other side for 3 minutes.
Nutrition
Calories:
311
kcal
|
Carbohydrates:
8
g
|
Protein:
33
g
|
Fat:
16
g
|
Saturated Fat:
3
g
|
Cholesterol:
97
mg
|
Sodium:
185
mg
|
Potassium:
664
mg
|
Fiber:
1
g
|
Sugar:
2
g
|
Vitamin A:
787
IU
|
Vitamin C:
17
mg
|
Calcium:
38
mg
|
Iron:
2
mg
Some of the links on this page are affiliate links, which may pay me a small commission for my referral at no extra cost to you!