This is an exceptionally moist and light angel food cake. I daresay, you might even call it perfect.
Yesterday, I declared to my husband that I wanted a Japanese cake, which lead to a conversation about the light-as-air quality of chiffon cakes. Ultimately, I decided to make an angel food cake (a type of chiffon) with orange-vanilla glaze.
Unlike oil-based chiffon cakes, this is an oil-less cake that achieves a light, tall dimension with an egg-white foam. In this recipe, you whip the egg whites into a stable meringue and gingerly work in flour, sugar, salt, and extracts of vanilla and almond. Baked in a tall angel food cake pan, the foam climbs up along the edges and sets into place, resulting in the signature pillowy structure.
Recipe Snapshot
Like every American, I grew up stuffing my face with angel food cake by the handful – for some reason I was always tearing off giant chunks of it. Of course you can pair this with strawberries and whipped cream, as is traditional – or – you could dress it up with this vibrant icing.
Star Ingredient: egg whites
Flavor Affinities: WHITE SUGAR + ALMOND + VANILLA + ORANGE
Function: cooling
Tastes: lightly sweet
Textures: fluffy, chewy, moist
Ease: moderate
Method: foam method baking
Wisdom: Since the structure of the cake depends on the meringue bubbles, you must whisk the egg whites thoroughly prior to adding sugar and cake flour.
How to Make the Orange-Vanilla Glaze
Melt the butter and whisk in orange juice, vanilla bean seeds, and salt. Warm it up a bit while you whisk vigorously to achieve a smooth consistency. Simply drizzle over the cake, and it will firm up as it cools. I like to sprinkle poppy seeds over the glaze while it's wet to add some pizzazz.
Make the Angel Food Cake:
If you can, use a high-sided angel food cake pan with straight sides because they are made out of a light material (aluminum) for the best texture/rise. It's a worthy investment if you regularly bake. That said, I tested this recipe in a bundt pan, and it worked pretty well. I did have to pry it away from the edges a bit with an offset spatula (not as attractive a look).
Whisk the Eggs:
This recipe requires 12 egg whites. When cracking the eggs, avoid mixing the yolk if at all possible. The fat of the yolk discourages meringue from whipping properly.
Going against other baking wisdom, this recipe uses cold eggs (a Japanese technique) to create an extra stable foam. Use a stand mixer to beat the eggs in 2 stages:
until soft peaks form (6 minutes) – now add sugar
until stiff peaks form (2 minutes more) – now add vanilla + almond extracts
**At this point, I shut off my machine and use a spatula to combine the dry ingredients (flour + sugar).
A Word About Flour:
Yes, you really should use sifted cake flour. This is especially true with chiffon cakes. To incorporate the flour-sugar correctly, scrape and fold the egg white foam ever-so-gently fold with the flour a little bit at a time (just until incorporated).
Baking the Cake:
It's cool to see a meringue batter cake because you actually have something structural before you even bake it. After smoothing the batter, give the pan a firm tap on the counter so that you don't end up with giant air pockets that explode in the oven (yes, this has happened to me before).
As it bakes (32 minutes) you will see it expand a bit over the pan and the top will go from white to dark gold.
Cake Baking Tip: Every time you open the oven door, you release 50°F of heat which has an impact on the rise of cakes (especially during the first 20 minutes of baking). For optimal results, do not open the oven.
I hope you love this cake. As far as texture and taste, it's a keeper for sure. Don't be surprised if you see more iterations of this in the future.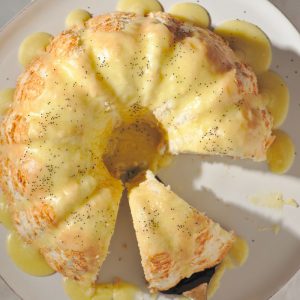 Angel Food Cake with Orange-Vanilla Glaze
This lovely angel food cake is moist and light as a cloud. Not only is the texture perfect, the flavor is fresh and sweet with orange and vanilla bean glaze drizzled over top. You can even add poppy seeds.
Print
Pin
Rate
Equipment
stand mixer with whisk attachment

straight sided angel food cake pan
Ingredients
Angel Food Cake Ingredients:
12

egg whites

cold

1 1/2

tsp

cream of tartar

1/4

tsp

fine sea salt

1 1/2

cups

granulated sugar

divided

1

tsp

vanilla extract

1/2

tsp

almond extract

1

cup

cake flour

sifted
Orange-Vanilla Glaze:
3

tbsp

unsalted butter

1 3/4

cups

powdered sugar

3

tbsp

fresh orange juice

1/2

vanilla bean

1

pinch

fine sea salt

1/2

tsp

poppy seeds

optional
Instructions
Make the Angel Food Cake:
Preheat the oven to 350°F and position the center rack so that there is ample room above for the cake.

In the bowl of a stand mixer, whisk the egg whites, cream of tartar, and salt on medium speed for 6 minutes to form soft peaks. Add 3/4 cup sugar, raise the speed to high, and whip for 2 more minutes to form stiff peaks.

Sift the remaining 3/4 cup sugar with the cake flour. Use a spatula to fold the flour-sugar mixture into the egg foam a little bit at a time. Be gentle.

Use the spatula to spoon the foam into an angel food cake pan. Smooth the top and give the pan a firm tap against the counter to eliminate pockets of air. Bake for 32 minutes until the top turns golden and is firm to the touch. Cool on a rack and invert.
Make the Orange-Vanilla Glaze:
Melt the butter in a small pot over low heat (or in a bowl in the microwave). Once melted, add the sugar, orange juice, vanilla bean seeds (see note), and salt. Whisk vigorously for 2 minutes until very smooth. Drizzle over the inverted cake and sprinkle with poppy seeds for some pizzazz.
Notes
How to Open a Vanilla Bean:
Use a pairing knife to slit along the length of the bean (1/2 the bean in this case). Fold it open like a book and use the dull edge of your knife to scrape along the inside of the pod. Tiny black seeds will coat your knife like a paste. Add this to the icing.
When to Add the Poppy Seeds:
The poppy seeds are primarily for decoration and a little bit of texture. You have to sprinkle them over the icing on the cake while it's still wet or they won't stick.
Store:
Store this cake on the counter for up to 4 days under a cake dome or giant bowl.
Nutrition
Serving:
1
slice
|
Calories:
299
kcal
|
Carbohydrates:
61
g
|
Protein:
6
g
|
Fat:
4
g
|
Saturated Fat:
2
g
|
Cholesterol:
9
mg
|
Sodium:
124
mg
|
Potassium:
156
mg
|
Fiber:
1
g
|
Sugar:
51
g
|
Vitamin A:
115
IU
|
Vitamin C:
2.6
mg
|
Calcium:
7
mg
|
Iron:
0.1
mg
Some of the links on this page are affiliate links, which may pay me a small commission for my referral at no extra cost to you!