Here is my tried-and-true process for tempering chocolate for dipping bananas. When you temper dark chocolate, you get a shell that hardens even at room temperature. Meaning, you can use frozen or room temperature bananas (or any fruit for that matter).
To temper or not to temper? That is the question.
If you plan on serving chocolate coated fruit at room temperature, you need to temper your chocolate in order for it to form a hard shell. However, if you plan on freezing your fruit and serving cold/frozen, simply melt the chocolate and dip your frozen banana to coat.
I think both methods are simple enough and so I'll leave it up to you.
---
There's so much to love about tempered chocolate. It's definitely a skill to have in your back pocket around the holidays because you can do so many simple, yet impactful things. You could make:
chocolate banana pops
chocolate bark with nuts, seeds, or crushed candy cane
chocolate coated room temperature fruit, such as strawberries, bananas, or candied orange peel
chocolate dipped ice cream cones, marshmallows, or graham crackers
homemade candy bars or gourmet chocolates
As a drizzle or dip for ice cream, brownies, biscotti cookies, or cakes
How to Make Candy Chocolate Coating
To temper chocolate you only need 1 ingredient (chocolate) and a few basic tools that you might already have.
Tools You will Need:
Double-boiler: This is where you set a bowl (such as a stainless steel mixing bowl) on top of a pot with simmering water. It's very important to prevent any moisture from crossing into the bowl where the chocolate goes. Therefore, I suggest a small pot with a medium or large bowl.
Chocolate Thermometer: You want an accurate thermometer for monitoring the temperature of the chocolate. Melted chocolate has to pass through two temperature stages or it won't reset properly.
Skewers: If you plan to dip fruit into chocolate, you can use your fingers, but I find it's really helpful to skewer the fruit you are dipping.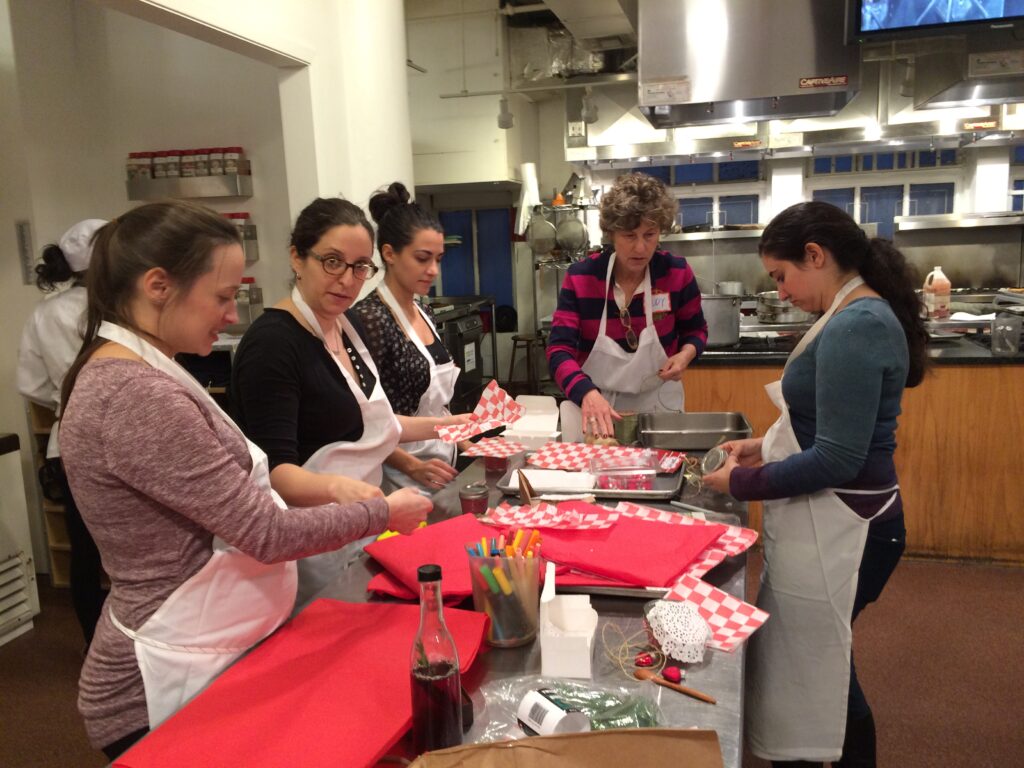 Melting Point of Chocolate (Tempering Process)
I used to teach an edible holiday gifts class to the public and developed this foolproof method for melting and tempering chocolate:
Melt only half of the dark chocolate you are using to 115 degrees. You want to remove the bowl from heat before adding the remaining half of the dark chocolate because you don't want to even come close to scorching the chocolate.
Work slowly and methodically to break apart the molecules in the chocolate then force them to come back together. How you do this is by stirring your way through 3 temperature phases:
Melt half of the chocolate to 115F. Add remaining chocolate (off the heat).
Cool to the low 80s
Stir, stir, stir and heat to 88°-90℉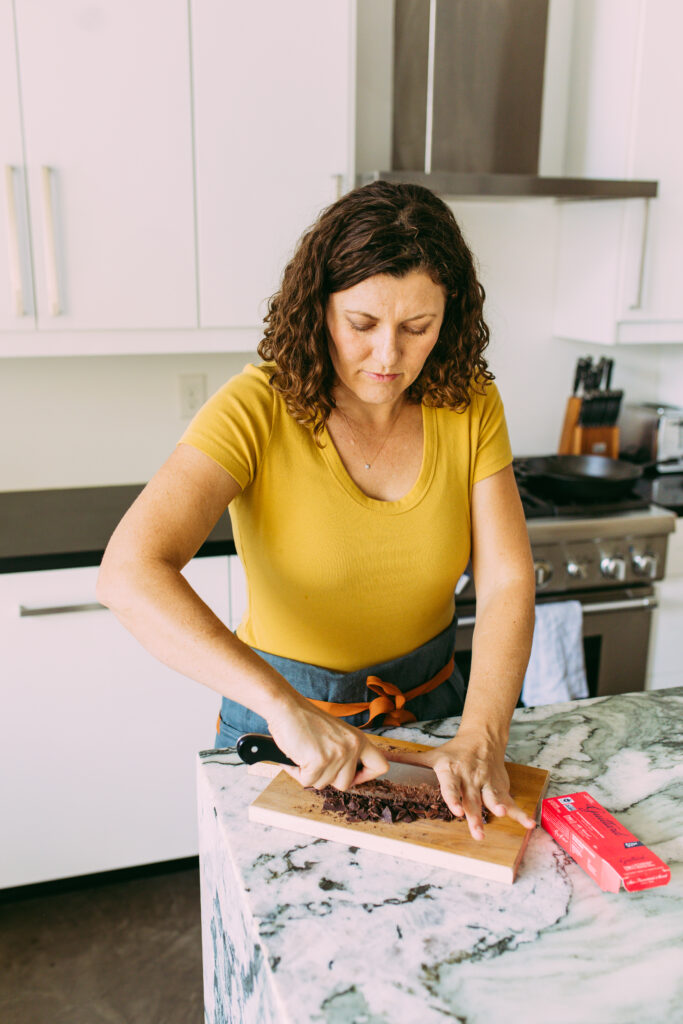 Best Chocolate to Melt
It's tricky to temper white chocolate or any chocolate with a low percentage of cocoa butter or couverture (e.g. stay away from chocolate chips and look at the bars instead).
In my experience, the very best chocolate to use is anything labeled bittersweet or semisweet dark chocolate 60% cacao or higher. You can even mix-and-match such as 60% semi-sweet and 72% dark chocolate for flavor and work-ability. Just don't use 50% for tempering. It won't work.
Ingredient Tip: You can find high quality melting chocolate in the baking aisle of most grocery stores and online. For example, this Guittard Semi-Sweet Chocolate (64% cacao) works nicely.
How to Temper Chocolate Step-by-Step
Double check that your knife, cutting board, and equipment is free of any water. Chop the chocolate then place half of it inside your bowl and set on top of a pot of simmering water (the double broiler).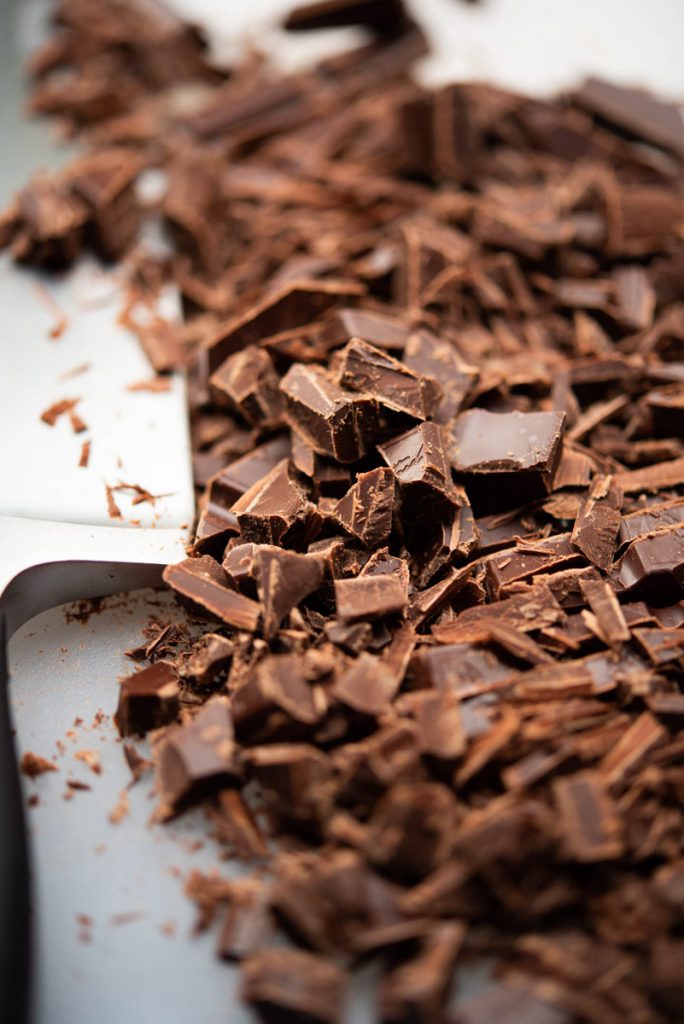 Use a spatula and stir until a thermometer reads 115℉. Remove from the heat and add the remaining half of the chocolate you chopped earlier. Allow the temperature to drop to the low 80°s before returning to the double broiler.
For the final step, stir and heat until the chocolate reaches 88°-90℉. Remove from the heat and use immediately.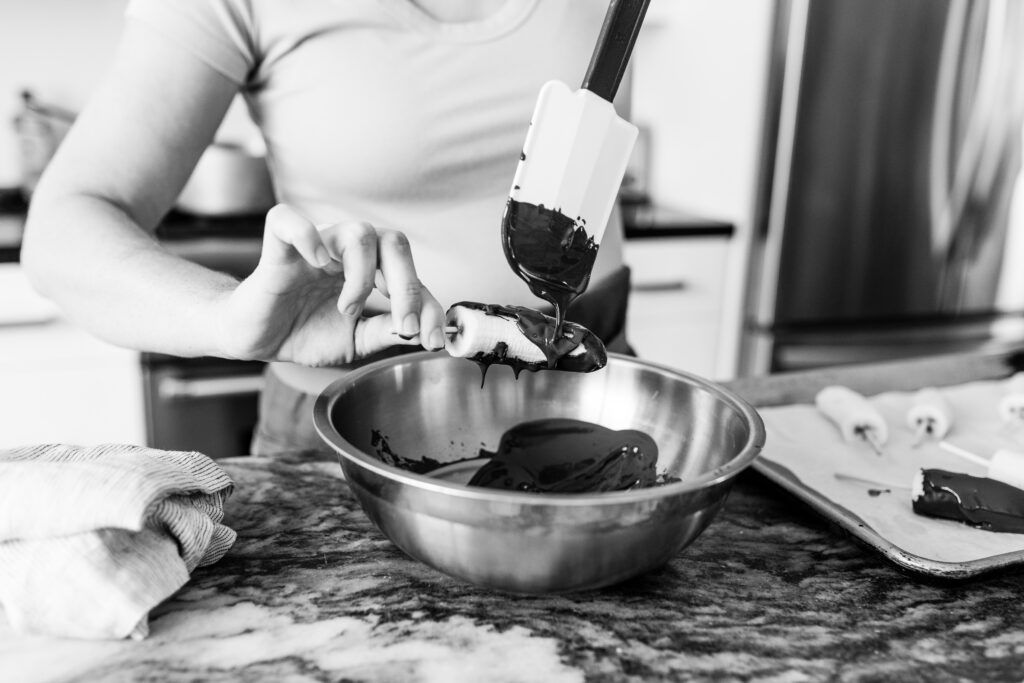 You can see that I'm holding the skewer-end of the banana and a spatula to drizzle. You can also dip and roll your fruit if you have enough chocolate to do so. I like to set my chocolate coated fruit on a parchment-lined tray for easy clean-up.
The chocolate will harden as it cools, which is why it's important to work quickly.
Chocolate FAQ
What happens if water gets in the chocolate?
Your chocolate will turn grainy and seize because chocolate really can't handle even small droplets of water. There's really no fixing it if this happens. Rather than tossing though, you can use seized chocolate in a drink, such as a hot chocolate.
Humidity – Occasionally, I've seen experts follow all the correct steps and the chocolate simply WILL NOT SET properly. It's frustrating but often the result of a lot of humidity in the kitchen. If this happens, you can place your dipped fruit in the refrigerator and serve chilled.
How to Store or Make-Ahead: You want to choose perfectly ripe fruit when you dip for the best flavor and shelf life. After dipping in chocolate, you can store dipped fruit in the refrigerator for up to 3 days (or freeze in a sealed bag for up to 3 months). With cold fruit, you may notice some perspiration or water forming on the surface of the chocolate. This is normal and will likely disappear if you allow the fruit to sit at room temperature for about 30 minutes.
What does cocoa percentage refer to in chocolate bars?
I defer to one of my favorite chocolate makers to explain this:
The percentage of cocoa you see on a label is the measurement of the chocolate bar's weight that comes from actual cocoa beans (including cocoa liquor and cocoa butter), also known as cocoa mass. So the percentage is a simple calculation of the cocoa mass divided by the total weight of the bar.

Theo Chocolate
Eye-Catching Toppings for Your Banana Pops:
As I mentioned, you only need 1 magic ingredient (chocolate) to make a myriad of custom treats. Here are my favorite garnishes if you want to mix things up:
Freeze-Dried, Crumbled Fruit such as strawberries or raspberries sprinkled onto just-dipped bananas look stunning and add a fresh, fun flavor twist. They are available online here or in the health foods/snack section of most grocery stores.
Toasted Chopped Nuts or Seeds such as peanuts, cashews, or sunflower seeds
Sea Salt Flakes enhance the flavor of the chocolate and banana and add a bit of crunch. Just be sure to use a tiny pinch — a little goes a long way (Maldon is my favorite).
Shredded coconut is especially delicious if you toast it dry over low heat until golden. For a recipe like this, you want the fine desiccated coconut flakes.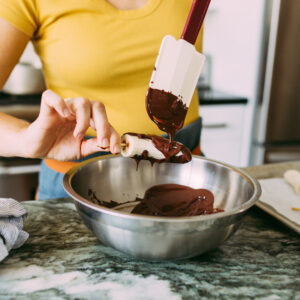 Chocolate Covered Banana Pops
You can serve these banana pops frozen or at room temperature because the chocolate coating is tempered; Simply dip, allow to harden into a shell, and enjoy!
Print
Pin
Rate
Ingredients
6

ripe

bananas

cut in half and skewered

2

pounds

semi-sweet dark chocolate (60% cacao)

chopped, divided
Instructions
Frozen or Not Frozen Bananas: Since you will be tempering the chocolate, feel free to use room temperature or skewered frozen bananas. The chocolate will harden as it sits.

Temper the chocolate: Set up a double boiler and begin to melt about half of the chocolate until a candy thermometer registers 115℉. Remove from the heat and stir in the remaining 1 pound of chopped chocolate. Stir until the temperature drops to the low 80°s. Return the bowl to the pot of simmering water by placing on top (do not let any steam get into the chocolate). Stir the chocolate and heat until you see the temperature reach between 88°-90℉. Remove from heat and use immediately.

Coat the banana with chocolate: Quickly dip each banana into the chocolate scraping the chocolate against the side of the bowl (or use a spatula to drizzle the chocolate over the banana). Spread the chocolate covered banana skewers out on a sheet tray lined with wax or parchment paper to set. While the chocolate is still wet, you can sprinkle with chopped nuts or crumbled freeze-dried fruit, if desired. Store in the refrigerator or freezer.
Nutrition
Serving:
1
banana pop
|
Calories:
400
kcal
|
Carbohydrates:
37
g
|
Protein:
5
g
|
Fat:
32
g
|
Saturated Fat:
19
g
|
Polyunsaturated Fat:
1
g
|
Monounsaturated Fat:
10
g
|
Sodium:
4
mg
|
Potassium:
2
mg
|
Fiber:
7
g
|
Sugar:
25
g
|
Vitamin A:
0.3
IU
|
Vitamin C:
0.04
mg
|
Calcium:
0.02
mg
|
Iron:
0.002
mg