When it comes to food, looks can be deceiving.
While it may not be a feast for the eyes, this tamale pie will win you over with its incredible taste and comforting texture.
Let's face it. Making tamales is a bit of a drag. Forming and steaming individually wrapped masa pies takes time. So, listen carefully. There is a way to revel in all that rich beef and masa flavor with none of the hassle.
A shortcut that's saucier and every bit as delicious…
By using ground beef, canned enchilada sauce, a hand-mixed masa topping and a skillet, you achieve in less time some true authentic Mexican flavor in scoop-able form.
As much as I enjoy unwrapping a fresh tamale, this recipe is by far the one I prefer to make. It's everything!
Quick and Easy to prepare
Extremely delicious
Gluten-Free
Saucy on the bottom, pillowy on the top
Customizable
Sign me right up!
What is tamale pie?
It's a rich and hearty casserole or pan pie with a saucy, meaty layer on the bottom and a tender cornbread baked into the top. What's great about these textures is how there's something dry-ish to sop up all that ooey, gooey goodness.
Sadly, I can't take credit for the concept. People have been making tamale pies since the early 1900s. You can make them with virtually any filling and either a cornmeal or masa flour topping.
Personally, I like masa harina because I think it results in a softer, more savory cornbread topping that has a deconstructed tamale vibe. Either topping has merit though, so I'll cover them both in this post.
You can make, bake, and serve this recipe from one vessel if you own an oven-safe cast iron pan or a small Dutch oven. If you need to use a baking dish instead, just transfer the cooked filling into any-shaped baking dish so that the volume of filling is about a 2-inch depth (e.g. 8 x 10-inch).
What is masa harina flour?
Masa harina is a very fine corn flour made from hominy which are corn kernels that have been soaked and cooked in lime water. Masa harina is fundamental to Mexican cuisine and can be found in everything from tortillas to gorditas.
It's available in the baking aisle, online, and in stores that stock ethnic ingredients.
How to Make Tamale Pie with Masa
This meaty main is ready in less than 1 hour, start to finish.
To begin, preheat your oven to 400°F and chop a yellow/white onion in half. Dice into small to medium-size pieces, save the other half for a different day.
Brown the beef. For this step, I like to break the beef up with a spatula then let it caramelize for about 5 minutes before stirring. A lot of moisture will release, which will help you sweat the onion (pictured below).
Season. Once the onion softens or turns slightly translucent, I like to stir in the spices, allowing them to make contact with the heat briefly (pictured below).
Layer wet chile flavors. At this point, you can add the rest of the ingredients off the heat: red chile enchilada sauce, canned mild green chiles, and shredded cheese (pictured below).
Mix the masa. Start by mixing the dry ingredients together then add the liquids (chicken broth and melted butter). Stir until everything is smooth and unified. Then, add some cheese (pictured below).
Top with masa and bake for 40 minutes. This part is kinda fun. Plop the thick batter on top of the filling, working from the center first. Then, use a spatula to gently smooth out. Bake until the masa is light golden and a toothpick inserted in the center comes out clean.
Serve hot with your favorite toppings, like sour cream or thinly sliced green onion.
How to Make Tamale Pie with Cornmeal
Do you have corn meal in the pantry or a preference for a sweeter cornbread topping? No problem! I have a few tweaks for you that apply to steps 3 & 4 of the recipe card below:
Ingredients for the Cornbread Topping:
2 large eggs
1-1/2 cups milk (whole milk, buttermilk, or low fat all ok)
2 tablespoons unsalted butter, melted
1/2 cup cornmeal
1 tablespoon granulated sugar or honey (optional)
1/2 teaspoon salt
1 cup shredded Mexican cheese, such as cheddar or Jack
Instructions for Cornbread Topping:
Mix wet ingredients. In a medium bowl, whisk the eggs, milk, and butter.
Mix dry ingredients. Add the cornmeal, sweetener (if using), salt, and cheese. Mix just until combined then pour the cornmeal mixture over the meat filling, smoothing evenly with a spatula.
Bake. Bake at 400°F for 30 to 35 minutes, until a toothpick inserted in the center of the cornbread comes out clean.
A Few Serving Ideas
For such a balanced and filling meal, you hardly need to serve it with anything for a low key family meal. That being said, I might contrast the richness with something fresh and crunchy or cooling and acidic.
Storing Leftovers
To Refrigerate:
Portion and scoop the tamale pie into seal-able containers and refrigerate for up to 5 days.
To Freeze:
Allow the hot pie to cool for 30 minutes straight out of the oven, then portion and scoop into bags. Freeze for up to 2 months. To defrost, remove a portion at a time and cook on the defrost setting of your microwave until warm all the way through. Enjoy!
Meal Prep Tip: Since this recipe is so easy to store, it's a fantastic way to prep meals in advance for busy schedules. To save time, you can double this recipe. Eat one and freeze the other for later.
This tamale pie is the easiest way to get your tamale fix pronto. So, I'm curious. Do you like this better than a tamale? Because I kinda, sorta, definitely do.
Could I Make This Recipe with Turkey or Pork?
Yes! Use ground turkey or pork in place of the beef. You could also create a shredded meat base layer by using leftover beef, pork, or chicken (such as this slow cooker barbacoa).
How To Make Vegan/Vegetarian Pot Pie
You can easily modify this recipe to fit a vegan or vegetarian diet. Use vegetable broth instead of chicken broth and swap your favorite cooked bean(s) for the ground beef. For example, you could try adding 2 cans of chili beans.
If replacing dairy, use refined coconut oil instead of butter and your favorite non-dairy cheese alternative.
More Easy Comfort Dinners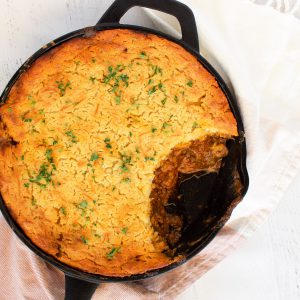 Tamale Pie
This tamale pie is a frayed apron favorite – with spicy, bold flavors and convenience rolled into one. It's quick, convenient, and totally love-able!
Print
Pin
Rate
Ingredients
For Masa Topping:
2

cups

masa harina corn flour

2

teaspoons

baking powder

3/4

teaspoon

salt

2

cups

chicken broth

1/2

cup

unsalted butter (1 stick)

melted

1/2

cup

shredded Mexican cheese

such as cheddar or Jack
Instructions
Preheat the oven to 400°F.

Place a medium (10-inch) cast iron skillet over medium heat. Add the ground beef and break into small pieces with a wooden spoon. Brown the meat, about 10 minutes; then push it to the side of the skillet and add the chopped onion and salt. Cook until the onions have softened, stirring occasionally, about 4 minutes. Add the chile powder, cumin, coriander, green chiles, enchilada sauce and cheese. Stir well and turn off the heat. Set aside.

In a medium bowl, combine the masa harina flour, baking powder and salt. Stir, then mix in the chicken broth and melted butter until smooth and lump free. Fold in the cheese.

Scoop the thick masa batter over the beef mixture and spread all the way to the edges of the pan. Bake for 40 minutes, until a toothpick inserted into the center of the cornbread topping comes out clean. Scoop and serve hot.
Notes
Meat Filling Options: While I used ground beef, you could use ground pork, chicken, or turkey instead. For a vegetarian version, you could even try using canned beans! When switching from beef to something lean, I recommend coating the skillet with olive oil first.
Vegetable Add-Ins: If you want to add frozen corn (no need to defrost), chopped bell pepper, or black olives, add them after sweating the onion (at the end of step 1).
Spices and Spiciness: I can't find fault in this recipe as-is. That being said, rather than the 50/50 blend of cumin: coriander, you could try 1 teaspoon of either spice. I used Chipotle chile powder (smoky and spicy) but you could use regular chile powder (milder) or paprika (milder yet) depending on what you already have.
Enchilada Sauce: Adds moisture, flavor, and heat. If replacing, I suggest adding something acidic and liquidy, like canned tomato sauce. You will need to add 1 teaspoon garlic powder and increase the chile powder by 1/2 teaspoon.
Chicken Broth vs. Chicken Stock: Chicken Broth contains salt already while chicken stock does not. If using chicken stock, you may add an extra pinch of salt to the masa if you like.
Nutrition
Calories:
476
kcal
|
Carbohydrates:
26
g
|
Protein:
20
g
|
Fat:
33
g
|
Saturated Fat:
13
g
|
Cholesterol:
69
mg
|
Sodium:
1051
mg
|
Potassium:
457
mg
|
Fiber:
3
g
|
Sugar:
1
g
|
Vitamin A:
876
IU
|
Vitamin C:
14
mg
|
Calcium:
311
mg
|
Iron:
2
mg
Some of the links on this page are affiliate links, which may pay me a small commission for my referral at no extra cost to you!