When done well, nothing beats a side of hot and fresh oven roasted potatoes.
I've had so many sad potato sides (cold, greasy, under-cooked, rancid). Maybe I'm cursed. It got to the point where I just stopped ordering potatoes and started making them myself.
What can I say? I guess I feel strongly that potatoes be a) fresh and b) crispy on the outside and creamy on the inside.
With quite a bit of practice, I've established a certain rhythm when it comes to cooking potatoes and it goes a little something like this:
salt water like the sea
boil to release starches
steam dry
toss with fat and salt
roast until visibly golden
If you're a regular reader, you know I shared some of this already back when I made my signature turmeric breakfast potatoes.
So today, my focus is more on the method of how to cook potatoes perfectly. With this recipe as a guide, you can achieve your favorite texture (just in case you are particular, too).
As you can see, I like to serve these hot and fresh out of the oven with my homemade tomato sauce; Who can resist all that golden goodness with something bright and saucy?
I thought strongly about making my herb scented mashed potatoes yesterday, but this recipe is the one I make most often because it's just easier. There's no mashing required but definitely best served right away.
So, let's talk a bit about the boiling process because there's a tiny detail I want you to look for…
What to Look For when Boiling and Roasting the Potatoes
First and foremost, you aren't just par-boiling (partially cooking) the potatoes here. With this technique, you are cooking them further because you want the edges to break down.
Turns out, when you get the starches really soft, the surface just sops all that olive oil right up. This results in both a crispy and fluffy outer layer.
To accomplish this, I like to toss the potatoes with the olive oil in a bowl to semi-mash the outside.
Then, you just spread everything out on a sheet tray and bake until you see some golden color. How far you take the cooking affects the end result. For a softer texture, you only need to roast them for 20 minutes (think mashed potatoes with some caramelization).
If you want your potatoes crispy (think french fries), go ahead and roast for the full 35 minutes and then finish under the broiler; this is what I did.
A Few Serving Ideas
Potatoes are the quintessential side dish, obviously.
You simply can't go wrong putting them next to a fish or chicken sandwich, burger, or Thanksgiving turkey.
But, I have a few creative ideas for you:
Serve crispy underneath chili fully loaded with cheese, sour cream, cheese and cilantro. The works.
Use as a garnish for soup. Tip: Cut into smaller pieces and use extra oil; add a little paprika or curry powder to spice things up.
After boiling and steaming, toss with a bit of egg, and form into little patties. Roast and you get the cutest pakoras. Tip: Go wild with the spices, and you will have a major hit!
More Recipes You Might Like
Ingredient Tip: Look for large waxy potatoes with thin skins, such as Yukon Gold or New Potatoes. If you already have Russet or Idaho potatoes, go ahead and use those.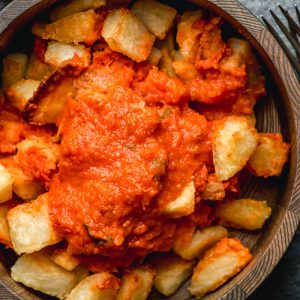 Crispy and Tender Oven Roasted Potatoes
Boiled then tossed with salt and olive oil, these oven roasted potatoes are pure gold!
Print
Pin
Rate
Ingredients
4

large

Yukon Gold potatoes

peeled and cut into 1-inch pieces

sea salt

3

tablespoons

olive oil
Instructions
Preheat the oven to 425℉.

Fill a medium pot with 2-inches water and bring to a boil over high heat. Add the potato pieces and season the water with 1 tablespoon salt. Boil until the potatoes begin to break down around the edges, about 8 minutes. Strain over a colander set in the sink, allowing the potatoes to steam, about 5 minutes.

Transfer the potatoes to a medium bowl and drizzle with olive oil. Toss to coat. Spread the potatoes out on a sheet tray and sprinkle with 1 teaspoon sea salt. Roast in the oven to your desired texture: about 20 minutes for tender and soft or about 35 minutes for golden and crispy. You can also finish under the broiler for about 5 minutes, if desired. Serve hot for the best texture.
Nutrition
Calories:
149
kcal
|
Carbohydrates:
20
g
|
Protein:
2
g
|
Fat:
7
g
|
Saturated Fat:
1
g
|
Sodium:
7
mg
|
Potassium:
477
mg
|
Fiber:
2
g
|
Sugar:
1
g
|
Vitamin C:
22
mg
|
Calcium:
14
mg
|
Iron:
1
mg
Some of the links on this page are affiliate links, which may pay me a small commission for my referral at no extra cost to you!