To go with these olive oil crackers I shared yesterday, here is something deeply savory and controversial: chicken liver mousse. Whether you hate liver or like it, I'm hoping you'll give it a try. In my experience, taste preferences evolve, especially with repeated exposure.
Speaking of evolution, I remember the first time I ever tasted liver. My dad took the gizzards and liver out of a chicken (or was it a turkey?) and fried it up in a pan with some oil. Despite his warnings, I remember liking it and wondering what all the fuss was about…then I noticed an unpleasant after taste. It was a memorable experience. One that I brought with me on my journey to becoming a chef.
In culinary school, we were encouraged to deconstruct the whole chicken and find practical uses for the entire animal. There were many firsts for me, as I learned how to butcher a chicken, how to make stock, and how to use what many throw into the garbage. That's how I discovered the extraordinary genius of pate.
In the spirit of resourcefulness, I am sharing 5 tips for working with chicken livers in order to prove a point. A great cook aspires to use their tongue to make the most of whatever ingredient they're given. When handled properly and seasoned in a balanced way, chicken livers aren't so controversial after-all.
At Annisa, I prepared 1,000s of chicken liver amuse-bouche for guests as a way to welcome and signal the fine dining experience. Served with white raisin and pickled mustard seeds inside of a tiny fried cracker cup, I never saw 1 returned.
While previous generations suffered through entire dinners of liver and onions, I realize that liver is not an ingredient to consume in large quantities. It's enough to simply taste – as in a small bite for its profoundly fatty, savory qualities. Introducing acid in the form of vinegar or pickles reduces some of the bitterness that I experienced as an "after taste" as a child.
With that said, I'll tell you everything I know about chicken liver mousse – otherwise known as pate.
Tip #1: Buy Fresh Livers
As a rule with organ meat, try to obtain the freshest, highest quality livers. I typically look for healthy, bright red livers sold fresh in the butcher section. You can often buy an entire pound for $1.
Tip #2: Soak in Milk
To remove impurities, I was taught to soak the livers for about 20 minutes in milk. You can even add about 1 tsp of vinegar to help draw out toxins that give liver a bitter taste.
Tip #3: Rinse the Livers
After soaking in milk, rinse the livers under running water for a few seconds.
Tip #4: Sweat an Onion
Most home cooks from the Greatest Generation know that liver and onions are affinities. I grew up hearing stories from my parents about how frequently they "had to eat" liver and onions. Remember, we are just trying to offer a bite to people – not force feed them a plateful of liver and onions; too much of a good thing is a bad thing.
Tip #5: Add Something Sour
Liver is quite 1-dimensional. By itself, it's the very definition of savory, even a tad bitter. When a chef serves foie gras or chicken liver mousse, they're never serving it by its lonesome. There's always an element of acidity and something crunchy to absorb all that fat. I add vinegar directly to my chicken liver mousse, but I also suggest serving it with a little something sour too. Here are some suggestions:
pickled mustard seeds
capers
pickled onion
a slice of cornichons (dill pickle)
pickled white raisins
Then, consider a wee garnish of dill. Or don't. Just promise me this? You won't serve it by itself.
Storing
I recommend storing the paste inside of a piping bag fitted with a star attachment for easy serving. If your mousse is very thick, you can run the bag under some warm water to soften it a bit (just hold the ends closed as best you can). Chicken liver mousse must be used within 3 days and then tossed.
---
I hope you try working with chicken livers. I'm inspired by other cultures who regularly consume organ meat, and this is an exceptionally easy make-ahead appetizer for special occasions.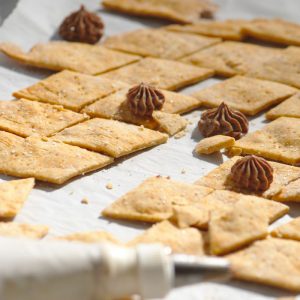 Chicken Liver Mousse
As a chef, I love taking a humble ingredient like chicken livers and creating something exciting. This recipe guides you through how to properly clean the livers and introduce acidity for a more palatable experience. I served chicken liver mousse to thousands of patrons at a fine dining restaurant as little bites with pickles (mustard seeds and white raisins).
Print
Pin
Rate
Ingredients
1

pound

chicken livers

milk

1

shallot

1/3 cup chopped

1

tbsp

extra virgin olive oil

½

tsp

kosher salt

black pepper

1

tsp

sherry vinegar
Instructions
Add the chicken livers to a small bowl and cover with water. Soak for 20 minutes to remove impurities.

In a small skillet over medium heat, warm the oil and add the onion with the salt. Sweat for 3 minutes to soften and encourage onion to release juices without browning. Turn off the heat and stir.

Drain the livers and rinse with water, removing any pieces of fat. Add the livers to the skillet with the onions and cook over medium heat for 5 minutes, stirring to cook evenly. Season very generously with freshly ground black pepper. Turn off heat and add 1 tsp sherry vinegar.

Transfer livers and juices to a food processor and puree for 1 minute to form a smooth paste. Transfer to a piping bag fitted with a star tip or pour into a seal-able container. The mousse needs to chill completely for a luscious texture.
Notes
Vinegar: Sherry is a classic choice, but you could try champagne vinegar or red wine vinegar too.
Shallot: A shallot is just a type of onion. You can absolutely substitute the shallot with red onion or white.
Serving Suggestions: pipe a small amount onto an olive oil cracker and garnish with some chopped pickle or pickled mustard seeds. Garnish with a small sprig of fresh dill.
Nutrition
Serving:
1
appetizer
|
Calories:
23
kcal
|
Carbohydrates:
1
g
|
Protein:
3
g
|
Fat:
1
g
|
Saturated Fat:
1
g
|
Cholesterol:
52
mg
|
Sodium:
50
mg
|
Potassium:
38
mg
|
Fiber:
1
g
|
Sugar:
1
g
|
Vitamin A:
1675
IU
|
Vitamin C:
2.8
mg
|
Calcium:
1
mg
|
Iron:
1.4
mg
Some of the links on this page are affiliate links, which may pay me a small commission for my referral at no extra cost to you!