Would you believe that I've had a jar of dulce de leche in the pantry for a year? Oh, I wanted to eat it every single day with a spoon, but I was saving it for a special occasion. As much as I go crazy for a luxurious salted caramel ice cream, I discovered alfajores, as one does when googling "dulce de leche desserts" at 12am.
So, I got around to testing these cookies (all 12 of them), and, sure enough, they measure up to the other cookie recipes on this site. Bottom line, there's something undeniably special about these Argentinian cookies, and I will be making them regularly.
With a shortbread-like cookie dough that crumbles tenderly when you bite into it, I can think of no better filling than sticky, buttery, sweet and salty dulce de leche.
And because I rarely know how to leave well enough alone, I even added a hint of cinnamon to the dough, sort of a churro-cookie hybrid, if you will. Of course, by all means, you could dust them with powdered sugar or roll the edges in coconut for a traditional approach.
Ingredients You Need:
How to Make Alfajores – Step by Step
While it seems like there are quite a few steps, these cookies are easier than they appear (mostly because the dulce de leche can be storebought), and I've included some process shots to show you what each stage should look like. Even if you're tempted to rush into baking these (I totally get it), it's well worth the wait to let the dough chill properly.
Step 1: Whisk the Dry Ingredients
To start, remove the butter from the fridge and set it on the counter. Meanwhile, measure and mix the dry ingredients (picture 1). For accuracy, it's best to spoon ingredients like flour into the measuring cup, scraping across the top with the edge of a butter knife.
Step 2 and 3: Cream the Butter and Sugar – Add the Egg Yolk, Brandy, and Vanilla
In order for creaming to work properly, your butter must be cool and soft. I usually recommend microwaving on the defrost setting for a maximum of 10 seconds or leaving the butter at room temperature for 1 hour.
You can cream butter with sugar in either a stand mixer or in a bowl with a hand-held mixer. Either way, you want to really beat everything well until you see a light, creamy texture that's pale yellow (picture 2). Next, add the egg yolk, brandy, and vanilla and mix just to combine (picture 3).
Step 4: Make the Cookie Dough and Chill Until Cold and Somewhat Firm
To make the cookie dough, you will mix the dry into the wet just until incorporated, being careful not to over-mix for the tenderest of cookies. Once the dough is formed, you can easily wrap and refrigerate it in plastic wrap. I strongly encourage you to chill the dough for 1 hour 20 minutes (any less and it will be difficult to work with).
Troubleshooting Dough: It's ok if the dough tears when you roll it. You can smooth any cracks with your fingertips by pressing the dough together gently.
Step 5: Roll and Cut the Dough
To roll the dough, I like to dust the counter with both flour and cinnamon (just a dash or two). I like how the cinnamon adds a bit of spiciness. When rolling, press down in the center of the dough with a rolling pin and roll out toward the edges, working in a circle until you have a smooth, uniform dough that's about 1/4-inch thick.
You will need a plain or fluted 2-inch pastry cutter to stamp out the cookies. Cutting the cookies is a two-stage process: You will get about 10-15 cookies from the first rolled out section of dough.
You will need to gather the remaining dough and chill it again, about 30 minutes; it becomes sticky and hard to work with the longer it sits at room temperature. Once chilled, you can roll and cut the remaining cookies (around the time the first baked batch is cooling).
Should I refrigerate the cookies before baking?
After rolling and shaping pastry dough, you may want to refrigerate the dough prior to baking. Buttery cookie dough tends to, well, melt and lose its shape. While I did not refrigerate my cookie tray (there wasn't room in the fridge), it's good practice if your goal is for the fluted edges to be crisp and defined. If you refrigerate the cookies, you may want to add 1 to 2 minutes of bake time to account for starting with colder dough.
Bake and Fill the Sandwich Cookies with Dulce de Leche Caramel
I like to bake the first batch while the remaining cookie dough is chilling in the fridge. These cookies only need about 12 minutes of bake time and should be pale in color.
Do Alfajores Need to Be Refrigerated?
If you live in a very hot or humid climate, I recommend storing alfajores in a sealed container in the refrigerator. Personally, I find the refrigerated texture to be very enjoyable, because the caramel seems to be slightly stickier in a way I like.
More Caramel Desserts You Might Like: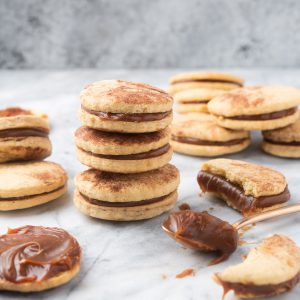 Alfajores (Dulce de Leche Sandwich Cookies)
Alfajores (alfa-hor-ays) are soft, buttery cookies from South America made, in part, with cornstarch for an ultra-tender, crumbly cookie. Sticky dulce de leche holds the cookies together. To take these sandwich cookies to the next level, roll the edges in dried coconut flakes or cover them with powdered sugar.
Print
Pin
Rate
Servings:
12
sandwich cookies
Equipment
A plain or fluted 2-inch round cookie cutter for stamping the dough
Ingredients
1

cup

cornstarch

spooned and leveled

3/4

cup

all-purpose flour

spooned and leveled, plus more for dusting

1

tsp

baking powder

1/2

tsp

baking soda

1/4

tsp, plus 1 pinch

fine sea salt

8

tbsp

unsalted butter (1 stick)

at room temperature

1/3

cup

granulated sugar

2

large

egg yolks

1

tbsp

brandy

1/2

tsp

vanilla extract

1

tsp

cinnamon

for dusting (optional)

3/4

cup

dulce de leche
Instructions
Mix the dry ingredients. In a medium bowl, whisk the cornstarch, flour, baking powder, baking soda, and salt to combine. Set aside.

Cream the butter with the sugar. Use a handheld mixer or stand mixer fitted with a paddle attachment to mix the butter and sugar together over medium-high speed, scraping down the sides with a spatula, until fluffy and pale yellow, about 3 minutes. Add the egg yolks, brandy, and vanilla and mix again to incorporate, about 30 seconds.

Combine the wet and dry ingredients. Add half of the dry ingredients to the wet mixture and mix on low speed just until combined, about 20 seconds. Add the remaining dry ingredients and mix just until fully incorporated, but no further, about 15 seconds.

Wrap and refrigerate the cookie dough. Spread plastic wrap on the counter and set the dough on top. Without handling the dough, wrap the edges to form a thick disc. Tightly seal the top and place in the refrigerator for 1 hour 20 minutes minimum.

Preheat. Meanwhile, heat the oven to 350°F and place the oven rack in the center. Line a sheet tray with a silpat or parchment paper.

Shape and bake the cookies. Sprinkle flour and a few dashes of cinnamon, if desired, on the counter-top. Place the cold dough on top and use a rolling pin to spread quickly, about 1/4-inch thick. Stamp out as many cookies as you can and use an offset spatula to transfer the cookies to the prepared sheet tray, about 1/2-inch apart. Bake for 12 minutes; it's ok if the cookies are still pale. Wrap and refrigerate remaining dough until firm, then roll, stamp, and bake the remaining cookies.

Smear and serve. Turn half the cookies over and smear about 2 teaspoons dulce de leche on the over-turned halves. Place a second cookie on tophttps://amzn.to/3bVACo7 to form a sandwich. Serve.
Notes
Cornstarch – If you don't have cornstarch, you may substitute tapioca flour (aka tapioca starch) or arrowroot.
Brandy – Any brandy will work in this recipe. You may use an alternative alcohol that you like the flavor of instead, or increase the amount of vanilla to 2 teaspoons.
Dulce de Leche – You can purchase high quality dulce de leche in the baking aisle or online (I like San Ignacio brand), so there's really no need to make your own. 
Variation Tip: Drizzle or dip the cookies in melted chocolate or roll the edges in dried coconut. You can also dust them with powdered sugar just before serving using a sifter or sieve.
Nutrition
Calories:
171
kcal
|
Carbohydrates:
22
g
|
Protein:
1
g
|
Fat:
8
g
|
Saturated Fat:
5
g
|
Cholesterol:
51
mg
|
Sodium:
96
mg
|
Potassium:
45
mg
|
Fiber:
1
g
|
Sugar:
6
g
|
Vitamin A:
274
IU
|
Calcium:
23
mg
|
Iron:
1
mg
Some of the links on this page are affiliate links, which may pay me a small commission for my referral at no extra cost to you!