Old fashioned and nearly unknown baked treats like buckles, grunts, slumps, and pandowdies capture my heart. I'm a sucker for simple, old timey American treats, especially when they conjure images of cake for breakfast.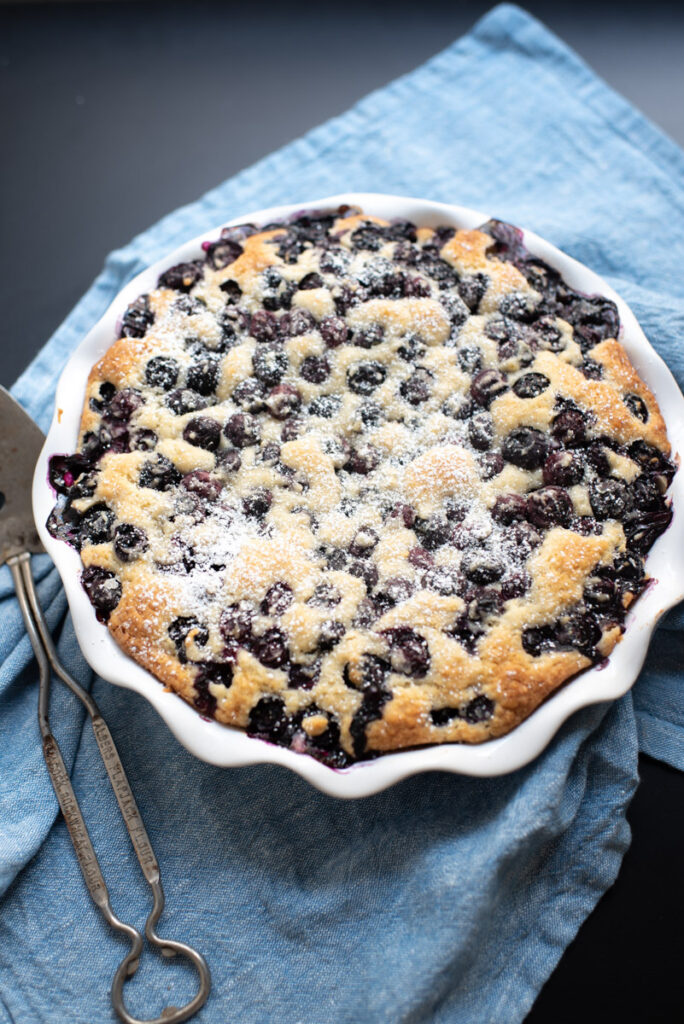 First things first. What even is a buckle?
A buckle, I've learned, is lighter than a scone and some say, a cross between a coffee cake and a biscuit crowned cobbler.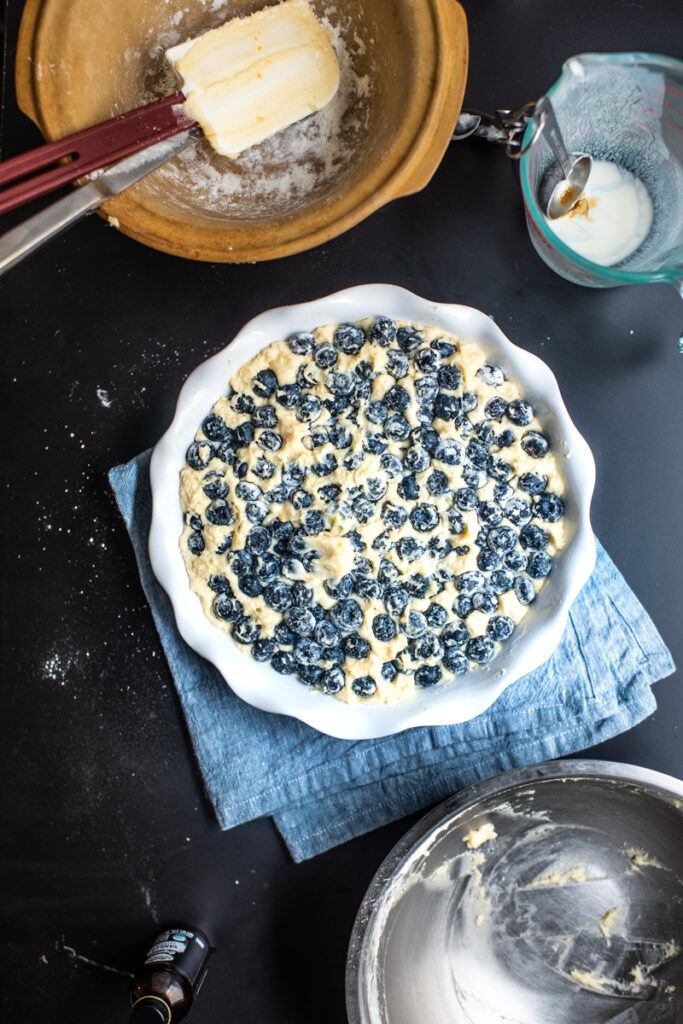 Alls I can tell you is that it's impossibly better than any blueberry muffin I've EVER tasted. It's really quite simple to make, too. Here's the gist:
Blueberries get pressed down into a buttery dough and baked to form a landscape of just-on-the-brink-of-bursting sweet, tart flavor. God I love spring.
My taste tester aka mother-in-law put it nicely: it's like a slice of heaven.
And. And. And. If you happen to have turbinado sugar (I, sadly, did not), you're going to want to sprinkle some right on top just before baking to get some added crunch. We're talking, bakery style sparkle.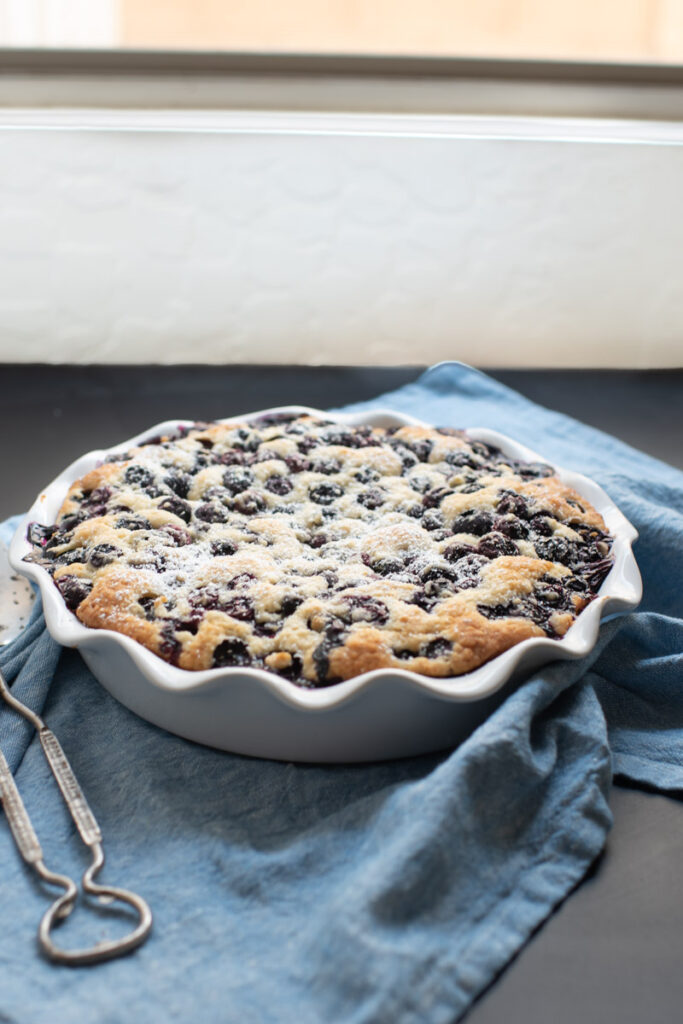 Since this is a seasonal recipe blog, I chose blueberries today because they are widely available from April to September, and I wanted to get this recipe in your hands for the long season ahead.
It's definitely the kind of breakfast splurge your family will be requesting over and over again.
Blueberry Buckle Ingredient Snapshot:
2 1/2 cups fresh blueberries – This is a really generous amount of blueberries and helps ensure you get blueberries in every single bite.
all-purpose flour – I recommend using AP flour, not cake flour. It bakes light enough for a breakfast cake and heavy enough not to be confused with a birthday cake dessert.
granulated sugar – provides a clean, sweet flavor as well as needed moisture to the breakfast cake. Do not reduce the sugar or your cake will be dry.
lemon zest – provides a nice bright contrast that lifts and accentuates the blueberry flavor. Oh my.
unsalted butter – fat gives this breakfast loaf a ton of flavor and some pretty enticing gold color.
egg – provides a small amount of fat and just enough structure to keep the crumb together. Just the right amount does the trick without drying it out.
baking powder – helps the cake rise evenly as it bakes and keeps the structure climbing high for a tall, light cake.
sea salt – helps give dimension by enhancing the actual flavor of the ingredients. So important.
buttermilk – provides richness and acidity which help keep the cake tender, moist, and flavorful. You can make your own buttermilk for this recipe by mixing 1/4 cup whole milk with 1 teaspoon vinegar or lemon juice.
heavy cream – another source of fat that adds richness and keeps the cake oh-so-tender.
vanilla extract – provides a complimentary flavor dimension that kisses those blueberries and that lemon zest.
Turbinado sugar – I say optional but maybe this should be required. This is for sprinkling on the surface just prior to baking. Gives the surface a sparkle and a crunch that is just irresistibly fun.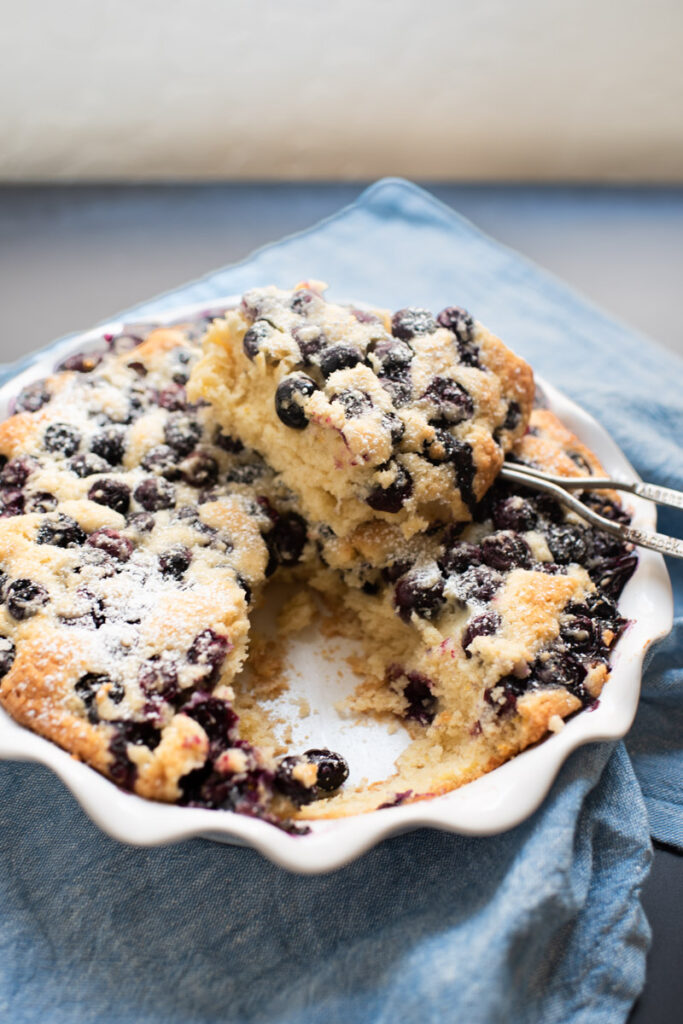 Fruit Substitutions
Fresh or frozen strawberries, raspberries, cherries, peaches, and blackberries work just as well, but (and this is a big but) you may want to add an extra tablespoon or two of flour if your fruit is very juicy. Because moisture.
Also, feel free to combine several kinds of fruits as I do in my brandy berry french toast casserole.
Some Baking Notes
You need either a large 9-inch round or square baking dish. I like to coat the inside liberally with unsalted butter which adds flavor as well as gold color and generally prevents sticking.
Start the assembly by rinsing and straining excess moisture from your blueberries. Give them a quick toss with a tablespoon of all-purpose flour; this will help prevent the blueberries from sinking to the bottom of the cake.
Mix By Hand or Stand Mixer Instructions (Tip #1: Room Temperature Butter)
First, we want to cream butter with sugar using the creaming method. You can do this easily in a stand mixer with a paddle attachment over medium speed, but if you're getting back to basics (like me) you can do this by hand in a mixing bowl with a whisk.
Hand Creaming Tip: If your butter is getting stuck to the whisk, you can set your oven-safe bowl in the preheating oven for about 30 seconds, which will allow you to easily cream by hand (see recipe video).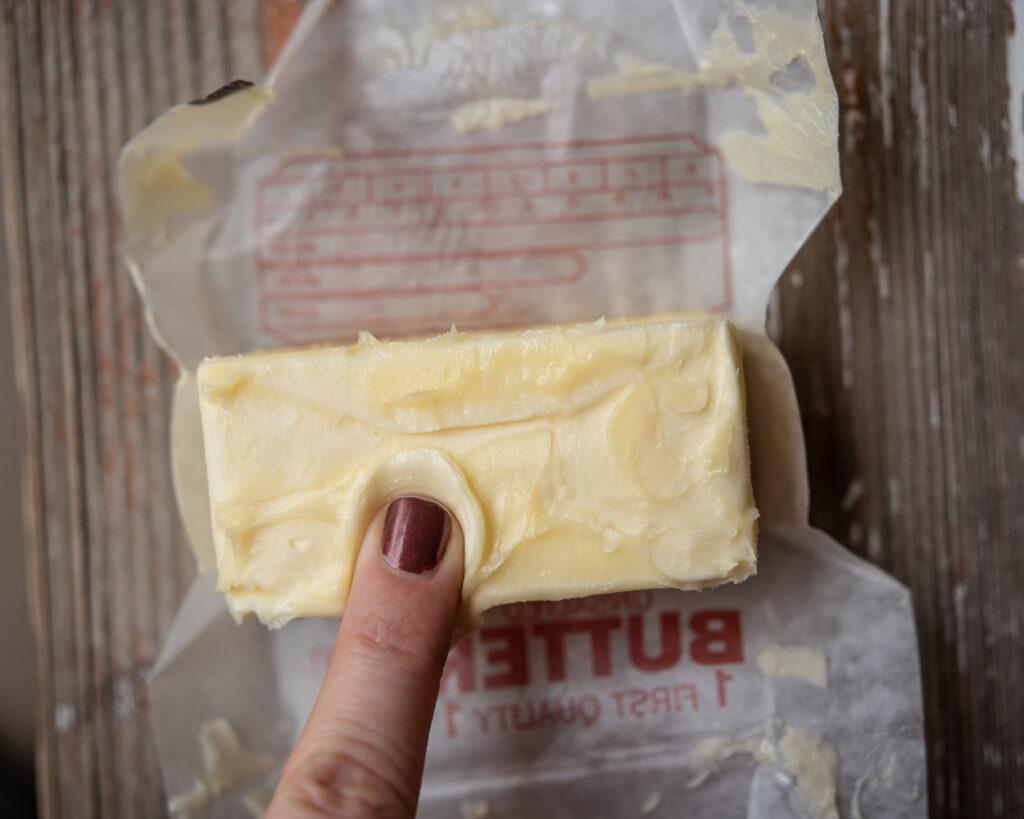 Quick Room Temperature Butter Method: This recipe calls for room temperature butter, which means that it should be soft enough to press a finger into, but not so soft that it's melting/liquidy. I typically put my butter in the microwave and defrost for 10 seconds (sometimes I do this 2x) until it's slightly soft. If you have time, you can also just set it on the counter an hour ahead of when you plan to make this recipe.
Alternate the wet and dry ingredients for a softer cake.
Another thing I'd like to point out about my recipe is that I purposely add the flour in installments because it results in a smoother, softer buckle. I'm also a huge fan of buttermilk, which has a tendency to slow down the proteins and gives the cake flavor as well as tenderness.
Park the buckle in the center of a preheated 350°F oven for 45 to 50 minutes or until the cake has risen and you can see some golden brown color all around the outside. You'll notice the blueberries have formed all their nooks and crannies right on top, maybe a few of them have even burst, releasing their juices.
Your Choice of Bakeware Will Affect Cook Time
As with most baking, we have a few variables here. There's your choice of fruit, and there's your choice of bakeware. For example, I offer a precise bake time of 50 minutes only if you are using fresh blueberries and a 9-inch ceramic baking vessel.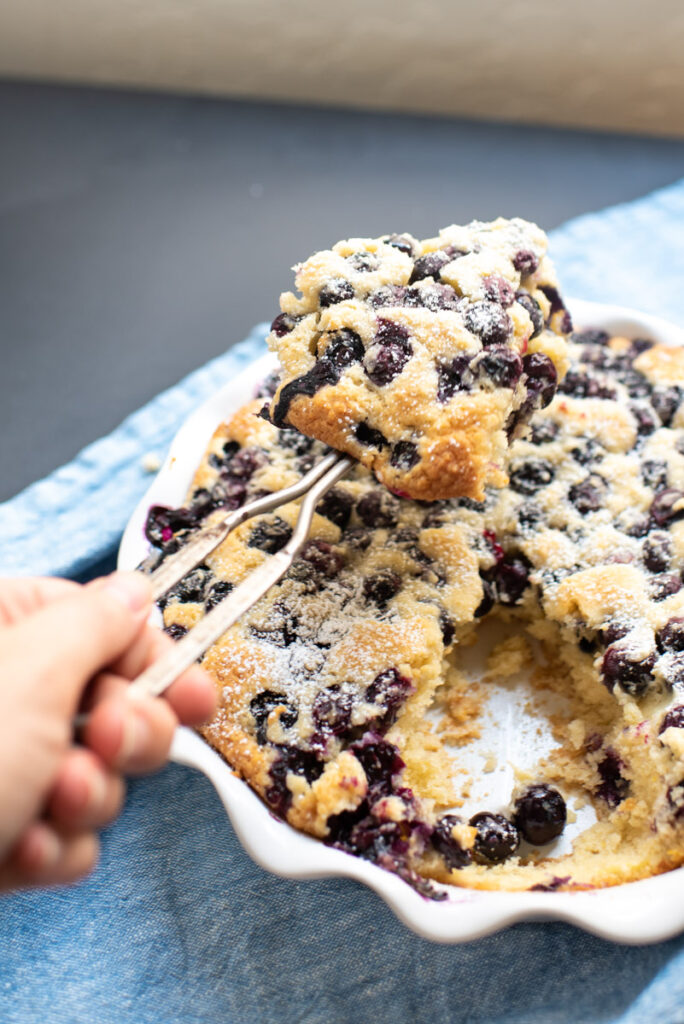 For glass, aluminum, or cast iron bakeware, you should stick a toothpick in the center after 40 minutes. It's done when it comes out clean. Your cake could, very well, be done at 40 minutes or 55 minutes (that's how much variability you will get with different bakeware).
Why did the center of my buckle sink?
If your buckle falls in the center as it cools, that is a sign that you removed the buckle too early and may encounter some under-cooked batter in the center. Next time, be sure to test with a toothpick and leave it in the oven longer.
If you want to leave a comment with the time your buckle was finished and the type of bakeware, I'm sure others out there would appreciate it!
Recipe adapted from Red Truck Bakery Cookbook. I took the Wild Raspberry Buckle and simplified the instructions to include a mix-by-hand creaming method.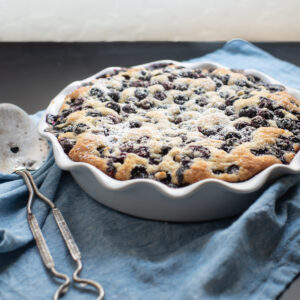 Bursting Blueberry Buckle
This blueberry breakfast cake is bursting with blueberry flavor and has a tender muffin-like texture.
Print
Pin
Rate
Ingredients
1

cup

granulated sugar

2

lemons* zested

about 1 tablespoon

1/2

cup

(1 stick) unsalted butter, plus extra for coating baking dish

room temperature

1

large

egg

room temperature

2 1/2

cups

fresh blueberries

2

cups

plus 1 tablespoon all-purpose flour

divided

2

tsp

baking powder

3/4

tsp

sea salt

1/4

cup

buttermilk

1/2

cup

heavy cream

1/2

tbsp

pure vanilla extract

Turbinado sugar (optional)

for sprinkling
Instructions
Preheat the oven to 350°F. Coat a 9-inch round cake pan with unsalted butter. Note: I used a ceramic pie dish, but you could also use a cast iron skillet or a 9-inch square baking dish.

Cream the butter with zest infused sugar. Note: You can do this step by hand or with a stand mixer fitted with a paddle attachment. Combine the granulated sugar and lemon zest. Add the room temperature butter and beat on medium speed until creamy and pale yellow. At this point, if the butter is too cold, you can set your oven-safe bowl in the warm oven for up to 30 seconds to soften. Add the egg and beat until just combined.

Prepare the blueberries and set aside. In a medium bowl, mix the blueberries with 1 tablespoon of the flour, tossing to coat.

Mix the wet and dry ingredients in installments. Add 1 cup of the flour to the butter mixture, using a spatula to fold gently. Add the baking powder, sea salt, buttermilk and mix gently just until combined. Add the heavy cream, vanilla extract, and remaining 1 cup flour and fold to form a thick batter.

Spoon and bake the cake. Transfer the batter into the prepared baking dish. Distribute the blueberries evenly across the top, pressing down into the batter halfway. Sprinkle with turbinado sugar, if using. Bake until a toothpick inserted into the center comes out clean and the top is golden brown, about 45 to 50 minutes. Allow to cool slightly, then serve warm.
Notes
Lemon Zest: I zested 2 Meyer lemons for this recipe using a microplane, but regular lemons work equally well. If you like a lot of lemon flavor, you can zest 3 lemons for about 1 tablespoon fresh zest.
Storage: Once the cake is completely cool, you can cover tightly with plastic wrap and store it in the refrigerator for up to 3 days. To serve, warm each slice for about 20 seconds in the microwave for the best texture.
Nutrition
Serving:
1
slice
|
Calories:
408
kcal
|
Carbohydrates:
57
g
|
Protein:
5
g
|
Fat:
18
g
|
Saturated Fat:
11
g
|
Trans Fat:
1
g
|
Cholesterol:
75
mg
|
Sodium:
244
mg
|
Potassium:
208
mg
|
Fiber:
2
g
|
Sugar:
30
g
|
Vitamin A:
645
IU
|
Vitamin C:
7
mg
|
Calcium:
78
mg
|
Iron:
2
mg