I'm crazy about Mexican food, and could eat it every single day, but these days it's a rare treat to enjoy home cooked tamales, where the masa dough is so incredibly moist and soft. Tamales are so versatile and can be filled with anything, but I have a recommendation for you:
Red chile shredded beef
My childhood consisted of nice women knocking on the door and selling bags of still-hot homemade tamales. For years, my family were beneficiaries of the neighborhood tamale circuit, and here I am today, wondering if I should sell these tamales (they're that good).
Also, side note: In culinary school, I insisted that my class do a Mexican theme menu, and we ended up testing and perfecting masa dough for an entire month. Guess how many tamales I made that year? Hint: Over 300.
Top Tamale Dough Tip: Cream the lard then slowly incorporate the masa dough. The key is to beat the tamale dough until fluffy like frosting. A trick I learned is to break off a piece of dough, put it in a glass of water, and when it floats, it's ready.
As you can imagine, my tamale making days have been at a stand still since culinary school. Because this is the frayed apron (and not the new apron), I couldn't resist the temptation to get myself wrist deep in tamale dough.
Actually, this recipe turned out to be incredibly rewarding. It only makes about 20 tamales, perfect for a small household, and you can get the steps done in about 30 minutes; the rest of the time is cook time. I also recommend making the shredded beef ahead of time in the slow cooker.
What I really love about tamales, too, is that they are practically a complete meal as-is. Although, tamales are traditionally served with beans or anything saucy. I really like them with this taco shop guacamole, which comes together in about 5 minutes.
Filling Options
I like to make the shredded beef in red chile sauce the day before forming tamales, but you could also start the slow cooker in the morning and make tamales by dinner time.
Barbacoa – Mexican Shredded Beef
I recommend using this barbacoa Mexican shredded beef made in the slow cooker; you should increase the chile peppers in the recipe or add a chipotle chile if you like it spicy.
Doubling the Recipe
If you're looking to do multiple fillings, you'll want to double this recipe to end up with approximately 40 tamales. I recommend scaling back on the salt to 3 teaspoons, then tasting the masa dough. For reference, tamale dough should taste somewhat salty because some of that will be lost during evaporation as they steam-cook.
How do you form and cook tamales?
Tamales need to be steamed for anywhere between 45 minutes in a tamale steamer pot with tamales oriented open-side up or up to 2 hours, if you are stacking them to fit them in a large pot with steamer insert. Tamales are rolled and cooked inside of corn husks or banana leaves to give them shape (and a bit of flavor).
You can use fresh husks, but I usually buy dried corn husks because they are typically larger, last forever, and can be re-hydrated easily in a bowl of water.
Technical Tip: Tamales are done when the tamale dough pulls away from the corn husk when unwrapped. Even if the dough looks very soft, as long as it pulls away from the wrapper, it will firm up as it cools. With tamales, you can err on the side of caution and continue to steam, without risk of them drying out. My motto: when in doubt, add another 30 minutes of steam time.
More Mexican Food Inspiration: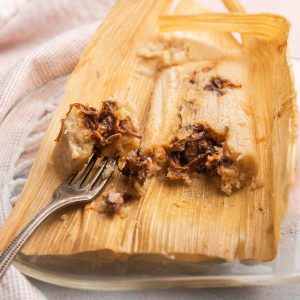 Red Chile Beef Tamales
Make your favorite filling (shredded beef, chicken, or pork), grab a helper, and start forming some homemade tamales. Nothing beats a fresh tamale, but they can easily be stored in the refrigerator or frozen for up to 1 month.
Print
Pin
Rate
Ingredients
20

dried corn husks

preferably with rounded bases

1

cup

(8 oz) pork lard

3 1/4

cups

tamal flour or masa harina

spooned and leveled

2

cups

lukewarm water

about 110 degrees

2

teaspoon

fine salt

⅔

cup

vegetable oil

such as canola oil
Instructions
In a large bowl, submerge the corn husks in cold water for 30 minutes.

Meanwhile, use a handheld mixer or stand mixer with the whisk attachment to beat the lard on medium-high speed until very fluffy, 3 to 5 minutes. In a separate bowl, mix together the tamale flour, water, and salt with your hands to form a uniform dough. Add half of the dough to the lard and beat to combine. Add the oil and the remaining dough to the lard mixture and beat on medium-high speed until it has the texture of a fluffy frosting, about 10 minutes.

Drain the corn husks. Then, put a heaping tablespoon of masa on the corn husk, spreading to flatten it slightly and evenly, so it roughly forms a rectangle. Put a couple tablespoons of filling in the middle of the batter. Enclose the filling in the batter as you fold the husk, folding the pointed end over the bottom half. The rounded end will remain open.

Place a steamer insert inside of a deep pot and fill with about 2 inches of water. Fit the tamales on top of the steamer insert, stacking them if necessary. To prevent moisture loss and ensure the tamales steam properly, place a damp cloth across the opening of the pot and then secure the lid on top.

Bring the water to a high simmer (medium heat) and steam the tamales for 1 hour. At this point, check to see if the masa mixture easily separates from the husk when unwrapped. If it appears overly wet or sticky, add additional water to the pot and continue to steam 45 minutes longer. As the tamales cool, the masa will firm up a bit. Serve warm.

Tamales keep stored in the refrigerator for up to 3 days in a sealed bag. If freezing the tamales, defrost in the refrigerator overnight before cooking. Frozen tamales will last up to 1 month in a sealed plastic bag.
Notes
How to Reheat Tamales:
To reheat, either re-steam the tamales until heated through, about 30 minutes, using a steamer basket on the stove-top or microwave them on a plate with a splash of water with an inverted plate set on top for 1 minute at full power for every 1 or 2 tamales.
Variation Tip: When adding water to the tamale flour, you can heat the water first and add 1/2 teaspoon of anise seeds. Strain and allow to cool, then proceed with the recipe. This technique infuses the masa dough with a pleasant licorice flavor that compliments the savory beef filling.
Masa Harina or Tamal Flour: 
I recommend checking the bag of masa harina flour for the words "for tamales" to be sure you are buying the right flour. Here is a tamal flour that you can order online. Masa flour is available where ethnic foods are sold.
Pork Lard:
Pork lard is fantastic because it can be whipped into a creamy consistency, making for a light tamale dough that's also flavorful. You can make and strain pork lard from cooking down pork belly or pork fat. It's also available where ethnic foods are sold.
Nutrition
Calories:
290
kcal
|
Carbohydrates:
14
g
|
Protein:
9
g
|
Fat:
23
g
|
Saturated Fat:
12
g
|
Cholesterol:
31
mg
|
Sodium:
265
mg
|
Potassium:
174
mg
|
Fiber:
1
g
|
Vitamin A:
44
IU
|
Calcium:
32
mg
|
Iron:
2
mg
Some of the links on this page are affiliate links, which may pay me a small commission for my referral at no extra cost to you!