I first experienced the magic of rhubarb sorbet while earning my culinary degree. My class prepared a rhubarb sorbet for 100 guests at our graduation dinner.
When you simmer rhubarb, you can extract all the essence, pink color, and sour flavors. Pair it with fresh lime juice and zest, and you've got an incredibly refreshing sorbet that's creamy and palate cleansing. It's a mind blowingly simple recipe that you're just never going to find in any store.
Rhubarb Lime Sorbet: Recipe Snapshot
Star Ingredient: rhubarb
Flavor Affinities: RHUBARB + LIME + SUGAR
Function: cooling
Tastes: sour, sweet
Textures: creamy, frozen
Ease: moderate
Method: churning and freezing
Wisdom: Since rhubarb is quite sour, it works perfectly with lime juice and zest to create a really tangy, sweet dessert. Salt and tequila play minor roles but work to enhance both fruits.
To start, grab a really large stalk of rhubarb (or 2 if they are small). Simmer them in some water with sugar and salt. Then watch as all the color drains from the rhubarb and infuses the water. Since this liquid is the base for the ice cream, be sure to use purified water.
You'll need a strainer to remove the rhubarb. Go ahead and taste the liquid if you want to. It should be very sweet and sour – a hallmark of a good ice cream base is that it should taste too sweet. Freezing reduces the experience of flavor so trust in the ratios of sugar in this recipe. They are as low as they can be with producing a creamy result.
Speaking of creamy, here's a tip for you. Adding alcohol reduces the formation of ice crystals. I've included tequila as an obvious compliment to the lime – but with only 1.5 teaspoons, it's not detectable. This small amount of alcohol is necessary to transform a low fat base into something luscious.
Rhubarb is still available where I am, but if you stumble upon this out of season, you will be very pleased with this lemon custard ice cream instead. In truth, I love both ice creams, but nothing beats the creativity of using an ingredient like rhubarb. People do not expect it, and so anytime I can introduce somebody's taste buds to something new, people love it even more.
---
If this is your first time making ice cream, it's important to work within the parameters of your ice cream machine. Since I owned a Cuisinart for 8 years, I can speak to this machine with knowledge. When you put the liquid ice cream base in the machine, it absolutely must be cold. I mean ice cold.
Since you're heating this concoction, you really need to apply an ice bath or just refrigerate the liquid to get it cold. An ice bath is where you fill a large bowl or sink with icy water. Place the hot bowl of liquid on top and stir. This is the fastest method for cooling a liquid that I know of.
My second tip about ice cream has to do with the texture. Right out of the ice cream machine, you will likely have a very soft texture. Since you can't easily scoop it, you can put it in the freezer for 8 hours (covered). A little extra freezing time can give you a scoop-able texture. This is the best work-around for a cheap ice cream machine.
How to Store Ice Cream
I made a double batch of this sorbet, so I filled 2 metal canisters and covered them with plastic wrap. You can store ice cream for months like this, but over time, ice crystals develop and the texture does change. In general, if you let the ice cream soften a bit on the counter, you'll be able to get a better scoop than the rock hard texture right out of the freezer. This sorbet is absolutely fabulous in this Italian Cream Soda recipe.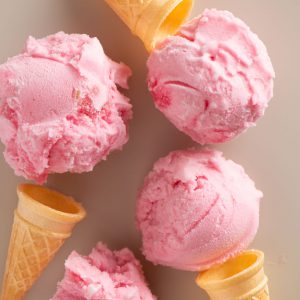 Creamy Rhubarb Lime Sorbet
You haven't lived if you haven't tasted rhubarb ice cream. This sorbet combines lime juice and zest with rhubarb for a sweet, sour sorbet that is fantastically refreshing. The vibrant pink color is 100% natural and the recipe is gluten free and vegan.
Print
Pin
Rate
Ingredients
1

pound

rhubarb

1-2 stalks, chopped

3

cups

purified water

1/2

tsp

salt

3/4

cups

granulated sugar

1 1/2

tsp

tequila

or vodka

3

limes

juiced

1 1/2

tsp

zest

from 1 lime
Instructions
In a small pot, add the rhubarb, water, salt, and sugar and bring to a boil over high heat. Lower the heat to medium to simmer for 20 minutes. Add alcohol and strain over a medium bowl.

Add lime juice and zest to the pink liquid and cool completely.

Pour into a frozen ice cream base (follow the instructions of your machine). Churn to the soft serve consistency. Freeze for 8 hours, covered, for a scoop-able texture.
Notes
Alcohol is necessary for reducing ice crystals and creating a creamy texture. Use any liquor you have.
Sugar should not be reduced in this recipe but can be increased. This recipe yields a smooth and creamy texture with my machine and should do the same for you. When you freeze it for extended time, it will get icy. You just need to thaw it for several minutes on the counter before scooping, and the texture will be better then.
Nutrition
Calories:
126
kcal
|
Carbohydrates:
32
g
|
Protein:
1
g
|
Fat:
1
g
|
Saturated Fat:
1
g
|
Sodium:
204
mg
|
Potassium:
252
mg
|
Fiber:
2
g
|
Sugar:
26
g
|
Vitamin A:
95
IU
|
Vitamin C:
16.4
mg
|
Calcium:
80
mg
|
Iron:
0.4
mg
Some of the links on this page are affiliate links, which may pay me a small commission for my referral at no extra cost to you!