A quick pickle or refrigerator pickle is a bright and crunchy sandwich sidekick or fun addition to a crudite platter.
As the name suggests, quick pickles are conveniently ready instantly, unlike these fermented dilly beans. Some of the smartest dishes would be incomplete without the crunchy, sour properties of the pickled vegetable. Imagine a street taco without the tangy fuchsia pickled onion or cuban pork shoulder without the contrast of pickled cucumber.
One of my favorite pickles of all time is actually a quick pickle! You can chop fennel and add it directly to a rice vinegar brine (water, salt, and vinegar) with turmeric and nigella seeds (onion seeds). Within an hour or so, it turns bright yellow and is unlike anything you've ever tasted. Back in the restaurant kitchen, we'd serve a spoonful of the vibrant pickled fennel alongside fried oysters.
I'm really excited to share this basic recipe with you today because I know I'm leaving tons of room for interpretation, and I know it's important to have some room for creativity in the kitchen.

Some of the links on this page are affiliate links, which may pay me a small commission for my referral at no extra cost to you!
The coolest thing about making pickled garnish? With a single vinegar formula, every quick pickle is purely the cook's creation.
You can infuse the vinegar with fresh herbs or spices, different types of sweeteners, and experiment with new types of vinegar. My go-to is red wine vinegar because I love the way it tastes with virtually every vegetable. Add some tarragon or mint for fresh bite.
Acid. Spice. Salt. Texture.
Savvy cooks have tricks for bringing each of these elements to every dish, and the quick pickle brings them all.
Use a spicy element like red chili flakes to brine fragrant fennel or use pungent mustard, dill sprigs, and garlic cloves to pickle cucumber spears. Once you know how to pickle a vegetable or fruit, the possibilities are endless.
Try Pickling With:
Spices: mustard seeds, red pepper flakes, peppercorns (pink or black), whole coriander, juniper berries, fennel seeds, cumin seeds, star anise
Herbs: tarragon, dill, mint, parsley, oregano
Add sliced ginger, garlic, turmeric, chile peppers, or lemongrass
Once you submerge the vegetables in a warm (not hot) brine of water and vinegar, the process renders them al dente-tender, hugely flavorful, and ready to be added to any dish in need of a little oomph.
These fun little guys are welcome wherever you would instinctively reach for a squeeze of lemon or a splash of vinegar. They just add that extra pop of complexity that your average acid can't match. Luckily, this master recipe will have you on track in time to shake up tonight's dinner.
Tip: Adjust the size of your vegetable cuts according to your serving plans.
Use Lemon or Lime Juice
Thinly sliced red onion can be pickled directly in fresh squeezed lime juice (acid) and a teaspoon of salt. After only 15 minutes, squeeze and rinse your onion and use immediately for the best tasting pickled onions of your life!
The below recipe will produce decent tasting sliced cucumber same day, but they will improve with more time in the refrigerator.
You can add extra herbs and spices to get a more powerful tasting pickle for immediate use. Never add vegetables to boiling water or they will cook. Instead, allow the brine to cool (warm is ok) and then pour over the vegetables to the top of the mason jar.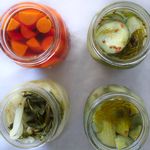 Quick Pickles
Really great pickles should not be too sharp. We want to taste the vegetable, not just the brine. Low acid and a touch of sweetness will allow you to taste what's underneath it. Use this recipe as a starting off point and customize it according to the vegetables you're going to pickle at one time. For example, I might add the brine to 4 mason jars, then stuff unique herbs and spices into each jar.

Print
Pin
Rate
Ingredients
1/2

cup

vinegar

such as red wine, champagne, white wine, rice vinegar

1 1/2

cups

water

1

tbsp

kosher salt

1

tsp

whole peppercorns

black or pink

3

tbsp

honey or sugar

1/4

tsp

spices

coriander, mustard seeds, cumin, fennel, nigella

1/4

tsp

red pepper flakes (or sliced fresh pepper)

optional

2

pounds

vegetables

pickling cucumbers, carrot, fennel, radish
Instructions
Pour vinegar and water into a medium pot (you could try 1/2 cup red wine vinegar and add 1 tablespoon of rice vinegar*) and bring to a simmer over high heat. Add salt, peppercorns, sugar, spices, and red pepper flakes.


Turn off the heat immediately but allow to sit for 5 minutes to infuse and cool slightly. Meanwhile, prepare the vegetables (peel or cut however you like).


Using clean canning jars, fill with your vegetable in a way that shows of the beauty of it. Keep any vegetables that bleed colors separately if you want to preserve the individual colors and flavors. Top each jar with the pickling brine. Seal and refrigerate for up to 2 months. Start tasting after the first day to see how the flavor and texture are developing.

Notes
*Chefs Tip: Any great chef I've ever worked with has made their quick pickles with a combination of 2 types of vinegars. I love this because it creates a dynamism in the flavor profile. You could try 1/2 cup rice vinegar with 1 tablespoon white wine vinegar.
What's the difference between quick pickles that are instantly ready and quick pickles that taste better the next day?
vegetable cuts (size matters) – go for a smaller cut vegetable if you want to eat the pickles immediately. Keeping the vegetable whole (as in whole pickled cucumbers) is a good idea if you won't be eating the pickles right away.
fruit – this brine is ideal for vegetables. Generally, when pickling fruit, you want to try to use it same day. I love to toss some rice vinegar directly onto diced plums and enjoy tiny dices on top of sashimi, for example.
What vinegar do I use for quick pickles?
Honestly, every vinegar will taste slightly different because each has a different level of acidity. If you're new to pickling, I would recommend sherry vinegar, red wine vinegar, champagne vinegar, or white wine vinegar to start with. You can use distilled white vinegar, but it's not my favorite. I'm also not a huge fan of apple cider vinegar for quick pickles.
Best Tips: Always include salt, sugar, vinegar, spices, and herbs when pickling for optimal flavor. You can play around with the proportions to your liking and use this recipe as a guideline.
Nutrition
Calories:
85
kcal
|
Carbohydrates:
20
g
|
Protein:
1
g
|
Sodium:
708
mg
|
Potassium:
346
mg
|
Fiber:
4
g
|
Sugar:
7
g
|
Vitamin C:
15.4
mg
|
Calcium:
36
mg
|
Iron:
0.6
mg
Quick Pickle Versus Fermented Pickle

A quick pickle has that zippy quality from vinegar, and the results are instant. On the other end of the pickle spectrum is the slow pickle that involves fermenting vegetables via lactic acid producing bacteria. So which is better?
Both types are popping with flavor and acidity. Fermented pickles, such as these pink radishes with their greens, take between 10 days and 2 weeks, while quick pickles are ready instantly. Check out my fermenting vegetables guide for more in-depth about how to make lacto-pickles, including vegan kimchi. For my money, it doesn't ever get more deeply complex than fermented pickles.