Clafoutis (kla-fu-t). It's a french dessert that's a cross between a custard and a cake studded with ripe fruit.
You know the aroma of a freshly baked waffle cone? That smell somehow reminds me of the flavor of this cake. It's sweet and sour in parts with surrounding flavor affinities of egg, Grand Marnier, and vanilla.
I hardly have to tell you that the cherries are the best part. Cherries are having their moment right now (July). The other day, my husband brought home a bag of cherries, so I grabbed one and popped it in my mouth.
No clue cherries could do this but… they were so flavorful that they gave me goosebumps. I've never tasted cherries like this before. It has to be the absolute exact peak for buying/eating cherries this season, and I would hate for you to miss out.
That said, I also have a blueberry buttermilk clafoutis that uses rice flour if you are looking for gluten-free. So, you could put blueberries or cherries in either recipe.
Basics of Clafoutis
A clafoutis batter is no more complicated than pancake batter. I can honestly say, the hardest part was breaking up the flour lumps with my spatula during the first round of testing. Lesson learned – sift the flour and you won't have this problem at all.
By the way, I don't have a pit removing gadget. Removing the cherry pits took less than 5 minutes.
Note to self (and the entire internet): the pits may be traditional, but you won't care if you break a tooth…just sayin
In case you want to ignore my advice, you can leave the pits in the cherries. The origin story is that the cherry pits were used as a way to impart almond flavor. Of course, I tested this theory before dismissing it outright entirely.
Baking Clafoutis: with or without pits?
To pit or not to pit? I absolutely could not detect a strong flavor difference between clafoutis with or without pits. If there was a subtle difference, I couldn't easily pick it out. Considering this, I will be taking the pits out from now on.
Serving Suggestions:
The sky is the limit with clafoutis! If it's a seasonal fruit, go for it. Raspberries or apricots are my favorite variation. While I love it by itself, it's also really lovely with a scoop of ice cream or cool whipped cream.
If this is your first time trying this French dessert, I hope you find the texture enjoyable. It reminds me a little bit of bread pudding or denser flan. Feel free to share any impressions below.
In case you're looking for more berry inspiration, check out this berries and whipped cream with orange liqueur recipe.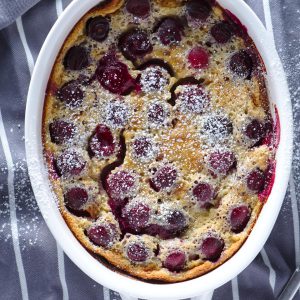 Cherry Clafoutis
A cherry clafoutis is a rustic summer dessert that sets fruit inside of a 2-inch sweet egg batter. This version is similar to traditional French clafoutis. I've added Grand Marnier because it tastes amazing with cherries.
Print
Pin
Rate
Ingredients
1

pound

sweet black cherries (3 large handfuls)

de-stemmed, pitted or not

unsalted butter

for rubbing

4

large

eggs

1/2

cup

granulated sugar

1/4

cup

light brown sugar

or substitute 1/4 cup white sugar

1

cup

whole milk

1

tbsp

Grand Marnier

orange liqueur (or brandy)

2

tsp

vanilla extract

1/8

tsp

salt

3/4

cup

all-purpose flour

or almond flour to keep it gluten free

powdered sugar

for dusting
Instructions
Preheat the oven to 375°F. Smear a baking dish with a generous coating of butter. For the best flavor and texture, use a dish that is about 2" deep. Set the cherries in the dish.

Crack the eggs into a medium bowl. Add sugars and use an immersion blender on medium speed to froth the eggs for 1 minute – lift up and down a bit until very bubbly.

Add milk, Grand Marnier, vanilla, and salt.

Set a strainer over the bowl and add the flour. Sift bits of flour at a time as you whisk to incorporate. This method prevents lumps from forming in your batter.

Pour the batter over the cherries so that just a tiny peak of the cherries are visible. Bake for 10 minutes. Lower the heat to 350°F and continue baking until the top swells and you begin to see a golden color, 25 minutes (more or less depending on the size of the dish). Poke with a fork or toothpick. If it comes out clean, then the clafoutis center is done.

Transfer to a cooling rack for 10 minutes. It will sink a bit. Dust with powdered sugar and serve warm with ice cream.
Notes
Removing Cherry Pits:
Traditionally, clafoutis is made with the cherry pits baked inside the dish for an almond-like flavor. Since cherry pits can break a tooth, it's not worth the risk. You can remove cherry pits by cracking the berry in half with your fingers. There's also a pit removing gadget that makes this a bit faster.
Foaming:
I've developed a special technique for working with the eggs in this recipe that involves beating them with an immersion blender. You can do this step with a whisk if you don't have a blender.
Straining the Flour (Sifting):
This is very important. Use a strainer or sifter to dust the flour into the egg mixture. Otherwise, you will end up with loads of clumps that are near impossible to deal with using a spatula alone.
Baking Dish Tips:
If you have a 10″ baking dish, that will accommodate this entire recipe. I like to choose a dish that will allow me to get the height I am going for: the liquid must just touch the tips of the cherries. Any shallower, and I recommend finding a smaller dish. You could also bake this cherry clafoutis in several smaller baking dishes. Check them after 20 minutes.
Nutrition
Calories:
267
kcal
|
Carbohydrates:
50
g
|
Protein:
5
g
|
Fat:
5
g
|
Saturated Fat:
2
g
|
Cholesterol:
127
mg
|
Sodium:
77
mg
|
Potassium:
226
mg
|
Fiber:
2
g
|
Sugar:
35
g
|
Vitamin A:
1200
IU
|
Vitamin C:
7.6
mg
|
Calcium:
83
mg
|
Iron:
1.4
mg
Some of the links on this page are affiliate links, which may pay me a small commission for my referral at no extra cost to you!