Roasted mesquite bean coffee offers a caffeine-free alternative to traditional coffee. It has a bold flavor profile and just enough fructose to give you a natural boost.
What's more, it tastes like coffee. Really good coffee.
With mesquite pods dropping by the thousands in my front yard, it doesn't get more local or sustainable than this.
First, let's get some of your questions answered (because I know I had a few).
How do you make mesquite bean coffee?
Easy! You gather as many whole mesquite pods as possible (from the tree, not the ground). Rinse them and spread them on a sheet tray. Roast them in the oven until they are dark brown and very fragrant, almost burnt smelling. Cool, then grind them and use as you would regular ground coffee.
*I use a coffee machine but I know some people have had success using a percolator (this is something I defitinely want to try because I think more of the sweet powder will get into the coffee).
Note: If the pods are pliable, then they will likely need to be left for a week to dry. You want the pods to have a nice crunchy snap when you break them in half.
Once the pods are ground, it will be powdery with some solid fibrous pieces remaining. I recommend using a coffee grinder for this.
Harvesting Mesquite Pods
The best time to pick mesquite pods is before the first summer rain, around the time the pods begin to fall naturally on the ground. In Arizona, that's mid-June (but could be as late as August depending on your region). Mesquite is prolific in front yards and in the desert, but I don't recommend harvesting near major streets due to pollution.
Mesquite pods (the shell and the beans) are often used whole for drying and grinding into mesquite flour, a naturally gluten-free, sweet and delicious ingredient to work with. It's pretty easy to make mesquite tea or coffee, too.
How do you deal with bugs or mold?
First of all, you should know that mesquite is a highly prized desert food source for insects and birds. Over time, harmless flying beatles or weevels hatch out of many of the pods, usually a few weeks after they've sat on the ground, and that's why you will see a tiny hole in those pods.
Good news. You can kill any larvae in the pods by roasting them. So, no biggie. If this weirds you out, I totally get it. It stopped me from harvesting them last year. But, I'm over it. Bugs exist and touch our food all the time.
Mold is another issue, though. If the pods have been on the ground for more than 2 days and definitely if there's been any desert rain, beware. Aflotoxin is a serious problem (the same mold that peanuts are susceptible to). For this reason, I do not recommend that you pick the pods off the ground.
Roasting Light vs. Dark
It took a little trial and error for me to figure out the ratio of ground mesquite to water. I also, incorrectly, thought I had burnt my first batch. Turns out, you need to get the beans very dark brown. This will take anywhere from 28 to 35 minutes, for a light-medium to medium roast. I found some variation between batches occurred (likely due to the variable amounts of moisture in the pods).
Some Tips
Break the pods before roasting to make them easier to grind. I recommend about 2-inch pieces.
The smell: You will think cookies are in the oven at first, then peanuts, then something burning.
Try adding a spoonful of mesquite honey or a splash of milk, if you like your coffee that way.
Obviously, this is super useful for desert dwellers but not so relevant for everyone else. Nevertheless, I really hope you get to try this superfood in any form and help spread the word.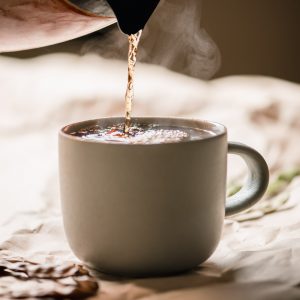 Freshly Roasted and Brewed Mesquite Coffee
It tastes like coffee! This decaf mesquite coffee is made from freshly roasted, whole mesquite pods. You'll love the slightly sweet taste and the way the pods smell like cookies as they're roasting.
Print
Pin
Rate
Ingredients
3

handfuls

whole dry mesquite pods

broken into 2-inch pieces

mesquite honey

(optional) for serving
Instructions
Preheat the oven to 350°F

Quickly rinse the mesquite pods to remove any dust. Lay the pods out in an even layer on a baking sheet tray. Bake on the center rack until the beans begin to smell like they're burning and turn very dark brown, about 30 minutes. Remove any beans that have a green hue.

Cool completely then grind in a coffee grinder or blender until you have a fine powder mixed with some fibrous bits. Work in batches if you need to. For 1 pot of coffee (measure 6 cups of water), you will need 1 cup ground roasted mesquite. Brew in a coffee filter as you would normal coffee. For the best flavor, the coffee should be dark brown. If it is too light, you will need to roast the beans up to 5 minutes longer.
Nutrition
Serving:
1
cup
|
Calories:
40
kcal
|
Carbohydrates:
8
g
|
Protein:
1
g
|
Fiber:
5
g
|
Sugar:
1
g
Some of the links on this page are affiliate links, which may pay me a small commission for my referral at no extra cost to you!