I was the 6-year-old who snuck out my aunt's house in my pj's with my fishing pole before dawn. I would have gotten away with it, too.
Only, I set my fold-up chair right on the dock's edge and fell in the lake.
I'm very fond of my Michigan memories which were filled with love and family and catching bluegill.
So when my dad randomly texted me…
Dad: I'm catching bluegill so the 3 of us can have a fillet fish fry at your place. If you're interested.
Me: Ok lol

Dad: 27 of these little gems to work with…

My mouth started watering.
Catching bluegill or sunfish in your local lake is fun.
Chances are, if you've ever tried to catch fish, you've accidentally caught a bluegill. They like to hang out near the shore, and for some reason, they're super curious and bite just about anything.
I once caught a bluegill on a hook with nothing on it.
They're quite small, so most people throw them back.
Ever wondered whether you can eat them?
You sure can.
Bluegill are actually quite yummy.
Well, I should say, the white flesh is mild and flavorful.
Skin-on, you get a bit more of a fishy flavor.
So what's the problem?
If you try to pan-fry sunfish whole, you'll soon find out…
Once you go to eat them, you'll get a mouthful of bones with every single bite.
They're difficult to eat and full of tiny bones.
So why do some people love to catch and eat bluegill?
Here's the trick.
I used to put my gluegill in the capable hands of my grandma as a child.
Her pan-fried bluegill were phenomenal. You know what she did?
Fillet them before cooking.
If you can, try to catch about 6 to 10 bluegill per person for a filling meal.
They're very small fillets so you need a lot.
It's just like filleting any other fish, only they're itty bitty. Putting in the work early has its rewards.
This makes them easier to eat.
When you can focus on the flavor of the bluegill, and not on all the bones, it's an entirely different eating experience.
And it makes them easy to dredge and quick to cook.
Once you've collected all the clean fillets, it only takes about 5 minutes to cook them. I like to set a plate next to the stove and just dredge and fry in batches. About a batch per person.
Want my favorite dredge?
My grandma used to dredge bluegill in straight cornmeal (although, there's some debate about whether she mixed in flour). Personally, I love the way cornmeal mixed with tapioca flour makes the fillets nice and crunchy on the outside.
The cornmeal definitely adds a hint of sweetness, so if you are looking for a really savory flavor only, I'd stick to straight tapioca flour.
What's great about this dredge is the way it sticks to the fillets without any egg wash. You just get a much cleaner flavor that way and can appreciate the subtle bluegill taste.
How to Pan-Fry Bluegill (Sunfish)
You really want the fish to float in enough oil so you don't have to turn them. I recommend at least 1 cup of oil, for this reason.
Ingredient Tip: A phenomenal oil for the job is avocado oil. It's superb in every way, and I can't get enough of it.
Like all deep-frying, you want the oil to be about 365°F. There's no need to take the temperature. You can just lower the tip of one of the fillets to see if the oil starts bubbling around the food.
If it needs more time, just wait. It's better safe than sorry. I mean, who likes oily fried fish? Amiright?
Once hot, the fish fry happens quick-quick-quick.
I usually start plating after each batch and salt them while they're piping hot so the salt has something glistening to stick to.
If you can multi-task, start the mayo while the fish cooks – or call your husband and dad into the kitchen and start instructing them.
How to Make Lemon Aioli (without screwing it up).
You want the egg, mustard, vinegar, salt, and lemon juice in the bowl first.
It hardly matters at this point what you do.
Grab your immersion blender, and steady as can be, add the oil 1 drop at a time. I mean 1 drop.
Ok, if 2-3 drops fall in there, it's not the end of the world.
You just want to go easy with the oil and blending all the while to create an emulsion.
Once you get an emulsion, it's easy sailing from there. You can simply drizzle in the remainder of the oil at this point.
The entire mayo-making process takes about 3 minutes.
So, tell me, are you excited to try something new? Lemme know what you think of this fish fry.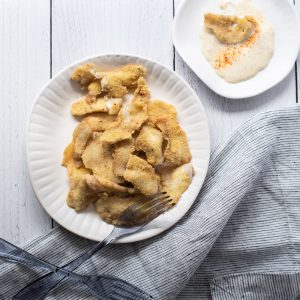 Pan-Fried Bluegill with Lemon Aioli
Mildly sweet and tender bluegill fish fillets battered and pan-fried until crispy with a zippy lemon aioli sauce.
Print
Pin
Rate
Ingredients
Bluegill
1

cup

avocado oil

for frying (or other neutral oil)

1/2

cup

cornmeal

1/2

cup

tapioca flour

also called tapioca starch

40-60

fillets

bluegill

more or less, depending on size

sea salt

cayenne

optional
Lemon Aioli
1

egg

1

lemon

juiced

1

tsp

red wine vinegar

1

tsp

sea salt

1

tsp

dijon mustard

1

cup

avocado oil
Instructions
Dredge and Fry the Fish. Pour the oil in a large pan over medium heat. Meanwhile, pour the cornmeal and tapioca onto a plate and set next to the stove. Swirl with finger tips to disperse. Gently press the bluegill fillets into the flour mixture, coating front to back. When the oil is hot, lower the fillets into the hot oil (it should bubble right away when the oil is ready). Fry until crispy, about 3 to 4 minutes per batch. Use a spider to transfer cooked fillets to a paper towel lined plate and sprinkle while hot with sea salt.

Make the Aioli. Crack the egg into a medium bowl and add the lemon juice, salt, and mustard. Use an immersion blender and ever so slowly, add the oil drop by drop until it thickens*-around the time half the oil is added. Once thick, you can safely drizzle the rest of the oil in without the mayonnaise breaking. Taste and adjust lemon juice and salt to taste.

Serve the fish hot with a dash of cayenne pepper for a spicy kick. Serve with the lemon aioli sauce for dipping.
Notes
Note: You will have leftover mayonnaise from this recipe. Lemon aioli can be stored in the refrigerator for up to 3 weeks.
Tapioca flour aka tapioca starch is available in the flour aisle. You may use cornstarch as a substitute.
Cornmeal has a finer grind than polenta. Be sure to use cornmeal (yellow, white, or blue) for this recipe.
Avocado oil is a high high, high quality oil that tastes fantastic in both mayo and fried fish. If you need to use refined coconut oil, vegetable oil, or canola oil, go for it!
Nutrition
Serving:
10
bluegill fillets with 2 tablespoons aioli
|
Calories:
630
kcal
|
Carbohydrates:
40
g
|
Protein:
23
g
|
Fat:
43
g
|
Saturated Fat:
6
g
|
Cholesterol:
120
mg
|
Sodium:
866
mg
|
Potassium:
561
mg
|
Fiber:
3
g
|
Sugar:
1
g
|
Vitamin A:
136
IU
|
Vitamin C:
20
mg
|
Calcium:
33
mg
|
Iron:
2
mg
Some of the links on this page are affiliate links, which may pay me a small commission for my referral at no extra cost to you!