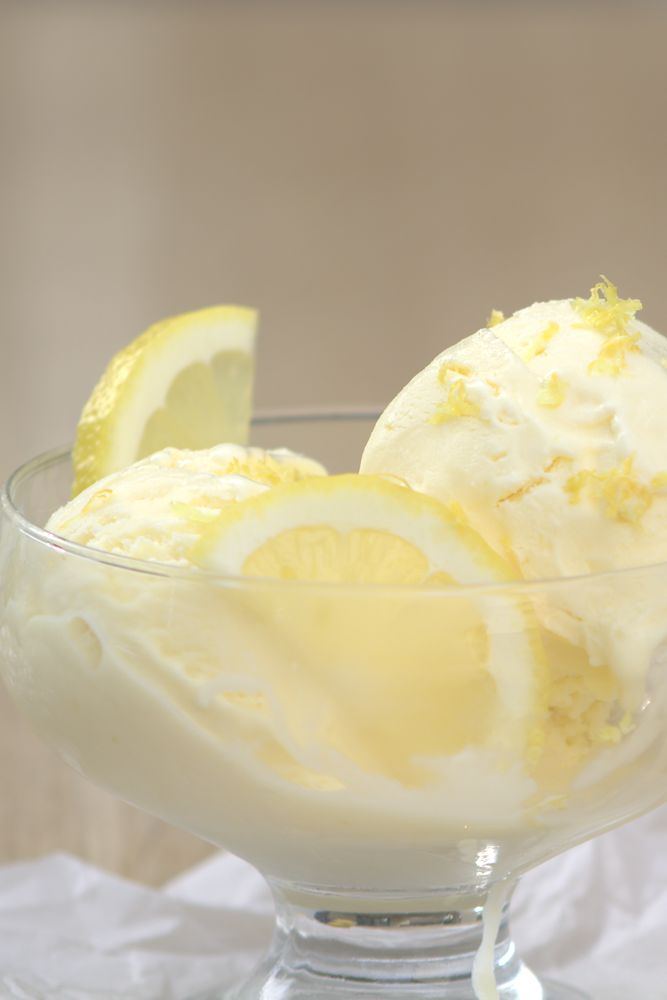 Lemon is one of those flavors that works really well with ice cream. Yet, it's not easy to find. What I love about this custard is that it's super easy to make, and the texture is perfectly creamy.
Some of the links on this page are affiliate links, which may pay me a small commission for my referral at no extra cost to you!
How to Make Lemon Custard
To make this ice cream recipe, you will need either an ice cream machine or high speed blender. It requires stove top cooking (10 minutes) because the base is a custard. We get a slight yellow hue and richness from whisking egg yolks into cream infused with zest and citrus juices.
Every now and then, I take requests for ice cream flavors. My husband requested "creamy lemon ice cream." Turns out, this is the most refreshing dessert we've ever had.
People who like lemon at all adore this ice cream because the flavors are immediate–big and bright. It has a silky, melt on your tongue consistency that I always strive for in an ice cream recipe.
Unlike sorbet, which is more pungent and icy, this lemony dessert is like biting into a meringue pie minus the crust. When you combine fresh squeezed lemon juice, lemon zest, egg yolk, and cream, you get a really natural lemon flavor.
This custard is so clean tasting — it really needs nothing. BUT, you could serve it with vanilla cake and meringue for parties. I just served this for my sister's 30th birthday, and every single person raved about it. You'll notice this ice cream has some similarities to these meyer lemon bars. That's because the custard base is similar to lemon curd.
5 Rules to Freeze By
Start with high quality fruit – Great lemons will make a great ice cream. Bad ones will not. If you can get your hands on excellent citrus (lemon, mandarin, tangerines), you will produce unbelievably fresh ice cream that tastes better than anything from the store.
Your base should be sweet – When you make ice cream, the base you start with should seem overly sweet. That's because when we freeze the base, we churn in more air, resulting in a less sweet frozen treat.
Churn until soft serve consistency – When making ice cream in a machine, the texture will be very soft right out of the machine. This stage is similar to soft serve. You will enjoy the flavor very much at this stage, but it melts quickly.
Know when to chill – When making ice cream, the canister that you churn the ice cream in should be very cold. The colder, the less churning will be required. Once the texture resembles soft serve, you can transfer to the freezer. I like to store ice cream in covered canisters to prevent freezer burn. Remove after several hours for an ice cream that you can scoop.
Mix and match – The ratio of juice, zest, and sugar in this lemon ice cream recipe works for most citrus, so experiment! One of my favorite variations is mandarin orange ice cream.
How to Make Lemon Ice Cream With A Blender
To make this lemon ice cream recipe in a high speed blender, you will need to start with a combination of cold liquid (lemon juice) and frozen solid (ice cream base). To do this, follow the recipe to step 3, then freeze until solid using two separate containers (up to 8 hours).
Add the frozen cream base to the blender along with the liquid lemon juice. This will help the blades bite into the frozen cream and is less likely to overheat your motor. Blend slowly and then increase the speed until extremely creamy.
Serve immediately or freeze in canisters for a few hours for a thicker texture that you can scoop.
More Ice Cream Recipes
Pro Tip: It's really important to incorporate the lemon zest for maximum citrus flavor. You should blend the ice cream base (about 30 seconds) before pouring into the ice cream machine. This step will improve the flavor and (very importantly) make it slick and smooth.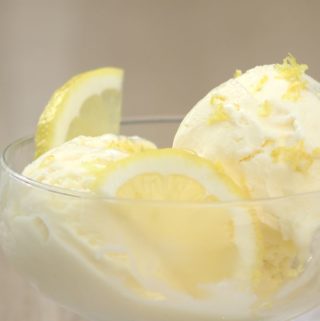 Lemon Custard Ice Cream
Lemon ice cream is like no other flavor you've ever had. The secret to this simple, bright recipe is fresh lemon juice and lots of zest. Unlike a sharp lemon sorbet, this ice cream is smooth and creamy from whisking in egg yolks and cream.

Print
Pin
Rate
Ingredients
1 1/2

cups

heavy whipping cream

1

cup

whole milk

3/4

cup

granulated sugar

5

tsp

lemon zest

from 3 lemons

1/8

tsp

fine sea salt

6

egg yolks

3/4

cup

fresh lemon juice

strained (5 lemons)
Instructions
Mix the heavy cream, milk, sugar, zest, and salt in a medium pot over the stove. Warm over medium-high heat until you see bubbles on the surface, approximately 9 minutes. Whisk occasionally. Remove from the heat as soon as you see it boil.


Whisk the yolks in a large mixing bowl. Steadily and slowly pour the warm cream mixture into the yolks, whisking constantly to prevent the yolks from cooking.


Return to the pot and warm on the stove for 3-5 minutes until the mixture coats the back of a spoon. This means, you can run your finger through the liquid and when it won't fill back in where you drew a line with your finger.


Stir in the lemon juice. I highly recommend blending in a high speed blender for the most luscious texture and flavor. Cool the mixture in the fridge or use an ice bath to save time.


Pour the chilled lemon mixture into the freezer bowl of a 1 1/2-quart electric ice cream maker, and proceed according to manufacturer's instructions.


Transfer ice cream to a freezer-safe container; press a sheet of parchment paper or plastic wrap directly on surface, and seal with an airtight lid. Place in freezer at least 4 hours or overnight.

Notes
# of lemons – I've included the measurements in case your citrus contains less juice. I used 5 lemons total for juice, and zested 3 of these.
Mix-and-match: Use any citrus following the ratios in this recipe. Try mandarin oranges or tangerine.
Nutrition
Calories:
294
kcal
|
Carbohydrates:
23
g
|
Protein:
4
g
|
Fat:
21
g
|
Saturated Fat:
12
g
|
Cholesterol:
210
mg
|
Sodium:
73
mg
|
Potassium:
112
mg
|
Sugar:
21
g
|
Vitamin A:
900
IU
|
Vitamin C:
10.7
mg
|
Calcium:
84
mg
|
Iron:
0.4
mg
Some of the links on this page are affiliate links, which may pay me a small commission for my referral at no extra cost to you!
Thank you for being here! Did you make this recipe? Click on the star rating or leave a comment below. I'd love to hear how you got on. Connect with me @thefrayedapron on Instagram or Pinterest.