If you have an abundance of cherry tomatoes, they make an excellent topping for goat cheese grits, especially when roasted with a drizzle of olive oil. Tomato confit, if you will.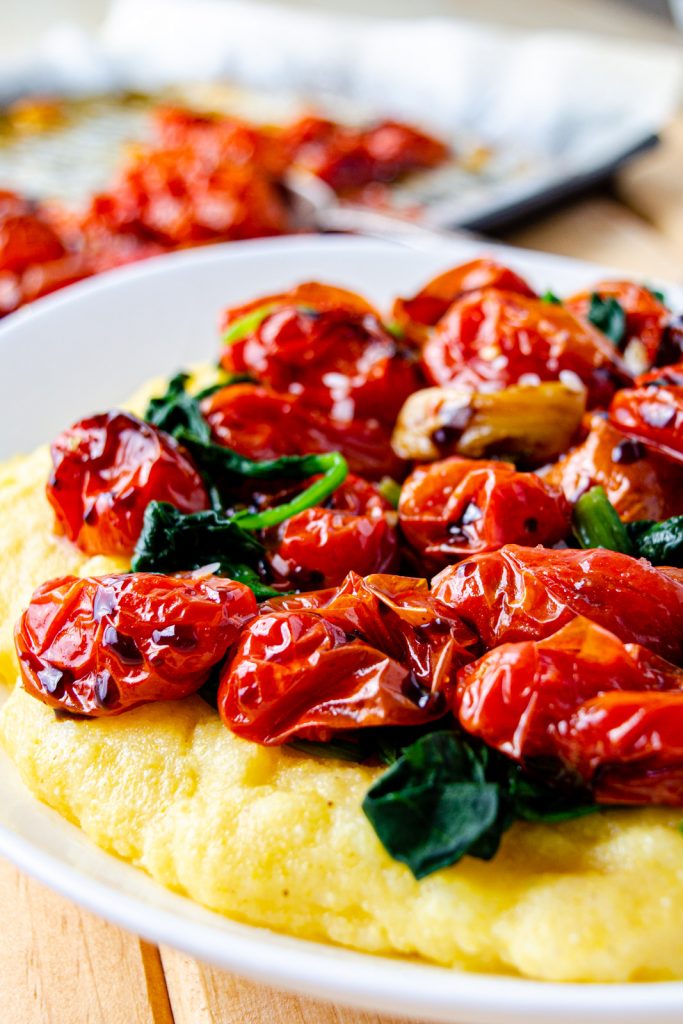 This dinner comes together in just under an hour and stands on its own merits as a wonderful vegetarian summer meal.
Speaking of tomato confit, I'm excited to share this technique today because I have a few tricks up my sleeve that should give you RESULTS. Let's dive in!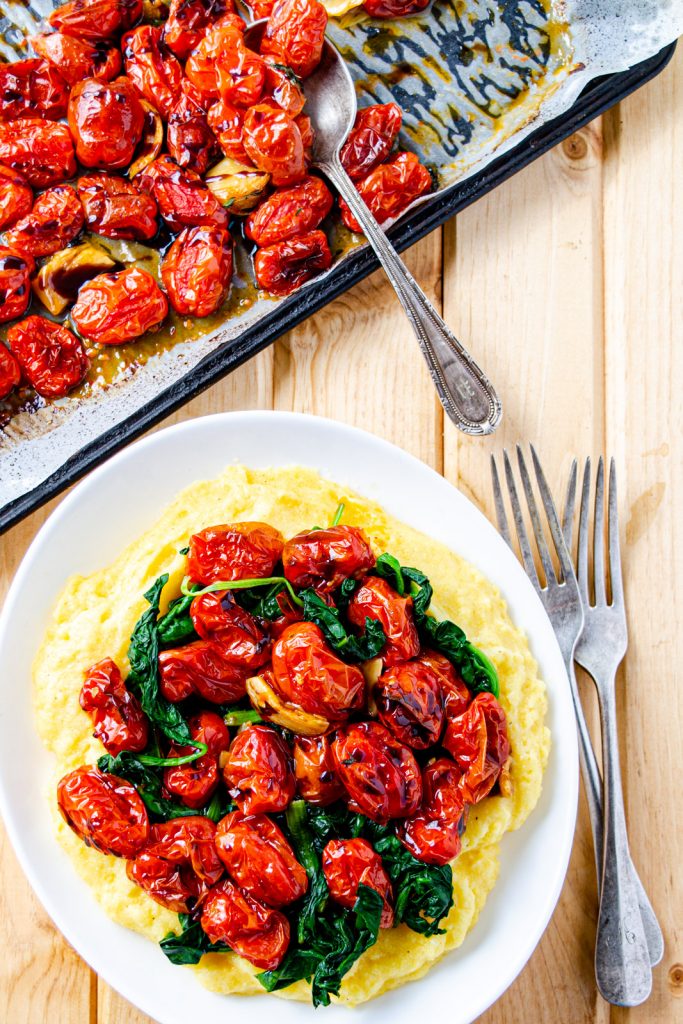 A few things I've learned when working with cherry tomatoes:
Spread them out. When roasting tomatoes, you'll be tempted to fit them all on the tray, but if you can give them some space, they get less steamed and more delicious caramelization.
Salt and sugar. Cherry tomatoes really benefit from a pinch of salt and sugar when roasting. The salt draws out moisture, concentrating flavors, and the sugar helps the natural sugars caramelize even more. I especially like using maple sugar or coconut sugar.
Time, usually more is better. This is one of those situations where a recipe can give you a time, but you should ultimately use your eyes to determine doneness. Better yet, pop a tomato in your mouth and see if you'd like them to go a little longer. They should be savory and sweet and loaded with flavor when they're close to done, not to mention a bit shriveled looking (see pictures).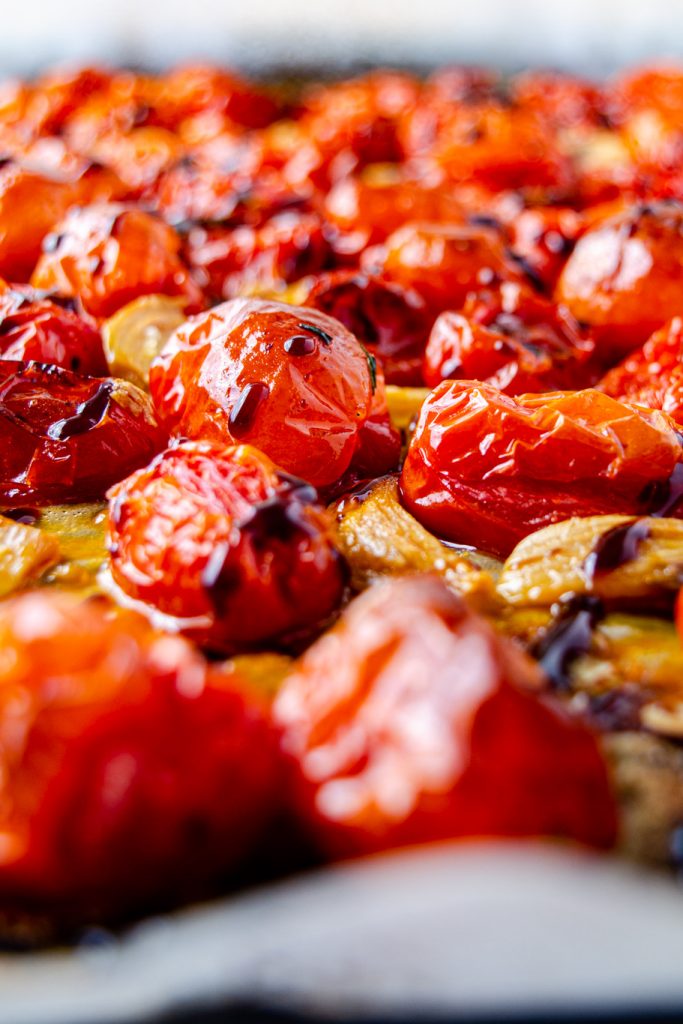 One thing that I'd also like to draw your attention to is the use of acid, in this case, balsamic vinegar. Acid releases all the caramelized bits off the tray and gives you a really concentrated sauce. It's a great vinegar to use with tomatoes, too, because the acidity and sweetness compliment each other (you'll know this combination from the Caprese).
P.S. This One-Pan Spaghetti with Cherry Tomatoes and Torn Basil is another weeknight staple.
P.S.S. Also, wanted to share this roasted Roma tomato sauce in case you want to try it with cherry tomatoes.
How to Make Cherry Tomato Sauce with Creamy Grits
There are 3 straightforward steps involved in this simple recipe:
You (1) roast the cherry tomatoes on a sheet tray in the oven and while that's happening, you (2) sauté the greens in a skillet and then (3) simmer the grits. I'll show you each step below, but first, let's gather the ingredients.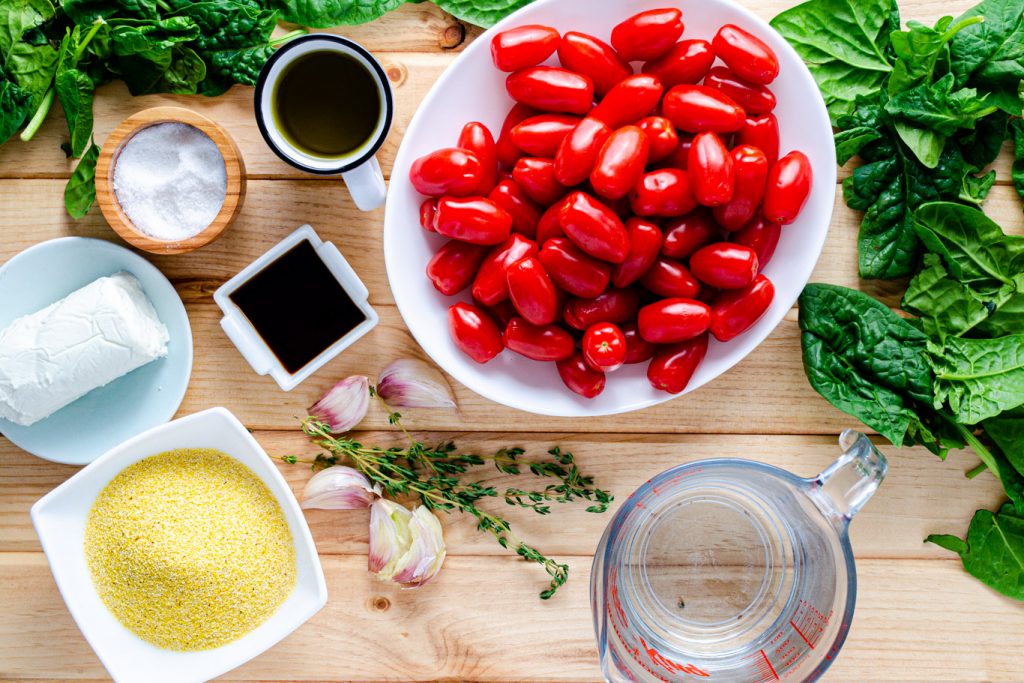 Ingredients:
Roasted Cherry Tomatoes:
3 cups cherry tomatoes
3 tablespoons olive oil
½ tablespoon sea salt
4 sprigs thyme, destemmed
4 garlic cloves, smashed
2 tablespoons balsamic vinegar
Greens:
3 cups spinach (may substitute kale, collards, mustard greens, arugula or watercress)
Polenta aka "Corn Grits" are available next to the pasta or flour section of your grocery store or online here.
3 cups water
1 cup corn grits or polenta
4 ounces goat cheese (a great vegan substitute would be 1 tablespoon chickpea miso with 2 teaspoons umeboshi paste)
½ teaspoon sea salt
Step 1: How to Perfectly Roast Cherry Tomatoes
Spread the tomatoes out so that no tomatoes are over-lapping. They need room to release steam. Add that special pinch of salt and sugar to really make these pop.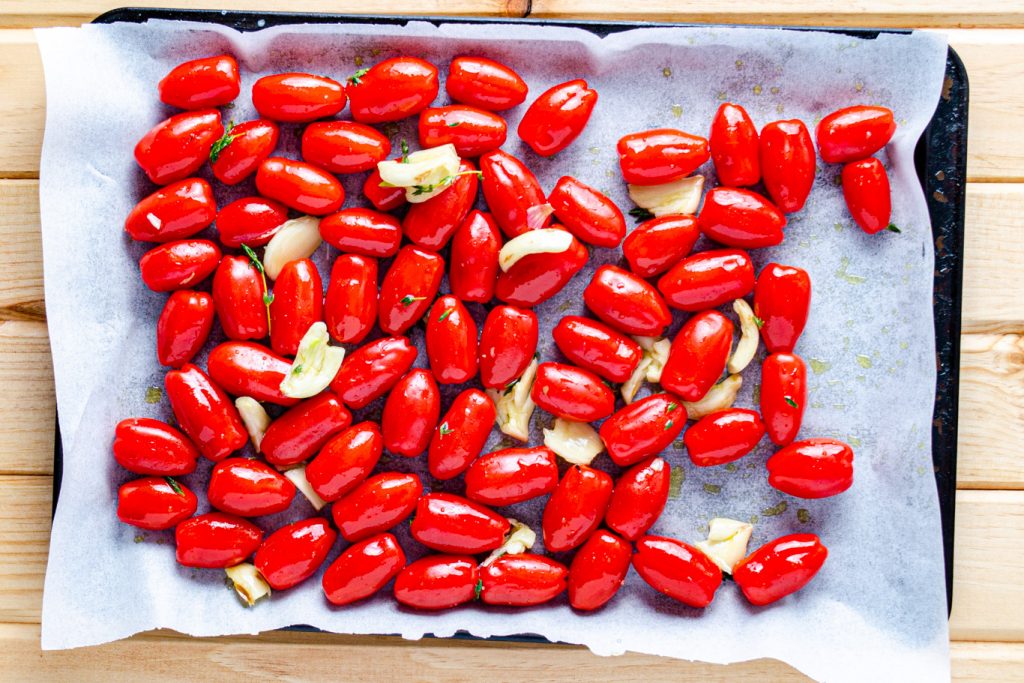 Let them roast as long as it takes to get them looking like this (see below). They should be shriveled and somewhat moist on the inside and have great flavor.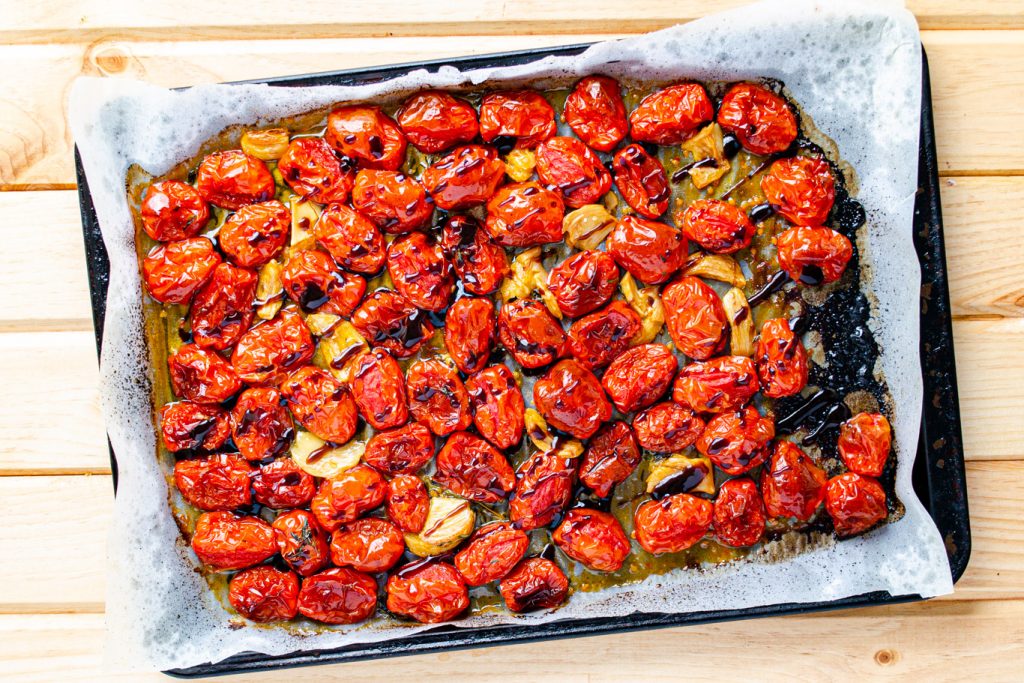 Add the balsamic vinegar and give everything a quick stir to release any sugars stuck to the pan/parchment paper.
Step 2: Basic Wilted Greens
For the greens, you just want to wilt them in a pan. You don't need any water or oil to wilt greens. Just heat and the occasional stir.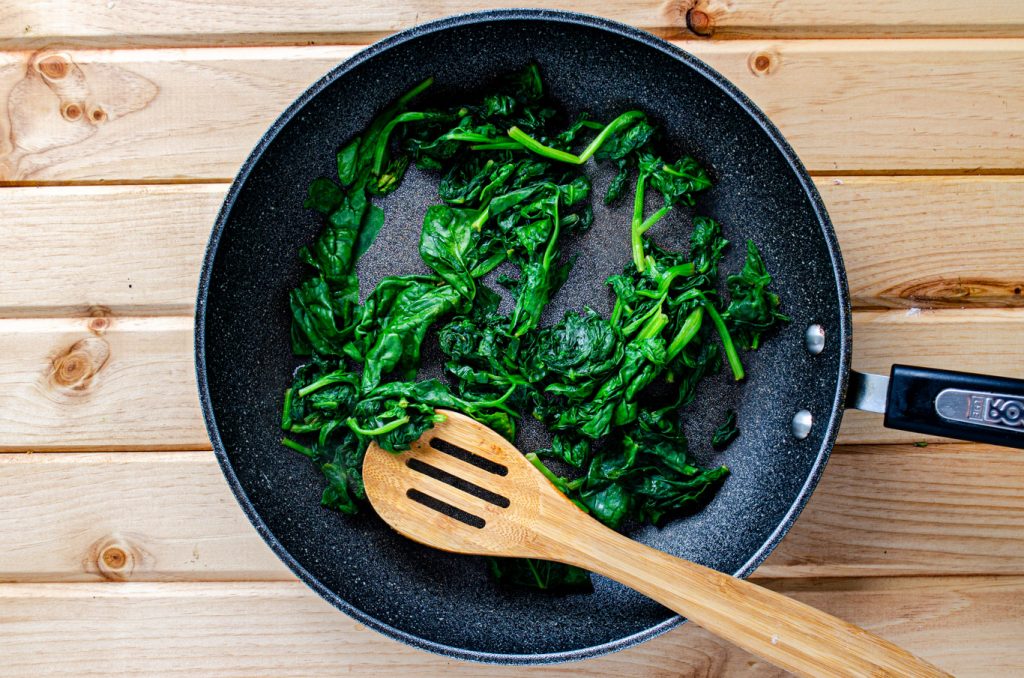 Step 3: Cooking Polenta aka Corn Grits
For the polenta, you want to stir pretty constantly to prevent it from bubbling over. You can add more liquid if it gets too thick and keep tasting until it's completely soft and no grittiness remains.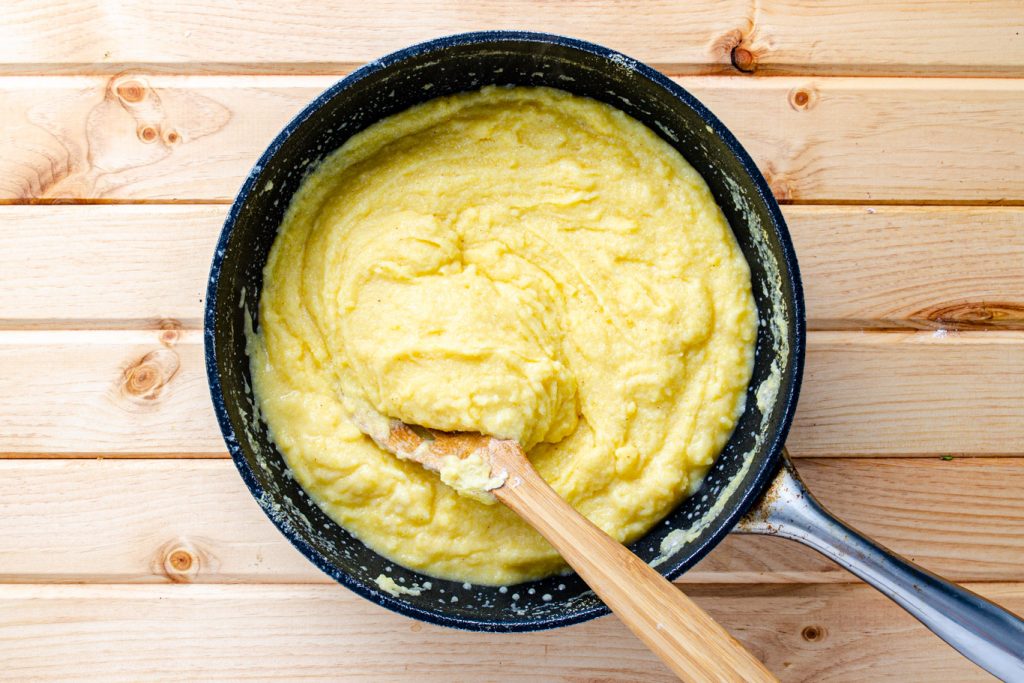 You can add goat cheese to taste. It will give it some flavor as well as make it creamy.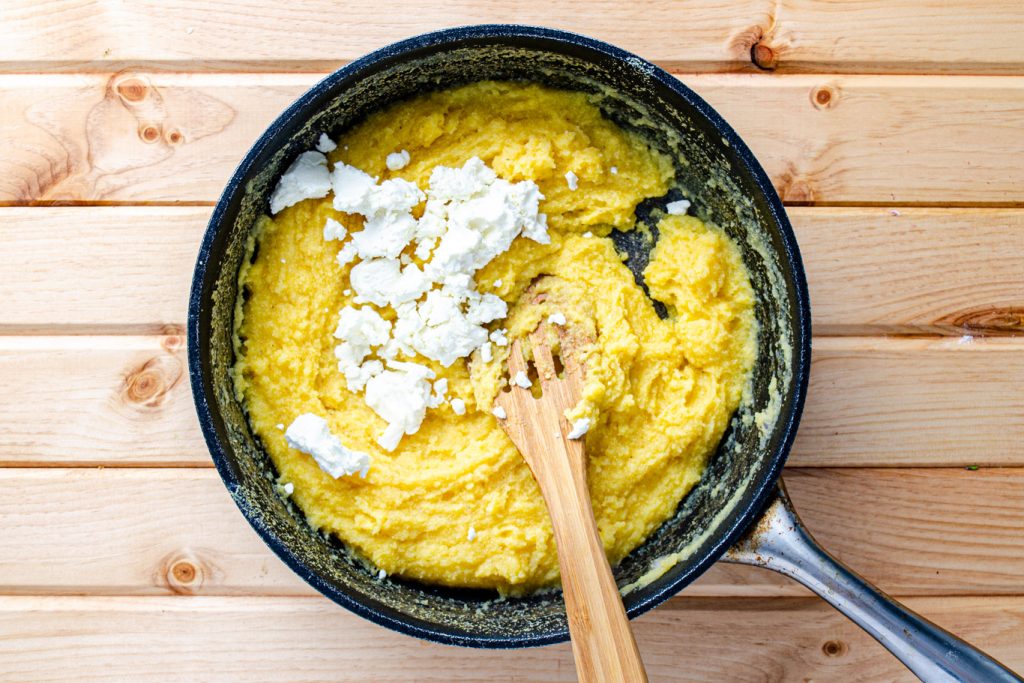 I like to serve the polenta in it's softened state (as it sits, it will firm up). You can add water, reheat, and stir to reconstitute the polenta.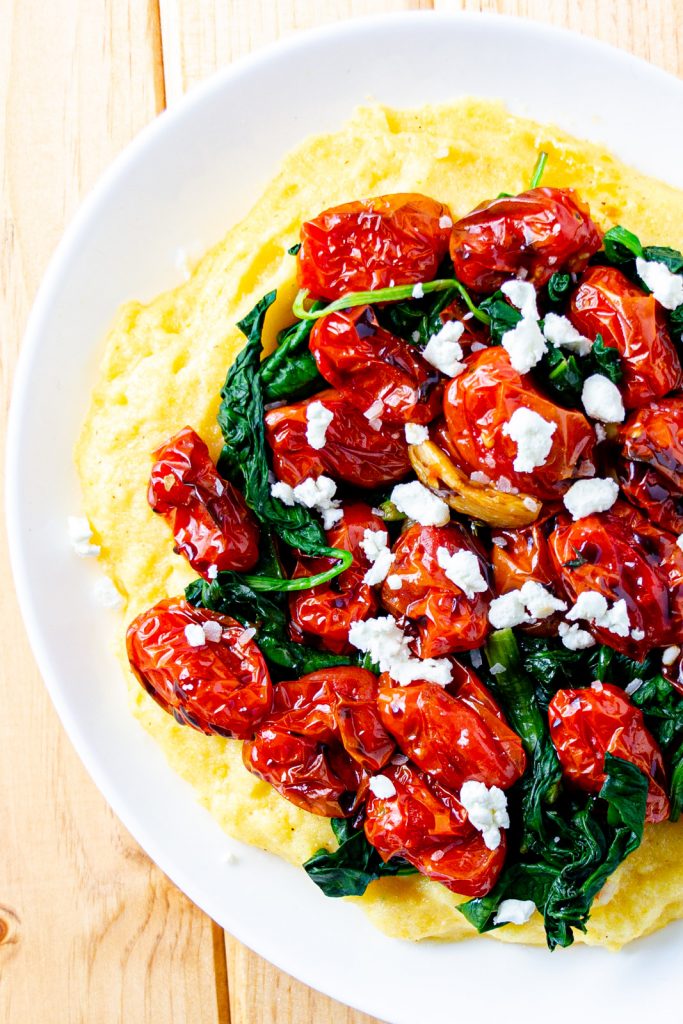 I like to make it a meal with a hearty portion of polenta, topped with wilted greens, and the cherry tomato confit. You can even use extra goat cheese as a garnish, if you wish.
How to Store for Make Ahead Meals
You can conveniently cook and store the polenta/grits in a Dutch oven. Polenta keeps for up to 4 days in the refrigerator. Simply put a lid on it, let it cool for 20 minutes, and transfer to the refrigerator. To reheat, add water and stir until creamy.
Store the wilted greens separately in a sealed container and simply reheat.
Tomato confit can be stored in a sealed container, like a jar, in the refrigerator for up to 3 days. You can just slightly warm the tomatoes in some olive oil to serve them later.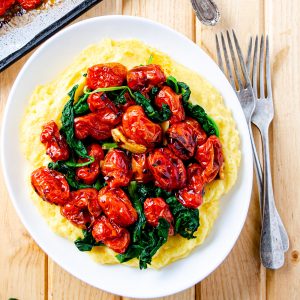 Roasted Cherry Tomatoes with Goat Cheese Grits
You can make an elegant meal using polenta, a pantry staple, by simply adding goat cheese and topping with roasted vegetables. Here, I've used cherry tomatoes and balsamic vinegar to create some little pops of flavor.
Print
Pin
Rate
Ingredients
Roasted Cherry Tomato Sauce:
3

cups

cherry tomatoes

3

tablespoons

olive oil

½

tablespoon

sea salt

4

sprigs thyme

destemmed

4

garlic cloves

smashed

2

tablespoons

balsamic vinegar
Polenta:
3

cups

water

1

cup

corn grits aka polenta

(not cornmeal)

4

ounces

goat cheese

½

teaspoon

sea salt
Instructions
Roast the cherry tomatoes. Preheat the oven to 375F. Toss the cherry tomatoes with olive oil, sea salt, thyme, and garlic and spread onto a single layer on 2 half sheet trays. Roast for 20 minutes, or until blistered. Remove from the oven and deglaze with balsamic vinegar.

Meanwhile, saute the greens. In a large saute pan, add the spinach and cook over medium heat until just wilted, about 3 minutes. Stir and transfer to a serving plate.

Make the grits. In the same pan, bring the water to a boil. Add the polenta (corn grits) and bring to a simmer. Cook, stirring frequently with a wooden spoon until the polenta has thickened, about 10 minutes. Add the goat cheese and the salt and stir until smooth. Taste and adjust as necessary. Serve the polenta immediately with the tomatoes and the spinach.
Notes
Notes: Polenta has a creamy texture when served hot. As it cools, it hardens. If this happens, you can loosen it by rewarming with additional water while stirring.
Nutrition
Serving:
1
bowl
|
Calories:
414
kcal
|
Carbohydrates:
45
g
|
Protein:
15
g
|
Fat:
19
g
|
Saturated Fat:
6
g
|
Polyunsaturated Fat:
2
g
|
Monounsaturated Fat:
10
g
|
Cholesterol:
18
mg
|
Sodium:
1554
mg
|
Potassium:
644
mg
|
Fiber:
2
g
|
Sugar:
7
g
|
Vitamin A:
3086
IU
|
Vitamin C:
35
mg
|
Calcium:
93
mg
|
Iron:
3
mg
Photography by Adam Rahman.